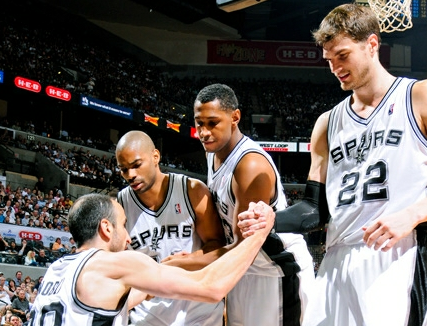 Most of this week, we'll be ceding the floor to our resident Dewey and allowing him to examine NBA storylines through the vise of the first piece in the series, Chekhov's Compassionate Comedy of the NBA. In today's Part III, Alex will examine the complex and Chekhovian narratives surrounding the exit of his favorite team, the San Antonio Spurs.
It's time to deal with the Spurs. It's Chekhov Week here, and I think now is the time to plumb the Western Conference Finals for Chekhov's compassionate, biting comedy -- comedy that brews like an oil well right beneath the surface of the blog. It's a take as hot as the sun and we've been waiting for our emotions to cool down a bit.
Anyway, let's recap: The San Antonio Spurs have had the smartest, most effective players in the league for a decade. They have had the best coach, the best franchise player, the best management, the best scouting, and the best system for a decade and a half -- all of this despite limited financial resources. The Spurs dynasty in the Tim Duncan era has been nothing short of amazing. And, like all great things in life, everything hinged on a couple strokes of luck and a group of people that took full advantage of their luck, with the players and staff bringing to the table clockwork consistency and organizational excellence. This is the Spurs as a franchise, minus a few crucial instances when their key players and their role players took their play yet another step up to take basketball excellence into basketball transcendence seemingly through sheer force of will.