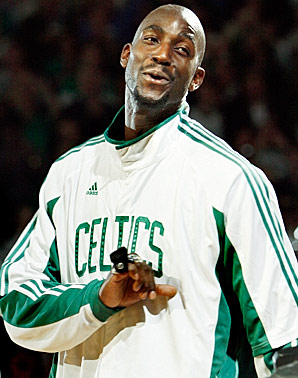 Kevin Garnett, the Man of Unspeakable Cruelty.
And now, some Choice Examples of this Unspeakable Cruelty.
Ray Allen: Hey Kevin, could you help me out with moving this 50 pound bag?
Kevin Garnett: Do it yourself, Ray Allen. Here, take this strap so you can wear it on your back and buffer most of the load.
Stephon Marbury: Hey Kevin, could you help me pave my pool over?
Kevin Garnett: No, Stephon Marbury, because that's really not a wise decision. Drain your pool if you don't wish to use it or clean it, but it adds value to your property which is not going to be recouped by whatever else you put there.
Glen Davis: Hey Kevin, could you help me with a deeply personal problem?
Kevin Garnett: No, Glen Davis. You have to solve that by yourself. That's a personal problem.
Doc Rivers: Hey Kevin, can you help me motivate the team?
Kevin Garnett: I will try my best, Doc Rivers, but I demand that you oversee this, because that is your formal role as head coach of this team.
Sam Cassell: Hey Kevin, could you apply this hair-growth tonic to the back of my scalp?
Kevin Garnett: Sam Cassell, you are supposed to be in Washington. This is Boston, on the other-side of the massive metropolitan area which stretches across the Eastern Seaboard.
Leon Powe: Hey Kevin, do you remember me?
Kevin Garnett: Yes, Leon Powe. How are you?
Kendrick Perkins: Hey Kevin, can you guard Tim Duncan for me? He is sort of out-playing me recently.
Kevin Garnett: No, Kendrick, because if I did that I wouldn't be able to switch to cover their guards on the pick-and-rolls and flare screens which the Spurs are so fond of.
Tim Duncan: Hey Kevin.
Kevin Garnett: Hey... Tim Duncan...
Tim Duncan: We are playing a game against each other, tonight, Kevin. I just wanted to wish you luck. You could have had as many rings as I have if the luck of the draw had placed us differently, and I just wanted you to know that I have considered you my most potent and interesting rival over the years, and since we'll both be retiring soon, I wanted you to know that I have deep respect for your game and your toughness.
Kevin Garnett: Gee, Tim, thanks a lot! That means quite a bit, coming from you. I really wish we could have had more meetings in the playoffs with excellent teams, and while I do regret how things turned out, I finally got to a championship-caliber team late in my career, and I feel that vindicates everything that came before.
Tim Duncan: Yeah, I understand that. I didn't get full vindication for my skills until somewhat late in my career, either. But I was getting championships, and so it didn't matter as much to me. Well, I have to go to the arena, Kevin. I look forward to your performance.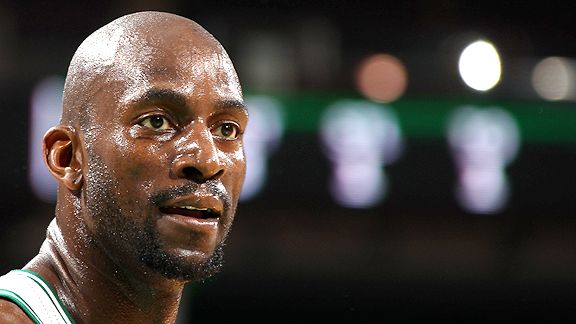 Tim Duncan: Hey Kevin, now that it's about tip-off time, I wanted to, again, wish you luck.
Kevin Garnett: Thanks, Tim. You too.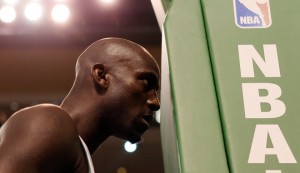 Ref: Ray, you stand over there. Bruce, you stand on the left side, there, behind Tim. Alright, when I blow the whistle, it's tip-off time. Good luck.
Tim Duncan: Thank you, ref.
Ref: You're very welcome, Tim.
*whistle*
Manu Ginobili: Tim, get it to me...I will drive in the lane to space their shooters.
Tim Duncan: Okay, Manu.
Kevin Garnett: I WILL KILL YOU ALL WITH KNIVES MADE FROM YOUR BONES. AHHHHH. AHHHHH. AHHHH. GET OUT OF THE PAINT MANU THAT'S RIGHT. NOT TALL ENOUGH TO GET PAST ME. FUCK YOU TIM. THIS IS MY HOUSE, FROM SEA TO FUCKING SHINING SEA. AAHHHHH.
Doc Rivers: Oh Jesus Christ, Kevin, shut the fuck up.
Kevin Garnett: DON'T TELL ME HOW TO BE, DOC RIVERS. WHERE'S YOUR RING?
Ray Allen: Hey Kevin, can you pass the ball? I want to take this open shot.
Kevin Garnett: IN A MINUTE RAY ALLEN. I'M READING THE FUCKING DEFENSE. SO IF YOU CAN WAIT, JUST A FUCKING MINUTE. AAAHHHH.
Ray Allen: Okay, I can wait. But you know, the shot clock is 24 seconds, which is substantially less than a minute.
Kevin Garnett: RAY DON'T SHOVE MY LIMITATIONS IN MY FACE YOU KNOW WHAT I MEANT. DO I HAVE TO BREAK YOU LIKE I BROKE DUNCAN ON THAT LAST DUNK?
Ray Allen: Kevin, it's the first offensive possession of the game.
Kevin Garnett: I'M REFERRING BACK TO THE PLAYOFFS LAST YEAR RAY, YOU KNOW, WHEN DUNCAN WENT CRYING? HAHA IT'S GOOD TO BE THE BEST.
Ray Allen: The Spurs are in the Western Conference, while the Celtics are the in the East. Also, we lost in the second round last year.
Kevin Garnett: YEAH THAT'S WHAT KENDRICK WAS SAYING, BUT I THOUGHT HE WAS LYING.
Ray Allen: Well it's true. You should learn to trust people, Kevin.
Kevin Garnett: MAYBE, RAY, MAYBE.
Ray Allen: Like, I know that for all the bluster you're a fine, caring, thoughtful individual. If you added "trusting" to that, you would have quite an emotionally-available personality.
Kevin Garnett: NO, THAT'S NOT FOR ME RAY, I AM THE MAN OF UNSPEAKABLE CRUELTY AND I FIGURE I'LL ALWAYS BE.
Ray Allen: Oh, Kevin, that's not true. People can change in their lives.
Kevin Garnett: HAVEN'T YOU EVER SEEN A CRITICALLY ACCLAIMED DRAMA ABOUT A DAMAGED PROTAGONIST THAT TRIES TO CHANGE AND IN THE END REALIZES THAT THEY CANNOT? HOUSE, DEXTER, BREAKING BAD, THE WIRE? THE LIST GOES ON.
Ray Allen: Oh, come now, those shows are only that way for cynical economic reasons and because they don't want to alter the formula so much that they lose what made the shows successful in the first place. Looking at the formula for those shows is not the best way to find their most humane themes.
Kevin Garnett: MAYBE YOU'RE RIGHT RAY, MAYBE I CAN CHAN-
*whistle*
Ref: Shot clock violation. Spurs Ball.
Kevin Garnett: GODDAMN IT RAY. I WANT TO DUNK ON DUNCAN SO HARD LIKE LAST YEAR.
Ray Allen: Okay, Kevin.
Tim Duncan: Kevin, I just want to wish you the best of luck in this game.