Hello, folks! Welcome to Gothic Ginobili. I'm your host, Aaron McGuire.
---
What's the deal with Gothic Ginobili?
Gothic Ginobili has been around since 2011 -- for most of that period, this was an ESPN TrueHoop Network affiliate. That network has dissolved, and that title is defunct. Our claim to fame was our 2012 Player Capsules, where I wrote 370,000 words in five months worth of essays outlining the follies, foibles, and talents of every player in the NBA. Generally speaking, GG was alive in its first iteration from 2011 to 2015, when our writers stopped actively posting due to life getting in the way of fun. The website was completely offline in all of 2019, due to a massive database drop that I fixed in early 2020. The writing is now backed up in multiple locations, and should at this point exist forever, for better or ill.
OK. So, GG was a basketball blog. What made it different from any other blogs?
At its apex, I think it was best described as a "weirdly thorough" spin on NBA coverage. Our collective of writers wrote a lot of long thinkpieces. Alex wrote some NBA fanfiction that still haunts my dreams to this day. I did some statistical analysis. Arnon joked about small markets. We weren't really a Spurs blog, despite my affection for Manu Ginobili. We only wanted to cover the Spurs in the context of the league as a whole.
Why name the blog after Manu Ginobili if it isn't a Spurs blog?
The two primary bloggers (Alex & Aaron) were both pretty big Spurs fans. The name was sort of a wink. A small hint to let readers know that despite our best efforts we'd likely drift towards Spurs-related topics more frequently than other teams. We also wanted to celebrate Manu Ginobili's beautiful name. It's a great name! Also, I worked for a paper that called itself "The Gothic Guardian" in college, and "Gothic" makes for a nice shorthand. That's it. No further motive.
Huh. OK. Weird. So, why did I find a link to this weird-ass blog in 2020?
As of writing, it's just me here -- the original founder, Aaron McGuire. I missed writing. Thus, I'm writing again. Nothing big like the 2012 player capsules, but some general thoughts. Both NBA-related and well outside the league, too. This is essentially my personal blog now, although I'm leaving the 2011-2015 content up, because I think a lot of it is still pretty fun to read.
Why would I care about what you have to say?
Here's a little about me. I'm an applied statistician in the financial industry and technologist by trade, formerly employed at a top-5 bank and currently employed as the Director of Data Science at a credit consulting firm in Richmond, Virginia. I am a Spurs fan with Cleveland sports parentage who was born in Los Angeles, moved to Arizona, and went to college in North Carolina before settling in Virginia. I have no real sources in the NBA world; I am writing solely to scratch the itch of a fan that wishes fewer articles were trapped behind weird corporatized paywalls.
---
Huh. Alright. Who used to write here?
Here are our former primary writers, all of whom are very dear to me: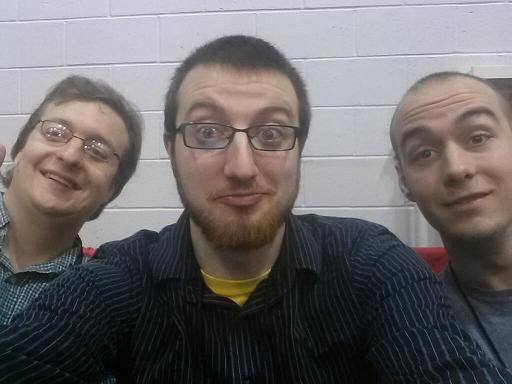 Pictured: Alex, Aaron, and Alex on press row at the 2013 Las Vegas Summer League.