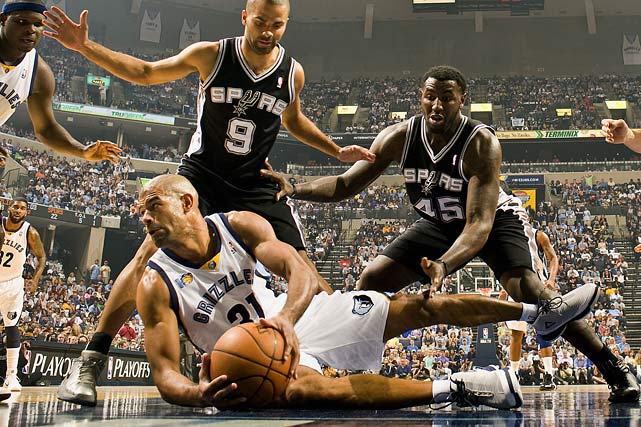 Season's back, everyone! And you all know how we like to celebrate. Excruciatingly long posts analyzing intricacies and untapped facts, ahoy! In this mini-feature, watch as Aaron shares his inexpert opinions on every amnesty, trade, and signing -- big and small -- that goes on before the season starts. We're going to cut it into several parts -- this is a to-be-updated post on the smaller deals and amnesties. There will be another post later today with more small deals, and a post tomorrow on big deals. Watch out for it.
• • •
THE SMALL SIGNINGS: PART 1
BATTIER TO MIAMI

Shane Battier to Miami on a 3-year $9 mil contract.
I like this move a lot more once I saw the money involved. $9 mil for 3 years of Battier? Even at his advanced age, it's a decent signing. Still, though, I have to cry foul that this is a good fit. The Heat have LeBron and Wade to play the wings -- Battier is a pure three, far too large and immobile to play the two at this stage of his career. I've heard rumblings he can play the four in Miami but I'm really not convinced -- he's not large enough to guard most good fours in the league, and his defense has been quietly getting worse the last few years. He's no longer quite the force he was in his prime on defense, and while his offense should fit nicely with the Heat (low usage, can shoot the three) I simply don't see any way you can play LeBron-Wade-Battier for long stretches to any real success. For that contract, though, he's a good asset and should improve the Heat. Not as much as a legitimate big man, but enough to make him worth it. I'll admit, though: I'm sad he didn't finish his career in Memphis. That would've been kind of amazing.
BUTLER TO LOS ANGELES CLIPPERS

Caron Butler to LAC on a 3-year $24 mil contract.
... what? Caron Butler has averaged 57 games per season the last 4 years. If he misses his "average" number of games next year, he'll miss 26 games if you use the calculation I made in my injury-projecting post. Even if you don't, my god, why make this signing? Butler's knees are a problem, he's already quite old, and you have no guarantee he's going to stay healthy for the duration of his contract. Also, you've made it so you can't sign Dwight Howard or any marquee free agent next summer. This is a classic "let's remind everyone that we're the Clippers, we're never going to amount to anything" type of signing that Sterling's brood is known for. I'm sorry Clips fans. But I do not see this working out very well for you.
DUNLEAVY TO MILWAUKEE

Mike Dunleavy to MIL on a 2-year $7.5 mil contract.
Holy crap, is this a good deal. I'd love to make this a paragraph on how much I dislike Dunleavy as a player, and it's true that he's a major injury risk, but for $3.75 million a year, who the hell cares? He shot 40% from three last year and came very, very close to having a true shooting percentage of 60%. He's going to the Bucks, a team with virtually no scorers last year. Jennings-to-Dunleavy is going to be hilarious and stupid, but he's a good get at that kind of money and should easily live up to that contract. Looking forward to see him in a Bucks jersey.
PRINCE TO DETROIT

Tayshaun Prince to DET on a 4-year $30 mil contract.
This may be the only legitimately awful move the Detroit Pistons have made this free agency period. I understand that $7.5 mil a year isn't the worst contract in the world, but my god, this contract takes Prince to the age of 35. His defense has fallen off quite a lot in recent years, and while he's one of the least injury-risk type players in the league, does anyone really think that's going to last? My best guess is they move this contract for picks to a contender sometime in the next year or two, but looking forward, I just don't know why they felt the need to make it.
JEREBKO TO DETROIT

Jonas Jerebko to DET on a 4-year $16 mil contract.
This is a stealthily good signing. While Jerebko lost a year to injury, he was a revelation his first year with the Pistons and he's a great piece to augment the growing youth movement in Detroit. I may make a post entirely dedicated to the Pistons some point soon -- I really, really like the way they're set up for the future and think they could be back to contention in one or two years. Jerebko is a big part of that. $4 mil a year is a good deal for a player who does as much as he can do when he's healthy, and as he was healthy in Europe, there are few concerns that his season-ending injury from last season will be the norm throughout his career. Good contract.
MCGRADY TO ATLANTA

Tracy McGrady to ATL on a 1-year vet minimum contract.
While T-Mac has been a disappointment ever since he got to Houston, on a vet min deal, I think he's actually a pretty good pickup for the Hawks. He's no outside shooter, but he's a good passer whose high spots are really, really high. Even last year for the Pistons, there was definitely some value in his play. He had games where he was suddenly old T-Mac again, bounding around the court and draining ridiculous shots and delivering the pocket passes that made him so fun to watch pre-injuries. He also had games where he looked like he had no idea how to play the game of basketball. As a min-paid first guard off the bench? There's value there. Good signing, I think.
BROWN TO PHOENIX

Shannon Brown to PHX on a 1-year $3.5 million contract.
I can't say I love this deal. Brown has been an incredibly overrated player in LA for years, and even at $3.5 million, I don't know if he'll offer any return to value. Brown can't play the point, and the Suns have Childress and Dudley ahead of him in the depth chart. Pietrus, too -- except he got traded (see below). Will Brown add anything to the Suns that those players don't have? Hardly. He can't shoot and he's somewhat of a headcase. The only redeeming factor here is the length on the deal. One year means that if it doesn't work out, he's out next year. Still a rather confusing signing to me, but on a one-year deal, I suppose it's sensible.
FORD TO SAN ANTONIO
T.J. Ford to SAS on a 1-year vet minimum contract.
COLLINS TO ATLANTA
Jason Collins to ATL on a 1-year vet minimum contract.
KAPONO TO LOS ANGELES LAKERS
Jason Kapono to LAL on a 1-year vet minimum contract.
These are all similarly useless signings, but bear mentioning just because they do have the potential to help slightly lessen potential weaknesses for the Spurs and the Lakers. On the Spurs end, Ford is a terrible workaday player but will be an improvement over Chris Quinn. On the Lakers end, Kapono is a completely worthless player inside the three point line but if Kobe scares him into doing nothing else but taking corner threes, he'll be worth it. And Collins is an awful player against almost everyone, but has a magical power where Dwight Howard suddenly plays horrible when Collins is on the court. In the long run, these three deals mean less than nothing, though. Thumbs down to every team for making me write about them!
DANIELS, WILCOX, & DOOLING TO BOSTON

Marquis Daniels & Chris Wilcox to BOS on 1-year vet min contracts, Keyon Dooling to BOS from MIL for a 2nd round pick.
Good moves for Boston. Daniels was injured all of last season and may be fully gone by this point, but the Celtics bench is absolute trash right now and Daniels has the upside of being a great defensive player when he's healthy. His offense is a horror scene, but the type of defense he gives you off the bench is absolutely fantastic for the money you're paying him. He's going to get injured, inevitably. Dooling was a serviceable backup point in Milwaukee who got forced to be a starter -- he's as much of a lost cause as Daniels is in terms of upside, but as a bench guy on a contender, he could be decent. Wilcox? He was actually decent for the Pistons, though he's extremely old and most likely will fall off significantly this year. None of these mean all that much in a vacuum. But in a season where guys are going to be out for injury, you can't have a bench as thin as the Celts had and expect to survive. Picking up these guys helps that. Not to mention that if nothing else, Daniels on the Celts just feels right at this point. He should retire a Celtic.
PIETRUS TO TORONTO
TOR receives Mikhael Pietrus & cash, PHO receives conditional second round pick.
It's a bit sad that all Phoenix could get for Pietrus was a conditional second round pick they'll never recieve, but they kind of torpedoed his trade value by barely playing him at all last season, so this probably is as fair a return as they can expect. On the Raptors side, they're being paid to take on a $5.3 million dollar expiring contract for a low upside three point shooter in a position they had no talent at last season. Pretty good haul for the Raptors, all things considered. Pretty sad move for the Suns. A Sarver-type move if there ever was one. If they're willing to spend, the trade does also give them a $5.3 million dollar trade exception, but does anyone on earth actually think the Suns are going to actually use it for frontcourt help? I'd hope they do, but I really doubt it.
PENDERGRAPH TO INDIANA

Jeff Pendergraph to IND on a two year minimum contract.
Not bad. Pendergraph has been a relatively useless player in the league so far, so it's doubtful that the move is going to be anything more than a move for bench filler. But the kid was drafted in 2009, and while he doesn't have a huge amount of upside, he doesn't need to -- on a min deal he gives you min production with the possibility for slightly more. Good move by the Pacers.
MORE MARGINAL ONE YEAR MINIMUM PLAYERS
Sebastien Telfair to PHO, Jamaal Tinsley to UTA, Jamaal Magloire to TOR, Roger Mason Jr. to WAS, Vladimir Radmonovic to ATL, Earl Watson to UTA, Juwan Howard to MIA, Derrick Brown to CHA, Tony Battie to PHI.
I don't think there's a single signing here that's of any consequence. One liners for each: Telfair is done, Tinsley is worse, Magloire (former All-Star! YEAH!!!) might as well not be on the court, Vlad Rad has been done for years, Earl Watson can't find the broad side of a barn with the rock (but defends decently well), Juwan is forty five and a half years old, Derrick Brown is a decent player who may develop into something (but probably won't), and Battie will continue to do absolutely nothing to solve the problem for a team with no big men. There. Gone over all of them. Wait... did I miss one?
... ROGER MASON JR GOT A NEW CONTRACT?!?!?!?!??!?!?!?! WHAT?!?!?
• • •
AMNESTIES & WAIVERS
DET: RIP HAMILTON

Waived -- $8 mil out of $21.5 mil left on his deal.
Kind of a no-brainer, but I'm absolutely shocked they got him to agree to take that much off his contract. My guess is they told him it was either a waiver or amnesty, and amnesty would make it impossible for the Bulls (Rip's preferred landing spot) to pick him up. The other good thing? The minimal size of the buyout suddenly makes the Pistons players in the 2012 free agency circus, if they amnesty Gordon or Villanueva and resist offering Stuckey too much to stick around. Still. Rip didn't want to be in Detroit, and they didn't want him either. Again: no brainer.
GSW: CHARLIE BELL
Amnestied -- $4 million over 1 year left on deal.
WELP! Never mind! This one occurred after the Billups amnesty, so even though it looks like I wrote this before the Billups paragraph, I didn't. I said that the Billups amnesty was going to be the worst one we'd see this cycle. I thought that was a fairly good bet, but my god, I didn't expect the Warriors to botch things up this thoroughly. Biedrins -- a terrible player at this point in his career, has $27 million over 3 years owed to him. Bell? He had $4 million on a 1 year deal. WHY IN GOD'S NAME DO YOU AMNESTY HIM? Okay, yeah. I know WHY they did it. Because they wanted to offer Deandre Jordan a bloated offer sheet in hopes that the Clips wouldn't match. Realistically? The Clips will match, and the Warriors will have utterly wasted their shot at having incredible cap space the next two years in order to throw money at a player they're never going to get. They also rescinded their rights to Reggie Williams, a valuable piece for the backcourt depth he provides, and cut Jeremy Lin. What the hell are they doing?
HOU: HASHEEM THABEET
Amnestied -- $5.1 million over 1 year left on deal.
While I'd initially expect Thabeet wouldn't be the worst contract on the Rockets' roster, I'd be wrong. Thabeet's $5.1 mil in 2012 is easily the worst contract on the Rockets' roster, and nobody else is really anywhere close. It's kind of amazing how a franchise can make as few big-time mistakes as Houston does and still miss the playoffs year-in and year-out. Still. Thabeet will get taken on a flyer by some under-cap team starved at center (Timberwolves, perhaps?) and will continue to be a marginal NBA talent who has dramatically underperformed even the most pessimistic views of how he'd perform in the league. Simply abominable.
NYK: CHAUNCEY BILLUPS

Amnestied -- $14.2 million over 1 year left on deal.
This is probably one of the worst amnesties we're going to see. People forget this, but the Knicks had an out option on Billups' contract -- the Knicks could've let his option expire and eschewed using amnesty altogether. They didn't. They picked up his option and amnestied him, which is fine for Chauncey (as he now gets all of the $14.2 million instead of just part of it) but bad for the Knicks, as they've wasted their amnesty. If Amare's knees go out, the franchise is screwed to high heaven now. Not like it matters much -- a Melo-Chandler-Shumpert core isn't going to be contending for much, Amare is a key part of the Knicks' puzzle. If he goes down, so too do the Knicks' dreams of contention. Regardless. I feel bad for Chauncey. You have to think he feels a lot of anger towards Melo, at this point. Melo's team trades him, taking him from a team he loved, then makes the WCF with him. Lets him get settled back into his hometown team, then wrests him from Denver to go to the shell of a contender in New York. Then... amnesties him, forcing him to go to some crummy under-cap team that bids the highest for his services? Awful luck. I don't like Billups much as a player at this point in his career, but I feel bad for the guy. I realize this would be impossibly silly given the Miller trade and Ty Lawson, but I hope Denver resigns him. He wanted to retire with the Nuggets, and he should get that opportunity.
ORL: GILBERT ARENAS

Amnestied -- $62 million over 3 years left on deal.
No-brainer for the Magic. They wanted the flexibility, and Arenas showed himself to be a completely worthless asset in his time in Orlando. I was partial to the idea that they keep him around for one last run with Dwight, but post-Bass trade, applying amnesty to the Arenas deal put them slightly under the tax and allowed them to use the full MLE and make a few runs at good players for the spot. Not bad. In his case, it looks like he's not going to get taken off waivers -- if so, he'll probably be picked up near the end of the year by a contender hoping for a piece to get them over the edge. He won't be that piece. But it'll be fun to watch.
PHO: VINCE CARTER, ZABIAN DOWDELL & GANI LAWAL
Waived -- $4 mil out of $18 for Carter, and none out of $788,000 for Lawal or Dowdell.
Interestingly enough, the Suns decided to waive Carter and Lawal outright instead of using their amnesty card -- given how little they had to actually pay, it wasn't a bad move for them. There was absolutely no reason for the Suns to keep Carter around after his horrific performance last year. Lawal has been terrible as an NBA player and during the lockout looked relatively overmatched in the Euroleague -- he needs time in the D-League and overseas to get his feet under him before he can come back to the NBA, if ever. Still. Good move for Phoenix. They'll miss you, Vince. New move, too -- they waived Zabian Dowdell, because although he's been promising so far he's got knee problems and the Suns wanted to go in a different direction. I really do hope Dowdell gets picked up by someone, tho -- he's a nice guy and his story was one of the better ones on the 2011 Suns, a team with a lot of good stories. Good luck, Zabian.