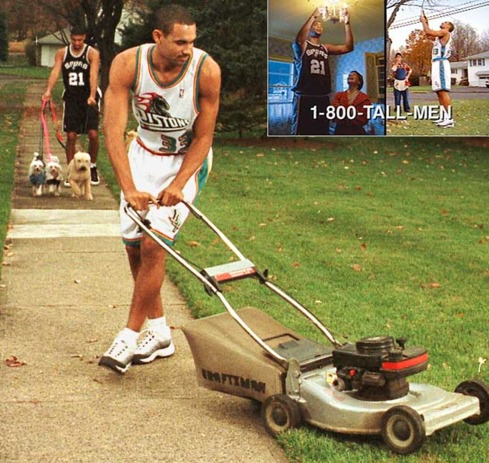 Season's back, everyone! And you all know how we like to celebrate. Excruciatingly long posts analyzing intricacies and untapped facts, ahoy! In this mini-feature, watch as Aaron shares his inexpert opinions on every amnesty, trade, and signing -- big and small -- that goes on before the season starts. We're going to cut it into several parts -- this is a to-be-updated post on the smaller deals and amnesties. There will be another post later tomorrow with the big deals, then a few posts to individually examine the monstrous deals. Watch out for it.
• • •
THE SMALL SIGNINGS: PART 2
BIG BABY TO ORLANDO

Glen Davis to ORL on a 4-year $26 mil contract, Brandon Bass to BOS, Von Wafer to ORL.
This ranks as one of the most absurd and confusing trades made during this compressed offseason so far. Really. I easily see why Boston did it -- they got the best player in the trade on the shortest contract. Pretty much a no-brainer. Bass expires after this season, so they maintain the course to having monstrous cap space next summer. Davis was never ever going to sign a one-year deal. So, the Celtics maintain flexibility and keep their books clear for next summer while upgrading their backup forward position. Not too shabby. The Magic, though? Reports are that Dwight really likes Big Baby, and that's why they made this trade. Which would be at least understandable, if Dwight hadn't already requested a trade. Really. What is Otis Smith doing? Does he think spending a season with Big Baby is going to make Dwight decide to re-sign with the Magic? The other big irony to this trade: reports came out last night that Dwight's trade request came partially because he felt he didn't have enough pull in the organization. Really, Dwight? Really? You essentially played GM and traded for Big Baby, then bemoan not having enough organizational influence. Cry me a river. Cripes. Also: Von Wafer to Orlando, in a move that I assume must be paired with the acquisition of Michael Redd (Wine). Dwight's pious, right? This is going to help keep him, right???
HILL TO PHOENIX

Grant Hill to PHX on a 1-year $6.5 mil contract.
This one makes me sad, because one of my offseason hopes was that he'd sign with the Spurs. Not because he'd really improve our team, but just because I wanted to watch Grant Hill more this year and watching the gradual implosion of the Phoenix Suns is one of the saddest things you can watch in today's league. Hill was very solid last year for Phoenix, and while you've got to think he underperforms that contract (by quite a lot) he's still Grant Hill. One of the classiest players in the game and the only Duke grad that this Duke grad can say he legitimately enjoys watching. And on a one year deal, it doesn't really matter if you're overpaying him. Guess I'll have to carve out time to watch Grant, Nash, Gortat once again.
HAYES TO SACRAMENTO

Chuck Hayes to SAC on a 4-year $21.3 mil contract.
Short of the Jerebko move (which I like inordinately much due to my feelings on Jerebko's potential) this may be my favorite free-agent move of any team this free agency period. Yes, Hayes essentially is being signed as a backup center. I don't care. Paying $5.3 million a year for one of the best one-on-one big man defenders in the league is a bargain no matter how you shake it. Is Hayes undersized? Sure. But he's a tenacious defender who rebounds quite well for his size and defers offensively to the other options on the floor, which is exactly what you need next to the generally ball-hogging young pieces on the Kings right now. He's a great long-term replacement for Dalembert, and I'm still rather surprised they got him to agree to a deal for that pittance. Should pay off in spades in a few years when the Kings are knocking on the playoff door.
JONES TO MIAMI

James Jones to MIA on a 3-year $4.5 mil contract.
Essentially, Jones signed a three year deal to the vet minimum to remain with the Heat. It's not rare for vets to sign at a discount to play with a contender, but this still strikes me as a bit much. Yes, he's offensively limited -- over 80% of Jones' shots came behind the three point line last year, one of the highest marks in the league. The fourth highest, in fact. The comprehensive list: James Posey (88% from behind the 3-pt line), Brian Cardinal (87%), Daequan Cook (85%), and James Jones (83%). But he was good at it! Jones shot almost 43% from three last year -- that's absurd, and normally, would get you paid something more on the order of $2-3 million a year than a measly $1.5. Still, it's unlikely he's going to regret his choice too much -- he's probably going to win a ring in the duration of his contract, and those tend to make everything go down sweeter.
COOK TO OKLAHOMA CITY

Daequan Cook to OKC on a 2-year $6.4 mil contract.
This is, in my view, a better approximation of what Jones would've gotten had he chosen to sell his talents on the open market. Cook has a similarly limited game -- you may remember him from "the throwaway stat in the last trade paragraph." Takes 85% of his shots from three, makes 42% of them. That's Cook. He shoots, he doesn't turn the ball over much, and he does virtually nothing else on the court. The upside of Cook compared to, say, Jones or Posey? Cook is only 24 years old -- there's some upside potential with Cook. More likely? He stays as he is, a useful bench guy who takes absolutely nothing but three pointers and prospers on them. And at $3.2 mil a year, can't really say he's overpaid.
CHALMERS TO MIAMI
Mario Chalmers to MIA on a 3-year $12 mil contract.
I don't really mind this signing, though I think it may prove to be poor in a year or so after Norris Cole has proved himself to be a top-10 point guard in the NBA. Analysts like Hollinger tend to hate Chalmers, but I'm of the view his contributions go beyond the traditional box score. Not that his box score stats are really all that bad, but most of his value comes in his ability to get physical with most NBA guards. Chalmers is one of the more underrated defensive guards in the league -- easily top 15, and had he gotten all of Bibby's minutes in the 2011 finals, I think the Heat may have won the series. Really. I'll go into this more in my player capsule, but the long and short of it is that Barea scored something on the order of half the points per minute on Chalmers as he did on Bibby, and had they cut Barea's points from Bibby's time on him in half, you'd have a 3-3 series if not a 4-2 Heat series. Not that I really regret that they didn't, but still. Have to use your assets correctly, Spo. Decent contract. Miami should be glad it kept him. (P.S. No, Norris Cole will never be a top 10 PG in the league. I think he'll be well above average, though, and much better than Chalmers.)
GREEN TO BOSTON
Jeff Green to BOS on a 1-year $9 mil contract.
Want to know how you know this is an insane contract? The Celtics are a tax team. They're paying $18 million to keep Green around for one year. Want to know the number of players who make more than $18 million in the NBA today? Ten. Ten players make more than the Celtics are going to be paying just to keep Jeff Green on a one-year rental before he bounces for cap room. Granted, they explicitly offered him more than he was worth to ensure he'd accept a one-year deal and keep their 2012 cap room intact. I get that. But dear god, $9 million for a year? Just absurd. At least it's only one year -- here's hoping nobody overpays him next summer! (Spoiler Alert: Jeff Green will be horrifyingly overpaid next summer.)
THORNTON TO SACRAMENTO

Marcus Thornton to SAC on a 4-year $31 mil contract.
I'm not nearly as high on Thornton as most who watch him are. He's a no-defense gunner whose only other skill besides scoring is his generally decent rebounding from the guard position. At a shade under $8 mil per year, can't say I really like this deal at all for Sacramento. It's true that he's shown a lot of promise as a Terry-type scorer, but my god, his defense is atrocious and burst scorers from the two are a dime a dozen in the league today. He's a really talented scorer, don't get me wrong, but my lord. $8 mil per year? Don't think he's that kind of good. Still. There is some upside, so he may grow into the deal -- I suppose we'll have to see.
FOSTER TO INDIANA

Jeff Foster to IND on a 1-year $5 mil contract.
Fair value. Foster is a good backup big, though he's old enough that you wouldn't want to dump more than 2 years into the deal. They didn't. So it's fine. Foster should play well behind Hibbert and West, though we'll have to see. Not much else to say. Good move to bolster the Indiana bench.
RICHARDSON TO ORLANDO

Jason Richardson to ORL on a 4-year $25 mil contract.
What? My first thought was "I honestly can't believe this signing." I looked it up. True facts. It happened. I could buy it if J-Rich was fresh off his virtuoso 2010 playoffs, but my lord, he looked absolutely finished last year. He was decent directly after coming to Orlando, but his legs essentially gave out from under him as the season went on and it culminated in one of the most toothless playoff performances of Richardson's short playoff career (10-4 on 33% shooting? Bad news.) I'd feel slightly better about this if it was a 2-year contract or something fewer, but Orlando essentially knotted J-Rich up for four years on a cap-eating $6.2 million a year contract. For what purpose? Does anyone really think a 34-year-old J-Rich is going to be worth $6.2 million, or anything close? It's exactly the same as those pre-CBA bloated MLE deals. Richardson has played 27,300 minutes in his career if you count the playoffs. My god. No idea what Otis is doing.
MBAH A MOUTE TO MILWAUKEE

Luc Richard Mbah a Moute to MIL on a 4-year $19 mil contract.
The contract seems a bit big for a player who has absolutely no ability to perform on offense, but really, it seems reasonable when you consider that Mbah a Moute is one of the league's best defenders at the three. Can't shoot worth a lick, but the Spurs have lusted after him for years because essentially as good as Bowen ever was and if a good shooting coach like Chip Engelland could get to him, he could learn the corner three and be a young Bowen for a new generation. As it stands, is he worth the deal? Maybe not, especially on the Bucks (whose shooting coach is so goddamn awful, I have my personal suspicions that it's Gilbert Arenas), but he's worth it to some teams and my guess is he'll be a valuable trade chip someday if nothing else. Such a great defender to watch.
CARTER, GRAY, BUTLER TO TORONTO
Anthony Carter, Aaron Gray, and Rasual Butler to TOR on 1-year vet-min deals.
I don't know how the rest of the league is going to deal with this three-man wrecking crew. In fact, I think we probably should just award the chip to the Raptors now and make this season a race to find out who's the 2nd best team in the league. Someone, make some Raptors championship rings right now. Use crystallized syrup to make the maple-leaf jewels on the top. Someone has to do this. Please. I'm begging you.
THOMAS TO PORTLAND

Kurt Thomas to POR on a 2-year vet-min contract.
Surprisingly, Big Sexy has been really good these last few years. He played a key role on the surprising 2010 Bucks and was a valuable defensive big for the 2011 62-win Chicago Bulls. Physical defender, solid pick and pop player, and for the vet-min you weren't getting a better center than this. He should be a good asset for a strong 2012 Blazers team that preps itself for life without Roy and Oden's last stand. Good pickup. Second year may not turn out well, but they can probably waive him if he's truly a catastrophe this year and -- again -- vet min for a productive backup center? Match made in heaven for a center-thin Trailblazers team.
BIBBY TO NEW YORK

Mike Bibby to NYK on a 1-year vet-min contract.
Mike Bibby is my least favorite player in the league. He is my least favorite player in the history of the league. There has never been another player I've hated more than Mike Bibby in the annals of history... past, present, or future. He turns all that he touches to dust. His gaze makes small children burst into flames. His saliva contains the root of all cancer, and it is my personal belief that cancer exists only because Mike Bibby's lips once sat upon the skin above the cancer, in the patient's sleep. This is Mike Bibby's legacy. ... Anyway, other than that, good move for New York.
JEFFRIES TO NEW YORK
Jared Jeffries to NYK on a 1-year vet-min contract.
This fine young lass may be kind of pissed off about it, but it's a good move for that kind of money. Jeffries is hardly a good player, but he's an OK defender and a warm body the Knicks can put in behind their two injury-prone big men. They need backups, and Jeffries fits the bill. Also: I misspelled his name as "Jeffires" two or three times -- I think someone needs to write a story about Jeffries devolving into a pyromaniac at Landry's behest and going crazy on the Occupy Wall Street movement in an attempt to spread the word about his mad "Jeffires." Keep spitting your Jeffires, Jeffries.
PAVLOVIC TO BOSTON

Sasha Pavlovic to BOS on a 1-year vet-min contract.
I don't get why teams still think Sasha can play professional basketball. He's been horrible since roughly 2007 and worse than any D-League call-up since about 2009. Why he keeps getting contracts (and then somehow parlaying these contracts into more playing time than most D-League guys) is a mystery to me. He must be really, really good at practice or something. And he must keep latching on to those coaches who hate rookies (see: Doc Rivers, Mike Brown). Really, tho? God only knows why he's still in this league and God only knows why I'm still writing about him. Next!
HAWES TO PHILADELPHIA
Spencer Hawes to PHI on a 1-year $4.5 mil contract.
Hawes is simply a terrible player, but at least it's a one year deal. Still not at all worth it, but Philly is thin on bigs so I can buy this as a semi-reasonable signing. Also, this signing allows me to post the following picture, which may very well be worth his price tag alone.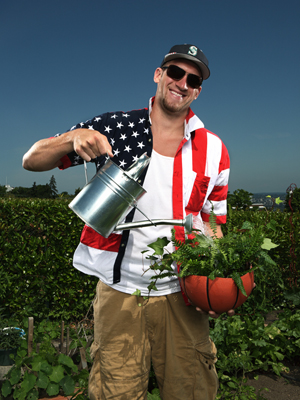 • • •
THE SMALL SIGNINGS: PART 3
BILLUPS TO LOS ANGELES CLIPPERS

Chauncey Billups to LAC for a 1-year $2 mil contract.
Like the move, though with some reservations. Chauncey warned the league that he didn't want to be taken off waivers, and that he'd essentially go psychotic on whatever team picked him up off waivers. He was given a personal warning by Stern, and all signs are that he's OK with getting picked up by the Clippers, but there's still some significant blow-up potential here. Honestly, though? This is a pretty good situation for him. The Clips have Mo Williams and Bledsoe at the guard, and when that's your only competition, even a rapidly aging Billups starts to look somewhat palatable. Not to mention the fact that they're a rising team that has a shot at a playoff berth and a possible title in coming years if Chris Paul makes it there. Honestly, in terms of under-cap situations, Billups couldn't have done much better. This was a good pickup for the Clips as long as Chauncey doesn't try and destroy the team, and if Chauncey is reasonable about it, he'll realize he shouldn't do that anyway.
PARKER TO CLEVELAND

Anthony Parker to CLE for a 1-year $2.25 mil contract.
This pickup honestly irritated me. Hollinger pointed out that the contract is contender-friendly and may very well be able to be moved for another first round pick at the deadline to a contender looking to shore up their bench. And that's true. But Parker is exactly the kind of player Cleveland should be running the other way from right now. He's a fading vet who was never particularly good to begin with, and at this stage of his career, is mainly known for indiscriminate chucking from three and the long two. We need to get possessions to Tristan Thompson, Kyrie Irving, Manny Harris, Christian Eyenga, and Anderson Varejao. We don't need to give possessions to Anthony Parker or Antawn Jamison. The Cavs need to rely on their young talent, sink or swim. I don't see where a 36-year-old fading chucker really fits in with that.
MCROBERTS TO LOS ANGELES LAKERS

Josh McRoberts to LAL for a 2-year $6.1 mil contract.
McRoberts isn't Odom, but he's a big improvement over the Derrick Caracter / Ater Majok frontcourt the Lakers had going behind Gasol and Bynum (both of whom are virtually guaranteed an injury at some point in the shortened season). He's also young -- at 24, he's younger than every key piece on the Lakers roster pre-McBobs but Bynum. He still has a bit of upside potential (though I'd emphasize IT IS VERY SMALL UPSIDE POTENTIAL), and overall, I see this as a pretty strong move for the Lakers. He came pretty cheap for a guy who could still get a bit better, and while (again) he's nowhere close to Odom, he's not nearly as bad as their alternative.
BROWN TO GOLDEN STATE

Kwame Brown to GSW for a 1-year $7 mil contract.
Brown was OK last year. Not good, but OK. Was he $7 million dollar OK? Hell no. The Warriors were looking pretty sparkling coming off of this season -- they had new ownership, Jerry West advising, a new coach to replace Don Nelson, a franchise star with Curry, and in general looked to have a bright future. Now? Not so sure. Yeah, they were "in the mix" for CP3, Tyson Chandler, and a variety of other big name free agents this season. Instead? They made the absolute stupidest amnesty decision they possibly could, they offered DeAndre Jordan a legitimately insane contract for no particularly good reason, and they just signed a fringe center for $7 million for one year. I know -- I've said it before, I'll say it again. One year deals aren't that bad. But my god, who were they bidding against? Why the hell did they give him that much? The fact is, as promising as things looked, the Warriors management has yet to prove anything -- if anything, they've made me worried they may very well be more incompetent than the buffoons they replaced. Here's hoping they prove us wrong. But right now, they've essentially clinched the title of "stupidest team of the offseason", and unfortunately for Warriors fans, the gap between them and the rest of the league isn't all that close right now. Well, sort of.
BAREA TO MINNESOTA

J.J. Barea to MIN for a 4-year $19 mil contract.
On the subject of "horrible, horrible" front offices, let's turn to Minnesota. Maybe it was a bit mean to say the Warriors have been the worst-managed team in this free agency period by a large margin. In fact, I'll remove the maybe. It was. Because much to the dismay of Minnesotans everywhere, the Timberwolves continued their season-to-season stab at being the most inexplicably dumb team in the league. The Warriors HAVE been worse than the T-Wolves this free agency period, but the T-Wolves are hardly a chasm away -- they're nipping at the Warriors heels. And it starts and ends with this abomination of a contract. When Alex said in his Chauncey story that Kahn is trying to create a 5-PG offense, it's not all that far from the truth -- Kahn has put together a ridiculous, mismatched roster with stupidly weird fits at every possible position and an impossible headache for coach Rick Adelman to try and unfold. I think he'll probably succeed, to some extent, but it's impossible to call this signing reasonable and further impossible to make any sense of the sort of team Kahn is trying to build. He's passed the level of "well, maybe he's just unique" -- he's putting together a roster that makes no sense with pieces that don't fit and calling himself a genius. May not be a genius, but you're sure something, David.
FERNANDEZ & BREWER TO DENVER

Rudy Fernandez and Corey Brewer to DEN from DAL for... a second round pick??
Not sure what the motivation was here by the Mavs. I don't dislike this deal for them, because with the West/Carter acquisitions they were a bit heavy in the wings, but you'd think they'd have been able to get more than what they got. Not to mention something Hollinger pointed out that I honestly hadn't remembered -- the Mavs acquired Rudy Fernandez after the Finals by trading their first round pick for him. So, the Mavs traded a first round pick (which turned into Jordan Hamilton, a decent upside late first rounder) for Rudy Fernandez only to trade Rudy for half of a second round pick. I... what? Really? Brewer, on the other hand, was the "prized" pickup around the trade deadline last season that was supposed to be the pickup that put the Mavs over the edge. It wasn't, at all. Since, you know, he barely played in the playoffs at all. But, well, it wasn't a bad pickup and I can't really blame them that it didn't turn out well. He should be fun on the Nuggets, as will Rudy (if he doesn't bolt for Real Madrid immediately after hearing of the deal), but on Dallas' end this trade simply makes no sense whatsoever. Sorry, Cuban.
• • •
Cheers, folks. More trades tomorrow -- this next post will cover the biggies, I think. Though I may eschew a formulaic post in favor of a series of big avant-garde dystopian fictions about teams that have made big acquisitions. (Scratch the dystopian fiction part, and you may approach an approximation of what's actually going to happen!) This post will most likely be continually updated with new small trades as they happen, or as I realize I've missed them. I'll update you as necessary. Stay frosty.