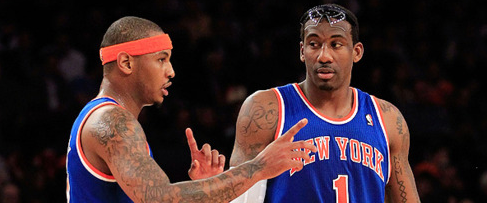 A BRIEF ORAL HISTORY OF THE NEW YORK KNICKERBOCKERS
When Ewing left, the rebuild began. It was slow, a process. But the free agents did come. In twos, in threes, in all sorts. Stephon, Eddy, more and more. It was then that the media -- the Beast -- cried. "The Knicks are back," they said. But it was Isiah Thomas, the false prophet, moves all for naught. The Knicks rebuilt, for a time. They were not back. They were not front. They were merely there; the New York Knicks, the NBA's resident big market stooge. The team that lets Kobe score 60, LeBron score 50, et cetera, et cetera. Career highs in the holiest of holies, Madison Square Garden nothing more than a mystical place for faraway stars to style on a terrible, terrible team. And it was not good. And it was not right. The Knicks proceeded on, and atoned for the sins of their forefathers. They traded their contracts, forged space, and waited. And thus did the Apostrophic King take his leave of the Phoenician Point God for good, departing with a nod and a wave as he fled to the greener pastures of New York. And so they were back. But the new Knicks struggled. They were not back. For they could not defend. They had naught but scraps around the King, such as it were, and the Media was not happy.
The Beast demanded a star, at any cost. And thus the Knicks traded their scraps, realizing upon departure their intrinsic value. And thus did they acquire the Rounded One. The Rounded One scoured upon the NBA tales of his scoring, his shooting, his post ups; signed, sealed, delivered. But the team was not complete. For they still could not defend, and they still could not contend. And thus did the summer come early, in an ignomious sweep to a wizened team. It brought with it a deathly fast, peppered with tales of a new Point God or a gentle giant come to the land of King. But not for one year. Knicks fans must be patient. The Knicks must still build. But in the 11th hour, the land of King realized its folly -- for the scorers and coach and team they'd assembled, they would not be Back until they engaged in the careful art of Defense. And thus did the Knicks add the Erstwhile, Fragile Champion. And thus did the tale conclude. The Beast who cried wolf was appeased. And finally, it was correct.
Indeed, the Knicks were back.
• • •
A NOT-SO-BRIEF TEAM PREVIEW
... Uh, not without its own risks, mind you. Ahem. The Knicks, for all their glamour and glory, are about two missteps away from a first round exit every year for the next three. While I don't think that Amare's knees are nearly as bad as advertised, that's simply a fact. His injuries the last few years have been the epitome of flukish. There was the freak retina injury, the freak back injury in the playoffs last year, et cetera. In the main, Amare's knees have been (knock on wood) very healthy since his surgery. But he's an aging star big man, and that essentially is a free pass to one or two injury-tarnished seasons sometime in the next few. And Chandler? He's a different story, and injury prone doesn't even begin to cover him. Chandler's knees and feet are bad enough that he failed a physical about two and a half years back in a trade that would've sent him to Oklahoma City. The reason OKC rejected him was his toe, which their doctors said could shatter with one misstep. Hasn't happened yet, but it's a sort of ominous raincloud that casts darkness over all he passes -- teams that take on Chandler expecting big things are playing Russian Roulette with their money, and Chandler's toe is the loaded gun.
Amazingly - given his previously failed routine physicals and his generally lacking play in all but two seasons of his career - I still like this signing for New York a lot. I really don't mean to harp on his health and his spotty history to make it sound like I'm low on the Knicks -- provided Tyson stays healthy, the Knicks have put together a team that will contend. Tyson Chandler adds a little bit of everything to the Knicks roster, and will provide New York with the perfect litmus test in his final season under contract to see whether Mike D'Antoni is really going to be the man leading New York's core boldly into the future. I expected them to wait until next summer in a somewhat misguided ploy to angle for CP3 or Howard, but blowing their cap space on Chandler now is honestly one of the smartest (and, I might add, most unexpected) moves the Dolan Knicks have ever pulled. It's risky, of course. But smart all the same, and a proper risk to take for a team as win-now as the Knicks are.
The Knicks weren't the worst defensive team ever last year, so Chandler and their other additions make me hopeful that New York will finally combine a blistering offense with at least a league-average defense. Not much better than that, but league average all the same. The 2011 Knicks were actually a top 5 team in defending shots made 3-9 feet from the basket -- in essence, bankers and runners, and short shots where the Knicks contested. At the rim, they were slightly subpar -- they allowed about 65% at the rim to an NBA-average 64%, and (most importantly) teams shot more of these efficient at-rim shots (26.5 a game) against the Knicks than all but 3 other teams in the league. The addition of Chandler ensures that won't happen this season. Chandler is a defensive presence that commands respect in the league -- teams avoid the paint when he's in the game. Teams attempted only 22.9 shots at the rim against the Mavs. That's a number the Knicks won't match (but should approach) over the course of 2012.
To figure out Chandler's total impact, let's break down and compare the individual components of the New York defense and the Dallas defense under Chandler. To wit, a table -- because I love tables -- comparing the 2011 Knicks and the 2011 Mavs on their team-total Synergy stats.
===================== KNICKS ============= MAVS ==========
------------------- PPP   Rank -------- PPP   Rank -------
Overall             0.92    21          0.88     7     -14
Isolation           0.87    21          0.81     6     -15
P&R Ball Handler    0.83    14          0.82    11     - 3
Post-Up             0.89    20          0.84     5     -15
P&R Roll Man        1.07    26          1.10    28     + 2
Spot-Up             1.07    29          0.94     5     -24
Off Screen          0.92    19          0.78     1     -18
Hand Off            0.94    20          0.78     3     -17
Cut                 1.21     9          1.21     9     - 0
Offensive Rebound   1.09    18          1.10    20     + 2
Transition          1.14    13          1.20    24     +11
==========================================================
The number at the end is the gap between the Mavs leaguewide ranking and the Knicks leaguewide ranking. As expected, the league's #7 defense was better than the league's #21 defense in a lot of ways. For the Knicks defense, which of these types of plays will Chandler's addition most help? Isolation is the obvious start: it's not a big-man-dependent stat, but given that the Knicks allowed so many shots at the rim, adding a lock-down isolation big will keep teams from pounding the Knicks down low like Dwight Howard did throughout the season. Bigs that went one on one and isolated against Amare were more likely than not going to get a good shot. Bigs that iso against Chandler won't. Chandler should also help on post-up defense: The Knicks were atrocious at defending post-ups last season, mostly from the time Turiaf wasn't on the court. Whenever Amare or Mozgov defaulted as their Knicks' primary post defender, skilled and unskilled bigs alike could easily juke them and needle enough free space to put up an easy layup or close jumper. With Chandler's presence in the middle, not only will teams be dissuaded from trying the post-up plays in the first place, teams that do try it will find their post men unable to get the kind of space they used to get. Post men will be strongly challenged. The post man.... never rings twice.
(By the way, I've completely avoided mentioning the largest gap between the Mavs and the Knicks: the 2011 Knicks were utterly and completely incompetent at defending spot-up shooters. It was a product of many things -- lazy rotations, a lack of individual impact players, Knicks players preferring to roam for blocks over staying with their man, et cetera. But the numbers at Hoopdata tend to point the blame at the Knicks' perimeter players. I don't want to rehash a great post by a great writer, though, so I direct all readers still checking this out to take a gander at Jared Dubin's fantastic Knicks preview piece where he discusses the Knicks' problems on perimeter defense. He puts the argument in far better terms than I could, and does it well.)
At the end of the day, the Knicks should be helped in three crucial ways by Chandler's acquisition:
The Defense. I already went through this, but just to recap -- Chandler will help their defense by himself, but his presence and the respect players have for him will allow the Knicks' perimeter players to gamble more efficiently knowing they're backed by a bruiser in the post (one of the oldest stories in basketball). His presence will also make teams take fewer great shots at the rim in favor of worse shots in the midrange and long range. This will, necessarily, mean the perimeter D will have a few more shots per game that fit the description of "bad shots that the team has to take." That will in and of itself make things a bit easier on the Knicks' perimeter D, and in the end, probably combine to make them a league average defense this season.
The Rebounding. An underrated facet of the game that the Knicks were abhorrent at last year was rebounding the basketball. The Knicks rated -- despite 1/3 of a season with the best rebounding small forward in the game and a full season with the best rebounding shooting guard in the game -- 28th in the league in total rebounding rate. 28th! The only teams worse were Phoenix and Golden State, both of whom were actually extremely close to the Knicks. A full season with Melo will help matters, but more than that, a full season of Tyson Chandler could very well erase the problem altogether and turn it into a strength. By any measure, Chandler is a great rebounder -- he was the 11th best rotation player C in the league at offensive rebound rate, and the 12th best rotation player C in the league at defensive rebound rate. He gets it done. Other than Kevin Love or Dwight Howard, there are few other players the Knicks could've gotten that could help their rebounding this much in a singular fashion.
The Burn. By the end of last season, Amare was essentially on his last legs. While Turiaf played about 20 MPG, he could only serve the Knicks for 60 games last season, and Amare ended up playing almost 37 MPG, tying his career high for MPG despite being a big man on the edge of his 30s. His game suffered from it, as well -- his averages gradually declined from their December peak of 30-10-3, culminating in a quite poor season finish. He averaged on the order of 23-6-3 his last 20 games, shooting 47% and wheezing to the finish line. Chandler? He averaged a cool 28 MPG, a good 5 minutes under his career averages in New Orleans. The Knicks having a big like Chandler to place on the court means they can, necessarily, scatter Amare's minutes a bit more and take him down to a more reasonable 32-33 MPG. In a season where teams are going to be scrambling to keep healthy, signing a big man that can help the team spell Amare was incredibly important -- not just for the improvement Chandler brings over their current rotation, but also in preventing Amare from burning out and ruining the Knicks' big investment in him. Signing Chandler doesn't just help the Now -- it may in a roundabout way save Amare from major injury this season, and keep the Knicks from losing the Amare investment altogether.
Lots of reasons to be hopeful. Lots of reasons to keep watching.
Overall, the Knicks are back. I'm not usually one to agree with the New York media, but it's true -- the Knicks have gotten a lot better. They're the prohibitive favorites to win the Atlantic. They've got two offensive superstars and a defensive stud that fits perfectly with them. They're a tough matchup for the reigning eastern champion Miami Heat, and they have a two to three year title window with their current pieces. They aren't favorites, nor a sure thing. It could still all blow up. But they're good again and they should contend for a title. All with an engaging, entertaining team worthy of the fans and fanfare the Garden provides.
What more could a Knicks fan want, really?
• • •