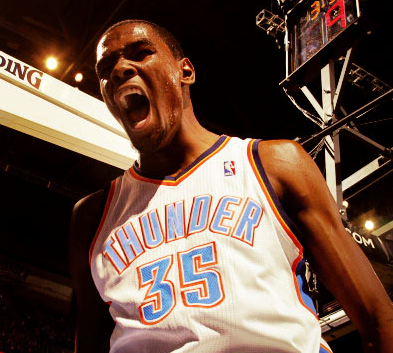 A bit of a content update that I probably should have specified from day one. You may have realized it already, but there won't be a full complement of full-post freeform Gothic Ginboili team previews this season. After all, we're T-Minus three days from the season. The only teams with the coveted full-post previews so far are the Dallas Mavericks, Los Angeles Clippers, New York Knicks, the OKC Thunder (below) and the Miami Heat. The Heat preview (good eye) isn't there yet, but it'll be dropping tomorrow. Instead of reviewing every team in full, I'm building a win prediction model that will form the underlying prior distribution on our full season team ranking algorithm. If it sounds complicated, just trust me: it isn't. Promise. We'll be dropping this prediction model later this weekend / early next week, and some blurbs talking about what we expect from each of the non-full-coverage teams.
Without further ado, please join me in welcoming the new prohibitive favorite for the 2012 Western Conference title, both playoffs and regular season. Your 2012 Seattle Supersonics!
• • •
I promise I won't make that joke again.
The Thunder, last season, were a very good team. Not a great team, but a very good one all the same. They ended the season the slightest bit short of the 2 and 3 seeds held by the Lakers and Mavs -- two wins, to be exact. OKC was a conventional team, but one that was devastatingly effective after the Jeff Green trade. It's actually slightly shocking that they ended the season as well as they did. The importance and lopsidedness of the trade obscured it, but they essentially traded Green for nothing, as incoming Kendrick Perkins spent the entire rest of the year injured and hobbling. With Perkins as hobbled as he was for much of the late season (and essentially offensively useless without an understanding of the Thunder playbook), it was actually a pretty impressive feat for the Thunder nevertheless to roar to the WCF and win a game on the future Champs' home court. The general shape Perkins was in -- one that made him essentially a nonfactor on the floor for most of his time -- didn't stop the Thunder from slicing the good vibes post-trade Nuggets in the jugular and breaking the Grizzlies' backs in a tough, hard-fought seven.
Given all this, I wonder if perhaps we're beginning to underrate the Thunder by proxy. Armchair analysts can cling to the idea that the Thunder have a lessened chance at winning the west because they're simply too young. Or, on the other end, they simply take it as a given that the Thunder will win the west and refuse to talk about it -- something I was in danger of doing before realizing there was no discernable reason to NOT cover the Thunder in a big post, and at a minimum, worth a post verbally chastising myself and wondering why I even considered not looking at them. After all, there may not be a single team in the league that deserves more credit right now. Seriously, Sam Presti has made all the right moves. It's one thing to build a contender: Danny Ferry built a contender brilliantly in Cleveland (overlooked by widespread myths like "they're 20-win teams without LeBron!" and "Mike Brown is so awful!"). And Otis Smith built a contender in Orlando until mid-2010 when he went insane, pulled an infinitely recursive series of panic trades, and began blowing up the hard work he'd done for absolutely no discernable reason.
But Sam Presti? He didn't just build a contender, he built a dynasty. Durant + Westbrook + Harden + Perkins may be the single most high-upside four man core in the league. And not only that, but Presti has surrounded them with high-impact low-usage roleplayers on smart rookie deals that teams crave in cap-clearing trades. Absolutely incredible job with this team. Especially with the roleplayers. If you want to distill the Thunder's advantages down to a single reason as to why the Thunder will be the best team in the west this year, you really don't really have to look any farther than the well-rounded depth of their young roster. There's not a single position where any western contender can approach the Thunder's depth and well-built versatility.
At point guard, they have Westbrook and Maynor -- Westbrook is an all-star caliber guard despite his occasional bursts of iffy black-hole type offense, and Maynor is a pro's pro. His per-36 averages are 10-4-7 to a minuscule 2 turnovers -- coupled with his 38.5% three point shooting and his 73% free throw shooting, you have the best backup point guard among all western contenders, and one of the top 3 starting point guards. So you can check off the point guard box as an advantage 5 nights out of 6.
What about the shooting guard slot? The Thunder are, on paper, weak there -- they have the slightly disappointing James Harden backing up the eternally offensively worthless Sefalosha. The weakness is ridiculous once you get to brass tacks, though -- Harden's game is, without question, nasty. To expound on this: last season Harden's play made me finally typecast his game. Now, whenever someone tells me something about James Harden, my mind flips to a stock photo of a heavily bearded franciscan friar with a bit of a paunch masquerading as Manu Ginobili. Really. The whole season seemed to emulate Manu's pre-breakout sophomore season in 2004, and he completed the deal with two excellent games in the Lakers series that year -- referring, of course, to Manu's nasty 15-5-6 game that helped the Spurs take near-decisive 2-0 advantage in a series that came down to a single shot. This was followed by his 21-8-5-1 outing in a close loss where he was without question the best player on the team. To Harden's credit, he had two such performances against Dallas (and his fouling out in Game 4 cut off the potential for a third and changed that game completely). First in the Thunder's only win, he put up 23-7-4-1 and put the team on his back with clutch threes and excellent defense. Second in the series clincher for Dallas, he put up 23-5-6 and made Terry's defense look absolutely silly (though it wasn't quite enough to flip the series). Harden is a baller. He probably won't start, because he needs to get his shots to be effective and having Durant/Westbrook on the floor necessarily cuts down the shots available for perfect sixth men stars like Harden to be effective. But he's currently one of the top 5 shooting guards in the West, and Thabo is a good defender. That's a solid rotation. I'm not really sure of any western defender that can beat it other than the Spurs, and even then, that's assuming a healthy Manu and Anderson's continued development. Still, 1 out of 15 teams with a better rotation. What's weak at a glance turns out to be a huge advantage for the Thunder.
As for everywhere else, you'll find the same general trend. The Thunder have Durant playing 38 per game at the small forward position and Daequan Cook as his pace-changing spot-up backup (a type of player contenders don't necessarily NEED, but one that serves as an effective pivot piece to open the offense for their scrubs when one or two of the stars are on the bench). There's not a single small forward in the West that's in Durant's zip code (seriously; LeBron, Iggy, Melo, Deng, Pierce? All in the East -- Sure, Rudy Gay and Danilo Gallinari are good, but they're no Durant, and neither team has suitable backups for either after the departures of Wilson Chandler and Shane Battier).
Then you get to the big man rotation, which used to be a serious weakness for the Thunder as soon as one year ago. Now? Relative strength They've rid themselves of the collapsed black hole formerly known as PF-miscast Jeff Green, and are left with a three man primary rotation of Nick Collison (great defender, slightly dirty, funny guy), the puzzle-clicked-into-place-when-he-switched-down-to-the-four Serge Ibaka (decent weakside D with negative isolation and post contributions, developing into a good catch-and-shoot midrange guy, amazing rebounding talent), and Kendrick Perkins (top five defensive C when healthy, really the only player in the league who can consistently bottle up star post players, best screen setter and among the best PnR defenders in the league). Tell me, please -- what Western contender has a better big man rotation than that? I'd have said Lakers, but then they traded Odom away for a bag of peanuts and a signed Tiger Woods golf ball. No other contender in the West has a big rotation that's as altogether solid as the Thunder, and they still have room for improvement. Cole Aldrich has impressed in workouts and the preseason, and has the potential to be a bruising backup that keeps Perkins' legs fresh. Nazr Mohammed is a decent backup stopgap at this point in his career. And even if you ignore all of this, they have three quality big men whose games fit together well enough to be put in almost any permutation.
Take it together and tell me if you can disagree: the Thunder have -- top to bottom -- a top 2 roster at every single position in the West. Odd, but the truth.
• • •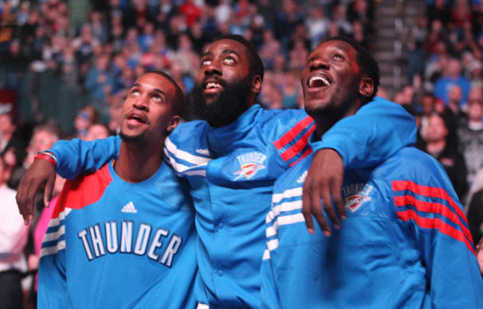 About the only real problem facing the Thunder right now? The stratospheric expectations the entire basketball world has for this team. It's become an unstated fact among anyone paying attention that the Thunder are a lock to win the West this season, at least in the regular season. They're easily the least questionable contender in the West, and more than in any other season, they enter the 2012 season in a conference with no clear number two, three, or four. To quantify it -- these numbers are completely off the top of my head, but the Thunder are essentially a 50-50 shot to win regular season. At worst. Which isn't an overwhelming number, until you realize there's really nobody under the Thunder who has a decent chance of winning the West in the first place unless a lot of pieces fall into place. The other day, our friend Andrew Lynch had a novel idea -- he decided to crowdsource through twitter the percentage chance that various teams win the West. The Thunder had 36%. A decent showing, but look at the teams directly behind them. It's probably an understatement.
Dallas Mavericks (20%): Not going to lie, a bit shocked the Mavs rated this highly. As I said in my full Mavericks preview, I don't think they'll be bad. But they're going to need a hell of a lot to go right to actually have a legitimate one-in-five shot of winning the West. Crazy lineups, insane play calls, et cetera. Just read the preview for more.
Los Angeles Lakers (14%): This is a bit more reasonable. Full disclosure: my ballot was OKC 45%, DAL/LAL/SAS/MEM 12%, Other 7%. I don't think a sub-15% chance is too off base for the Lakers -- Kobe is battered, Bynum is a ticking time bomb, and Gasol may only have one more elite season left in him before he's too physically fatigued and brittle to contribute in the same way he used to. Ron Artest is horrifyingly out of shape and the Lakers have yet to upgrade from the Blake/Fisher duo at the point. There are an insane number of questions about this team. You can't put them higher than this.
Memphis Grizzlies (13%): The other fringe contender whose general stock is being overrated by the commentariat for their lights out performance late last season and through the playoffs. Reminder, though -- the Grizzlies big rotation is completely broken now that Darrell Arthur is out for the season. Their 3rd best big man -- I kid you not -- is HAMED HADDADI. Unless they intend to play Gasol (coming off 32 MPG) and Z-Bo (coming off 36 MPG) for 40 minutes per game their big man backup rotation is 100% busted. They're also harmed by their owner -- Heisley has said in the past that he'd refuse to pay the luxury tax even if his team is contending. He repeated this assertion to a Yahoo News reporter earlier this week. They only have $3 million dollars of salary before they hit the tax line. The Grizz being a title contender essentially will now rely on Gasol/Z-Bo playing insane minutes totals while putting the franchise hopes on Hamed Haddadi becoming a servicable big man. Good luck with that.
Other (9%): I'd assume this is primarily this high from Portland fans who hope beyond hope that this is the year they get lucky, Clippers fans who love dunks while hating defense, and Jazz fans who will forever be the most insanely committed fanbase in the league. I have a friend who is 100% convinced that Gordon Hayward will someday pass Manu Ginobili. I've met a Jazz fan who thinks Karl Malone is the best power forward of all time, with second place being reserved for Carlos Boozer. Jazz fans are a special kind of crazy. Love them, though.
San Antonio Spurs (8%): Probably the non-OKC bet I'd short if I was given these odds and for some reason couldn't short the Thunder. The Spurs -- despite coming off of 61 wins -- have more avenues for improvement of any member on this list. Kawhi, Anderson, and Tiago should bolster the defense a bit. A midseason acquisition of a big -- something that I believe will happen -- will help as well. Pop will have the big three sit games to get the young guns minutes and keep them fresh. I could see this Spurs team surprising. Perhaps that's just the homer glasses, though.
Really, what teams on this list should scare the Thunder? The Mavs beat them last year, but lost their best perimeter defender to the Nets and their best overall defender to the Knicks. They're going to be older than any title winning team in the last 20 years. Success will require insane things from Coach Carlisle. The Lakers are a mess right now and Kobe's injured already. The Grizzlies are banking on 36-40 MPG from two bigs that can't play that much without wearing down. The Spurs need all their young talent to go right to have a real title shot. What should scare them, if anything, is that at least one of these teams is probably going to buck the worst case scenario and end up as a solid second option to the Thunder -- but with their underlying weaknesses, I don't really see how any of these teams pass them.
And thus we arrive at the general point. The Thunder, warts and all, have arrived at the pinnacle of their development stage. Rising challah no longer. The Thunder have been removed from the oven -- whether they like it or not -- and placed upon the table. They're hot, steaming, and cut for consumption. There's no "well, they just need to develop more" or "they need to learn to play together" -- they have that. They're ready. From this point forward, the Thunder are the West's best hope for a dynasty. And with that comes expectations. They now need to win, dominate, and make this league their own. Every year they don't, they chip away at the aura of inevitability. They begin to look a lot more like the 90s Sonics than the 00s Spurs. The 90s Jazz than the 00s Lakers. The 90s Suns than the 00s Mavericks. Et cetera. And that sort of disappointment really has a nasty way of infecting a legacy -- just ask pre-Heat LeBron James about that one.
In short, the Thunder are a superpower, now. It's time to deliver. And this season will, more than any before it, give us a true read on what the Thunder are made of. Is the togetherness, the talent, the on-court love for each other for real, and if so, can it bring them to the promised land? Is Durant really a generation-defining star? Will we ever stop having reasons to unfairly criticize Westbrook? There are more than enough storylines to follow with this entertaining bunch. But the biggest one is the simplest one. How do they respond to being the odds-on, bet your bottom dollar favorite?
We don't know yet. But I'm excited as hell to find out.