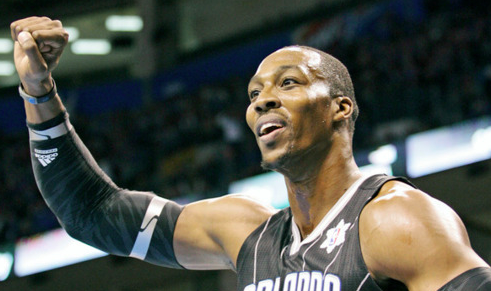 So, we haven't 100% planned out how we're going to deal with game-by-game coverage this season. We've got a tentative goal to do an in-depth, hardcore recap of at least one game out of the week. We also will have the usual oddities you've come to expect from us -- strange aesthetics essays, outlandish fiction, and statistical curiosities abound. But for now, we're going to test out doing semi-daily pieces reacting to the games we watch, or portions thereof. Won't usually cover all the games. Most days, though, between the two of us we'll cover quite a few. Today, however, Alex was engaged in family matters for much of the day and Aaron spent (quite literally) six hours of the day in a plane with no access to the games. So we can only really cover certain portions of each game. But here are our reads and reactions from the day's game-time jams in our new work-a-day feature, tentatively titled "The Outlet." Enjoy. Merry Season, everybody.
• • •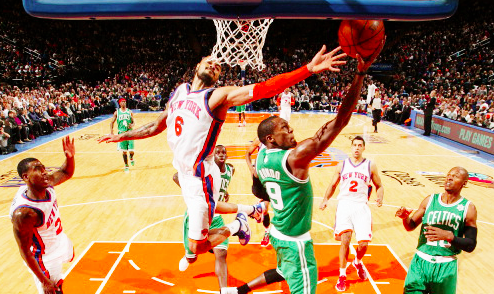 BOS 104 @ NYK 106; THE KNICKS ARE BACK, AND SO IS RONDO (Aaron)
I managed to catch about one half of this game -- the first half, in an Atlanta airport. My favorite part of the game had absolutely nothing to do with the game itself, but to the people milling around the airport bar I was sitting at. Some guy was talking to his wife, and kept pointing to the Knicks and saying "Hey! Honey! There's the new guy, he's Chandler, he's so good!" and kept tugging on her even though she obviously didn't care. It wasn't funny on its face, except that he apparently had absolutely no idea which Knick was Tyson Chandler. I'm serious. The first Knick he pointed out was Landry Fields, but he had this kind of "wait, that's not right..." look on his face as soon as they did a close-up of Landry. So then he decided on Jared Jeffries being the Real Tyson Chandler, which lasted for about 10 minutes (replete with him yelling "CHANDLER!" at everything positive Jared Jeffries did), until finally there was a closeup on Jeffries where you could see his jersey. He got really confused, asked for another drink, and seemed existentially distressed that he had no idea who Tyson Chandler was. I had to leave on my flight shortly thereafter, but it was great fun. As for the game itself? Looking at the box score, I clearly missed something special from Rondo in the 3rd. But I feel I have a good sense of it from watching the first half. Rondo was playing like a man possessed, and usually, the Celtics are pretty unbeatable when he plays like that.
Except for the big problem -- they didn't have Pierce. In the first half I commented on Twitter asking how the Celts are going to win ANY games where Pierce, Allen, KG, or Rondo sat. I don't think I'm altogether off in asking that. Rondo's game today was insane, and pretty incredible. But he won't do that every night. The fact that it took that kind of an incredible effort from Rondo just to keep this game CLOSE doesn't say good things about the Celtics. What doesn't say good things about the Knicks? The perimeter defense, which was expectedly abysmal in this game. Toney Douglas is active on the perimeter, but that doesn't mean he's good -- same with Shumpert, although Shump shows more promise from the minutes I saw. Amare is still as he's always been on defense. He'll have a single decent defensive possession, then follows it up with three liquified atrocities. Just absurd. Part of it was early season issues, but I don't see how a perimeter defense that lets the Celts' second unit stay in the game and can't close out properly brings the Knicks to a conference finals, even with Tyson Chandler there to back them up. They can figure it out, they have the pieces, but a two point home win over a Pierce-less Celtics doesn't inspire much confidence in me. In the Celtics case, it's not great news for them either -- they needed essentially a god-tier Rondo game just to have a chance, despite the Knicks defense. A sort of middling game all-around, with positives and negatives for both teams. But God, I'll admit -- it was incredibly exciting to watch real basketball again. Even if it was in an airport bar near a guy bowing under the alter of Jared "Tyson Chandler" Jeffries.
• • •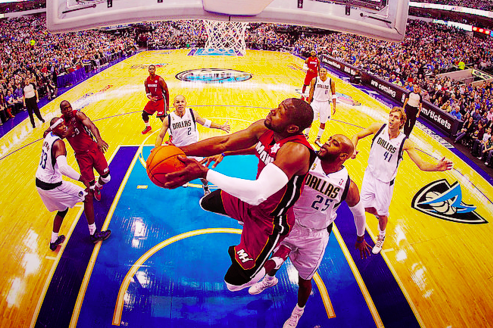 MIA 105 @ DAL 94; THE HEAT'S FOURTH QUARTER STRUGGLES CONTINUE! (Alex)
Well, I'm not sure how Aaron managed to catch any of these games with his 3000-some-mile flight, but even with my more modest travel schedule, I was only able to catch bits and pieces of MIA vs. DAL in between an early Christmas dinner and then the GSW vs. LAC game after coming home. Sitcom-esque blackouts actually prevented me from seeing Heat-Lakers. It turns out blackouts really work for, like, family cohesion and shit. Candlelight conversations are actually as fun as when the sitcom people have them, and young people and their electronic devices are actually prime fodder for comic playing-off. Anyway, speaking of family I actually remember trying to explain to my brother - at the most cruel 33-point margins of the Miami blowout - why this game wasn't great basketball: "See," I said, "Just to tie it would take 11 shots from behind that arc (yes, the biggest arc, that's right) by the blue team without any baskets from the red team. That's basically impossible. So the outcome is basically determined, and the best players are sitting, and the best players still up are playing for a shred of dignity or to show off to their coaches."
I then explained - without getting into detail - how the apocalyptic, ultra-distant possibility of a Heat meltdown was the only reason why as a basketball junkie I was still watching. And it almost did happen, with the Mavs getting within striking distance of that apocalypse, ending the game down only 11 behind the pure swag and winning attitude of Delonte West (who should supplant Carter in the starting lineup in roughly negative seven games), as well as a Heat second-team that couldn't buy a basket (so they tried to barter with horrible outside jumpers) without the Big Three. Second half comeback aside: From what I caught of D-Wade and LeBron (as well as intrinsically solid point Norris Cole), the Heat look just like the presumptive title favorites, at least four-deep. Just don't make them play seven men: Juwan Howard is... not in the "basketball player" stage of his career anymore. And, uh, the Mavs don't look so good, but there were some bright spots, sort of, and Dirk might be primed to continue his climb up the ladder of individual greatness, maybe? Frankly, I was too busy guzzling ham to say for sure. Even more frankly, I'm glad I got more or less sucked out of basketball for a day, even this crucially important day. I had a wonderful Christmas, and I hope you did too.
• • •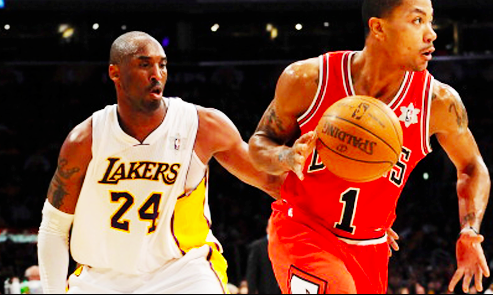 CHI 88 @ LAL 87; THIBS GETS OUTCOACHED, WORLD DOESN'T NOTICE (Aaron)
I don't think this game tells us all that much about either team's overall season outlook right now. The Bulls had major offensive yips -- although Rose is a decent outlet passer, nobody on the Bulls (Rose included) could complete an outlet to save their lives in this game. I'd like to see some footage on it. For a stretch from very early in the third to about midway through the fourth, they had a stretch of what had to be 20-30 passes while coming up the court that were fumbled, off-point, or simply atrocious passes that happened to turn out okay in spite of themselves. Part of that was the Bulls offense being highly asynchronous, and part of it was Mike Brown's defensive schemes. The Lakers were putting on a clinic of pressure defense and rotational excellence for much of the game. Everyone was rotating well, the defense was crisp, and it was vintage Cleveland. And this is without Bynum, the core of Brown's strategy. Despite the Bulls winning, the Lakers making it this close was an absolute triumph of Mike Brown's coaching. Most of the reporting on this game is going to focus on how offensively incompetent the Bulls looked, or how clutch Rose and Deng were in the last few minutes of the fourth. And that's worthy. But while the Lakers lost, with Brown on the sidelines, it appears the Lakers are going to start winning games through sideline coaching and brilliant defensive schemes. Without Odom, and with Bynum/Pau/Kobe aging, they can no longer simply run the triangle, go iso on D, and wait for their talent to guide them home. Mike Brown gets it. Kobe gets it. And the Lakers looked absolutely bought in. The league might not need to be afraid, because this doesn't necessarily look like a title team, but it looks like a very decent team and a team that can contend if things fall into place. You can't ask anything more of this crew.
• • •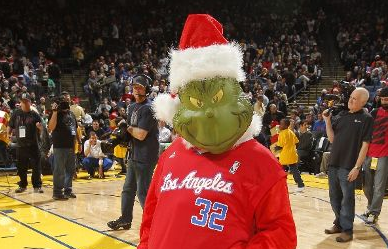 LAC 105 @ GSW 86; SUCH A THING AS A TROUBLING 19 POINT WIN (Alex)
alex: oh, great, griffin made a jump shot from 21 feet
alex: i mean missed
alex: hmm, how could i make that mistake!
alex: more to the point
alex: how could he

-- Alex & Aaron's AIM logs from the game, 3rd quarter.
Kwame Brown's uniform number is "Consolation Prize" and David Lee's defense is passing into the incorporeal at this point. But the Warriors lost (and lost by a deceptively large margin) largely because their three most potent offensive players (Lee, Stephen Curry, Monta Ellis) missed a lot of good, open shots. To wit: The trio shot a combined 50 times for 40 points, and they weren't exactly settling for looks against a legendary defensive team. Stephen Curry has a smooth jumper and (like all great shooters) his shot is not going to fall some days. The shots are ones that are money in the bank for Ells and Curry 80% of the time, and Lee (like everyone in the game) sometimes seemed to be missing gimmes at the rim. To these eyes (and what limited amount I've seen of their preseason), I'm not really concerned for the Warriors offense.
From the Clippers fans' perspective, I'm sure you guys are scared as hell that maybe-not-very-good Mark Jackson was able to completely outcoach Vinny with a successful Hack-a-Shaq strategy on DeAndre Jordan. The Clippers can't afford to have that kind of a simple problem, not with their limited frontcourt depth. It's the house-of-cards-type problem that has made people skeptical of this squad from Day One. Frontcourt defense is huge, avoiding foul trouble for your only frontcourt players is huge. And having a PF that can dunk when he gets any post position but that sometimes wants to shoot from 21 feet all the time and dribble the ball (both without the fundamental skills) is huge. Having a great off-guard that can shoot the three and post up on most twos is huge, but so is having him select terrible shots with those skills. Chris Paul is a great leader with ice in his veins, and Blake is a very powerful athletic force. No one should sleep on this team. But for all the wins they'll get through talent and backcourt depth, we have to ask how many games will they lose through simple mental mistakes (there are tired big man legs and big hands and then there are totally inconsistent FT forms, you know?) and a shallow frontcourt. It's a troubling win.
What was most hopeful for Warriors fans in Mark Jackson's debut is that the W's played toughly and cohesively as a unit on the facets of the game that are there regardless if the shots are falling on a given night. They need that, and it looks like they're getting it. Little Stephen Curry (like he always does) was skying high for contested shots and fighting for rebounds in scrums, David Lee was missing layups but fighting hard for rebounds, and most tellingly, they hacked DeAndre Jordan in the third quarter: The Warriors are here to have fun, but they made a statement there: they're also going to step into gamesmanship and not being outmuscled despite being outsized. Something weird about me: I sometimes love gamesmanship more than basketball. I love how villainous Chauney Billups and Paul Pierce are, how easily great jump-shooters kick the leg out, and so on. And despite the unwatchable parts of this game, despite the dozens of patience-testing slams in the block-charge circle, despite the ruthlessly arbitrary fouls, and despite all the flops on both ends, I was happy about this game, because it showed that both teams were competing hard and doing what it took to win despite their limitations, and in the end the Warriors' jumpers weren't falling. That's a big part of basketball to me. Overall the Warriors played a good game, and they look poised to win a lot of games this season. Maybe not more than they lose, but a respectable amount.
• • •
That's all for now. Don't know how long we're going to do this, but it's the first day. You must allow us to be crazy, silly men for at least this day. Merry Christmas, everyone. Basketball's back. Get hyped.