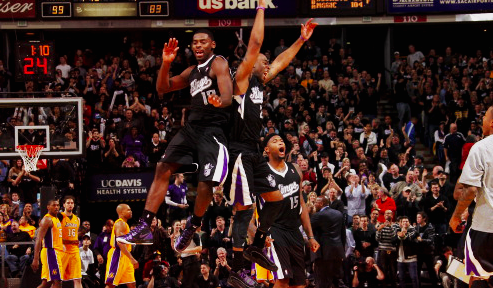 What a great day for basketball. We both had a lot of trouble with League Pass (enough so that we might make a post about it, because it was absolutely unbelievable and worthy of the public record), but once everything got situated, yesterday was an absolute treat. Overall, there isn't much to say: If you're a poor soul like me that forgot just how good the spacing, motion, and tenacity of a modern NBA game is, well, prepare to remember. We ordered coffee - so to speak - and they gave us expressos. We were up all night.
• • •
TOR 104 @ CLE 96; WHEREIN PHENOMS GO BAD AND REACHES GO WILD (Aaron)
I think most of us here are well acquainted with my love for Kyrie Irving. I think he's going to be a terrific pro, and this game didn't really dissuade me from thinking so. It was his first game. Sure, he made some poor decisions, didn't control the game like he should've, and far too often settled for a tough and guarded jump shot when a pass to the open man would do. Still, he had a lot of "how did that miss" shots and ended with a 6-3-7-1 in 26 minutes in his first NBA game -- and his first game playing with the Cavs' starting unit. The Cavs' first bucket of the game was a smooth pass to Andy for an easy lay-in, and that's more in line with what we've seen from him: It's clear that Kyrie passes well with the starters, especially to Andy; four of Andy's buckets came on assists from Kyrie. And even with his terrible 2-12 shooting night, I keep beating the "His form is very good, really" drum. His form is very, very good. This is no Ramon Sessions we're looking at, here -- there's a consistent kink in his shot he needs to deal with, but Kyrie has the right followthrough and he's got enough solid moves to get his shot anywhere on the court. We watched him at Duke: he was Ray Allen type good in college -- his shot will return to him soon.
The main takeaway from this game, though, is that the Raptors (while still a very, very bad team) are sneakily going to challenge for relevancy in games quite a lot more than we expected in the compressed season. The score is a bit inflated due to Calderon's quasi-Nash type performance, but Dwane Casey's coaching is clearly making an impact. He has the Raptors rotating, and has Bargs playing fewer minutes as a pure C than he ever did before under Triano. You add Casey's defense to the Raptors difficult-to-stop offensive attack and you have a team that's probably going to overperform its pieces. Especially with Ed Davis showing the kind of grit he showed last night. It was reported the other day that Dwane Casey had a 1,300 lb boulder dropped into the Raptors' locker room, as a daily reminder to "pound the rock." I'm sure Pop and the Spurs feel a bit miffed at the quote-stealing, but the audacity of putting a 1,300 lb boulder in one's dressing room has to make up for it, right? And one last takeaway: Tristan Thompson can damn well play in the NBA. 14-5 in a 17 minute debut? With solid post defense and very few rookie mistakes? Incredible. Byron needs to find a way to play him more. And Antawn Jamison (he of 6-20 shooting where the next-most shots were 12) less. Twenty shots to Jamison is just atrocious at this point, and if the Cavs can trade him for a conditional 2nd round pick, I don't think any fan worth their salt would complain, if only because it'd mean Byron Scott wouldn't be able to bury Tristan on the bench just for more chucking. Simply awful, Antawn.
• • •
MIL 95 @ CHA 96; THE BALLAD OF GERALD HENDERSON (Aaron)
If you'd told me that the Bobcats would beat the Bucks in a close, hard fought game... I'd be a bit confused, but not flabbergasted. The Bucks are trying to manage a lot of new (questionably talented) pieces, I'd expect Brandon Jennings to be a bit off after the long layoff, and teams that aren't the 2012 Cleveland Cavaliers tend to get a bit more hyped up for that first home game of the year. It's HOW they won it that shocked me. For one night, the Bobcats seemed to be completely possessed by the spirit of Gerald Wallace. Every single Bobcats player was skying for rebounds and going crazy trying to simply get more possessions than the other team. The Bucks were outrebounded 33-14 in the second half, and it felt like more. The leader of the Bobcats' run was, to these eyes, Gerald Henderson. He was on the business end of a flagrant foul, but managed to score 18 on an array of brilliant drives and set shots (and a three!) and grab 9 huge rebounds atop his always-stellar lockdown defense. It was positively Crash-like performance. One that made you wonder if Henderson was going to do this every night. If so? There may be an utterly unexpected All-Star in the east sometime in the next few years -- one that could make Charlotte the NBA franchise-leader for "all-stars named Gerald." Incredibly fun game, and lots of great stuff to look forward to, if you're a Bobcats fan. If you're a Bucks fan? Bogut looked dominant for the first half and Jennings passing was off, but we know he's a good passer, so I'd be more happy about seeing that his shot was (for roughly the first time in a millenium) pretty on-point. Everyone else other than Shaun Livingston looked pretty bad, but when your franchise cornerstones look good, there's something to be happy about.
• • •
MEM 82 @ SAS 95; THE KIDS ARE ALRIGHT (Alex)
This game was a worthy follow-up to the Grizzlies' first-round upset of the Spurs last season. Anyone that saw the (fantastically entertaining) series saw 10 great players on the court for long stretches, with only a few players being seriously outclassed (*cough* Matt Bonner, DeJuan Blair, and Sam Young *cough*). This game wasn't much different in the beginning, with Memphis winning a close, tight first quarter, but we saw a real difference when Duncan and Blair got into foul trouble (a huge factor in the decisive third and fourth games last season).
This time around, the Spurs used frontcourt foul trouble as an excuse to try out lineups heavy with newer players, and the newer players shined. After the Spurs made about 8 turnovers in 9 minutes (mostly with their starting rotation), the Spurs went a full 22 minutes without a turnover and ended up with just 13 for the game to hold court in the second and dominate the third. On the other hand, the Grizz (who started the games causing the turnovers), suddenly found themselves on the business end of a Spurs second unit now featuring great young defenders Kawhi Leonard, Tiago Splitter, and James Anderson. The second unit forced Memphis turnovers in bunches, partly by fast hands, partly by proxy: Weaker help defenders like Tony Parker, Blair and RJ found they could cheat a bit more on defense, and TP actually got a few rare steals. When Duncan got back in to play the third quarter, he didn't get into foul trouble, and the Spurs rolled easily. We know what Manu can do on both ends, but it was refreshing to see RJ score in bunches and look like he belongs. Let's hope he can keep it up.
For the Grizz, nothing was new for the returning cast: Z-Bo was his usual near-unguardable self, and Marc Gasol played with a high level of skill: No, he still doesn't have the transcendent skill of Pau. But when his 16-footer is falling, Marc's a lock for high efficiency on both ends. And Conley was decent, less the staggeringly quick guard that outplayed Tony Parker last season and more the average, overpaid point guard we thought he was. But he wasn't awful, and Tony Parker was hardly the difference (four steals, but not a dominant performance in the lane). And Sam Young and Tony Allen had pretty decent defensive, scrappy games (Tony Allen and Manu are two of the league's ballers, and they always show up for games like this). The big problem facing Memphis is that without Darrell Arthur, the Grizz run about 6 deep, with a pretty steep drop-off after that. Dante Cunningham looked like one of the worst rotation players in the NBA, and while he would be a fine 10th man, Memphis games will now be swung on his terrible mistakes, and that has to worry Grizz fans.
Because of the Grizzlies' depth problems, I find the "chemistry" argument against Rudy Gay to be pretty unconvincing. I broke that Spurs series down: The Spurs backcourt was able to make up for Z-Bo and Gasol to an extent last season partially because they could give poor Sam Young a gigantic berth on offense, knowing that he could do little to nothing even when the Spurs spotted him 3 seconds to make a decision. Giving the Grizz a dominant scorer at the three changes that equation, and gives a well-coached team one more good option. No, Rudy Gay shouldn't be taking away touches from Z-Bo and Gasol when they have a matchup advantage, I get that, but having him around improves their spacing and stretches the defense ever thinner. And let's be real: the Grizz's three frontcourt bench players are Brian Skinner, Quincy Pondexter, and Dante Cunningham, none of which is very good. The Grizz have to have some sort of a decent scorer when Lionel Hollins doesn't have the luxury of feeding Z-Bo and Gasol in the post over and over (or just on off nights when they're getting 25 points instead of 35). Rudy Gay is going to be a godsend for the Grizz to have, I think, and he may give them the outside shot at a deep playoff run. It's just that he may make more sense coming off the bench to lead the second unit.
As a sidenote, I'd like to say something about the San Antonio offense, so rich with shooters, motion, and endless penetration-and-kick-outs and dozens of reverses. Their signature play on offense used to be Duncan in the post or a brilliant set play, then it became the famously dull penetrate-and-kick-out to the corner for an efficient three. Now it's 12 passes, 5 rotations, 3 curls, 3 flare screens, 2 playmakers, 2 v-cuts, 1 ball-fake, 18 seconds. There's a tired and unfair cliche that always pops up about a team during its dynasty years: If you don't like how this team plays, you probably don't like basketball. It's absurd, as if everyone looks for the same things in an offense or defense. On the other hand, I think the cliche might apply to the Spurs' offense today: Motion, spacing, trickery, improvisation, orchestration. What else could you want? In fact, the only thing really missing here is swagger, and I don't know if you've seen Manu Ginobili at all in the last 10 years. Or Kawhi Leonard in the last six hours. By the way, the touted rookie Kawhi's play last night was staggeringly interesting, if nothing else. Having only one point for most of the game (until the Spurs made their big run via Manu, RJ, and Tony), Kawhi still looked like a total stud, and in the end tally his career projects to be one of those ballers like Bruce Bowen or Gerald Wallace that seem to fill every important space on the court on both ends. If you get a chance, try scouting Kawhi. After awhile, you'll probably find you've inadvertently ordered pizza and invited dozens of people over for a block party. He just puts in so much work and makes the game so fun and easy for those around him. You can't help but do the same.
• • •
DEN 115 @ DAL 93; FROM NUMBER ONE TO NUMBER WHAT (Aaron)
I don't really know what to say about this game. The Mavs have to be better than this. The Nuggets weren't defending incredibly well, but essentially everyone on that Mavs team looked atrocious, so it really didn't matter. Dirk had the quietest 20 point night in his career. The Mavs starting center had 5 rebounds -- and unlike the "felt like more" rebounds of our Gerald-powered Bobcats from before, those were the quietest rebounds a man has ever done gathered. One observation I had? The Mavs were playing as though Tyson Chandler was still on the team. I'm serious. They were leaving these incredibly huge gaps in the middle where Chandler used to roam, on defense (and when going for rebounds, they kept deferring to an invisible teammate who wasn't there), and on offense they were disoriented and out of touch with one another. The Nuggets played like the best team in the West (especially when OKC is playing like they did in Minnesota last night), but my god -- back-to-back or not, this is the second straight double digit home loss for the defending champions. The Nuggets could look like the next 72-10 team and that wouldn't be okay. Scratch what I said about them being interesting -- if this keeps going, this team is just going to be sad.
• • •
LAL 91 @ SAC 100; BUT THAT'S NOT HOW IT USED TO BE (Alex)
I got chills watching this. The Kings outclassed the Lakers in a way that made you think it wasn't just for one night. Sure it was a Lakers SEGABABA (second-game-of-back-to-back, for the unenlightened), sure Bynum was suspended, sure, great young shooters are going to beat great older teams a certain percentage of the time. And maybe it just was the weirdly inspirational borrowed time of raucous Arco Arena, but I got chills watching it, and it felt like the end of Kobe's era in a way that the Mavs series didn't. I only caught the second half of this one, and Kobe's stats weren't exactly stellar for the game, but he was a baller in the second half, and so was Pau. It was kind of nice to see the two best players at their positions in a game where they a) didn't have any incentive or desire to coast and b) actually put aside the question of who would get touches. With Luke Walton and Derek Fisher in the game, you do what you must, not what you want. Pau and Kobe often just rolled together towards the basket, knowing that they were big enough, skilled enough, and intelligent enough to handle anything the Kings could throw at to stop them. The Artest Presently Known as Peace (copyright Alex) played well off Kobe and Pau, scoring in bunches, and Walton, Fisher, and Ebanks weren't having horrible games given their respective skillsets. McRoberts, Murphy, and Barnes were completely outclassed by the Kings whenever they were in, and Barnes had some of the worst "standing around and hoping I'll disappear" offensive sets I've ever seen. Yes, Kobe went into hero mode at the very end, but he and Pau really gave us a throwback game in the second half, and the passes were wonderful. But the Lakers looked incredibly vulnerable, and if Bynum gets injured (too likely for comfort), they might actually be a high lottery team, which is kind of astonishing. It just isn't enough, anymore. And the way they were playing in this game, it's actually a pretty sad thought. I found myself rooting for the vets.
But the Kings were the real story here, having so many "we're young, but we're not going away" moments in this game that you could fill a photo album. Marcus Thornton, Tyreke Evans, Jimmer Fredette, and DeMarcus Cousins played brilliantly. A young, talented lineup that never gave way to the cheap "mental mistakes" that are ascribed to them. The questions that have dogged the troubled Kings ever since Cousins' arrival might finally be finding an answer, and it's more terrifying to the rest of the league than any of us could've imagined. There's not much else to say, they have a great core under 25 and they're either going to implode under their own expectations or give us some of the most exciting swagger since the Fab Five... or both.
• • •
Yes, it's the first game of the season for most of these teams and yes, we're barely out of preseason. But the season looks very promising, and the games look spectacular.
Thanks for reading.