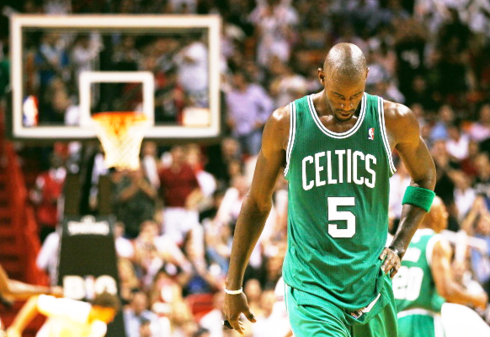 Another interesting slate of games tonight: When we were divvying up games, Aaron chose Minnesota at Milwaukee and I chose Boston at Miami. Little did we know that we'd both picked the right games. Both of the early games were strange and filled with near-impossible comebacks rebuffed. The wonder of the early games quickly gave way to the dismal blowouts of utter mismatches in the later games, but it did nothing to damper a fantastic night. Let's talk about it, after the jump.

• • •
MIN 95 @ MIL 98; BUCKS LOOKED GREAT... BUT BARELY WIN? (Aaron)
A curious game. Andrew Bogut looked good, until I looked at the box score and realized that for all his bluster he'd actually had a relatively poor game on the offensive end. He certainly looks better out there, and he even drained some long midrange shots in the game that give you hope his offense is beginning to come around and his elbow is fine. But he also missed a ton of close bankers and his hook shot still seems a bit off. So it's a little bit of hope and a little bit of dismay, for anyone who likes the Bucks. For my part, I think that honestly applies to the Bucks' whole attack. The Bucks spent a very large part of this game looking like a lesser form of world-beaters, up 15-20 on a Minnesota team that had pushed the presumptive Western Conference Champions to a 4 point game they could've easily won the night before. The Bucks defense was (as always) stifling and Dunleavy/Jackson had bought in completely on that end. The offense was bad, but Bogut's shot showed signs of hope and Jennings looked like a hyper-efficient phenom point guard again, instead of a mindless chucker.
But once again, Bucks looked great, but couldn't close. They were bailed out by the Timberwolves playing a completely inept defensive frontcourt in Anthony Tolliver and Kevin Love as their closers, allowing rookie Jon Leuer the space to make some excellent hustle plays and Jennings the space to find him. But the Wolves were able to score down the stretch, put the pressure on, and shockingly outscored the Bucks 40-20 from Rick Adelman's timeout at about 5 minutes gone by in the 3rd. The defense that destroyed the Wolves for most of the game simply didn't come to play at the end. Which was a similar case to the Bobcats game. You have to hope they figure it out, but the crunch-time offensive execution of the Bucks is about as bad as it could possibly be. And if their crunch time defense goes with it? The world-beaters we saw in the first two and a half quarters may be nothing more than a tantalizingly close but altogether impossible illusion.
• • •
BOS 107 @ MIA 115; CAN'T SPELL CLOSER WITHOUT COLE (Alex)
One of the strangest games I've ever seen. Miami for three quarters seemed to be toying with Boston, starting with a dominant 11-9 lead (no typo) about four minutes in while also managing to lay about 2 fouls on every Celtic except Ray Allen, KG, and Rondo (and Pierce wasn't playing). Then - after building a seemingly-insurmountable 20 point lead behind a brilliant offensive attack that apparently wasn't just an ESPN puff piece - Miami showed once again that it had problems taking the easy way out, and let Boston back in the game. The Celtics were old, desperate, and crafty enough to take advantage of their fortune with flops, midrange jumpers, and a super-efficient throwback by Ray Allen and a solid performance by newcomer Brandon Bass. And - in the final phase of a good defense trying everything that might work - Boston (to the astonishment of everyone watching) finally used a zone to utterly stifle Miami's attack and confine Wade and James to inefficient jumpers. I can't stress how strange this was: Late in the third, Miami was on pace for one of the greatest shooting nights in NBA history, an utter annihilation of a once-great defense... and then they couldn't buy a basket, at all. Suddenly, just like in Games 2 and 4 for Dallas, Boston was in the driver's seat and seemed primed to take the game in the most improbable, schadenfreude-filled Miami come-from-behind loss yet. The announcers talked about how this was the first zone defense in the KG or the Doc Rivers era, but even if that's true, both player and coach love winning more than they love Platonic defense, and - as Doc succinctly put it - "all they have is the drive!". Miami simply could not score on the zone, and Boston's uncomfortably close 7-to-9-point lead was inching into 1-to-3 territory. The Big Three seemed to be anxiously anticipating another Icarus-style crash to the Earth. And it almost happened.
Enter Norris Cole. A rookie baller from Cleveland State, Norris Cole figured out something revolutionary: if the defense is playing a zone and not focusing on you and you are therefore right there to hit an open shot, you should probably take that open shot, whether it's your 2nd game or your 1002nd, because you're probably going to make it. Okay, I'm being slightly sarcastic here, but really, it's harder than it sounds, especially in his second official NBA game. Boston therefore didn't recognize (or chose not to acknowledge) the rookie Cole when he was open, either because they didn't think he could close the game out or because they didn't think he would (or, alternately, that they didn't think they could stretch coverage to close out Cole without destroying their zone). But Cole hit his open shots, to his eternal credit, and while a lot of us knew about Cole beforehand, we probably didn't know he had quite this much ice in his veins. Norris Cole beat a zone which had, up to that point, completely stifled the best team in basketball consistently, and he did it without any fear or even a sidelong glance to his coach, his legendary team president, or the future HOFers on both sides of the ball. He just executed, and did so in an end-of-game situation where his teammates did not execute. Pretty great.
Where is Boston after this game? It's tough to say, and we're not going to project too far, but Boston definitely has a lot to worry about. They were totally outclassed by the Heat offense and their decent shooting percentages were likely inflated by all the turnovers-to-easy-buckets that prevented them from getting a bad shot off in the first place. If Mario Chalmers doesn't play one of his worst (or, more correctly, one of his most obviously bad) games, this is a blowout, hometown calls or not. I mean, Paul Pierce is a weapon on both ends and his absence was felt, but with the lockout, I wonder how many times a year Sasha Pavlovic's terrible defense is going to get 30-35 minutes a night. I mean, what do the Celtics do then? What if KG is 75% at year's end? What if Ray Allen's shooting stroke is even a little off? They did everything right when the Heat gave them a berth to, but I have a feeling their vintage clawing-back-from-desperation games will start to turn into total blowouts this season. Frankly, if all four of their stars are not in absolute 100% top form by the end of the season, this is not going to be a fun year for the Celtics, short of Brandon Bass waking up as 1986 Bill Walton. As far as I'm concerned, their over/under is 5.5 playoff wins, right now, and that number promises to creep even lower as the East shapes up. But they've shocked us in the past, and before we rush to sign their death warrant, let's see how much these guys in green can shake the jaws of desperation.
• • •
UTA 71 @ LAL 96; BAD JAZZ BREAKS A FUNK (Aaron)
Bad joke. I know. But this game was just as bad. For a time, the Jazz honestly looked like they were going to challenge last year's Cavs for "lowest Staples point total in the last decade" -- they had just 44 points with 14 minutes to go in the game, and every single Jazz player looked to be struggling. They ended with a semi-respectable 71 points, on the back of a 25 point fourth that meant nothing. For their case, it's not really a lost game -- the Jazz are, quite frankly, better off having a few more seasons of terrible basketball. But in terms of how they lost it? This is bad, bad news for a team that some thought had minor playoff aspirations. The Lakers were on a back-to-back-to-back, while the Jazz (a team of young legs) were playing their first game of the year. And they were crushed. Enes Kanter looked immobile, Favors played well but got into severe foul trouble, Hayward was ineffective, and essentially nobody deserved a scrap of a game ball for a shiftless Jazz team. This is a lottery team, at least for the first half of the season. Hard to say that after one game, but I can see it.
As for the Lakers? I have a stealthy bet you can make with one of your friends. At some point in the next two seasons, the Lakers will hold another team to fewer than 66 points. I don't know which team. I don't know when they'll do it. It will be the second or first worst performance by a team against the Lakers since that terrifying Cavs game. But I'd take that bet. The Mike Brown system is a slowdown, grind-it-out system that chews up and destroys incompetent teams. There will be incompetent teams this year, and next year, and every year -- and with the defensive personell at Brown's disposal in Bynum, Gasol, and Artest? Even with Artest's fall? He will get several literally perfect defensive games out of this team (not to say this one was perfect -- it wasn't, though if it was just a tiny bit better, the Jazz may have scored under 60). He got a game out of the 2007 Cavs where they held the Knicks to 68 points, and a game a year earlier holding the Pacers to 66. These teams are older than his former Cavs teams, they will play slower, and if Bynum buys in they WILL dominate bad teams defensively. Bank on it.
• • •
There isn't much to say about the other games that went on, but there was one bit worth mentioning. The Blazers were in a relatively tight 10 point game with about 8 minutes left in the game. Gerald Wallace - as is the wont of someone that earned the nickname "Crash" by sheer merit and tenacity - did about 25 perfect basketball things. Then it was about a 24-point game with about 90 seconds left. The Rose Garden gave one of their trademark polysyllabic chants for the night's hero - "GER-ALD WALL-ACE!" - and the game was over.
The NBA is back, and wonderful forgotten moments like that make us wonder how we handled its absence.