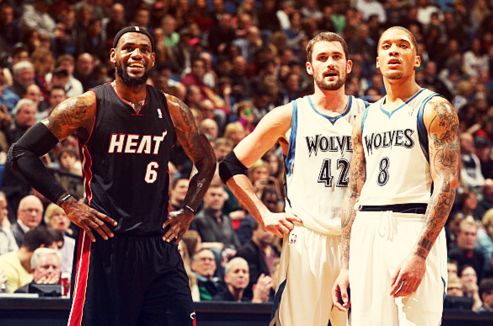 Programming Note: Check out the STEVE NASH projection system that we're dropping today.
I had a redeye flight that prevented me from seeing all but half of a single game on Thursday, on account of my packing, so we didn't have an outlet yesterday. Still, another day, another outlet, as they say. Let's share some of our patented aimless thoughts regarding last night's games.
• • •
DET 85 @ BOS 96; INCOMPETENCE BAILS OUT THE CELTICS (Aaron)
Detroit may be the most aggressively, unnecessarily bad team I've watched in quite some time. The "unnecessary" part is the key to that sentence -- they don't need to be this bad. They don't have to be the worst team in the league (an appellation that may actually fit them just fine in this young season). Their defense is atrocious, don't get me wrong -- Monroe wasn't great on defense his rookie year, but he wasn't nearly as bad as he's been in these last few games. The Celtics probably could've won this game even if the Pistons hadn't played like they did on offense. The thing is, it would've been an uncertain win. It would've been a close game. It would've been questionable. As it stands, this game was anything but. The Celtics piled on the poor Detroit defense and the Pistons had little to show for it.
But it really didn't have to be that way. KG couldn't cover Greg Monroe when he was in the game, and when he was out, not even the double team could keep Monroe from scoring. Bass is awful on defense, and Jermaine O'Neal is suddenly about five steps too slow for the NBA. Greg Stiemsma is clearly an NBA talent, but he's not a good one-on-one defender and his weakside blocks weren't going to stop Monroe. Despite this? The Pistons didn't drive, didn't feed Monroe, and had a series of almost 10 possessions in a row in the first half where Monroe didn't even touch the ball. Suddenly, for about 5 possessions in a row, they got Monroe the ball -- he scored on 4 of them. Monroe completely obliterated the Celtics' shoddy interior defense every time he got the chance, and the Pistons inexplicably decided to cut down on his chances. Monroe should be taking 20 shots when the Pistons are facing interior pressure as slim as the Celtics were giving.
In sum: Monroe made 9 shots -- Rodney Stuckey, Brandon Knight, and Austin Daye made just as many. Monroe took 12 shots to make his 8. The other three combined to take 33. That shouldn't happen in any game, let alone a game where Ray, Rondo, and Pierce combined to show a Celtics-esque commitment on the perimeter to contrast a gaping flesh wound on the interior. Just some terrible, terrible decision-making on the part of the Pistons in this game, and that seems to be par for the course for them this season. On the part of the Celtics, it's concerning that their interior defense is so bad even when KG is in the game. KG isn't the kind of do-it-all defender he's been the last few years, and so far this season, he's played more like the tentative and defensively toothless KG we saw in the Miami series than the one who led the Celtics to a sterling record out the gate last season. It's a concerning trend, and if it doesn't improve, the Celtics are going to have a lot of trouble beating any team that's paying attention. Luckily, for them? The Pistons weren't.
• • •
CLE 91 @ IND 98 (OT); WHERE KYRIE GETS REAL AND JAMISON IS AWFUL (Alex)
The most interesting matchup in the game was in the last quarter, when George Hill and Kyrie Irving managed to find each other on both ends. A bit of background on the two: George Hill is a great player in combo guard hell. His skillset is very hard to fit into a great offense like the Spurs had and that the Pacers figure to have. He can't run a offense but he also doesn't have the dominating athleticism or lockdown shot to be a great SG. The essential "more than good" rotation player: always as well-regarded as the starters, often more efficient, usually better at man and transition defense, and often right there at the ends of games. But a hard fit. Kyrie Irving is a pure point guard. He's also by a wide margin the best defensive guard on the Cavaliers. The total package: he can run the pick and roll with options, penetrate with the best of them, and shoots pretty well. His shot selection is a bit questionable so far and his passes aren't all crisp yet, but it's his third game in the NBA. He's very efficient, and looks to be among the better points in the NBA already. Down the stretch, as soon as Hill started hitting shots against Sessions and Gibson, it was pretty obvious Kyrie was going to sub in to switch onto Hill. Conversely, when Kyrie came in and outclassed the rest of the Pacers backcourt, it was pretty obvious that Hill was going to switch onto Kyrie.
And so we had a good old fashioned defensive matchup on both ends with the two guards: Each player was fast, tenacious, and defensively skilled enough to prevent the other from getting an easy layup on a penetration, but both players also had enough skills to stretch the game out and create and try harder layups. While Kyrie was the primary ballhandler and Hill was at the two, they were a perfect match, and their matchup sent the game a bit higher. They even had a jumpball (which Hill won). But overall, Kyrie marginally edged Hill out at the end (though they weren't matched up for this possession), because Kyrie beat four Pacers to get a game-winning open layup at the end of regulation (which, yes, he blew). The big men matchups were great, as well. Hibbert outclassed Varejao 1v1, but honestly there was little Varejao (or practically any one defender) could have done. Meanwhile, Varejao made great rebounds, was a threat in PnRs, and did all the dirty work, even while getting a lot of really painful injuries (including a bullshit play where David West pulled him down to the ground). Despite Hibbert's talent, Varejao's clumsy, ever-present creativity made this a push. Then there was Jamison vs West. In just the fourth and OT, this matchup accounted for a swing of about 15 points, as David West had scouted Jamison for five minutes and realized he always shot the ball. This not only completely bottled up Jamison, it also created transition opportunities when Tawn did get the ball blocked or altered. On the other end, West made the most basic switches and gave himself the easy 5-foot floaters. David West can make a defender pay with an inch of space. Then Jamison gave him 3 feet. Whoops.
Which really is the root of what made this game so great. Kyrie could've hit the layup that would've won it at the buzzer, yes, but before that (on the possession and in the quarter) Irving had almost beaten Indiana by himself, and the game wouldn't have come down to a single, up-or-down event without Kyrie (or, for the opposite reason, without Antawn Jamison). In the future he'll make that shot 9 times out of 10, and the Cavs will win. It's unreasonably frustrating: Kyrie suddenly puts the troubled Cavs into a game against an eastern contender, and yet Coach Scott insists on playing the black hole Jamison to take them right back out of it. This game was a stark reminder that the Cavs are decent (and have some legitimately way-above-average starters) and might be great in the future, but in the meantime insist on losing winnable games through a combination of horrible players and questionable coaching decisions. Still. Fun game, and overall? The Cavs losing isn't necessarily a bad thing, for a franchise that wants to rebuild and could probably use one or two more lottery selections to build their future title shot. And if you're going to lose, better to entertain while you do it.
• • •
MIA 103 @ MIN 101; BETWEEN PUPPY BREATH AND RUTHLESS KILLING MACHINES (Aaron)
By the time the Timberwolves took a lead in the 4th, I'd lost all hope that they'd pull out the game. But this Timberwolves team owns the best 0-3 start in the league, and I'm not saying that lightly, nor am I ignoring the Mavs' start. This Timberwolves team -- through three games -- has yet to be embarrassed. Never not been competitive. Never given up. Adelman is getting a lot out of this roster, and it's incredibly fun to watch. Only Kevin Love has played more than 36 minutes per game (38, to this point) -- beyond Love, the team's philosophical and oftentimes literal center, Adelman is going with a very deep rotation with 9 men playing between 20 and 31 minutes per game. And they're competing. Their defense isn't good (an eternal truism for a team that relies on Kevin Love for big minutes) and their offense is a bit predictable without Rubio in the game. They rely on getting to the line a lot, perhaps not sustainably. But when Rubio is in the game, and the players are bought in, this is a Timberwolves team that can put up a 15 point run on any team in the league -- good defense or bad -- without batting an eye. Rubio is, by the way, an enchanting guard to watch. His shot is about as impure as it gets, but his vision is just absurd. He's made this Timberwolves team into a watchable, fun unit. Joys abound.
As for Miami, this game had a few poor omens for a season that's otherwise looking to be -- with caution -- a special one. LeBron James is quietly averaging 33-8-7-3-2 (on 60% shooting) in just 37 minutes per game in the Heat's four victories, and is unquestionably the MVP of the NBA's first week. Bosh has (excepting a poor performance against Dallas) been great this year, and Norris Cole is the spark off the bench the Heat needed in the finals last season. And Udonis Haslem looks like he'll be good once he gets in shape. But this defense? It's bad. As good as their offense has been, the Miami defense has been decidedly poor the last three games. And while the Timberwolves played well, the only reason they made 11 threes was that the Heat absolutely refused to close out on their shooters. Part of it may be that Wade -- so far -- has been barely short of terrible this season. Despite taking infinitely more efficient shots than he used to, Wade is shooting 47% and looks quite bad out there. Part of it is the illness he's been suffering and the various scrapes, but he's playing decidedly older than his age right now, and that has to worry Heat fans a bit. He's the hero, right now, for winning two games with miracle game-winners. But the Heat wouldn't have needed those if he'd played better in the first 45 minutes. Something to watch, as the season goes on.
• • •
TOR 86 @ DAL 99; THE CHAMPS GET A WIN, THE RAPS GET A COACH (Aaron)
Hey! Dallas got to play a meaningful fourth quarter! Excellent! In truth, this was a rather boring game, but the final score drastically overrates the final margin. The Raptors (another pleasant surprise in the young season) played to their potential and kept the game very, very close going into the fourth. With fifteen minutes left in the game, the Raptors were actually leading -- on the road, in Dallas -- 68 to 61. The Mavs proceeded to put up 38 on the Raptors defense while allowing only 18 from that point forward, showing that the Raptors defense, while improved, isn't exactly at "trust it to keep a lead" level yet. But it's certainly improved, and it took a few lucky shots and crunch time minutes for their main guys for the Mavs to run up the score quite as much as they did. I'm still rather shocked that Dwane Casey has turned the Raptors into a decent team. Not world-beaters, but they're not awful by any means. And if you'd told me that before the season? I would've been surprised.
As for the Mavs, their defense showed up in decent form this game, despite the fourth straight utter no-show from Lamar Odom (prompting Alex to hilariously and rhetorically ask me if the Lakers "won" the Lamar Odom trade). Delonte West played poorly on the offensive end but was effective on defense, showing the same chops on that end he used to when he was a Cav. Vince Carter was efficient on offense for the first game in seventeen years, and Dirk was... honestly rather disappointing. You'd think he would come out the gate strong after his title, but instead, he looks more like he's finally starting to show his age and lose his first step. Concerning, but not as much as Odom losing his step, Kidd's passing looking depleted, and Beaubois continuing to disappoint. The 2012 Mavs are still as interesting as I thought they'd be. Perhaps not in a good way.
• • •
CHI 114 @ LAC 101; REGRESSING TO THE MEAN (Alex)
The Bulls are 2-2 and are winning by the margins that they should be. Rose was an absolute beast last night, outclassing my favorite point CP3 by a significant margin in every statistical category imaginable (except Paul's edge in steals/TOs; Paul was a typical beast with 4 steals). Rose finished with 16 assists, and to these eyes they were earned, though perhaps not in the traditional "penetrate and dish" sense. See, that would imply that he wanted to dish instead of score through five defenders, Rose's usual goal. His assists were more like afterthoughts of good judgment. But afterthoughts count just as much as forethoughts in the box score. His dishes were more like desserts. Anyway, outside of his passing, Rose got 29 behind amazing finishes and getting to the line whenever he had the opportunity. It was pretty great to watch, and even without Rose, the Bulls offense was filled with stellar passing. Big ups to Omer Asik, with a strange 2-5-2 (with 4 to and 2 pf) line in just 10 minutes, who got another 2 hockey assists that I saw. See, Asik is a garbage-time artist, one of those centers that seem to exist as living ball redirects in a network flow problem. Noah got to the line well and was his typically insanely efficient and quiet self on both ends (19-8-4-1-1 with great defense on 7 shots, what?). Looking at the box-score of any Bulls game, you note just how many players they have that can fill up the box score in so many good ways, without using up shots or making turnovers, or even calling attention to themselves. It's pretty crazy.
Paul's 14 assists were more difficult and impressive than Rose's 16, even at one point crashing into a switching defender as he dumped it off so that a rolling Griffin could have an open lane to the basket. And Paul is still a better floor general who seems to be working with less talent and much worse coaching. My favorite "horrible Clippers meet CP3 sitcom" moment was when Paul made a long, forceful argument to get the ball back when it went out of bounds, and actually got his wish... only to see the other Clippers turn it over 2 seconds later. Classic Clippers. Blake Griffin had 34 points on 25 shots and was brilliant around the rim, typically. Which sounds nice, except that he was playing with the best passing PG in the game and many of his setups were of the "couldn't miss" type.
It could easily have been 34 on 20 or 44 on 25 shots, and Blake hasn't yet learned that he's not a shooting guard. Over and over Blake settled for awful 19-footers, surreally passing up open jumpers only to take the same shot with more pressure and less options thanks to the shot clock, dribbling from 20 feet out and causing a bad shot or a turnover. Why does he do that? It's absurd, and combined with his defensive incompetence, doesn't really do much for me. For the Clippers on both ends it was the same story as with San Antonio: On defense they were a sieve (and worse, a sieve in foul trouble!) and got punished by a much superior team with great passing and a great backcourt. The Clippers were actually rather efficient: The Bulls played fine defense, but found out that Chris Paul and Blake Griffin are both pretty good. It's quite hard to stop either, much less both. The rest of the Clips? You can stop them just fine.
• • •
Check on us later for season predictions. We won't be using any of these first games to make them, too -- which makes one of the model's predictions even more ridiculous. But you'll see.