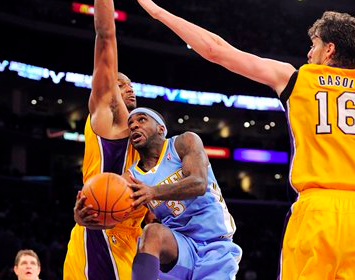 Happy New Year, everyone! I had a relatively crummy night, but most of my friends had a great one. Here's hoping 2012 is two times the year 2011 was. Or three times. Or more, even. There's reason for New Year's Cheer afoot, especially for Lakers fans. Bynum's back, the Spurs look strong, and the Rockets may still be a playoff team. All's well in the NBA world. After the jump: Nuggets-Lakers, Hawks-Rockets, Jazz-Spurs, and Knicks-Kings. Let's get at it.
• • •
DEN 89 @ LAL 92; LEST YE FORGET, THE LAKERS NEVER LEFT (Aaron)
Big game for both teams. Denver lost a winnable, nearly-in-the-bag game because they shanked their execution in the clutch. It's rarely that simple, but this time it was. They lost because Nene was completely and utterly dominated by Andrew Bynum, who had one of the singularly best games of the 2012 season thus far. The Denver defense -- which has been relatively awful the last week, in one of the underrated first week stories -- finally got better this game. Their rotations were a bit crisper on interior shots and rim protection, though they still failed to close out on the three point line. Which very nearly burned them, but didn't because the Lakers are one of the worst three point shooting teams in human history. (They aren't, but it certainly felt like it -- they shot 8.3% from three and it honestly felt reasonable. You didn't really leave the game feeling they let points on the table, they're just a team of horrible three point shooters.)
But again, the Lakers won ugly, and (underratedly) they made the right defensive decisions in the endgame to mess up George Karl's perfect endgame plays for the Nuggets. Karl ran some great, great plays in the late game. There was no shortage of creativity, grit, or hustle in most of the Nuggets' endgame choices. But, well. Nene shanked an easy, open dunk set up by a beautiful Andre Miller spin move. Fisher outhustled both Andre Miller and Ty Lawson for a great rebound. Nene was eaten by Bynum on both ends -- blocked by Bynum on O, then completely destroyed one play later for the two. Ty Lawson -- a career 76.1% free throw shooter -- shanks two straight free throws. Harrington and Gallo miss contested threes they didn't really have to take. Gallo missed one of the easiest layups of his career that would've tied it with a second to go. And then Al Harrington got confused on a screen and Mike Brown's Lakers defended a several-option play very well to ruin the Nuggets chances on that last second shot. The Nuggets still almost pulled the game out.
Why did the Lakers leave the game open to a team that didn't score in the last 3 minutes? Why, Kobe was brutal -- absolutely brutal -- in his late-game minutes. He went 0-4 in the last 7 minutes of the game, with three of those being far-too-long threes. He had a completely unnecessary technical foul that almost was the difference in the game. He shanked a critical last minute free throw that opened the door and gave the Nuggets a chance to tie it. He had two critical turnovers that both led to open shots -- one led to a possession where Al Harrington drained his third three of the game, and the other led to the lost possession where the Nuggets turned away from their guards and let Gallo and Harrington take contested threes instead. But in a game where a single shot could've flipped it for the Nuggets, Kobe was their biggest ally in a Lakers jersey, stopping the ball whenever he got the chance in the last three minutes. Could've really hurt them. As is, though? The Lakers gut out a tough, defensive win on the back of Andrew Bynum and Brown's system. Which, by the way, looked absolutely deadly this game with Bynum and Pau on the court together -- this is a title-team defense, if the team remains bought in and Bynum stays healthy. Get used to winning ugly, Laker fans. Because you're about to see a lot of it.
• • •
UTA 89 @ SAS 104; TODAY WAS A GOOD DAY (Alex)
At the beginning of this one, the Jazz and Spurs were feeling each other out, which worked to Utah's advantage and they stayed close. Then - in a quick regression to the mean - the Spurs suddenly shot an ungodly percentage on threes in the second quarter and pulled away (for the game, Manu actually shot a torrid 9-10 for 23 points, without shooting a single free throw). The Spurs held court for most of the third and then poured in buckets with a dominant sequence: The run -- which utterly sealed the game -- saw the Blair/Duncan/Ginobili/Parker/Jefferson lineup at its peak, built on crazy bounce passes that darted through legs and arms of Jazz defenders. In fact, Duncan, Parker, and Ginobili all had stellar passing in this one, starting fast-breaks and making Richard Jefferson and DeJuan Blair look like LeBron and Amar'e with wonderful set-ups, and, to their credit, RJ and Blair weren't hurting the illusion with their great decision-making. On defense the rotations were great, especially for the starting five.
Even Sean Elliott was good today (sincerely like this version), and the Spurs got it done well before the New Year's festivities began. It probably isn't a game the Spurs are going to be able to repeat; the Jazz aren't great right now. But with so little time remaining for the Spurs' Big Three, a vintage performance is always welcome. Because LP doesn't cover NBATV (for reasons passing understanding), I had to catch this on "tape," but I'm glad I took the time to do so. It felt like last season at its best for San Antonio, and despite the heavy Rockets loss, I could see the Spurs tearing through the league again in 2012, or at least through the West.
As for the Jazz? Well, despite being outclassed as a team, they showed some promising spots: I really liked Derrick Favors and Al Jefferson in this one, and Paul Millsap was decent. Jefferson is the frontcourt player for all seasons, giving you a nice statline and a powerful presence, and Favors rebounded well despite limited minutes. There was a sequence where Favors got caught between three Spurs defenders under the basket and still found a way to spin around and get to the hoop for a shooting foul. Okay, Avery Johnson was a little too high on him last year when AJ compared him to Tim Duncan, but Favors might sincerely be a quality, above-average starter in a couple years. And an above-average starter in the frontcourt can take a team a long way.
• • •
ATL 84 @ HOU 95; (Alex); MOREYBALL
Luis Scola, Kevin Martin, and Kyle Lowry form a formidable trio of utterly boring players. Despite the Rockets consistently overachieving on the backs of the trio, they're frankly not my favorites to watch. Sure, on a good day each of them can be the class of their positions (ignoring defense), but there's almost no continuity to it. Luis Scola pretty much either gets 25 super-efficient points because he has favorable match-ups and rules (SEE: any international game), or he doesn't score much at all. Martin's shot is either on or off on a given night, and he only "creates" shots to the extent that he has an efficient, high release and can rotate to get open and can get to the line. Lowry is easily the most interesting, and only because Lowry's seemed better and better the last few years (this despite being short, not having an excellent shot, and being in a loaded Western Conference that should consistently eat him for lunch (but doesn't)). Lowry was a strong candidate for MIP last year and he might make a good case this year. That's pretty cool. In any case, boredom is a minor complaint: you can never write off the Rockets and it's to their eternal credit, and Goran Dragic, Chase Budinger, and Samuel Dalembert at least have the energy to make the team as a whole watchable.
Besides, whatever you want to say about the Rockets, they're way less boring than the Hawks. Atlanta did have more motion than what I've seen from them before, but it was basically jump shot after jump shot: the same old story. Sure, the Hawks sometimes used flare screens to create space and they effectively used Al Horford as a more-than-credible inside threat, but mainly the Hawks just used their own iso skills to find the open shot and hit it. Don't get me wrong: I like the way Tracy McGrady's been playing off the bench (and he had a few throwback moves; dude looks healthy), and Larry Drew's defense was at least interesting with Josh Smith as a block threat and Horford playing well in the paint. But... they're the Atlanta Hawks. I think Kelly Dwyer once called the Hawks "mercurial" and I don't know if any word fits quite as well besides "above-average".
In any case, credit mostly goes to Lowry, Martin, and Scola for putting up 95 in this one. Good on them! :nods off or goes drinking instead of watching second half:
• • •
NYK 114 @ SAC 92; PATRICK EWING STRIKES BACK (Aaron)
Now that's more like it. This is more like the Knicks team we thought we'd see from day one -- Tyson Chandler beasting with easy opportunities and defensively active, crisp rotations, and picture-perfect offense. This was a great game for the Knicks, and not just because they were able to dominate with Amare absent. It was great because, up til now, the Knicks haven't really looked like a solid basketball team for more than about one half of the year. They looked like trash against the Warriors and the Lakers, and they looked awful in the second half versus the Celtics. Last night, for almost the whole game, the Knicks looked like a good team. Josh Harrellson isn't a great player, but to these eyes Harrellson was honestly more active on defense than Amare usually is, and he had what will most likely be one of the best offensive games of his rookie year. He really pestered Cousins -- which is saying virtually nothing, as Cousins has terrible shot selection and anyone trying to pester him can do so easily -- but it was a nice sign for Knicks fans.
Which does beg the question, really. Amare has looked gimpy all year, through these few games. Are the Knicks legitimately a better team with him on the floor? I'd say yes, but it's with the caveat that these are temporary injury concerns and not the beginning of his decline. And with the caveat that if he's not fully healthy, the Knicks are probably far better off starting Harrellson and waiting for Amare to recuperate 100%. They have no reason to rush him back on the court -- as defensive as Knicks fans get about Amare's injury history, he is not a player who has been known to recover quickly from his maladies, and risking more injury is playing with fire if you're the Knicks front office. There's still around $83 million on Amare's contract. You shouldn't risk his health just to put him on the floor. Even if the Knicks have a few bad games without Amare -- something I see as a virtual certainty, as Tyson Chandler staying out of foul trouble simply isn't going to happen every night -- rushing Amare back risks setting the franchise back five years. I think the "Ewing Theory" comparisons are silly, but there are legitimate reasons to hold Amare out as long as he can, and to let Amare full recuperate before he steps back out there. A ton of legitimate reasons, in fact.
• • •
As part of rolling out the STEVE NASH model, we're going to put the next day's spreads at the end of each day's Outlet. Here are our spreads for tonight's games. Negative number means the home team is the favorite -- IE, for the first team here, the Cavs are three point favorites against the Nets tonight. These spreads utilize both the NASH model and the mean-regressed HCA calculations taken from Evan's great work over at The City.
     NJN @ CLE  -3.4
     CHA @ MIA  -12.4
     TOR @ ORL  -11.0
     BOS @ WAS    4.4
     DAL @ MIN   -1.0
     MEM @ CHI   -6.2
     LAL @ DEN   -6.5
     NOH @ SAC   -3.5
     POR @ LAC    0.1
[Alex's Note: Because of the New Year's festivities, it took me an extra day to roll out for my games. Sorry about that.
Still, look at those predictions STEVE NASH gave us. Damn, the only game he got wrong was well within the margin of error 
(and, in fact, POR-LAC was the closest game). I guess STEVE NASH is more than just a good point guard. 
He can also see the future with a high degree of confidence.]