Hey, everybody! This is the first edition of the STEVE NASH Power Rankings. The object of these rankings is pretty simple -- the ratings intend to take the predictions that STEVE NASH spat out and update throughout the season with what teams have shown so far. I am rather busy, so I'm going to delay an explanation of how exactly we're going to do this until next week's edition -- this week, I'm merely going to post the rankings, some observations, and my thoughts on teams under/overrated in them. As a basic note: they're a simple re-weighting of current season SRS and the STEVE NASH predictions then ran through our Gibbs sampler to predict playoff probabilities, projected records, and other various stats. Without further ado: the updated NASH rankings. Keep in mind these are completely and utterly automated -- there's no human input on these rankings, at all.
• • •
Click the image for the spreadsheet itself, where you can also view the model's updated predictions by conference.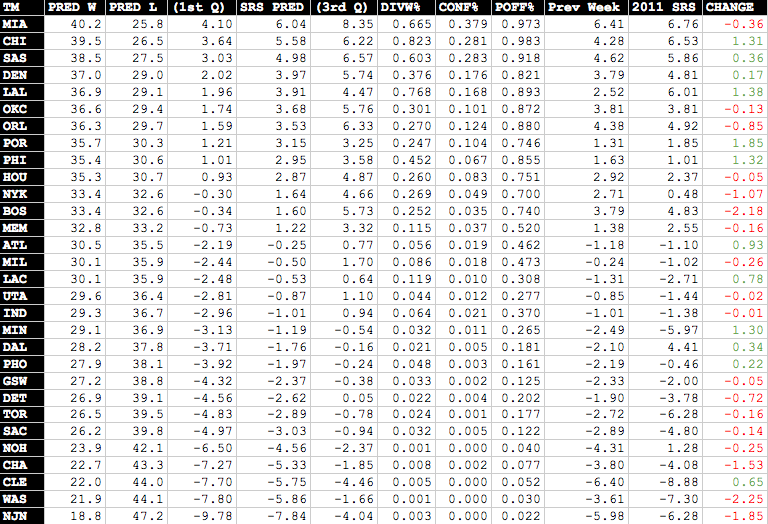 A few key observations:
THREE OVERRATED BY THE MODEL: Spurs, Grizzlies, Jazz.

Well, what'd you expect? The model doesn't know that Manu is out for two months, to this point, and the Spurs were quite a bit more impressive in their first five games than the 3-2 record would suggest. The model still predicts them to win the West, though at only 1.5 rounded wins ahead of a whole gaggle of teams at the 37 win mark. The Grizzlies, as well, are overrated -- they'll start to come back to Earth soon, but without Randolph, their big man rotation runs about one man deep. Which is awful. Marrasse Speights will help, but he's no cure-all. The Grizz have looked awful so far and Randolph's injury couldn't have come at a worse time. And finally, the Jazz -- they've looked quite a bit worse than a 30 win team thus far, and they've faced teams with key injuries and players in absentia (Lakers with Bynum out, Bucks with Bogut out, et cetera). They're likely to come down in a few weeks. I'd expect the Spurs to be down to 2nd or 3rd in the West in a few weeks (barring me adding a Manu adjustment to push them down sooner) and the Grizz to a well-below 50% chance at the Western playoffs pretty soon.

THREE UNDERRATED BY THE MODEL: Blazers, Mavs, Sixers.

The Blazers are rather self explanatory -- they've been playing like the best team in the West (and arguably the entire league) so far, and it really isn't that close. The Mavs looked atrocious to start the year but are beginning to round into form, and with games this week against the reeling Spurs, the depressing Hornets (sans Eric Gordon!), the Pistons, and the way worse than expected Celtics? They could relatively easily pull off a 4-0 week that has everyone completely forgetting about their early season struggles. The Sixers have impressed, but I'm not sure the model or anyone else is properly rating how great their early season has been -- they have yet to play a home game (or, shockingly, a single game against an Eastern conference team) and yet they're 3-2 on the year with a load of refuse ahead. Their home opener is on Friday, and I'm guessing they'll beast it. This team isn't getting nearly enough credit for the insane performance they've had so far this year.

COMMENT: WHITHER DOMINANCE?

Just an interesting note. This model is designed to regress towards the mean, it's true. So the win totals probably are going to get beaten pretty handily by the end of the year. But it's actually rather fitting with the season thus far -- there simply hasn't been a fully-put-together dominant team in this season yet. The Thunder were 5-0, yes, but they won them on incredibly narrow margins and weren't dominating anyone -- the Mavs and the Blazers both took advantage, and they look thoroughly mortal as the favorites in the West. The model certainly wouldn't call them favorites (though I would) -- the Blazers, Nuggets, Lakers, and Spurs (had Manu not gone out) all looked to be stronger picks for the West's regular season champion at this point in the season. The Heat, on the other hand, have impressed about as much as expected, but STILL haven't really solidified their hold on the East because the Bulls look absolutely stellar a few games into the season.
That's all for now, Gothic Ginobili readers. We'll be back tomorrow with... something or other, I suppose. Our content schedule is out of wack due to our writers traveling and family issues. And a whole storm of things at work, at least for me. Enjoy the NBA we've got, and
welcome to the working week
.