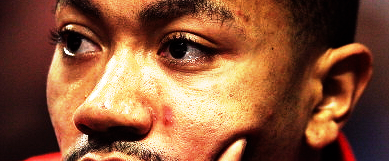 A common refrain among those in my twitter feed, for anyone watching, has been that this season makes no sense whatsoever. I have to agree. The season has been unfathomably odd so far. I was going to do a freeform piece on the subject, but quickly realized there was a simpler way to go. Given that All-Star voting has begun, why not give you my first-quarter All-Stars? After all, we're already voting. And the game is in about a month. It's closer than you think, in other words. I'm not really doing statistical rankings here -- these are based on a combination of their stats (mostly documented here so we can look back later), what I've seen from watching them, and where the conference stands. It's a long look, so let's get to it. Keep in mind we'll be going with the infuriating All-Star positional designations; that is, guards, forwards, and centers. Four guards, four forwards, two centers, and two wildcard slots. Go.
• • •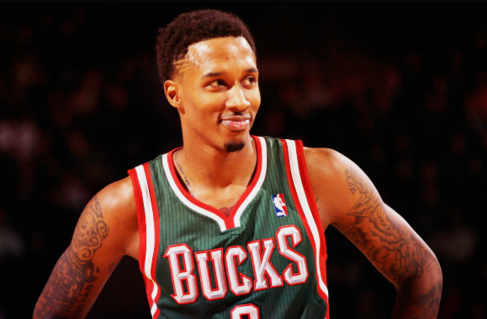 EASTERN GUARDS
STARTERS: Derrick Rose, Rajon Rondo
The starters are relatively obvious. Rose hasn't been having his best season -- inefficient, 31% from three, injured, etc. -- but he's still played like one of the best players in the East. Not MVP ball, but certainly ASG starter quality ball. The stats back me up on this -- Rose has the 3rd best PER among guards right now, the second most win shares (despite missing five games), and is 8th in the NBA at wins above replacement. He belongs here, and he belongs starting. Rondo, as well, has been a bit disappointing this season but still ranks as an ASG starter compared to his closest competition -- despite turning the ball over way the hell too much, he's been the Celtics' MVP so far this year. He's 17th overall in wins above replacement to Derrick Rose's 8th, has the highest PER on his team by a mile, and he's their most invaluable player right now -- the one thing that gives me any pause about him is how atrocious the Celtics are. They've played like the 7th worst team in the East, and while he's their best player, poor teams don't tend to get starting All-Stars. Then again, the East has been incredibly thin on guards this year, and Rondo qualifies.
RESERVES: Brandon Jennings, Dwyane Wade
I have Wade backing up Rose and Rondo for two reasons. First, he's simply played worse than either -- he's sporting a poor look this season. He's putting up an incredibly underwhelming <0.500 TS% (for the first time in his entire career, mind you), and it's not an empty number -- he's ranked 206th in the league in points per possession according to Synergy numbers (scoring at an abysmal 0.85 PPP rate). That offensive horror show is backed up by solid defense (currently 90th in the league via Synergy, though that's below his usual rank), but when you're playing offense as poorly as Wade has been this season while using up as many possessions as he has been, you have some issues. (To their credit: Rose's defense has been above average but not to last season's high, ranked 126th in the league -- Rondo's however has been sterling, 35th overall and as far as I can tell the best among all Eastern guards.) Due to the fact that he's the only shooting guard playing anywhere near ASG-level ball in the East (other than perhaps Lou Williams, who's going to get his own look in the wildcard section), he deserves the nod.
And then... Brandon Jennings. Wait, what? This is one of those "are you kidding me" moments where you'll need to see the stats before you're convinced, especially if you haven't seen 4 or 5 Bucks games. Or maybe even if you've seen them. I get that. So here are the facts. Jennings currently has the 12th highest PER recorded by a guard this season, and has played the 11th most MPG of any guard in the league to get there. For all the mentions of him as a chucker (which I normally would find valid), via Synergy, Jennings is sporting the 77th highest PPP in the league (0.96) and currently ranks out as the 9th best isolation scorer in the NBA (1.00 PPP). He has a higher true shooting percentage than Rondo, Rose, or Wade -- and every guard in the East playing 25+ MPG outside of the fearsome fivesome of Kyrie Irving, J.J. Redick, Jodie Meeks, George Hill, and Mario Chalmers. We'll get to Kyrie later. He has the lowest turnover percentage of every point guard in the Eastern conference, and he's the only player on the Bucks who's doing much of anything on offense right now. The Bucks have been dismal this year, and they look like a long shot for a playoff bid, but Jennings has been one of the 3 best guards in the East this year (better than Wade, in my estimation, quite frankly). Based on his play up to now, he's a deserving All-Star. And now that I've written this paragraph, he'll proceed to have a catastrophic late-season swing to completely erase my perception that he's getting everything together. I can just taste it.
• • •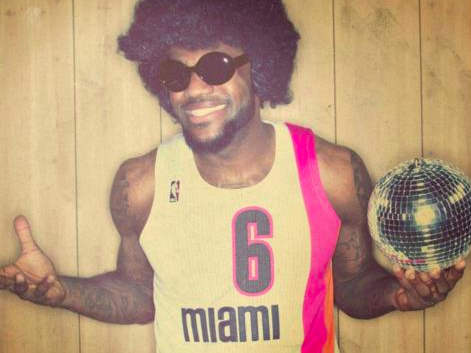 EASTERN FORWARDS
STARTERS: LeBron James, Ryan Anderson
Remember how I said it's been a weird season? Well, it has been. LeBron James has been the presumptive MVP of this first quarter of the season -- he's been good for 30-8-7 a night on a human video game-esque true shooting percentage of 63% (and, again, 33% usage). He's been Miami's rock and he's been absolutely phenomenal this year. He's scoring 1.07 PPP at this point in the season, and that's actually understating how offensively valuable he is. If he wasn't a 75% free throw shooter, teams might very well be better off fouling him every time up the court. That's how potent he's been on offense. On defense, though? I may be the first and only person to say it, but I think he's been pretty disappointing this season. Perhaps I've simply been watching the wrong games, but as I've seen it, LeBron's been cherry picking more this season than he has in the last few seasons. He was a shutdown perimeter defender last year -- this year, he's playing off his man and slow to close out, and overly aggressive in pursuit of the steals and blocks in lieu of pure defensive stoppage.
Synergy backs up this assertion WAY more than I expected when I first typed it, as he's gone from 21st overall in PPP allowed in 2011 to his current spot of 267th overall in PPP allowed in 2012 -- primarily off of, as I was expecting, a dramatically worse performance on sticking to spot up shooters. He's been shiftless on defense, and that's hurting his game. Still, even despite the poor defensive game, LeBron has been on a godly streak on offense enough so that he's still the most deserving All-Star in the East, and the best player besides. As for the other starter? Ryan Anderson has been playing absolutely insane ball this year. Seriously. Among forwards, he's 2nd in the league in Win Shares, 4th in PER, and putting up some crazy pills level averages of 18-7-1 in 31 minutes per game. Does he defend? Not particularly well, no -- though he's doing marginally better than LeBron is in my eyes. And Synergy again backs me up, rating him as the 206th best defender -- pretty poor, but at least he's not in the bottom 25%, right? Like LeBron, his offense is fantastic enough to make up for his awful defense -- he's scoring 1.19 PPP, highlighted with a very high 41.1% from three.
RESERVES: Carmelo Anthony, Andre Iguodala
Melo is going to be a starter. Let's get that straight now -- we've pretty much got our ASG starters picked out, as there isn't really a competitive race left with the voting. And Melo has roughly a 500,000 vote lead on the 3rd place forward (Amare Stoudemire). He'll be starting. And he does, honestly, deserve to make the game. If barely. He's shooting atrociously so far this year, at 40% from the field and 32% from three (on a criminal 21 shots per game). His defense is as bad as ever. But on the plus side? He's drawing a ton of free throws (hence his 26 points per game), fifth overall in wins above replacement (at 3.22), and the 8th overall ezPM100 score in the league (at 7.58). He's playing well, even if it's for a terrible, horrible Knicks team so far. He's deserving of the spot, even if his team is pretty heavily letting him and Tyson down right now. And Andre? Well... he deserves it, probably more than Melo.
Andre is rated the 7th most valuable player in the league in wins above replacement, currently sitting at 3.01 wins above replacement for a team that has won 11. His defense is only rated 94th overall by Synergy, but please, don't let that fool you. For the last several years, Andre has gotten the toughest perimeter assignment of any Sixers. Night in, night out. And he shuts them down. Last year was his coming out party -- he was the best shutdown defender in the league. And frankly, in 2011, there wasn't another player I'd rather have out there guarding the other team's best. Look at the numbers. They'll make you weep. This year, he's kept his momentum going -- not once this year has Iggy let his man put up gaudy numbers, and the "worst" defensive performance he's had (to these eyes) was when he allowed Carmelo to drop 27 points on 26 shots in a close loss to the Knicks. That's a stopper. And while he rarely has gotten All-Star dap for his All-World D? He deserves it this year. His offense is just fine, right now -- he's in the top 100 in PPP, a place he hasn't been in a while. He's playing fewer minutes but still putting up the customary Iguodala line -- 15 points, 6 rebounds, 5 assists, 3 steals, and the best defense that money can buy. Iguodala is an All-Star, right now. Take it how you will.
• • •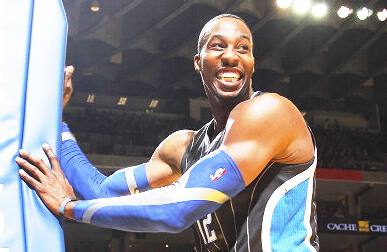 EASTERN CENTERS
He's the best big man in the league.
... Christ, sometimes things are just that simple.
It's kind of funny -- so far, 4 of the 10 players we've highlighted are from losing teams. Really. That's a strange number, because generally, very few players make the team from losing squads. This year, though, the East finds itself sort of screwed. There are only 6 winning teams in the entire conference, and two of them (Atlanta and Indiana) are winning in a rather team-centric effort that doesn't really lend itself to any easy ASG picks. On the other hand, you have your Knicks and Celtics and Bucks, where most of the team is playing like trash but one or two guys are absolutely killing it. In that kind of a landscape, who's an All-Star? Do you take the perfunctory Pacer or Hawk over the players who are beasting it on bad, low-tier playoff teams? Good question. It's a definition that becomes ever-more nebulous as time goes on. And you can have many opinions on it -- most people do.
I think it's a mix. And with the Knicks, as bad as they've been, I think they have two players who are putting up AS-caliber numbers. Carmelo is one, and Tyson is the other. He's doing his best on defense, and he's changed the culture on defense in New York to the extent he can. He's been efficient when he touches the ball (1.21 PPP, 4th in the league -- mainly off his 76.2% true shooting percentage) and his defense has been superb. The Knicks have been playing him strangely on the defensive end, with D'Antoni commonly forcing him to close out on spot-up shooters and defend sweet-shooting stretch fours instead of locking down the paint. He's doing relatively well, though his spot-up defense has been predictably bad -- that's not his game, and D'Antoni should probably figure that out at some point. Maybe. Regardless, for a team that's pretty damn bad this year, Chandler has done everything expected of him and then some. And he wasn't really a deserving All-Star last year, despite the Dallas protestations that he was. But this year, he should have his spot.
• • •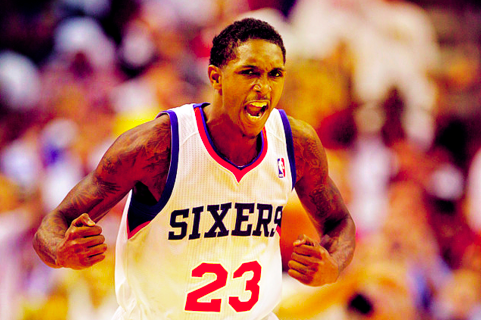 WILDCARDS
LOU WILLIAMS: This may seem kind of odd, but Lou Williams is probably my pick for the one-quarter 6MoY. It's him, James Harden, Mo Williams, or Al Harrington -- nobody in the league has been as impactful off the bench on a great team as those four have been to this point of the season. Lou is currently sporting a PER of 22.6, which puts him at 14th on Hollinger's PER leaderboard. He's got one of the lowest turnover percentages in the league this season, and if he keeps it up, he's going to end up with one of the 50 best seasons -- historically -- in preventing turnovers. He's currently turning it over on 7.4% of his possessions -- that's 38th all-time among guards that played 20+ MPG in a season. Amazingly, there are only two players above him on that leaderboard with a higher usage percentage than Lou has this season. Jeff Malone and Michael Jordan. Just insane numbers. He's scoring rather efficiently -- 16 points a game on 12 shots, which doesn't sound wonderful, but he's scored more points than any other Sixer this year. He's done it on 41% from three, along with a small-sounding two rebounds, three assists... but that's in 24 minutes a game! His per-36 numbers are a much more impressive 23-3-5 with a steal, on 17 shots. That's over 50% better than his per-24 numbers, and it suddenly makes his All-Star campaign a lot more reasonable. In a compressed season and a thoroughly disappointing East, there aren't a lot of truly deserving candidates. Out of the fringe guys, Lou stands out. He deserves it. (... You know. 16 games in. He may not -- and probably won't, as this turnover thing is kind of the definition of a fluke -- deserve it by the actual game, but right now, damn right he deserves it!)

ROY HIBBERT: I can't believe I'm honestly tabbing Hibbert as an All-Star caliber player right now. Really. I realize I just watched him completely take apart Andrew Bynum and Pau Gasol, but dear God, an All-Star? If this was the West, I mean, damn: He wouldn't be considered. But that's the world we're living in: In the East, a center averaging 14-10 with a PER of 20 on a winning team is probably enough to get you in. Don't get me wrong, Hibbert's numbers aren't strictly poor. He's Synergy's 44th ranked defender, and while I think that may overrate him a bit, he's been far better on that end this year than I've tabbed him for in his career so far. Not a shutdown guy, but a good guy. He's been a bit hard to tab on offense as well -- not particularly good, nor efficient, nor someone you really want to give the ball to. But that's sort of how every Pacer has seemed this year -- nobody's really been automatic, everyone's been equal parts disappointing and promising, and they're managing to eke out the wins anyway. That's basketball for you. Sure, it may not last very long, but I'm liking this Pacer team and it deserves an All-Star.
SNUBS
Alright. Snub is an incredibly loose definition, because frankly, if you couldn't crack an ASG roster that includes Brandon Jennings, Lou Williams, and Roy Hibbert you really aren't an ASG-caliber player. In the West, there are at least 3 snubs that would've made this Eastern Conference list if they'd been in the East. So I have some real problems shedding crocodile tears for players who -- while among the best at their position in their conference -- couldn't crack this list. Regardless, there are a few who deserve mention as being right below Lou and Roy for those last two wildcard slots.
First up, a few solid players who are putting up good numbers and are the best player on their respectively horrible teams -- Kyrie Irving, Gerald Henderson, and Greg Monroe. Kyrie has been a super elite scorer (yes, he's a rookie, but he's also already flirting with the 50-40-90 club. Nor does it hurt that he's currently sporting the 4th best PER for a rookie guard of all time), Gerald is an elite defender (to these eyes there isn't a single non-Iguodala perimeter defender in the league that does a better job than Gerald -- impossibly feisty, and his offensive game has evolved from a horror show into a pretty blend of old-school basketball that's light on the free throws and heavy on the fundamentals), and Monroe is an elite do-it-all guy (he's currently leading the Pistons in PPG, RPG, and SPG... and he's 2nd in assists and blocks -- he may very well lead the team in all five categories if he ends the year hot, and I honestly can't think of the last time a player had a ghost of a chance of accomplishing that). If their teams were better, any of those three would probably pole-vault one of their counterparts on this list. They aren't, though, and those three aren't really putting up numbers good enough to throw any of the aforementioned folks out. So, sorry, guys.
And then the decent players who are playing above-average ball on above-average teams, but really, aren't having an individual year good enough to truly warrant a selection. Yet. All of these guys are basically on-call for the game assuming that someone on the list drops out. In this category, we have Josh Smith, Chris Bosh, Luol Deng, Carlos Boozer, and Joe Johnson. I'm not going to go over these guys point-by-point, because there's really no point. We all know what kind of players these guys are. Solid folks. Decent players. And not really a chance in hell that they'd sniff an ASG if they weren't having the seasons they're having right now on teams that aren't contending, or overachieving. In particular, Josh Smith is probably the most deserving of these five -- he's putting up excellent numbers and is without question the Hawks' best player with Horford benched. And they keep winning, which is mostly a credit on Smith and Larry Drew. Regardless -- as I said before, I don't really feel there's a serious "snub" on my list. Because the East is bone-bare of talent right now.
(And no, Deron fans. He is simply not an All-Star right now. I'm sorry.)
• • •
Our first quarter Western All-Stars will be posted on Tuesday. Thanks for reading.