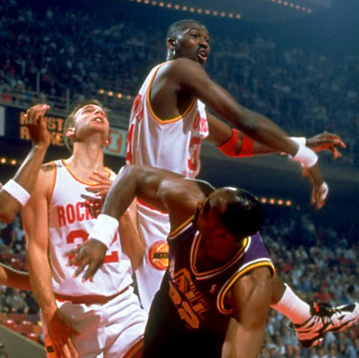 In celebration of our personal opening night, we're going to try the good try to make up for the NBA's lack of one. We're going to make it up to you by posting three full classics of NBA matchups of the teams that WOULD have been playing on opening night, if the season's schedule hadn't been scrapped. Here's game #3: a reprisal of a rivalry so old that few fans remember it existed.
This matchup is the Hakeem Rockets versus the Stockton-Malone Jazz, this time for all the marbles. And there were a lot of marbles: Yes, their only 90s titles came from the Spurs and the Rockets. But the Western Conference also included two of the greatest Finals runner-ups in the history of the game in the 1997 and 1998 Jazz, two teams featuring all-time centers, some great Portland teams, the Barkley Suns, and some amazing Sonics teams. In short: quite a few marbles, even if Jordan kept them from winning the rings to show for the marbles they had in abundance. This metaphor is getting confusing. Let's watch some hoops. This post is formatted like a retroactive liveblog. Simmons-style.*
*We have nothing else in common with Bill Simmons...Well, except all these footnotes.
• • •
Click here for the full game in 12 parts on Youtube, courtesy of patvilhauer.
This retro-liveblog begins at the half, because this is somewhat hard to coordinate, and it's our first time doing this. We're also very wordy. A four-quarter liveblog would most likely be all too long to be read by anyone. As is, it's a bit much. But hopefully you can find something out of it anyway. Read on!
THIRD QUARTER (Time is in time remaining)
12:00 - Coming out of the half, the Jazz came in with a magical lead -- they got a three off Jeff Hornacek making a great play to get off the shot with less than 0.7 seconds left, and in fact left the game on a 10-0 run. It's pretty incredible watching the Jazz at full speed. And then, immediately coming off the half? Hakeem seems to get injured. That's not good. No, my green-texted friend, it is not. That's Alex, by the way. It's not easy being green, but somebody has to do it.
7:32 - Turns out Hakeem's injury was only a funny bone thing. We got the diagnosis from Utah's designated "funny bone guru." I love the Delta Center. Hornacek the last few minutes makes me think that any player in the history of the league could've put up 200 assists per game in John Stockton's place. He's making some fucking insane shots. Yeah. Also, Jeff Hornacek looks like Data. Antoine Carr looks like Geordi Laforge with his visor. I guess Sloan looks like... Patrick Stewart, yeah... But who would Worf be? <Six paragraphs omitted> Yeah...we don't have to add this all to the live-blog, I think.
3:09 - The Big Men are starting to take over, even more than they already have been. Most of the offense is going through Hakeem or Malone either as starters or as finishers. In a memorable sequence, Hakeem made a beautiful full-court outlet to Kenny Smith, who was stripped right under the basket and recovered by Malone for a 20-second T. Malone has been showing his knack for cross-court passes through double-teams and his impeccable patience and timing that allows him to draw infuriating fouls in the midrange. As Drexler's sweet shot fades (the curse of the rhythm shooter), Hakeem is continuing to demonstrate his mastery of the midrange jumper that - along with his amazing footwork, defense, and passing abilities - made him so dominant for this stretch. Both Malone and Hakeem are getting to the line a good deal - announcer points out Dream's elbow as a possible factor in Hakeem's passivity. At one point Olajuwon missed a rebound and the Jazz eventually got 1-2 Malone FTs on the second chance. On the next possession (where we are now). _Malone just set up Hornacek on a beautiful cut for a dunk. The Jazz are opening a solid 8-point lead almost literally on the differential between Malone and Hakeem in this period._
1:51 - So, Utah is actually beginning to take a huge lead at this point -- Rockets haven't made a field goal in almost four minutes, and the Jazz are getting whatever they want. Things are looking rather grim here for the defending champs. No threes are going down. So the Rockets finally wake up and feed Hakeem, who beats up Antoine Carr with a great fake and spin, but his basket is ruled out as a foul. Didn't matter much, as the Rockets beat their slide with some free throws. Ballin'. The Jazz offense follows with a BRUTAL possession, but like many Jazz possessions in the 90s, it didn't matter in the least, as Karl Malone makes a brilliant rainbow J and renders the preceding offensive incompetence completely irrelevant. I read somewhere that Hakeem would often begin his drop step in midair, so he could get an extra spin on opponents. Watch the move right here for an example of that -- the basket is waved off, but he manages to dropstep in midair while catching it, and spins without traveling. This is amazing. Prime Hakeem is seriously unfair, when he's on.
0:00 - Okay, dude, this is absurd. Apparently the Rockets have gotten only two points from their bench at this point of the game. Literally three quarters in with only a deuce from the bench? That's... wow. Unfathomable. I mean, I've watched this game, and I have no idea how that happened. Partly it's because Rudy didn't go strong to the bench. And partly it's because, I mean, shit -- their bench is horrible and is completely shrinking from this game. Thoughts, my greenly feathered friend? None. I'm still stuck on Hakeem's move at about 40 seconds where he caught the ball in the middle of four defenders and still made the bucket. That's a Shaq/Duncan move. That's insane. Yeah, uh, as you said before -- literally unfair. Still. The Rockets bench has two points, Hakeem and Drexler have combined for 50 in three quarters. The Jazz have 71 to the Rockets' 64. And I honestly have no idea how the Rockets are going to go about trying to win this game. Yet. The Jazz are pretty thoroughly outclassing them, though they aren't up as much as they should be.
FOURTH QUARTER
10:27 - Oh. That's how. Drexler just made a few clutch free throws, then after a similarly awful offensive possession for the one I mentioned earlier from Malone, the Rockets just chuck it to Hakeem. Who proceeds to brutalize two defenders and make an incredibly tricky over-strong bank shot that had to be aimed perfectly or it wouldn't have had a shot at going in at all. Hits nothing but net. Life is easier when you have one of the greatest centers of all time on your team, it appears. Rockets now only down five. There's an exit strategy possible, now. They just need to pretend there are only two players on the floor on the offensive end.
9:44 - Malone has 16 ft attempts. He's not a bad free throw shooter, but I'm starting to think hack a Shaq should be Malone's namesake. Because it seems like the Rockets simply give up on all attempts at letting Malone beat them from the field at some point. Also, a Miller Draft Genuine Playoff Moment. This is so surreal.. I... I don't even know what to say about that. You have to see it to understand. I don't get why this was shown. I don't get why I'm alive. I simply do not understand. Nor do I. Antoine Carr is inexplicably beasting right now. _Make that Geordi Laforge, Ensign. _That was fucking terrible. Noted. (Alex: I'll just leave this here)
8:03 - Can you even call timeout in midair anymore? I don't think so, but even if you can, who the hell would do that anymore? Manu has to be the only one, I'd think.
6:22 - Totally unrelated, unnecessary aside -- Mario Elie was hilarious on the 1999 Spurs - The Spurs consisted of all these intellectuals and enigmatic cast-offs, and Mario Elie called them out midseason, saying, "I never get my daps from them. We never chest-bump. I've never been on a team that chest-bumps so little.," which is only a mild paraphrase. Anyway, since he's on the Rockets and he's not named Hakeem, he's... a 3-point dagger shooter that can swing the ball around the perimeter well. Yeah. This whole Rockets team style is reminiscent of the 2009 Orlando Magic, just with a better array of chuckers and a better staple player. Don't forget, though, Elie was money in the playoffs back in 94.
5:18 - Hornacek is the Icarus of the impossible. He goes way too close to impossibility and burns in mid-airball._I don't know what that means, but I'm pretty sure I agree with you. 82-75 Jazz, currently. Hakeem misses two huge free throws. Big problems for the Rockets -- they have time to get back into the game, but they need to stop giving up Hornacek threes and... oh god... are they playing the Rocky music??? Oh my god, I think I'm in love with the Delta Center. Someone help me. I refuse. Still. Both teams have turned to a penetration and kick-out game. Of course, when your frontcourts feature Karl Malone or Hakeem Olajuwon, that's not so much of a change as you might think. You know, because they can both penetrate and hit midrange shots. Kind of physical freaks, really._
3:50 - I'm 90% sure that the Jazz arena is simply 100% devoted to erasing beautiful Olajuwon shots. He's made at least 5 shots this game that were somewhat unremarkably removed from the record by the refs, replaced with free throws he has quite a bit more trouble with. Still. Very annoying. Hakeem makes some pressure shots regardless, followed by Drexler going nuts and getting full-court. This is pretty fucking awesome. Also, Hakeem puts in so much more than is recorded in the box score. It's too bad so much of it is disqualified by fouls marginally assessed before the fact.
2:31 - Benoit has had the last 4 shots for the Jazz. In a related story, the Jazz have put virtually nothing on the board in those offensive possessions, and are sitting on a 3 minute scoring drought. Hm. I wonder if there's some connection between the Jazz not getting the ball to any of their good offensive players and their offense suddenly vanishing. How strange. Drexler makes a clutch free throw, then misses one. The Jazz are up one. They are playing "Surfin' U.S.A." on their PA system. The Delta Center is my new true love. Sorry Kathryn. Surfin' U.S.A. being the infamous Beach Boys rip-off of Choke Berry. The Jazz are choking, is what I'm trying to convey here.
1:51 - Stockton takes an awful shot -- he's been absolutely brutal this game. Rockets suddenly have the lead, and suddenly, Hakeem makes a tough fadeaway to put the Rockets up 3. With how the Jazz are scoring, that may be insurmountable. Yuk yuk yuk. Just as I say that, Malone finally gets the ball in a position to score and does so over Hakeem's great defense. Game isn't quite over yet.
1:03 - ARE YOU KIDDING ME DID THEY JUST ERASE ANOTHER HAKEEM SHOT.
0:42 - Hakeem is just dominating every possession for the Rockets. Malone hit a clutch turnaround over Hakeem, but technically I don't think you can call it clutch if you choked to make it necessary. Still, it was a nice shot. Almost as good as one of the last 5 Hakeem possessions. Robert Horry tackled John Stockton on the next possession. Wait. I mean Hornacek. Yeah. That was Hornacek. I realize he looks like a tall, old, disturbing Stockton... but a man's gotta have his standards, dogg.
0:15 - Suddenly, Rockets up 4. Then... a Malone three? What the fuck kind of a crunch time play was this? I don't mind the Stockton-Malone Jazz, but dear god. They played like champions up until the 7 minute mark of the fourth. Suddenly, they became a completely incompetent broken team that couldn't do a damn thing. This is just absurd. They draw a foul and make both shots -- but now there's only 15 seconds left. The exact same thing happened with the Mavericks over the Jazz in 2001. Absolute choke. I mean, yes, they're facing legendary offensive players in both cases. But come on, their offense completely falls apart. It's not like their offense should be affected either way by clutch. They do pick and rolls and penetrations, both with a lot of options. Sloan had them practice their offensive positioning thousands of times. He is legendary for that. Did he plant a time bomb in Karl Malone? Does he secretly hate Karl Malone?
0:09 - Okay. Game over. Jazz have 87, Rockets have 92. Realize that the number was 82-75 less than 6 minutes ago. The Rockets closed the game with 17 points, the Jazz 5. That's pretty, uh, awful. And I don't like piling on from our last points, but the time bomb thing is exactly what comes to mind. Stockton is great at running an offense, and Sloan is a great coach, but Malone and Stockton simply seem to fall apart at the end of games -- WHY, though? I have no idea. I don't even have a reasonable theory.
0:06 - As if to mock me, the Jazz make a miracle three to make things interesting.
0:00 - ... and promptly lose the game. Goodnight, sweet Jazz. Lost by 3, in the end. Fought a good fight, too. Apparently, Barkley believes that the Suns can't beat the Rockets in a seven-game series. I guess he's not even a role model....for compulsive gamblers! Ah ha ha ha....(the Suns of course lost to the Rockets, who won the title that year). (Alex: I'm such a zany humorist).
Conclusion (Alex):
No one can question the physical toughness of John Stockton and Karl Malone. For the much better part of two decades they had arguably the best conditioning in the league. They played despite Stockton's occasional horrible injuries (he sprained his ankle in the first quarter of this very game and later fell down from a slight screen). He played spot minutes with the Dream Team despite a broken leg. Malone endured the slings and arrows of the post for twenty years. Yet in this, possibly their most important game to date (Malone in the first half calls it "the most important game for the franchise") they played high-caliber, if-not-brilliant-then-brilliantly-effective basketball that was creative on individual and collective levels. And then, seven minutes before they were to take on the '95 Suns for their trouble, Stockton and Malone - for all their brilliance and conditioning - collapsed like balsa wood in ugly offense that shined a light on mediocre defense. There is no obvious explanation for this - and they've done this before with leads: completely choked offensively against superior offenses right at the end of the game. It's just kind of strange, I guess: The only reason we question their mental toughness specifically is because their physical toughness is so axiomatic.
For the Rockets, not much more need be said: Hakeem's dominance in this series on both ends would blossom even further in a staggering march through the West and then against the Magic as Houston held the throne for one more year. Thanks for reading and watching along on the opening day that wasn't - but was still just as time-consuming and interesting for those of us here at the Gothic Ginobili.
Postscript: Here's a similar nostalgic take from The Dream Shake back in March.