As advertised in our Prognosti-ranking series, we're bringing our formerly retired series of daily vignettes -- titled "The Outlet" -- back for the playoffs. "Don't call it a comeback." Though, you can call it series 2, as we are in the title. Every day, we'll try to share two or three short vignettes from our collective of writers ruminating on the previous day's (or weekend's) events. In this case, the previous few days. Should be a fun time. Today's introductory Outlet covers the first weekend of playoff action, and includes the following two pieces on the Grizzlies/Clippers opener and the Mavericks/Thunder opener.
"A New Easter Sunday for Christopher Paul" by Aaron McGuire
"Building a Legacy, one Bounce at a Time" by Jacob Harmon
For more, click the jump.
• • •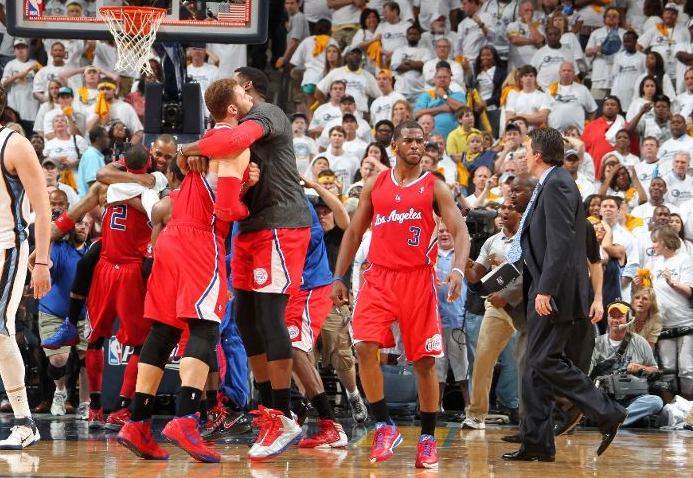 "A New Easter Sunday for Christopher Paul"

Aaron McGuire
When I dig back to try and think of a reasonable comparison to this particular meltdown, I keep going back to the opening game of the 2009 Eastern Conference Finals. The Cavs went up huge, as you may remember. LeBron had a legendarily impressive game, and the Cavs were rolling. They'd scored the first 4 points of the game, and were up 10 less than 3 minutes into the contest. Lead was up to 17-33 late in the first. Mo Williams made a 66-foot three pointer at the half to put the Cavs up 15 at the half. They had lost just twice at home that season -- a 15 point lead at the half, with that kind of a home court advantage? Really seemed insurmountable, for Cavs fans. An impossible climb for a Magic team that was very good, just not good enough.
I admit, it wasn't as sudden as this particular loss. It wasn't as jarring. But the stakes were higher, and in a sense, I feel it was even more unexpected. The Magic chipped away at the Cavalier defenses, and by the fourth quarter, the Cavs were only up 4. They looked like they had the game close in-hand, though, after LeBron took a two point lead with just 25 seconds left. That was fool's gold. Rashard Lewis made an impossible three, and Delonte missed a shot he ALWAYS used to hit. The Cavs (and their fans) were left with a freshly burning loss as they wondered what the hell happened. I remember that feeling. And I feel impossibly bad for the Grizzlies and their fans. They worked hard for this win, and would've had it in the bag if they hadn't allowed a 26-1 run. Perhaps if they'd allowed a 26-4 run, or a 26-5 run. Then this is just a cautionary tale, a reminder to the Grizzlies that they can't take their foot off the gas on a Chris Paul team. Instead? They let the Clippers close the game 28-3, and still lost the game by a single point.
That's the feeling that the Grizzlies players -- and their poor, beleaguered fans -- are facing today. And I feel for them. Because that's a feeling I remember all too well. As might some Clipper fans, deep inside. Clipper fans can relate, in some ways, to the abject failure of unexpected loss. But I'm really giving myself shivers, here, so I'll stop and move on to lighter matters. When the game ended, with Memphis fans frozen in abject horror, Chris Paul got his customary endgame interview with Craig Sager. It was funny, because even though Paul's role in the comeback wasn't nearly as extraordinary as anything he's done in recent years (and to be frank, Nick Young deserved the interview just as much), he ended the interview with a classic quip that made it all worth it. Remarking on Craig Sager's pastel-blue suit with the bright pink tie, Paul commented with "oh, also. Nice suit." America's most grandiose color man grinned and thanked him. Paul patted Sager on the shoulder and followed with "Easter passed, though."
It hearkened back to the classic Sager-Garnett interview where Garnett told him to burn all his clothes, but there was something a bit different about it to me. In the case of the Garnett exchange, there was really nothing there but a hilarious joke. No deeper content, other than Sager's inherent loneliness. In this case? Paul's statement was true both in the factual and the narrative sense. Easter was -- literally -- the 8th of April, quite some time ago now. It passed. But in the 4th quarter of last night's game, the Clippers and their fans experienced something incredibly special -- it may never happen again, and it may be a flash in the pan in a series the Grizz take in 5 or 6 games. But it was indeed the greatest moment in franchise history for the bedraggled, downtrodden, luckless Clippers. And in that sense, the game was nothing less than the Clippers' own Easter Sunday. A miracle resurrection, a metaphorical pentecost, a high that Clippers fans will always carry with them. It passed as well. And why not cap a night like that with a timeless quip at a quixotic journalist? If you came back from 27 points down to most improbably win the game in a hostile field of battle, wouldn't you crack a few jokes too?
• • •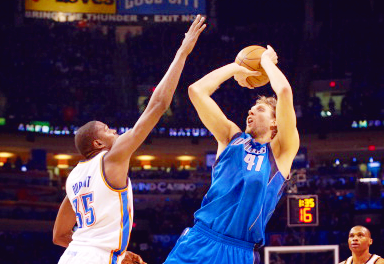 "Building a Legacy, one Bounce at a Time"
Jacob Harmon
There's something to be said for building a legacy.
Dirk Nowitzki sealed his with some supernatural play last year, nearly single-handedly willing a team of aging veterans to the Finals and triumphing over the duo of hyped and signed legends in LeBron James and Dwyane Wade. But that was then, and this is now. Though Saturday night wasn't Game 7 of the NBA Finals, from the reaction in Oklahoma City after Kevin Durant dropped in a prayer in the final seconds of Game 1, you'd have thought it was. As much as Dirk Nowitzki and the 2012 Dallas Mavericks showed that they won't be relinquishing their championship title without a fight, the Thunder showed once again that they hold their own unlikely grudges. This young team, perhaps by virtue of its relatively small body of experience, remembers every major slight against them.
This game was by far the most entertaining and heart-pounding game played on the opening day of this year's NBA playoffs, and even after it ended with the kind of bang basketball fans appreciate more than any other, it left me wondering about the game's real significance. On the one hand you have the Mavericks, an undermanned team, the lowest-seeded defending NBA champion team in playoff history. A team that even the most stalwart of tradition-obsessed pundits wrote off as an afterthought. Yet they're also a team that absolutely outplayed the Thunder. Right down to the wire. Out of the gate they made a statement. "We will not be swept." They in one fell swoop dismissed the notion that the only real threat to Kevin Durant and Oklahoma City's Western conference juggernaut was the ruthless efficiency of the Spurs.
But as I watched the replays of the deafening celebrations in Chesapeake Energy Arena from a crowd that looked like it wouldn't disperse until the series ended, I couldn't help but think about legacies. I read recently that if Kevin Durant and the Thunder were to make it to the Finals this year, it would only be fitting that they would have to pass through Dirk Nowitzki and the Mavericks, Kobe Bryant and the Lakers, Tim Duncan and the Spurs. From a narrative sense, it would only be right. And as basketball fans who revel in melodramatic advertisements that muse on glory and legend, could there be anything more fitting? If anyone thought Dirk and the Mavericks wouldn't put up a fight, did anyone actually want that? If any OKC fan thought Kevin Durant would simply rampage through the west, knocking off aging, impotent rivals as he went, I think they should question whether that's what they really wanted to see.
For the amount of times I've already seen Durant's game-winning shot juxtaposed with the famous image of "The Shot"; this is not 1989, this is not Game 5, this is not the Cleveland Cavaliers, and Kevin Durant is not Michael Jordan. The Mavericks are defending champions, there is a series yet to play out, Dirk Nowitzki is a Hall of Fame talent, and there are many more like him standing between the Oklahoma City Thunder and immortality. But Saturday was Kevin Durant's night, and there's something to be said for building a legacy.
• • •
May the action tonight be as tense as this weekend's closing slate. Catch you tomorrow, folks. (Or, alternatively, later today when we drop the last part of our Prognosti-Ranking series, covering the final five teams and my finals prediction. Should be a barnburner when I inevitably miss the mark entirely and get mocked for a solid offseason or two for my awful predictive abilities. I can't wait!)