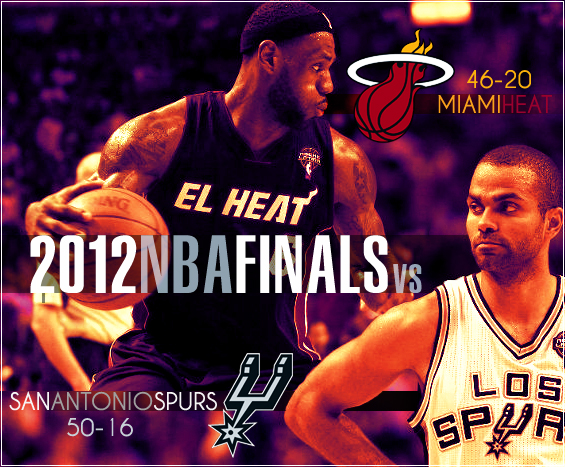 Please see the parts I, II, and III of the Prognosti-Rank series for our picks through the first 3 rounds of the playoffs.
And so, it comes to this. The predicted finals matchup. I'm really not 100% confident about the Western team here, as you may have gathered by this whole exercise. I think if the Grizzlies win against the Spurs, they'll probably be good enough to beat the Thunder, but not necessarily. And I think the Thunder could -- if they steal game one and Durant has a breakout series going up against Kawhi Leonard or Tony Allen -- potentially oust either the Spurs or the Grizzlies. And honestly? I could see the Lakers in here as well, because if Bynum puts it together they're a team that can blow out any team in the league, four times in a row. Home, road, wherever. There are any number of combinations for the final western team standing that makes sense to me. One thing you would've had trouble convincing me of before the season, though, would've been that any of them stood a chance against the Heat (who I've had penciled in as the presumptive Eastern champion since opening night). In my season preview -- "A Lion in Autumn" -- I essentially gave the Heat the trophy. I didn't think any team in the west would have the firepower to beat them. At this point, though, given the vulnerabilities the Heat have shown this year? I'm officially not certain that any of them CAN'T beat the Heat in a series.
• • •
The key to the finals isn't any lazy narrative about LeBron, or a tedious joke about Chris Bosh. The key to Miami's title hopes, realistically, is going to be how Spolestra adjusts when teams key on his stars in the Finals. Last year, despite my general admiration for the job Spolestra did over the whole season, he flunked the final. Carlisle and Casey put their heads together and generated a fantastic scheme, one that kept Wade from record-breaking numbers and one that bottled LeBron up in the most embarrassing possible way. While I think the Heat make another finals, I don't think it's going to be a cakewalk, even in a depleted east -- I have both their series against Chicago and their series against Indiana going 6 or 7 games, as you may have noted. And despite the game one blowout, I'm not 100% positive the Knicks can't steal a game or two as well (though without Shumpert I'm less confident in that assessment).
The long and short of it is that as they enter the finals, I don't think the Heat are going to be quite as rested and coasting as they were last year. The gap between them and the rest of the East isn't as vast, and this year's Heat team is far more prime to random bouts of in-game coasting, much like the 2009-2011 Lakers. The reasons are several-fold, but primarily what separates all our highest expectations for the Heat from their reality lies in the supporting cast. Chris Bosh's awful year, the disappointing plummet of Norris Cole, and Udonis Haslem's incredible collapse as a contributing player. Wade's defense is as good as ever, but his offensive attack has been slightly less efficient and slightly more prone to the occasional "Wade can't jump tonight" games you see from aging athleticism-reliant superstars. The overall schema of this Heat team has become a relatively one-dimensional exhibition of the incredible might of LeBron James. It's more akin to LeBron's late 2000s Cavs teams than the talent-dripping death machine we thought we'd have, preseason. And to the Western champion, that's totally fine by them.
In terms of the Spurs, this is a better Spurs team than last year. Not because it's particularly different in composition, but because the red-hot worldbeating Spurs team that won 44 of its first 52 games in 2011 is the kind of team that's entering the playoffs rather than the team that ended the year on a 17-13 schneid. The only real difference is timing -- the team's three stars are all healthy, at the moment, and the depth behind them has finally developed into a concoction that fits Popovich's rotations. The Spurs feature more defensive firepower than they did last year in Kawhi Leonard, Stephen Jackson, Danny Green, and a healthy Tiago Splitter. (EDIT: nevermind that last one. But hey, we've got Boris "Oscar" Diaw, we're good.) They enter the playoffs having improved to a team closer to the top 5 in defense (as they were over the last month) than the bottom 15 -- something completely untrue about last year's unit entering the playoffs, whose defensive collapse as the year went on was evident to everyone watching. They Spurs are healthy, they're more talented than you think, and they have enough interchangable parts to adjust mid-series if something is going wrong. Not to mention the improvements of last year's standouts -- Matt Bonner worked on defense the entire offseason, and it shows in his now-passable individual defense. Tim Duncan is in the middle of his best month since the Spurs' last WCF season in 2008. Tony Parker just had his best year as a pro. And the Spurs did virtually everything they accomplished this year without Manu Ginobili, whose game has been at 75% or worse capacity since coming back from his first deadly injury. He's gotten better, though -- and, scarily enough, it's possible to conceive of Manu being back in full force by the Western Conference Finals.
And he's the Spurs best player, for crying out loud!
• • •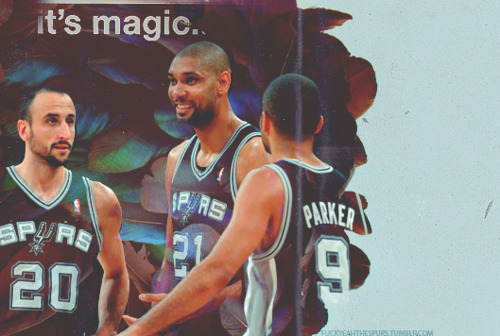 The actual matchup here -- Spurs vs Heat -- would be an instant classic. Neither team plays lock-down defense, though at their defensive peaks they're both reasonably solid. Both teams are capable of generationally dominant offense. The way that Pop would employ his defensive talent on LeBron and Wade could make-or-break the series, as could his adjustments as Spolestra tries different offensive strategies. Can Stephen Jackson make Wade's life a living hell in the same way he battered Richard Jefferson in 2003? Will LeBron average 30 a game, or will Pop figure out a way to bottle him just as Carlisle and Casey did before him? If the game is close, how does Spo figure out what Pop's going to call?
In the end, somewhat unintuitively, I think the finals (no matter who makes it) will come down to health and rest after a season as brutal as this. I don't need to tell you Popovich has done a yeoman's job at making sure his guys are rested -- Spolestra, primarily through necessity, has had to ride his guys hard through the regular season. I discussed this before, but the 2013 Heat are going to look a great deal more like the 2009 Celtics than the young, hip team of the future. In that same sense, I'm not sure that LeBron's body is going to hold up through a long finals series. It won't be a choke, necessarily, but a gradual lessening in LeBron's powers wrought by his overall exhaustion from a too-long, too-tough season compounded by the knowledge that he's less than a month from having to report to a Team USA training camp where he'll be forced to do quite a bit more than he did in 2008.
I don't think the lack of home court advantage is going to sit well for this Miami team, one that -- in their only game in the last two years in San Antonio -- lost by 30 (and was down by even more before Pop explicitly allowed Spolestra to play LeBron and Wade on D-League talent). And in the end, in a winner-take-all game 7? I think Popovich will have a pretty good idea of Miami's playbook. I think he'll find a way to keep Miami as throttled as he can with the personnell he has. I didn't think so last year -- I thought they were 2nd round fodder at best. This isn't revisionist history -- entering last year's playoffs, I was cautiously optimistic that if everything went right the Spurs might make the Western Conference Finals. Once Manu went down to injury, I was pretty sure the Spurs would be out in the first or swept in the second, a la 2010. The Grizzlies were too good, and that Spurs team was completely out of a rhythm when the playoffs rolled around. But this time? With this year's Spurs team?
I'm a believer. It won't be easy, but the Spurs can be the 2012 champions. And in the end, despite some hesitancy... I think they will be.
• Spurs in 7 games •
• • •
We hope you've enjoyed this year's playoff preview. More playoff coverage tomorrow with another Outlet.