To bring our playoff coverage up, we're bringing our formerly retired series of daily vignettes — titled "The Outlet" — back for the playoffs. "Don't call it a comeback." Though, you can call it series 2, as we are in the title. Every day (or, rather, every day we aren't doing a larger and grander piece), we'll try to share two or three short vignettes from our collective of writers ruminating on the previous day's events. Should be a fun time. Today's Outlet covers Adam discussing his confusion at the peculiar success of the Spurs system and Alex discussing the peculiar everything of Pierre McGee.
"Why Can't Everyone Be Like the Spurs?" by Adam Koscielak.
"JaVale's Good Game and the End of Days." by Alex Dewey.
Click the jump for today's two gems.
• • •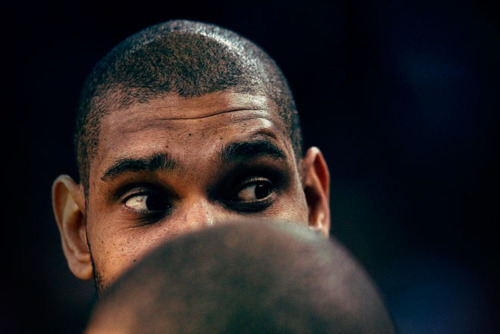 Why Can't Everyone Be Like the Spurs?

Adam Koscielak
The ball moves around as if it were on a tight string. On some possessions every player touches it, on others only two. Whatever happens, however, you can be pretty sure that it's going to swish through the net sooner rather than later. With ruthless efficiency and a wide array of talent, the Spurs are making Suns and Mavs fans remember the heydays of Steve Nash. Ruthless, efficient and (perhaps most surprisingly) beautiful to watch. But their Steve Nash is Tony Parker. Quick, agile, but not exactly known for his playmaking prowess, and utterly lacking in Nash's magnificent shooting stroke. Their big time forward is an all-time great, but at age 35, he's not the Tim Duncan we used to know. All that while their elite wing player isn't even playing 25 minutes per game? The rest of their roster are, if you will, pure role-players, from rookies to washed up vets. The truth is, the Spurs don't have the most impressive roster in the league. Despite that, they remain the most impressive team.
They murder teams with an artfulness reserved for thriller-ish serial killers. Yes, Gregg Popovich is a genius, nobody will deny that, and yes, the Spurs management has done a great job of finding diamonds in the rough, but my question is: Why isn't this replicable? Pop manages to get everyone to buy in, all the time. Nobody takes stupid pull-up jumpers out of the rhythm of the game, nobody breaks up a play to get an ISO, unless he has a mismatch, everybody plays their roles without scoffing about it. It's beautiful, it's what basketball is about.
My question is this: Why can't everyone be like the Spurs? Why can't the Heat, with all their talent and might, just make an offence work? Pop is a wizard, surely, but I'm pretty sure that if Erik Spoelstra watches film of the Spurs, he can get his team to run the plays, particularly given the very similar makeup of both teams (Wade can be very Parkeresque in his game, after all, and LeBron is... Well... LeBron). Why can't the Sixers start moving the ball instead of relying on Lou Williams to bail them out in the ugliest of ways, why can't the Lak... You get the point.
Perhaps coaches in the league are lazy, and so are GMs. The front offices make reckless decisions based on bad research and stick with them, while the coaches decide to go the easy way out and focus on the individual rather than the team. Players are signed and played based on reputation rather than facts, systems are built for stars not around them, killing the beauty of teamwork and cooperation. Am I really supposed to believe that the players are so boneheaded that they don't do what coaches tell them? Am I really supposed to believe that coaches will automatically get fired if they try to get their team to listen to them?
I don't want to believe that. I want to believe that everyone can be like the Spurs... All it takes is a little thought.
• • •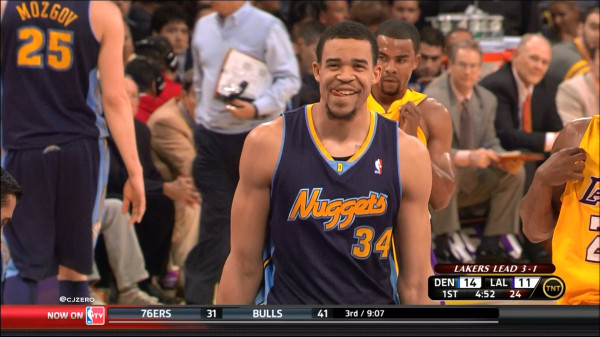 __JaVale's Good Game and the End of Days
___Alex Dewey_
"Hang on to that game ball, JaVale," Craig says indifferently with that powder-blue outfit that - despite the overtures of a tailor - just looks to JaVale McGee like an indivisible morning sky above the mountains. With only the basic hesitation of finding a place to throw it, JaVale more or less immediately hurls the ball into the emptiest, lightless corner of the Staples Center.
Later, JaVale would dream of morning sky. In the dream, the sky's shapeless clear powder blue would crack into crystalline factions of the same hue and would never reform: upon cracking, the sky would crumble down, bringing violence to the mountains and to the people: cracked blue shards of rock candy. In the dream JaVale would look for cover, or maybe try to save his mother, or one of those other urgent motives of dreams, he'd notice - that instead of the familiar and infinite blue ceiling that could crack and crack forever with our triumphs to an even deeper shade of blue, JaVale would see only the perfect black airlessness of space amid the cracks. JaVale would wake in the middle of the night, impatient for twilight.
The only thing better than a game-ball was sixteen of the same, JaVale would suppose sadly. And yet - on this solid balcony overlooking the Denver mountains, JaVale would still wait on the morning sun because - like even the most apocalyptic of nightmares - the shattered ceilings and broken ambitions of yesterday would mercifully be forgotten and the once-blackened sky would seem just as blue and the day would hold just as much time and energy for all his endeavors.
When they ask him - right after the game - why he'd thrown the game-ball he says he'd have to think about it. Later, sipping coffee on a glass deck-table that held cold and wet condensation, JaVale would feel as hot as the sun, burning lakes under his feet and sending the light of his soul up to the sky for all to behold and to derive strength from.
• • •
Fun times. Join us tomorrow for more coverage, and be sure to watch tonight's slate -- it should be fantastic.