The Outlet 2.06: Making Free Throws, and the Project Playoffs
Posted on Sat 12 May 2012 in The Outlet by Aaron McGuire
To bring our playoff coverage up, we're bringing our formerly retired series of daily vignettes — titled "The Outlet" — back for the playoffs. "Don't call it a comeback." Though, you can call it series 2, as we are in the title. Every day (or, rather, every day we aren't doing a larger and grander piece), we'll try to share two or three short vignettes from our collective of writers ruminating on the previous day's events. Should be a fun time. Today's Outlet covers Adam discussing how you simply must make your free throws and Aaron discussing the hilarious breakout of "project" big men in the 2012 Playoffs.
"You've Got to Make Your Free Throws." by Adam Koscielak.
"The Playoffs of the Project." by Aaron McGuire.
Click the jump for today's two works.
• • •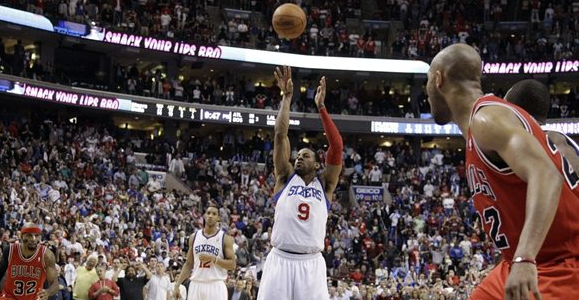 You've Got to Make Your Free Throws

Adam Koscielak
Recently, in one of the rare weeks of good weather you get in a Polish March, I went to my local basketball court. I was out of shape. After all, the only shots I'd taken were bounces off an X I drew on my wall. So, I started taking a few shots. A few from midrange, a few from beyond the arc. Made some, missed some, and did a hell of a lot better off the dribble for some unknown reason. Then, out of nowhere, I decided to shoot some free throws.
When I do shooting practice, I make mini-deals with myself. I make a nice point system, I make myself string together a few hits, et cetera. When I came to the line, I decided that I'd have to make five in a row just to make sure my form was ok. Hell, I even set up a shot counter on my iPhone to keep stats. I made my first free throw. Then the second. And then I just started missing. A few went long, clanking off the unforgiving rim, so I adjusted. I hit two again, hoping that I could string this into my self-promised five in a row. ... Ha! Nope. I didn't even make 4 in a row that day. In fact, I may have shot more air balls in a row than free throws made in a row.
It was strange, really. I could make the Tim Duncan bank shot without a problem. I could make a running, Steve Nash-style three pointer. Hell, I could even nail a couple of turnaround Js in a row! But I couldn't make a shot I'd easily make as an 8 year old kid. After around 20 minutes, the counter on my iPhone, that I'd tap my scores into every time I'd miss a free throw (not to break a streak, of course) was showing a ghastly percentage. Around 33% on 70 attempts. Yikes. I was alone on the courts, nobody was watching me. Except for myself. And I just kept missing a shot I knew I could make. Missing a shot way easier than the (... international length, ahem) threes I swished, banked, and rimmed in less than a half hour earlier. It was humiliating. More humiliating than missing a wide open layup, really. The rim wasn't bent, I wasn't tired, I just couldn't make it.
And this is how I understood. There are no easy shots when you're over-thinking it. I haven't played basketball since, but I've watched. And the night of May 10th was just the perfect example of how big of a deal free throws can be. After all, a make on one end and a miss on the other in the Bulls game would've changed the outcome, and sent it back to Chicago. One make in the Hawks game would've sent it to overtime. I, alone on a court, couldn't make a 70% of my free throws. How can I expect a guy playing under the basket to make one with 20 thousand people booing him with all their hearts? How can I expect anyone to take that kind of pressure? This is how I began to understand all the big guys in the league, the ones who probably had a rough start to their free throw shooting careers and just never got it out of their heads.
Everyone finds it so easy to say "you got to make your free throws" or laugh at the air balls. The truth is, sometimes mental blocks can kill the best. Derrick Rose is a prime example of that. Andre Iguodala had to think about his son and let his muscle memory make the shots for him. In the end, the time a player takes to make a free throw might as well be a long internal battle, a long line of questions. "What if miss?" "I always miss... What am I doing wrong?" "I pulled it long last time, I should adjust". This is probably why the best free throw shooters (*cough* Steve Nash *cough*) have characteristic routines. It's finding the happy place, taking the mind off the shot... And just drilling it. The problem is, not everyone can. Perhaps what we should be saying instead of "you gotta make 'em" is "just shoot them, no pressure."
Because in the end, it seems like it's all about that.
• • •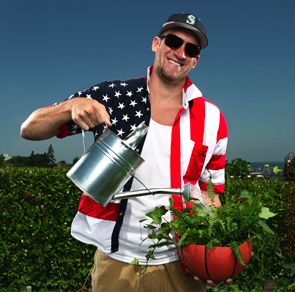 The Playoffs of the Project

Aaron McGuire
These playoffs have been pretty interesting, if not always amazing. We find ourselves on the verge of two first-round game sevens, something that's only happened thrice in the ten years we've had ourselves the 7-game first round. While the entire Eastern gauntlet has been historically dismal, we've been (in some sense) blessed -- the only two series to go the full seven have also happened to be the two most entertaining to watch, in contrast to the last time we had two game sevens and one was the historically awful 2009 Heat-Hawks series. And in tonight's bout to conclude the Nuggets vs Lakers thriller, we get a final look into one of the most hilarious and unexpected upsets of the first round. I refer to the trend that this year's playoffs have been defined and fueled not necessarily by the stars, but by the projects.
Consider this. In separate games this year we've seen:
Reggie Evans take Marc Gasol and Zach Randolph's lunch in a 4th quarter shellacking to steal game 1.

Glen Davis take Roy Hibbert to town and utterly dominate him en route to their upset game 1 win.

Boris Diaw outplayed Paul Millsap at both ends of the floor, leading the San Antonio attack.

JaVale McGee outplay the combined effort of Pau Gasol and Andrew Bynum to force a game 6... in Los Angeles.

Spencer Hawes -- SPENCER HAWES, GUYS -- completely destroyed Carlos Boozer en route to the shocking Philadelphia upset over a Bulls team that (even without Rose) still destroyed teams throughout the entire regular season.
Absolutely none of those are things that you could've seen coming going into the playoffs. The talk of every commentator prior to the Denver series was that the Denver big men would wilt against the Laker front line -- but after they punted the first two games, the Denver bigs have fought Los Angeles to a draw at worst. Kenneth Faried's coming out party has been extraordinary, but not any more insane than JaVale McGee finally making good on his potential and showing the league exactly what he can give to a team when he has his head on straight. He's been phenomenal, despite being the stirring image of a "project" big. As for the rest?
Davis is a fringe prospect-level big man who has never really been all that much more than a jump-shooting widebody with a lack of defense and a lack of marbles. He still produced excellent numbers throughout the series against the 7'2" Hibbert, and somehow managed to outscore Hibbert in all but one game of the five game series. Boris Diaw -- never a player known for his defensive acuity or real impact -- held the almost-all-star Paul Millsap to a 11.9 playoff PER, and (despite taking 15 shots to Millsap's 54, and playing 45 minutes less than Millsap over 4 games), managed to outscore him once and outrebound him twice. Reggie Evans -- REGGIE FREAKING EVANS -- has thrice in the series outscored Marc Gasol in the 4th quarter of a game, and twice outscored Zach Randolph in that same period. Who saw that coming? Ever? And Spencer Hawes? Look at that picture I began this piece with. Just look at it, preferably for several minutes. It's the only argument I need, Shawn.
We may see a return to form going forward. To a certain extent, we've already returned to the status quo. The Reggie Evans magic ran utterly dry in game 6, and the Randolph-Gasol attack overwhelmed his formerly shutdown defense and surprising offensive attack to pull the Grizzlies into their needed game 7. We could, tonight, see JaVale and Faried finally wilt and allow the Gasol-Bynum duo to go nuclear on the Nuggets and show us why we were fools to count out the Lakers. (I actually think that's going to happen. I'd love to see the Nuggets win, but come on -- they're the Lakers, and all things considered, a team that has the 3 best players in a series rarely loses it -- and the Nuggets have won in LA only once this year. I don't get why everyone is so sure the Lakers are toast.) Spencer Hawes could (potentially) remember that he's Spencer Hawes, and stop making every jumper he takes. And Glen Davis, JaVale McGee, Reggie Evans -- all of them could be gone by the next round. By all accounts, they probably will be.
But if anyone asks me what I remember about this first round, right now, the answer is obvious. It won't be Rose's injury, because I don't like thinking about things that sad. It won't be the dominant attack that the Spurs and the Heat unleashed on their first round fodder. Because their real playoff moment will come later. No. It was a first round dedicated to and in celebration of the "Project." Those few, merry, unheralded big men that carpet-bombed their expectations and dramatically outplayed their betters for several games in a row, and showed the world just how talented they really can be. When they get past their foibles and stop wearing American flag button-downs, of course.
• • •