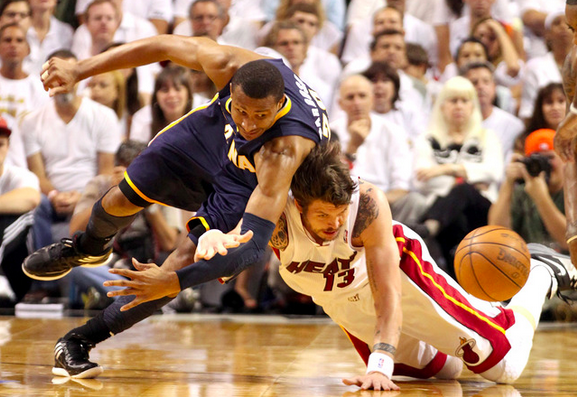 On Sunday afternoon, the Miami Heat lost Chris Bosh to a lower abdominal strain. He's almost certainly gone for the series, and most rumblings have it that he's gone until the finals. The problem with an abdominal strain, it's one of the rare injuries that sounds a lot worse than it is -- it's hard to play through, difficult to get past without serious rest, and ruins a player's rhythm. I'll cut to the chase. I think the Heat are in a relatively large amount of trouble right now, and while I'm not quite ready to_ assure_ a Pacers win, I certainly think the series has become -- at worst -- a 40-60 series for the Pacers. Like it or not, they have a huge shot at an upset right now. Despite the Heat's one game already on the ledger. I think Zach Lowe rather effectively summarizes most of the reasons why in his large-as-a-mansion "caveats" section of his Bosh injury rundown, but I think he underrates a few factors. After the jump, I delineate them.
• • •
THE "POWER LEBRON" LINEUP: BEST WHEN SCARCE
As a fan who watched LeBron in Cleveland for years, I think most commentators underrate the level to which LeBron despises playing the "big forward" role on the court. He's not in love with playing the point, either -- he generally likes keeping to his natural small forward position and letting the chips fall where they may. But despite being a consistently effective lineup option, LeBron has ALWAYS loathed playing the big forward, starting early in his career when Mike Brown realized how effective it is. And don't front -- it's an extremely effective lineup option if you put the right players around LeBron, and always has been. In his last year in Cleveland, LeBron played almost 300 minutes of "big forward" LeBron. In 200 of those minutes, he shared the floor with Anderson Varejao -- those lineups posted an offensive rating of 120 and a defensive rating of 92, making that two-man pairing (no matter who the Cavs put up with them) arguably the greatest lineup that the LeBron Cavaliers ever put out on the court. Thoroughly dominant.
So... why does he hate it so much? If he's so dominant with it, why is he so reluctant to use it? Primarily his exhaustion level, I'd say. LeBron is an excellent defender, but part of what makes him so good is that he's massively oversized for his position and can simply use his size to smother the shots of smaller players. Against big men, LeBron doesn't quite hold that sort of an overwhelming advantage, and it leads to LeBron having to expend a lot more mental and physical heft trying to stick to his man. It also forces LeBron to -- generally -- get a larger percentage of his offense on post-up plays, something that can wear down a man's knees over time and can weaken a player not used to it. I've thought since watching the evolution of the "Power LeBron" lineup during Mike Brown's 2010 season that LeBron as power forward lineups are inherently doomed over the course of a full year, or prolonged minutes. The more it's used, the less engaged LeBron is using it. And as seasons go on, the lineup's effectiveness wanes until it finally peters to a screeching halt late in the playoffs.
Why? I haven't totally figured it out yet. Whether it's fatigue, distaste, or better scouting, the trend seems true year-in and year-out. I haven't a wealth of evidence to back intuition up, here, and given the current state of lineup examination data I don't know how you could. Last year, I seem to remember Spolestra trying it two or three times in the playoffs -- it had absolutely no impact, and in fact, LeBron tended to do worse using it. Every time Mike Brown broke out the "Power LeBron" lineup in the 2010 playoffs, it seemed to me to get destroyed by the Celtics and even performed poorly against the Vinny Del Negro Bulls. LeBron at the four works very well to start a season, and has sustainable success up until LeBron has played too many minutes at the position. Then the lineup's effectiveness begins to degrade. I'd assume it's from fatigue. I wish I had an easy way to query my database for this sort of thing, but alas -- I don't save lineup data, so I can't. This is the kind of thing I'd love to get confirmation either way on, though. Because the degrading effectiveness of a lineup over a full season seems like it would be an important thing to keep track of.
• • •
ALLOCATING THE BIG MAN MINUTES
It's often said that the true impact of an injury is rarely measured by the 1st or 2nd backup being forced to play a big-league role -- generally, when given the opportunity, a sparsely scouted backup will do a relatively good job patching in over a short absence. The real problem that faces a team that loses one of their top players is when the backup's backup has to become the backup, and a team's depth is tested to its absolute core. The issue that faces Miami going forward, and one that Frank Vogel may be able to leverage to his advantage, is that they're faced with 96 minutes of frontcourt play per game (going against the best frontcourt in the playoffs, mind you) and a grand total of -- besides LeBron -- zero quality players to place in those roles. Udonis Haslem, Joel Anthony, Dexter Pittman, and Ronny Turiaf can patch in the remaining 50 minutes if LeBron and Bosh combine to play 46 of those minutes in a game. That isn't going to kill you.
But take out Bosh's 36-40 and you're left with a serious dearth of lineup options once you're stretching for the backups. Even if you play LeBron -- as Spolestra did in game one -- 20 minutes of large forward a night (which is already far too much, mind you), that leaves you with 76 minutes a game that you'll need to allot to three players haven't ever been called on to play minutes of quite this importance or heft. Effective in short bursts, sure, but they've never been purely scouted or game-planned for to the extent that Vogol will look to do. The Heat can handle replacing Bosh with Haslem. Can they handle replacing Haslem with Turiaf? Or Anthony with Pittman? That's the big question, and the reason that 3rd/4th man injuries can be so harmful on a team with lacking depth, like the Heat. One wonders how the Heat bench (which is already far too thin) will hold up. I'm not bullish.
• • •
THE PACERS ARE A DAMN GOOD TEAM
More than either of these reasons though, there's this. What game 1 established to me was that the Pacers are a team whose margin of error is surprisingly high. The Pacers didn't do anything particularly unsustainable in yesterday's first half, to these eyes -- West and Hibbert did about what everyone was expecting them to do against the Heat's front line, and the Pacers defense did about as well as it did in the regular season. In fact, out of the myriad of factors that swung game one, I'd actually assess most of the luck-based ones in the Heat's favor. The Pacers aren't going to have that many players in foul trouble on a game-to-game basis. Simply aren't. The referees called a very tight game, and Indiana simply didn't adjust very well to that reality. In future games, I'd expect them to adjust a bit better. But the fact remains. Despite their insane foul trouble, the unprecedentedly abysmal showing from their wings, and an anemic bench performance? The Pacers were down to the heat by a single point with four minutes left to play, and down four with just two minutes remaining. Had they gotten the bogus charge call on Barbosa in the first half, they'd have added three to their total and been up until the very last seconds.
On the other end of the ledger, the Heat needed two insane performances from Wade and LeBron to win, as well as the foul trouble and the unexpected shooting slump from the entire Pacer team. Outside of their big three, Miami got 21 points on 21 shots -- including a never-to-happen-again nine points on 4-4 shooting from (of all people!) Joel Anthony. Before the series, most everyone expected a 5-6 game beatdown from the Heat. I admit, after the Knicks series, I did too. But the Heat barely edged past the Pacers at home in game one, even as virtually everything in the game rolled their way. The Pacers may not take game two, but if they can hold homecourt, game one tells me that they can take a game or two in Miami in this series. It won't be easy, and they'll need a few more things to go right than the things that went right on Sunday. But as I said -- their margin of error is far larger than I previously expected. If George Hill, Danny Granger, and Paul George ever combine for 6-of-25 again in this series, yes, they'll probably lose the game. But would you bet on that happening?
• • •
In all, I'm not sure I disagree with Lowe all that much. My initial thought was that I disagreed with him a lot, but that was mainly due to the hyper-confident start. His caveats touch on many of my key points, if only glancingly. The Heat should still be favored to win the series, though if they can, it's very important for them to end this series early. They need the rest, and every extra game this series goes is another chance for LeBron's energy level to fall off badly, as in last year's finals. Smart money would be on the Heat winning the series in a nail-biting 6 or 7. But fatigue, adjustments, and the unexpected strength the Pacers showed in game one has made me a believer. I think this Pacer team can win the series. If I had to assess the probability of various outcomes, I'd do it like so:
20% chance the Heat win in 5.
10% chance the Heat win in 6.
25% chance the Heat win in 7.
15% chance the Pacers win in 7.
30% chance the Pacers win in 6.
Which, in the end? Makes the series a slightly Miami-leaning coin flip. In the interests of being a contrarian, though, I'll take the dive. Pacers in 6.
Prove me sane, Indiana.