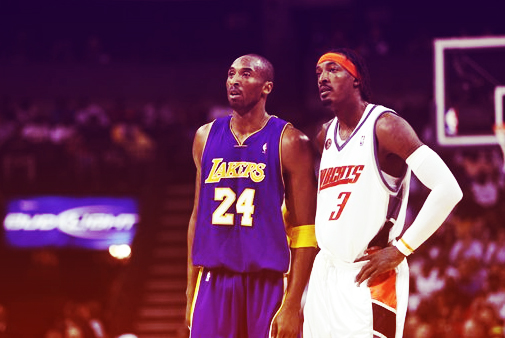 I've always thought of the Bobcats as the most ridiculous and arbitrary team in the entire league. Their logo haunts my mind - I just picture a kid trying to draw a ferocious cat but after the outline realizes he has only two depressingly drab crayons to shade it with. And all of this haunting happens before we even touch how funny the word "Bobcats" really is. It's especially awkward to enunciate quickly. It was a team destined for tongue-twisters and hilarious sentences like "Welcome to the Bobcats' sports network" or "In short, despite Kobe Bryant scoring 58 points, coach Bernie Bickerstaff's Bobcats beat Kobe's scrub Lakers in triple overtime, thanks to D by Crash and caroms by Emeka Okafor." Strangely, that last sentence is an accurate summary of the game we're going to be covering today. Weird.
• • •
INTRODUCING... THE CHARLOTTE BOBCATS!
The Bobcats joined the league in the summer of 2004. The Bobcats didn't have much to be proud of their first two seasons: They won just 44 total games (.268) and suffered countless hilarious buzzer-beaters. But in their third season they went hard*, with a core of Raymond Felton, Gerald Wallace, and Emeka Okafor, all good players. And on December 29, 2006 - in Charlotte's Time Warner Cable Arena (est. 2004), the Bobcats took down Kobe Bryant and the Lakers in triple overtime, despite Bryant's incredible 58-point night (on an insane 45 fg attempts) and despite Luke Walton's six 360 dunks (okay, only four). In a couple of seasons seemingly filled with one ridiculously swag performance after the other, Kobe Bryant - his powers at their zenith and his teammates' at their collective nadir - produced another great one. But locking arms and weathering a storm they could not stop, the Bobcats finally won when Kob-Icarus flew too high and fouled enough times to disqualify himself according to the rules of flightsketball, and the Bobcats won by 9.
*The Bobcats actually fought to a quite-solid 33 wins in 2006-2007, actually splitting their season series with each of the eventual conference finalists (Cavs, Jazz, Spurs, Pistons).
INTRODUCING... JUST A REGULAR SEASON GAME! AND KOBE!
Yes, title, thanks for the clarification. Let's be clear: it was just a regular season game: the first half (beyond the Crash-Kobe duel) was actually exceedingly dull. But something about Gerald Wallace and Kobe fighting for every inch of space brought the best out of every Bobcat. Felton, Wallace, and Okafor all were showstoppers in this game, seriously. Matt Carroll even had a solid shooting game with a swag 27-8 on 16 shots off the bench. But it was the trio of stars that did most of the work: Felton made the kinds of great point guard decisions that leave a defense guessing constantly. Wallace was in his franchise-player, do-everything-on-both-sides mode. Wallace had so much intelligence and tenacity as a defender that he bears almost no fault at all for Kobe's performance, and in fact, Wallace made a number of crucial defensive stops on Bryant twice at the end of regulation. And then there was Emeka Okafor, doing everything a center should as an inside presence.
But this was Kobe's game, a masterwork singular to anyone but Kobe in the lean years. 58 points on 45 shots, getting to the line only 12 times. What's more, far from being a shooting exposition or a "no-center fiasco" for the Bobcats, Kobe earned his points in so many different ways, having (by my count) 32 distinct moves in the game: 1 for each field goal (23!), 4 more moves that led to free throws and 5 more moves that didn't quite stay down in the finish. Everything, everything, everything: Ball handling, fadeaways, threes, dribble penetration (often leading to those galloping slow-motion dimes to the perimeter), dribbling around the perimeter, layups, pump fakes, spin moves, transition passing, finishes of every variety, and everything you'd expect from positions one through three, if you get me. It's strange to say (as it often is with these incredible games) but Kobe easily could have had 10 more points and 5 more assists (58-5-4 was his line) if he had more competent teammates and a couple more bounces had gone his way. He got a league average 4-11 from 3, and most of the 3's were pretty decent, you know? Could have been 7-11 without much extra luck. And while his 81 point game is on another level entirely, it's not a huge leap from a luckier version of this game and a less competent defense to 81 points. Same skillset, a little bit more luck, and he drops 70 in this game easily. Gerald Wallace and Emeka Okafor are both decent defenders (Crash, for my money, is all-world) and Crash was guarding him man-to-man for most of the game (Bickerstaff inexplicably avoided this matchup for a few stretches, and Kobe punished him). Switch them out for the scrappy, likable Raptors Matt Bonner (he...would front against little indie musicians in charity games), Chris Bosh (horrible man D, decent help), and Morris Peterson (Crash he is not), and you might've given him the extra momentum for 81 points. He may be a volume shooter and selfish, Kobe is remarkably efficient and versatile. And everything he did in this game fit within the flow of the offense and the game. Kobe's teammates literally could barely do a thing when he left the court, and it wasn't (as it often seemed in 2010 playoffs) because he froze out rhythm guys. Kobe was the offense, and he was quite a good offense.
INTRODUCING... A SERIES OF FORGETTABLE BOBCATS PLAYERS THAT OUGHT NOT BE FORGOTTEN!
The title is wrong. Emeka Okafor got 22-25 with 4 blocks. Extremely impressive, one of his better games, but it's Emeka Okafor. So I will inevitably forget it. Instead, I'd like to say something about Raymond Felton. Ray plays impressively in this game, getting 15 solid dimes and a not-so-bad 22 points on 24 shots. With no end of clutch, Ray finds Emeka Okafor on pick and rolls again and again in the OT sessions after Crash fouls out. Throughout the game, Felton finds Wallace on alley-oops and waits for cross-court passes and off-ball cuts to and from Wallace. Basically if you had to pair any point guard with Gerald Wallace, you could do worse than Ray. The Blazers obviously thought the same thing, trading for both in 2011. It's fitting that the point guard Felton was traded to Rip City for - the asymptotically aging veteran Andre Miller - is probably the model ceiling as a player for Felton: Always look to penetrate, be able to kick out, use two-man plays (like P&R and give-and-go) that give you a lot of alternate passing/reset options, have passable midrange shooting, a couple decent moves in the post, get to the line, and get about 8-9 assists per game. 16-5-9 on 47% is an Andre Miller season and Felton is just a bit short of that at 26 years old, but he could plausibly make one more leap in his career. Granted, there are some things he can't change: Felton doesn't quite have Miller's size for the high alley-oops and post-ups that make Dre such a valuable starter at 35. And Andre Miller is legitimately one of the more attentive basketball minds of his generation. But Felton can shoot the trey at something like league average (.340-.400 for a season seems reasonable), while Miller is one of the worst guards from distance in the league (right at the Mendoza line). No, Felton isn't quite as efficient, doesn't get the same amazing assist totals, and doesn't rebound quite as well as Miller. Felton's sort of an "85% mirror" to Andre Miller. Literally about 85% in height, craftiness, most every relevant statistical category, and salary in an ideal meritocracy, and he could get to 90% if he followed Miller's example. But he's good, and he's made all his teams better.
Felton was a solid point guard in this game. But Crash - like Kobe - did everything for his team. Sure, Wallace isn't the transcendent offensive player Kobe is, but he's one of the most competent, complete players in all facets of the game. In his prime? Star quality. Name a basketball skill that you'd want from a versatile wing or an undersized power forward, and Crash has something to offer (besides outside shooting). Punishing post moves (back or front to the basket), great star passes out of double teams (finding open perimeter and midrange shooters throughout the halfcourt), great movement off the ball, leaping ability, blocks, steals, running the floor, any role in transition, rebounding, and surreally good perimeter defense. He...can complete alley-oops with abandon. Crash is clutch as hell in general and in this game, even getting stops on Kobe not once but TWICE at the end of regulation and getting the game-tying 3-point play right beforehand.* He really is a franchise player and one of the best two-way players in the game. And you know what? He does it all, and like the best franchise players (though, sure, he's not an MVP), Crash raises the level of play and effort of anyone that sees him. Pippen, LeBron, or Iguodala are his best comparables. Tough, slightly oversized wings (Crash is the largest of the four) that have a unique athleticism that allows them to dominate on both ends.
*Unfortunately, our helpful youtube uploader mamba9381 neglects to show Crash's D that made this a game for the ages. I'll try to fix this in the near future with some extra highlights.
ENDTRODUCING... THE END OF THIS POST!
Kobe and Crash had so many competitive staredowns in this game, and it was justified: Crash mitigated Kobe as much as anyone could and dominated Kobe on offense - but "mitigating" Kobe still meant he got 58 points. I'm reminded of a quote from a Celtic (Kevin McHale, maybe?) during the 80s: His takeaway from the Lakers-Celts rivalry was that the Celtics were a great team, so when they played very well, they would almost always win. When they played great, they were basically unstoppable. But against the Lakers, the Celtics could play _great and still come up short. _ That's the place Kobe and Crash were in for this game, where Nash and Duncan were in for their careers, where all the great rivalries in sports live. Now, both Kobe and Crash are a bit older now and don't have many great years left, but we have this game, a meaningless regular-season game in their primes that became transcendent art and entertainment and competition. It's fitting that both of them fouled out in the overtime sessions. Of course they took a bow.
THREE-MONTH-LATER EDIT: Someone found this post by searching google for "The Most Ferocious Cat."
I loved it so much, I changed the title of the post to reflect it. Thanks, person.