As one of our mainstay features, Aaron is writing posts highlighting every single player in the NBA. Role players, superstars, key cogs, or players who are barely as useful as ballboys -- none are exempt from the prying eyes of our readers. Check the index for a lowdown on order, intent, and all that jazz. Today's trio includes Danny Granger, J.R. Smith, and Nate Robinson.
• • •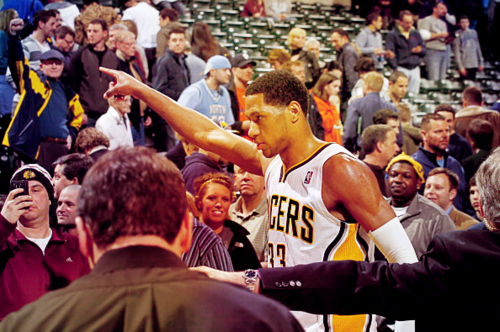 [008] Granger, Danny
Danny Granger, the starting small forward and resident low-tier star of the Indiana Pacers. If I'm honest, Granger is pretty frustrating. He goes from nights where he looks like a legit second option for a championship contender to nights where he looks like he barely belongs in the NBA -- he's a high variance player, as one would say. If you catch the wrong/right games, you'd be perfectly justified in thinking he's anything from a D-League washout to a superstar.
Regardless of his variance, his game is pretty damn slick. A few year's back, before he had a few nasty little injuries, he more often than not looked like a future superstar. Impossibly smooth midrange J, more than passable defense, and a ton of swagger that nobody notices because he plays on an awful team. His defense is rather underrated even considering the rest of his gifts -- outside of Iggy, he's one of the better post defenders among wings in the league, and he's decent on help defense (if a bit lazy on his man on the perimeter). Now, though, he's widely considered a middling-tier option that the Pacers actually shopped at the deadline, trying to trade him for little more than picks and young talent.What happened? Honestly, if there was ever a case of a coach single-handedly producing major harm to a very good player's career, this is probably it. Granger came into the 2010 season dealing with nagging injuries -- instead of letting him rest and get into game shape gradually, O'Brien threw him in and played him roughly 40 minutes per game until he predictably tore his plantar fascia. Playing injured is never a good idea.
He hasn't been consistently dominant since, his lift that was once one of his primiere attributes is essentially evaporated, and it's sort of up in the air whether he's ever going to fully heal from his nagging leg injuries. Which is a shame, because he's actually very fun to watch when he's got it going. He has a smoother jumpshot than virtually anyone in the league, and while he's not a ballhandling wing like LeBron or Iggy, he's got enough hops to rebound passably and his defense is very solid. Which all overlooks the fact that he's also a ridiculously nice guy. Granger was the first NBA player to even consider doing anything for the arena workers who are all losing jobs to the lockout -- specifically, he proposed taking all the Conesco Fieldhouse workers out to dinner, and was the first player to suggest playing regular season games with semi-full rosters in abandoned arenas for charity. It isn't mentioned in that article, but he's also throwing a raffle to raise money for the laid off Conesco Fieldhouse workers. Some serious player-of-the-people stuff, that. By all accounts he's a stand-up guy, and I really do hope he recovers from his injury woes. The NBA would be better with him in superstar form, I think.
• • •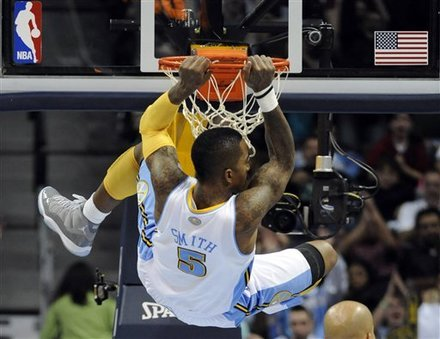 [009] Smith, J.R.
My feelings about J.R. Smith are essentially schizophrenic, and I don't think I'm alone on this. Half the time I watch him, I'm utterly and completely enthralled. The other half I simply can't stop cringing. I don't really think he has a fraction of a chance of ever putting it together at this point. He's got arguably the greatest athletic gifts in the league, and a boatload of talent -- when J.R. is on, the sorts of absurd pocket passes he'll complete and the crazy shots he'll make are matched only by the league's superstars. When J.R. is off, there's not a single player in the league who can be more harmful to their team -- he will make the single most horrible decisions of any player in the league, he'll gun the ball every time he touches it no matter his coverage and no matter how much of a zone he's in, and he'll up his showboating to compensate for his otherwise hemorrhaging game whenever he gets the slightest change.
On defense, he's about what you'd expect for a player as prone to massive fluctuations in his production as J.R. -- incredibly up and down. When on, he can make these occasional miracle defensive plays where he does something absolutely crazy and groundbreaking only to immediately forget how he did that and immediately make the most boneheaded defensive plays you can imagine a player making. It can actually be hilarious to watch. Once, I remember, he was lazily batting at the ball while guarding someone, then perfectly timed his jump to elbow-tapped the players' pass, grab it in the other hand, and start furiously driving across the court. He literally looked surprised the entire fast break. I don't remember the outcome of the dunk, though I do remember he gave up easy open shots as he tried in vain to replicate the feat for the next few possessions. As for the finisher on the fast break? I don't remember if he made the dunk or not, but it would be very J.R. Smith of him to completely shank the dunk after trying to do some ridiculous 720 windmill two handed jam or something.
Long story short, if real life was NBA Jam, J.R. would be a superstar. But it's not, and he's terrible. Next.
• • •

[010] Robinson, Nate
Oh, Nate. The super-short chucking point guard for the Oklahoma City Thunder. After Nate got traded from the Celtics to the Thunder, I remember reading someone on CelticsBlog, I think, writing a semi-obit to Nate's "career" with the Celtics. I can't remember exactly what he said, but the gist was basically that Nate's real value to a team is in his attitude. He treats every minute he spends in the game like the last minutes of a blowout win, for better or for worse. Does that make him entertaining? Yes. Most of the time. Does that make him a good player? Not particularly -- I get the sense that he spent too long with the rudderless sideshow that was the Isiah Knicks in the mid 2000s, as he has the same devil-may-care attitude towards the outcome on the court that comes with growing as a player on a team as awful as those Knicks teams. It often seems like Nate mostly just worries himself with making sure that he's entertaining doing whatever he does. Which, given how limited his skillset is, may not be the worst thing in the world.
He has boundless energy and confidence and will take shots without setting up his teammates, chuck it as though he's trying to break a record, and mug the crowd every minute he's out there. You don't win too many games because of Nate Robinson, but you win many in spite of him, and every once in a while he'll have a night where he's so on you feel like he could actually be a starting quality guard someday. (Hint: NO.) But those nights combined with Nate's general demeanor can paint fans a decent picture of how to really root for Nate. You can get over his chucking, his inability to play any defense whatsoever, his boneheaded moments. That's all rather tertiary. Because frankly, the amount of entertainment you get at watching someone as good-natured and fan-friendly as Robinson on your favorite team is probably worth the severe lack of polish and his bonehead transgressions.
His dunk contest wins may have been travesty (hint: 'may have been' my ass, they were a travesty then and they're a travesty now) but he's a nice guy whose energy is infectious. He's the guy that makes blowouts fun, not because he's bad, but because he's just so goddamn excited about every stupid little thing that happens. Yes, he's a poor basketball player who isn't even replacement level. No, I don't care. I'm still going to be amused watching him do his thing, and so will most fans of his teams. Off the court, he's similarly amusing -- check out his lockout video blog where he does menial tasks as he tries to while away his time until the lockout finally ends. Or check out the police reports where he got charged with public urinatio--wait, what? Nate, seriously? I just spent like three paragraphs painting a positive picture of a terrible player. Nate, I am disappointed. Not because I care that you urinated somewhere. Mostly just because I'm not even sure how I was supposed to respond to that being the first news article that came up when I was looking for what you've been up to recently.
Goodbye, Nate Robinson. Please don't urinate on my car.
• • •
I originally had riddles at the end of each set about the next few, for people who wanted to guess who the random number generator had designated would come next. Might as well bring that back. Today's riddles for your next three players:
011: Decent rookie big man. Promising future, though like Durant, hasn't shown us much yet.
012: Suffers daily through a seething hatred for people smaller than him. Probably.
013: I'm very up on his game. A super-young point guard with an absurd amount of upside.
Until next time.