To bring our playoff coverage up, we're bringing our formerly retired series of daily vignettes — titled "The Outlet" — back for the playoffs. "Don't call it a comeback." Though, you can call it series 2, as we are in the title. Every day (or, rather, every day we aren't doing a larger and grander piece), we'll try to share two or three short vignettes from our collective of writers ruminating on the previous day's events. Should be a fun time. Today's Outlet is just one piece strong, featuring a short piece on the current dogfight between the Indiana Pacers and the Miami Heat. As the title indicates, I don't think it's over.
"It's Not Over Til It's Over." by Aaron McGuire.
Click the jump for today's take.
• • •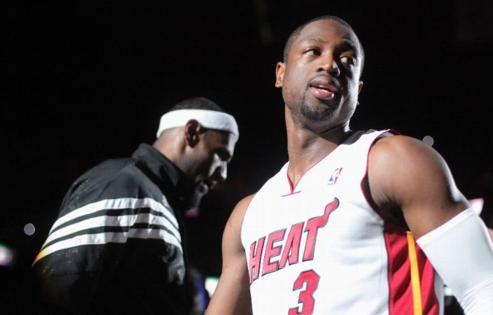 It's Not Over Til It's Over

Aaron McGuire
This may seem somewhat self serving, in a way. Last week, with the series tied 1-1, I published a piece outlining how the Pacers could win the series. That night, the Pacers won. Two days later, the Pacers blew out Miami at home and made me look really, really smart. The Heat proceeded to -- as many expected -- knot the series up at two apiece and regain home court advantage in game 3. Which made me look less markedly less smart. The Heat looked good, with Udonis Haslem coming up with big elbow jumpers in crunch time and the LeBron and Wade duo scorching the Pacers for 70 points, their highest combined playoff total in their 30 playoff games together thus far. LeBron put up a completely unprecedented statline, putting up 40 points and 18 boards with 9 assists, 2 steals, and 2 blocks. Absolutely eldritch. I'm not kidding when I say that's unprecedented -- even if we relax the constraints to something a bit more human, like 37-16-7, it's still only the 3rd game of its brood in the last 17 years. Demonic.
Which isn't to lessen the contributions of his tertiary players -- while LeBron dominated the game in a way that's impossibly rare, Wade shook off an abhorrent 1-8 type first 20 minutes to the tune of a 12-15 second wind, leading most of Twitter to declare that he'd shot up with cortisone during halftime. It came out after the game that, instead, he'd simply had his knee drained earlier in the week -- that makes sense, given that one's body is often late to respond to stress relief like that in a game situation until the player's had a chance to walk on it a bit. And Udonis Haslem had the best game he's had in months. Literally. If you use Game Score (a 1-game representation of John Hollinger's PER metric), Haslem hasn't had a game as good as Sunday's since April 1st, 2012. And keep in mind Haslem did virtually nothing in the game until his 4-5 fourth quarter. It was excellent, and for a quarter, showed Haslem at his best. The Heat were aggressive, assertive, and powerful. They utterly outclassed the Pacers in just about every facet of the second half. The game was a 9-point win, but it felt like more. The rest of the series -- as goes the narrative -- is little more than window-dressing. The Heat have won.
I disagree. The Pacers should still be favored to win this series.
Look. A few things worth noting. The series is 2-2, not 3-3 or 3-2. The Heat are still two wins from wrapping the series up, and judging by how effective the Pacers have been in Miami during the series thus far, it's hard to ascribe some sort of momentous, game-changing home court when the Pacers played the Heat to a 1-1 draw in their first two matchups at home, with Bosh available for half of the Heat's singular home win and a curious set of circumstances conspiring to keep the Pacers' two best players muzzled in crunch time as well. In fact, there are a few key takeaways one can make from the two games the Pacers won and the two games the Heat won. To wit: when the Heat won, LeBron James averaged 36-17-7 on 44 minutes per game. When they lost, he averaged 25-8-4. While the Heat have yet to win comfortably by double digits, let's relax the criteria here a bit. Let's say that in order for the Heat to beat the Pacers, LeBron needs to put up a line of around 30-15-5 in 40 minutes of play (to ensure the lowest possible dip into their shoddy bench). He needs to rebound, with Bosh gone. He needs to score, to help make up for Bosh. And he needs to set the offense up. A bit. How many times in the last decade has a player done that more than once in a single postseason?
Oh. Uh... hm. So, what we're saying is that this relatively pedestrian statistical accomplishment of LeBron's, a mark he's met in two nail-biting wins and come just under in their two losses, is something that's virtually unprecedented in NBA history and can only really be said to be repeated by Tim Duncan's constantly and hilariously underrated 2003 scorched-Earth playoff run? Yes, I think we are. If the Heat are to win this series, they'll need one of two things to happen. The first would be that LeBron simply repeats his virtuoso game 1 and game 4 performances in 2 of the remaining 3 games. LeBron is an amazing player. He is very good at basketball. But he is not immortal. That expectation -- much as the national media would like to claim it's reasonable -- is not. The other possibility? The bench and Wade step up. Wade has one of his godlike, 40-50 point outbursts to carry them to a win in a game where LeBron is pedestrian.
It's also worth noting that, as I keep beating the drum on, this is a very good Indiana team. Roy Hibbert has spent the season shocking all of us and making us look like fools for ever doubting him. The Pacers are +30 with him on the court against the Heat in this series -- they're, conversely, -25 with him off it. George Hill has fit in well, and while I agree with John Hollinger that the hullabaloo over Indiana's "killer depth" is essentially for naught (the Pacers are not deep -- they're merely a 6 man team instead of a 3 man team, and the sooner Vogel realizes that the sooner his team can start actually closing the damn series out), West/Collison/Granger form a trio of solid players fully capable of taking over a game for very short stretches. Paul George has had a disappointing offensive series, but he's been a MONSTER on the defensive end, and other than Wade's game 4, he's absolutely throttled Wade's game and kept the Heat in check.
Furthermore, just as in game 1, the Pacers battled extreme foul trouble in their game 4 loss. Roy Hibbert (whose series +/- I've just mentioned) played barely 12 minutes of the second half, as compared to LeBron's 22. David West only played 15 minutes in the second half, also due to foul trouble. The Pacers led at the half in both games, then lost the lead in a war of attrition, primarily wrought in fouls and the Heat pounding away as Vogel found himself forced to rest his two best players. For a period of almost ten minutes in the second half, foul trouble limited Vogel to a frontcourt including neither Hibbert OR West -- the Heat proceeded to extend the lead from a tied game at 63-63 to a 9 points before the two of them came back in the game. By that point it was simply too late. Haslem was on after Hansbrough and Amundson blew rotation after rotation and gave him the wide open shot. Wade was on fire. LeBron was completely disengaged, but it didn't matter -- the game was in hand.
I don't know if the Pacers win the series. I think they're favored, because I can't see LeBron playing this well for more than one more game. The series now falls to the Heat's supporting cast, and the general ephemera that flip a roughly even series one way or the other. The idea that the Heat lost games 2 and 3 simply because they were "disgracing themselves" is absolutely bollocks. This series is about as even as a 2-2 series can be, and at this point, it's anyone's game. The Heat need to finish it off before LeBron's body wears through. The Pacers have the inertia of youth, energy, and 5 of the best 7 players in the series. Both teams play hard, and will continue to do so -- if the Heat lose this series, it won't be because they've somehow disgraced themselves or the sport. It will be because the Pacers smelled blood and struck. And no, the series isn't over yet. It's a new day, and a 3-game series with a tired LeBron and a streaky Dwyane Wade against a solid, five-man team with a chip on their shoulder and a Batcave in the rafters.
Or, as I like to call it, "exactly what the playoffs are about." Game on, gentlemen.