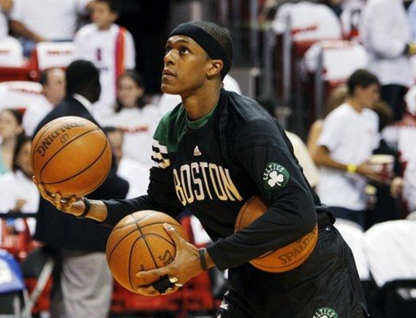 Rajon Rondo sighed as the game reached its inevitable resting point. Down 4 points with 2.2 seconds left, the game was as good as done. As a rule, man's reach exceeds his grasp, Rajon thought, but tonight Rajon knew he had grasped something new. He simply couldn't wait to see how he'd tilted the balance. He walked in the other direction -- towards his locker -- after a half-hearted inbounds pass. Rajon paid no mind to the ball's trajectory, or the remote possibility of a win. The buzzer sounded. It was over.
• • •
It hadn't been like this before the game. Then, in anticipation of the ill-fated Game 2, Rajon had written and consulted endless binders of tables containing adjacency matrices of all possible Miami-Boston match-ups, using known data from years of statistics and Rajon's encyclopedic recall of play-by-plays stretching back into the Cousy era. Rajon, carrying a sharp metal compass for reasons passing understanding, was going to optimize the efficiency differential and psychological tenor of the game. He gave Kevin Garnett very precise instructions. He gave Ray Allen very precise and completely opposite instructions. They obliged, each believing the other to have according instructions. No one could be on the same page, Rajon reasoned, on either team. Except him, of course. Rajon would know all. If the Celtics were to win, the team must be disarrayed, winning in a baroque and seemingly random fashion. They could not hope to win Game 2 in Miami systematically in the traditional sense, the numbers revealed. They would have to slip into the margins of the moment, slithering in on the dirty knees and gnashing teeth of Paul Pierce. Yes, the margins of the moment would be their system and salvation.
There were no percentages in the young man's perfect mind, there were armies. Rajon believed that every shot was predestined for make or miss a hundred years before it was launched. Systems were not a means of enacting high percentage looks, they were a means for enforcing one team's Platonic logic on the game. The Celtics slithered in. That was their system. It was perfect. They could (no, should) win any game. But the match-up binders fell off the shelf as Ray came tumbling in on half a foot.
Missing data, Rajon had almost said aloud. He sighed as he swiftly recalculated every number in every binder.
He found dismay in the strength of his armies.
• • •
Ray Allen airballed the meaningless three at the buzzer. It was a four-point loss. Rajon and Paul Pierce had already checked out from the game, the latter having fouled out and left the forsaken city of vice for greener pastures. Such did Rajon, left alone by a clubhouse that respected and adored him but could not approach him in his current state of fugue, return to his tables and binders.
"I am the margins of the moment," Rajon declared in his notebooks. "I am the leftover rebound and the unheralded assist. I am the points that come as you look away."
Having achieved some fifty points, a rare feat for anyone, much less for a player derided for his scoring lapses, Rajon began to see previously imperceptible errors in his match-up matrices that had nevertheless predicted with certainty the inevitable loss of the series and his inevitable scoring explosion in the heartbreaking, crushing loss. The bleak and pale in his face left for the silent films, the full color and action returning from some movie from the year 2800. Rajon smiled, just a bit, with a twitch below his eye. A grain of sand of marginal confidence shifted the whole balance of the series, in his perfect estimations.
From certain defeat, certain victory.
He prepared his instructions to each player - instructions that would be even more contradictory, impossible, and confusing than this last game - and peppered each with still more contradictory pep talks. Some in Russian. His teammates would not only be running into one another as per his designs, they would also pull the emotional fabric of the game apart from the Heat and one another, leaving in its wake a rip, a void, a shadow, into which he would step and repair his own way. A new dawn.
Oh, the series was done. There are no hypotheticals in this life or the next. Rajon did not have to ask if but when his mind-shattering apocalypse of a Game 3 would burn hotter than heat. He would conquer this game of inevitability, if only the armies aligned.