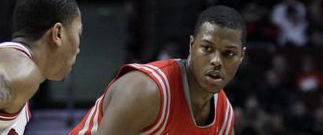 As one of our mainstay features, Aaron is writing posts highlighting every single player in the NBA. Role players, superstars, key cogs, or players who are barely as useful as ballboys -- none are exempt from the prying eyes of our readers. Check the index for a lowdown on order, intent, and all that jazz. Today's trio includes Andray Blatche, Hasheem Thabeet, and Kyle Lowry.
• • •

[015] Blatche, Andray
I'm going to be honest. I don't like the current Wizards team. John Wall is nice, but Javale McGee is an overrated shot blocker with poor defensive fundamentals and little offensive talent. Nick Young is a chucker with no particularly glaring redeeming factor. I agree with David Thorpe that Yi had some promise when he entered the league, but he's pretty clearly failed to capitalize on it and at this point shows little in the way of signs that he'll ever put it together. Rashard is still a passable 3rd or 4th man on a contender when he's healthy, but honestly, is there any chance he's going to show up properly motivated to play on this terrible Wizards team? No. And don't get me started on Al Thornton. No, the Wizards are a bad team -- overrated as a possible playoff team in the east (which, while true that they could sneak in if EVERYTHING goes right, it's really phenomenally unlikely) and with very little in the way of future prospects outside of the fact that they have a franchise point guard and a never-ending stream of high draft picks to play with. Jan Veasley is a good start -- from the film I've seen, he looks like he's gonna be a stud.
But this all ignores the most unlikable part of the entire Washington Wizards roster -- Andray Blatche, of course. There is no redeeming quality behind Blatche's play for me. Statistically, he's a semi-all-star type player -- 17-8-3 is a pretty solid statline, and he certainly had his share of decent games last year. In fact, I watched two of them. His 34-19 game against Cleveland and his 25-17 game against Charlotte, to be exact. Those are beast games. Star-level numbers, even. But watching his game is just... it's an excruciating experience, to say the least. He took 32 shots in the Cleveland game and would've taken more if his teammates didn't exclude him from possessions occasionally to make sure they got to work with the offense. If he gets the ball, he tries to end the possession. That's his maxim, essentially. There's only one player in the league with a worse tendency to take bad shots than Blatche, that being Demarcus Cousins. There's only one player who fights their teammates for rebounds as much as Blatche does (hint: he also plays for the Wizards). And frankly, there aren't any players who immediately come to mind for more prick-headed and lazy on the court.
His actual skills? Well, if he reined in his shot selection, he'd be a passable shooter for his position. When he stops fighting his teammates and simply shows some grit on the boards he's not all that bad. He has horrible, horrible defense in every conceivable way but has the frame to be an average defender if he puts his mind to it. Unfortunately for the wizards, he won't. And as I said, if he reined in his shot selection, he'd be a passable shooter -- as is, he's the modern day incarnation of Antoine Walker. He takes over 15 shots a game despite shooting under 45%, playing less than 36 minutes a game, and taking only 18 threes on the season -- that's about as bad as you can get, shot selection wise. Two turnovers a game. Enough bad decisions to make everyone watching him unhappy. Why is he considered a franchise cornerstone for the Wizards, again? Just wondering, guys.
• • •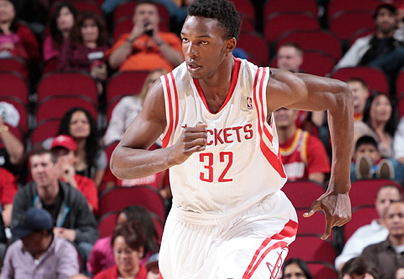 [016] Thabeet, Hasheem
Time for a Controversial Opinion about Hasheem Thabeet. The opinion in question: he's going to have an 8-9 year career in the league at a minimum, and will carve a role as a niche roleplayer near the end of his career. I don't have many reasons to think this, if I'm honest. Thabeet has shown his offensive skills to be utterly nonexistant, and while he's a shot blocker, he's a blocker of more the Manute Bol type than the Alonzo Mourning type -- IE, a blocker who goes for highlight blocks instead of truly getting his man down. He jumps for low difficulty blocks in blatant stat padding. And his offensive skills are minimal at best. To say he's a 7'3" tall bust at the second pick is beyond accurate. At this point in his career, he's played about as much time in the D-League as he has in the big leagues, and it's soon going to be time for him to put up or shut up.
Personally, I don't think he's going to be out of the league that easily. Lost in his complete lack of basketball ability is the fact that he still is 7'3", and the barriers to entry of him being a productive nba player are virtually nil. Whether or not he deserves it, Thabeet is going to be picked up constantly in the next ten years, always by teams who think their big man coaches are going to do what no others have done and make a productive and useful player out of him. They may succeed -- he's tall enough that, if he had any moves whatsoever, he could simply place the ball daintily in the hoop. His rebounding is poor, his post defense is poor... really, at the moment, his only particularly redeeming quality is that he is decent at helping on defense to cover for a poor defensive four. At the moment, that's the sum total of his skills. But Thabeet is probably going to be much like the sirens of Odysseus to a number of NBA teams -- coaches that refuse to take no for an answer, refuse to believe that Thabeet will never put it together, and think that he's one coaching session away from being a competent backup big. But nevertheless. In order to put in context how hilarious Thabeet's draft location is, here are players from his draft class who are better than Hasheem Thabeet despite being drafted below him.
Pick   Player (Team)
3   James Harden (OKC)
4   Tyreke Evans (SAC)
7   Stephen Curry (GSW)
9   DeMar DeRozan (TOR)
10  Brandon Jennings (MIL)
12  Gerald Henderson (CHA)
13  Tyler Hansbrough (IND)
17  Jrue Holiday (PHI)
18  Ty Lawson (DEN)
19  Jeff Teague (ATL)
20  Eric Maynor (UTA)
21  Darren Collison (NOH)
23  Omri Casspi (SAC)
25  Rodrigue Beaubois (DAL)
26  Taj Gibson (CHI)
29  Toney Douglas (NYK)
30  Christian Eyenga (CLE)
36  Sam Young (MEM)
37  DeJuan Blair (SAS)
38  Jon Brockman (SAC)
39  Jonas Jerebko (DET)
41  Jodie Meeks (PHI)
43  Marcus Thornton (NOH)
44  Chase Budinger (HOU)
55  Patty Mills (POR)
Twenty-five players. Yikes, Thabeet. You better hope Odysseus can teach a good jump hook.
• • •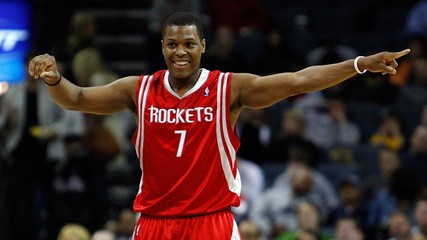 [017] Lowry, Kyle
Kyle Lowry is currently the best player on the Houston Rockets. Rather shocking statement, actually, but it's 100% accurate. At the start of last season I would've said that was Scola, but despite Scola's excellent opening act to the 2010-2011 season, Lowry had his number by the end. In the same way that Manu Ginobili and Amare Stoudamire absolutely destroyed all opposition after the all-star break in 2010, Lowry was quite possibly one of the most valuable players in the league after the all-star break, posting an insane 20-5-8 line in the month of march on 47-43-87 shooting and in a conservative 36 minutes per game. Anyone remember how the Rockets almost snuck into the playoffs despite their god-awful start to the season? That was essentially all on Lowry, who played better than any other point guard in the last two months of the regular season, and spent the season strengthening his vice grip on the title of "best defender at the point guard position."
It has been written that Lowry's breakout may be a case of small sample size bias, and I agree. I don't think Lowry is the kind of player who is going to average 20-5-8 in a full season. But it's worth noting that ending a year with a streak of amazing performance, if consistent enough, doesn't often evaporate. Amare and Manu came off their torrid 2010 closing acts to be strong MVP candidates for the first few months of the 2011 season. And Lowry is younger than either of them, and roughly at the age and minutes threshold where a point guard will start to reach his peak. I don't think a 16-4-7 line is out of line for Lowry, and if you look at NBA point guards, that's a top five line. Especially when you're running a team as efficiently as Lowry, and defending the other team's best perimeter player every possession down the court. And taking charges without flopping, like a boss. He's essentially the worlds most anonymous almost-elite point guard, and could be considered our generation's poor-man version of Jason Kidd. I look forward to seeing if Morey can leverage what he's got to fill this Rockets team in with pieces that let Lowry break out -- in particular, I'd love to see a team with Lowry, Iggy, Scola, and a lockdown defensive big. That wouldn't be a championship contender, but it would be an incredibly fun team to watch.
Anyway, stop underrating Lowry, it's getting aggravating.
• • •
I'm tired, so no daily riddles today. Goodnight, folks.