As our summer mainstay, Aaron's writing a 370-part series discussing almost every notable player who was -- as of last season -- getting minutes in the NBA. Intent is to get you talking, thinking, and appreciating the myriad of wonderful folks who play in our favorite sports league. Today we continue with Rudy Gay, Emeka Okafor, and Brandon Jennings.

Follow Rudy Gay on Twitter at @rudygay22.

Rudy Gay is a reasonably interesting player, in theory. A reasonably clutch player ("No! Not Rudy Gay! NO!!!"), Gay is a decent scorer and a surprisingly good defender. Seriously, watch him play defense. He's not some huge plus defender in the make of Tony Allen, but he keeps to his man without fading off, rarely gets lost, and defends without the sorts of cheap fouls that are an occupational hazard to most subpar wing defenders. Most second tier volume scorers -- Monta Ellis, Kevin Martin, J.R. Smith -- see their scoring as a justification to go space cadet on their defensive responsibilities. Not so for Rudy Gay, although the number of times I've seen his defense praised can be counted on a single hand. I suppose it's not incredibly praiseworthy; after all, he's not an incredible plus defender, he's simply a decent defender who happens to actually put in his time on that end. It's kind of sad that scorers like Iverson and Melo have lowered the defensive expectations for volume scorers to a level that's low enough for "literally putting in effort and being a non-liability" to be worthy of praise. But that's where we are, so he should be praised for that.
His numbers have fallen off, as of late, and many non-Grizzlies fans have wondered why. There are two reasons. First, he's simply listened to a bit too much of his own hype. Gay has never been an extremely good heavily-guarded long-ball shooter -- in 2011 he shot 39% from three (on three heaves a night!) but beyond that he's tended to be slightly above average to below average from three over his career. He's tended to be relatively above average for the long two (with his career high of 45% from the long two in his sophomore season standing up to some of the best numbers a volume scorer can post from that range, ever) and relatively above average from the midrange, with his biggest problem being post-ups and short 3-9 foot jump shots. Still, the more you guard his shot, the worse he shoots -- last season, he not only skewed his game almost entirely to long balls, but to well-guarded ones. As a result? Gay posted his worst season in his career, even though he was healthy the whole year. He's not a double-team player. He'd be a fantastic 1st scoring option if he stopped trying to shoot over double teams and actually use his reasonably solid passing ability every once in a while. But until he does, he's a middling-to-deficient one.
One of the other big problems, for Rudy Gay? He simply can't seem to internalize the importance of free throws. Grizzlies fans would love to see Gay get more aggressive and try to force the issue on getting to the line, especially since he's such a good free throw shooter -- he took only four free throw attempts per game last year, putting him below 50 NBA players. Here are a sampling of the 50 players that shot more free throws a game (or just as many) as Rudy Gay.
The Flaming Ghost of Amare Stoudemire
Danny "I Am The Danger" Granger
A phantasmic projection resembling Tyreke Evans
Jerome Dyso-- wait are you kidding me Jerome Dyson really oh my god seriously.
Ridiculous? Yes. I say that's ridiculous. Still, I feel like a lot of NBA analysts have already written him off. Not sure that's apt. While he's extremely overpaid, relative to last year's performance, he's not particularly overpaid relative to his 2011 performance and at his age there's little reason to believe he's permanently fallen from those heights. If he could do what Derrick Rose did in the 2011 season -- start jumping INTO contact instead of shying from it -- he'd get a hell of a lot more free throws, and at his ridiculously good percentages, that would vastly improve his scoring efficiency. Combine that with a return to form from the long two and the three (which he'd get if he stopped trying to shoot over double teams and work on USING that vastly improved passing he showed off in 2011), and you have a player that's very valuable. Not really worth his contract, all things considered, but a useful player and a good guy to have. If the Grizzlies chose to keep him, of course.

_Follow Emeka Okafor on Twitter at __@BigMek50._

We'll start out with some history, for Emeka Okafor. It may seem weird to bring this up now, but at the time the Magic first drafted Dwight Howard, there were a significant number of general managers that thought Orlando had made a huge, franchise-killing mistake. Okafor was seen as the far safer, more-skilled pick -- while Howard was coming straight out of high school, Okafor had been through the wringer in three star-crossed years at UConn. At first, the Magic looked like they'd lost out -- Okafor spent the first 2 or 3 years of his NBA career as Howard's superior, even winning Rookie of the Year over him. Partly, this was due to injuries. Okafor spent much of his second and third seasons injured, unable to really stay on the court, which made his numbers look (perhaps) a bit stronger than what he was actually giving the Bobcats. But make no mistake -- Okafor was good, for the Bobcats, and although he suffered copious injuries in his time in Charlotte, he was a very effective, developing starting center. The thing is, while Dwight developed at rapid, breakneck speeds after his 2nd season, Okafor just sort of stagnated. He's about as good now as he was during his 2nd and 3rd seasons, and while that's decent for a starting center, it's nothing particularly exceptional.
He's a positive rebounder (though not overwhelmingly positive) and a limited-but-effective offensive player. His use on offense is primarily in the fact that he usually doesn't take poor shots -- in 2011, on the best team he ever played for, Okafor took 90% of his shots within 10 feet of the basket (and made 57% of all shots he took on the year, an excellent mark). Last year he erased that, though, and took almost a third of his shots outside that range -- predictably, his field goal percentage went down precipitously, and due to his customarily poor free throw shooting (under 60%, for the 6th season straight) his overall scoring efficiency was abhorrent. On defense, he's very solid. His individual defense is decent, but where he really makes his bones is help defense -- he's been a key cog in Monty's system the last two years, and his ability to shade off-ball while keeping his man in check is really something special. While he's no Dwight Howard, he's definitely a useful player -- I really like his fit in Washington, even if some would say he's overpriced. I don't think he's all that overpriced for what you get, and given his age/burn numbers, it's quite unlikely he falls off precipitously until his next contract. For Rashard's expiring, Ariza/Okafor is actually a really solid collection to get, and although their upside is essentially that of the pre-Johnson trade Hawks, the Wizards do stand a chance to be a competitive outfit this year. First time in a while.
A few personal facts, before we leave him behind. Okafor is only one generation separated from Nigeria -- his parents fled the Nigerian Civil War to live in Houston, where he was born. Emeka was not his birth name -- he was actually born "Chukwuemeka Ndubisi Okafor", which... well... you can kind of see why they shortened it, I suppose. Anyhow. By all accounts, Okafor is actually a really good guy. Extremely smart -- he graduated from UConn in three years with a degree in Finance. As I graduated in three years, I can attest that it's REALLY not an easy feat -- especially in a quantitative major where courses build on each other. According to Charlotte waiters, he tips well, and in every interview I've ever read he's been incredibly grateful and happy to have made the sort of NBA money he has. Back when he was growing up, his favorite player (surprisingly) wasn't Jordan -- it was Clyde Drexler. He modeled his game after Hakeem Olajuwon. He's a useful player and apparently a great locker room guy -- excited to get some chances to interview him next season at Wizards games.

Follow Brandon Jennings on Twitter at @BRAND0NJENNINGS.
__
You know how you get this weirdly nostalgic feeling when you watch certain players? This sense that if only they'd put it all together, they'd reach the heights you've seen them hit before? I feel like Brandon Jennings has spent -- quite literally -- his entire career at that stage for me. It was a while back, but even before his 55-point explosion put the world on notice in his career's 7th game, he was turning heads. I made it a point to watch him against the Warriors that night, because I hadn't had a chance to see any of his really impressive first few contests, and I wanted a chance to catch the Milwaukee guard that was starting to look like a real shot for Rookie of the Year (even in just a few games of work). What I was treated to was obviously way more than I was expecting. Jennings didn't just take over the game, he owned the game in a way that NBA players rarely do. He just... he seemed to drain every three he took. Every shot he considered was a good one, even if it'd be a terrible one out of context. His form looked immaculate. His passing was pinpoint. This right here, with Brandon Jennings conducting, was what the dominant scoring point guard of the next generation looked like. It was wonderous, beautiful, and one of the great individual performances of what ended up being a pretty great NBA season.
Unfortunately, Jennings was on borrowed time. The shot he relied on for that performance was fundamentally flawed, with a bad hitch in the release and a strange lean to his jumper. Most people -- myself included -- either blinded themselves to it or assumed he'd figure it out before the magic ended. He didn't. As his rookie year went on, Jennings' three point shot began to drown under the weight of his flawed mechanics, and in the three seasons since he simply hasn't recapture that three point stroke in any meaningful way. It's actually pretty sad -- in Jennings' first two months, he shot almost 50% from three. That went down to 34% in the remainder of the year, which went down to 32% in the following season, and remained at 33% the rest of the year. Beyond that single beautiful month, Jennings has relatively consistently shown himself to be a roughly league average three point shooter. This isn't to say he couldn't be better. As his first month showed, when Jennings gets hot, even his flawed mechanics couldn't stop him from burying treys like a dog with Trey Bonez. I maintain that if he spent a few months with Chip Engelland, the Spurs' shooting coach, Jennings would be able to come back and shoot an excellent 36-37% from the three point line, easily -- even given the insane number of three point shots he takes off the dribble. The Bucks have always seemed like a franchise with a somewhat deficient player development system, at least to me. Jennings' inability to develop his shot contributes to that view.
If Jennings ever actually improved his form and improved his percentages, he'd be one of the deadliest scorers in the league. His shot distribution chart would be manna from heaven on a guard who was a better three point shooter -- he takes the oft-mentioned admonition to "step behind the line!" seriously, and while he chucked up almost 6 three pointers a night last season, he only put up three long two pointers a night. WAY less than most volume scoring guards, at least proportionally, and a mark of decent efficiency from Jennings. He also eschewed the sneakily-tricky close post-up and the true midrange, with five more of his shots coming entirely at the rim -- that's 11 of his 17 shots a game coming from the two most efficient distances for a guard to shoot at (especially given his improved at-rim conversion rates this year), and in terms of his long two stroke, he's one of the better long two shooters in the game (converting them at an almost 40% clip). Again -- if the Bucks would take the time to figure out what kind of a shooting coach he needs and help him develop his form, Jennings could be an extremely efficient 20-25 points-per-game scorer. Alas, it doesn't seem to be in the cards. Outside of his scoring (inefficient now, could be great if he got a good shooting coach), he's a relatively talented guard at the tertiaries -- he's not nearly as bad a passing talent as most people think, and while his assist percentage is low, you get the sense watching him that he's not as bad a passer as his poor assist percentage would tend to indicate. He's one of the least turnover-prone point guards in the league, sporting the second-lowest turnover rate of every point guard in the league. On defense, he isn't exactly Gary Payton, but he keeps to his man and doesn't wander much, and does about as good a job as any point guard in the league. It's decent stuff.
Still, although everything's decent with Jennings, nothing is particularly otherworldly. His three point stroke obviously needs a lot of work, and even at his improved rates he absolutely needs to keep improving his at-rim percentages. His distribution of shots is essentially the ideal, but his conversion rates are so skewed that he ends up as a net-negative ballhog half the time anyway. There are so many indications that in the right situation, Jennings would be a star-type player. But he's in a poor situation right now, and it's tough to see how he'll get to really improve that. Short of Milwaukee trading Jennings, Ilyasova, and some package of prospects to San Antonio for Tony Parker, it's hard to fathom how Jennings gets onto a better team when he hits free agency after this season. None of the places with cap room are very good fits for him, and none of the contenders who could use him have much reason to take a flier on him. He's going to get a decent contract, but not an amazing one. And people like me, whose first exposure to Jennings came in one of the greatest one-night performances in an otherwise unremarkable-to-this-point career, will continue to watch him and feel wanting. Always desiring another taste of that glorious game. Kind of a shame. At least Jennings is one of the most entertaining players in the league, with (in my opinion) the coolest shoe line in the league (OBAMA AGREES, DARN IT!) and hilarious random slams of superstar players on Twitter. (And, as you can see below, a voice of the people!) One of my favorite NBA follows. Throw him a bone.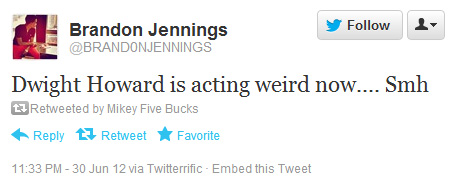 • • •
At the end of each post, I'll be scribing riddles for the next group. Whoever gets the most right will get a shout out at the end of the next post. Tweet me your answers at @docrostov, or post them in the comments. We had a few 3/3 votes yesterday, coming from Flotze, NickD378, Chilai, and Luke (in that order). Good job guessing, folks.
Most know him for his elbow J, but Player #118's defense is underheralded. Will be a Player Capsule (Plus).
One of the most "Duke" players ever, Player #119's defensive reputation may be overrated at this point, but he's still OK.
Don't sleep on him after his injury-lost 2012 season. Player #120 is an extremely underrated big, especially on that contract.
That's all for this week. Join us next week for a few Celtics, a few Heatles, and a whole lot of cellar dwellers. See you then.