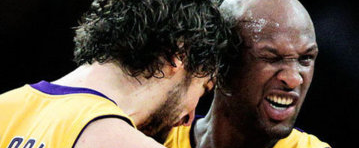 As one of our mainstay features, Aaron is writing posts highlighting every single player in the NBA. Role players, superstars, key cogs, or players who are barely as useful as ballboys -- none are exempt from the prying eyes of our readers. Check the index for a lowdown on order, intent, and all that jazz. Today's trio includes Ryan Anderson, Lamar Odom, and Samardo Samuels.
• • •

[018] Anderson, Ryan
Ryan Anderson is a pretty bro-ish player. He's a poor man's Rashard Lewis, though at this stage of Rashard's career, he's arguably better. Statheads tend to love him -- Kevin Pelton and John Hollinger are especially adamant about his value, Pelton comparing him to a young Dirk Nowitzki and Hollinger named him a Kevin Love all-star early last season. I don't quite disagree with the Dirk comparison, but I would add about twenty individual grains of salt to it. The thing you need to understand with Anderson is that he's underrated. The thing you need to then understand is that, despite being underrated, he's a relatively limited player. He shoots very well and has an underutilized post game, but up til now he's shown no ability to take up the possessions he'd need to eat to be a legitimate second option on a championship squad (which, if I'm honest, is exactly what he is on the Magic right now). His defense is poor. Not as bad as some no-D forwards, as he does put a bit of effort in on that end, but it's not good. His post game is underrated, and he's a decent rebounder on the offensive end (though that tends to cover up how poor he is on the defensive boards, and why he's only going to look particularly passable as a rebounder if he's placed next to a Dwight Howard or Andrew Bogut type).
I'm very hesitant to go with Pelton's per-36 stretch that Anderson is prime to be a new Nowitzki-lite, though, with reason #1 being Anderson's positively anemic career playoff averages. To wit, he averages 3.4 points, 3.9 rebounds, and 0.4 assists on 28% shooting (29% from three) in about 16 minutes per game. That's pretty awful. To the point that I can't accept any Nowitzki comparison on its face -- part of what makes Dirk great is that he's never really had an awful postseason. The closest thing to it was 2007, where he averaged 20-11 on poor 38% shooting. His first postseason? 23-8, on 42% shooting with a poor 28% from three. Anderson's game can be compared cerebrally to Dirk's. But until Anderson shows himself to have Dirk's sense of how to score on a competent defense, it's tough to really call him a potential franchise guy. Not to mention that he's got poor defensive fundamentals, much like young Dirk without his ability to score on strong defenses. Still. He's a promising young piece, don't get me wrong, I just don't see his ceiling in the same way Pelton does -- Pelton makes sure to caveat his piece by saying he doesn't see Anderson as an MVP-type player, but I disagree with the fundamental conclusion that Anderson can thrive in a larger role. His playoff performance seems to counter that.
As well as the fact that his game is predicated on the pass -- last season, for instance, Anderson was assisted on 98% of his threes, 66% of his long twos, and 100% of his shots from the true midrange. The only area of the court he wasn't assisted over 50% of the time was the post, where he was only assisted a respectable 38% of the time though he converted 60% of his shots there. Dirk has a better ability to create his own shot, which is why the offense runs through him more. Until Anderson learns how to create a shot outside the basket, he's going to continue to be the player he is today. That is, a no-D finisher who plays efficiently but needs quite a bit of work before he can work outside of his role. Off the court? Don't know much about him. He looks like a bro, though. Probably goes to frat parties with J.J. Redick and tries to get Dwight to toke up. ... Maybe not that last one. Definitely see frat parties in his past, present, and future, though.
• • •

[019] Odom, Lamar
Lamar Odom is a bit more well traveled as a dude than as a basketball player. At his core, he's a manchild -- completely addicted to candy, married to the generally uninteresting heiress Khloe Kardashian, has his own fragrance of perfume, and has appeared in a video with Linkin Park that I philosophically refuse to watch. The last one is true, by the way. Look it up if you doubt me, because I refuse to link to it. Absolutely, 100% refuse. No deal. As for his game? He's a stretch three/four depending on the matchup. Phil got a pretty good amount out of him at the three, though he can't stay there for a whole season. Very multifaceted game, honestly. Doesn't have good three point range, but he shoots the long jumper decently well and defends the power forward position about as well as he defends the small forward if he's matched there in small stretches. He's a very good weakside rebounder.
If I'm honest, there aren't many flaws in his game outside of his effort. Because no matter how nigh flawless he is when he's on... when he's off, Odom can be a player with absolutely no positive impact on the outcome of a game. Which is absolutely befuddling given his talent. It's almost like his sweet tooth infects his play -- this is patently absurd, but it's a decent metaphor. He plays as though he's consistently facing a crazy sugar rush. He unpredictably oscillates from amazing all-star level 20-15 kinds of dominant games to these nights peppered with atrocious 1-6 shooting with 3 rebounds in 37 minutes of underwhelming defense. It's like he has no control whatsoever as to his play, and you get the sense that while he could put in a lot more effort on his bad nights, his game is fundamentally broken when he has an off night. He comes and goes. Superstar to shitshow. Constantly.
To stick with the terrible metaphor I've been pushing this entire post, Lamar Odom is like sticking your hand in a candy jar on Halloween night. You can be the cool kid and pull out a full-on snickers bar that they didn't mean to put in the candy jar and hop away as the housewife stares longingly at the Snickers bar she did not mean to put there. Or, you know. You can grab one of those small packets of M&Ms with, like, one friggin M&M in it. And it's not even a cool color, it's just yellow or something. How do they get away with that? I bet David Stern owns Mars Candy.
Mars? More like Mar$$$.
• • •

[020] Samuels, Samardo
I think this is the first "wow, I really have to write about him?" player on my list. Samardo Samuels is the backup's backup's backup big man for the Cleveland Cavaliers. His game isn't particularly complicated. He's not a good scorer at the NBA level unless his man completely lays off him (something that happened relatively often, as he got to enter the league playing on a team nobody got up for in one of the worst teams in the last decade) and he's a pretty terrible defender. His only particularly useful trait is that he's a bulldog rebounder, which is a pretty decent trait to have, though not one that's going to make him an NBA starter anytime soon. He hustles, too, so that's worth something.
Still. He's undersized and unathletic. He tends to try and get his defender by doing an endless array of poor countermoves and bad footwork in a almost-always-unsuccessful attempt to make his defender forget that he's taller than Samardo. Which is depressing, as a Cavs fan. Possessions that end in Samardo taking a bad shot in the post are some of the worst moments of my life. Then again. He was responsible for one of my favorite moments of the 2011 Cavs season, where the Cavs beat the Knicks and Melo had no idea who Samardo was. That was probably his best game of the year. And probably the "this is the pinnacle of my talent" moment for Samardo's career. I feel like I'm being kind of harsh on him, honestly. He was an undrafted rookie last season. Like Manny Harris, he at least occasionally contributed. That's better than you'd expect, and should have him in the league for at least 3 or 4 years, if not more. True, he probably will never be a starter. But he hustled and when he succeeded it was fun to see him succeed. Can't ask for much more in an overutilized bench player.
Also, a few days ago, Samardo was involved in quite possibly the most hilarious out-of-nowhere twitter "scandal" I've seen in a long time. The guys at I Go Hard Now alerted me to it on Twitter. It was basically the best. Essentially, Samardo started ranting about how he was "addicted" to having sex with women and how he didn't hate gay people but he definitely, without question, was not gay. It seemed to come out of nowhere and it was totally worth spending a while on his twitter page trying to figure out what he was talking about. I can't do it justice here. Read up on it. And just remember: Samardo Samuels can't be homophobic. He went to St. Benedicts.
• • •
Sorry for the sparse updates the last few days. The post about depression wore me out, much like this lockout is doing.
Here's hoping it ends soon.