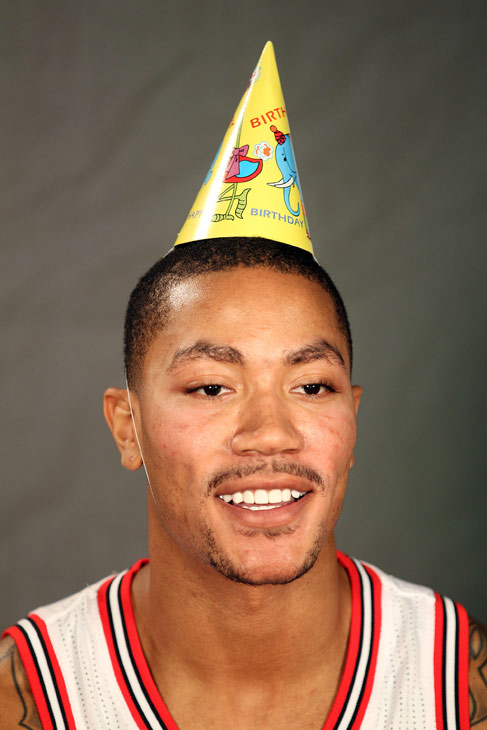 Hey, all! Aaron here. Last Friday, I arrived at the hard-won halfway point for my Player Capsule series. I've officially got more capsules behind me than there are ahead of me. In part as a celebration, in part as a general update, I decided to compile some statistics on the capsules thus far, the capsules yet to go, and the capsules people consider their favorites. Let's jump in.
• • •
I. CONCRETE PROOF THAT AARON MCGUIRE HATES THE NETS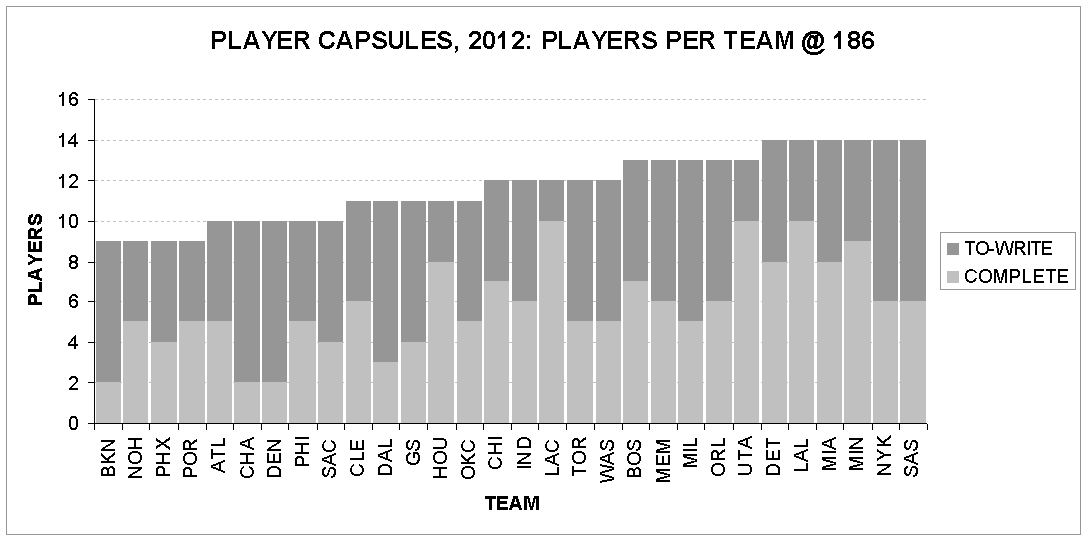 This chart shows the players I've written and the players I've yet to write, in a stacked bar chart. The x-axis -- teams in question -- are ordered by the number of players a team has among the total 370. Brooklyn, for instance, has 9 players in the 370. They tie with 4 teams for the lowest number of players covered on any particular team. Five teams -- Detroit, Los Angeles, Miami, Minnesota, New York, and San Antonio -- are getting coverage of 14 players, and they're tied with the most. Fear not, Nets fans -- because the previous 186 capsules somehow only included two members of your team, there are still 7 members of the Brooklyn Nets to go.
• • •
II. THESE WERE THE CAPSULES THAT WERE
Here are some stats regarding the 186 capsules completed.
There were 158,200 words among all capsules posted here, and 21,734 words in the 11 capsule (plus) posts. This translates to a total of 179,934 words in the first 186 capsules -- or, 967 words per capsule. With 15 players a week, that translates to an average of 14,510 words per week. If you've actually been reading all these, you have my sympathies. That's a lot of words!

This project began on Friday July 6th, 2012. It is now 87 days later, on Monday October 3rd. In this timeframe, only thrice have I managed to put up fewer than 15 players in a single week. Upon realizing this, I will now consider this a victory.

Of the players covered thus far, 13.9% have been centers, 44.2% have been forwards, and 41.9% have been guards. The centers who have gone thus far collectively shot 2.7% from three point range. A supremely important fact, I say. Of all these folks, there have been 11 posts for players that garnered a Capsule (Plus) -- one center, four forwards, six guards.
• • •
III. THESE ARE THE CAPSULES THAT WILL BE
Here are some stats regarding the 184 capsules yet to come.
While the capsules I've finished garnered an average #NBARank of 195.6, the capsules yet to come have an average #NBARank of 194.7. If anyone wanted proof that I drew from a legitimately random distribution when I picked the order for these capsules, well, there you have it.

Assuming no delays, the current schedule has me finishing the project smack dab on Christmas Eve. My current goal is to finish before 2013, so that seems like a good aiming point.

Of the players left, 51.1% of them are forwards. 8.7% are centers, and 40.2% are guards. Of the currently planned out Capsule (Plus) posts left, 4 are forwards, 7 are guards, and none are centers. Subject to change, of course, as I write posts and get ideas for others.
• • •
IV. THESE ARE THE CAPSULES THAT DON'T SUCK
As part of this retrospective, I collected votes from 25 friends and readers to determine their favorite capsules. Most people highlighted a few of the 11 Plus posts along with one or two of their individual favorites. As per the votes, here are the three cream-of-the-crop selections of the best Capsule Plus features:
There were quite a few people who picked one of the normal everyday capsules, as well -- in fact, all but 3 of our 25 voters picked at least one normal capsule to go along with their plus selections. Because there's so very many of them, few normal capsules garnered multiple votes -- only Nick Collison and Mike Bibby received more than one. But in the interests of highlighting the capsules that stood out to our readers, here are all capsules that received a vote as notably above the par.
Pau Gasol, Greg Monroe, Paul George, David West, Gerald Henderson, Jon Leuer, Carmelo Anthony, Andrew Bogut, Isaiah Thomas, Gilbert Arenas, Kevin Seraphin, Grant Hill, Derek Fisher, Tyson Chandler, Manny Harris, Avery Bradley, Jeremy Lin, Roy Hibbert, Brandon Jennings, Rajon Rondo, Brian Scalabrine, and Mo Williams.
• • •
VI. UPDATES FOR THE SECOND HALF
Not a ton here -- the format won't be changing, nor will the schedule. However, a few things will. First, I'm switching up the player stat-capsules a little bit -- now that ESPN's #NBARank is done with, I thought it a good idea to add the player's final standing in ESPN's project to the capsule statsheet. We will be adding it to the Capsule Directory in short time, as well. As another piece of useful data, we're adding what number a player is in the capsules out of the remaining players on his 2013 team. For example, see the updated version for DeMarre Carroll below.

Because it would be an incredibly meaningless waste of time, I won't be updating the statsheets for the players long passed. But this should make the statsheets slightly more useful going forward. The final change is hardly a change at all -- I've made two small banner images for the capsule directory, and placed one in the sidebar for easy access and will place one at the end of each capsule post, again, for easy access. Hopefully this helps people remember it exists!
• • •
VI. FINALLY...
Just wanted to add -- huge thanks to all of you who've stayed with me this long, and plan to read even intermittently going forward. For the most part, this project is meant as a reference to all and a reach towards a public database that's impressive, personal, and analytically sound. The fact that so many people have chosen to take the journey with me and watch in its totality my slow descent into blubbering madness is (to me) both heartwarming, humbling, and befuddling. Seriously? There are those who've read 170,000 words that I'VE written? Simply absurd. Nevertheless, let it be known that I have a vast appreciation for those of you reading, whether you've read a single capsule or all 186. Thanks a lot for taking an eye to my work, and I hope it's been -- and will continue to be -- an entertaining journey.
And now that that's over, I have capsules to write. See you on the other side.