As our summer mainstay, Aaron's writing a 370-part series discussing almost every notable player who was -- as of last season -- getting minutes in the NBA. Intent is to get you talking, thinking, and appreciating the myriad of wonderful folks who play in our favorite sports league. Today we continue with Brian Cardinal, Jeff Green, and Joe Johnson.

_Follow Brian Cardinal on Twitter at __@BrianCardinal.___
Brian Cardinal has a special spot in most people's hearts, and that's for good reason -- he was perhaps the best representative of a hilariously awesome archetype that arose near the end of the aughts. By my assessment, the trend "officially" began in 2007. Here are the previous members of this wondrous squad of -- as I call them -- "chilled out old or washed-up bros who aren't so good at basketball but could definitely beast it in a YMCA Bowling League" (or "Token YMCA Bowlers", for short):
2007: Matt Bonner
2008: Brian Scalabrine
2009: Adam Morrison
2010: Adam Morrison
2011: Brian Cardinal
2012: Mike Miller
I don't really remember exactly when I noticed this trend, and I can't really tell you why exactly I keep track of this. But... well, yes. I do keep track of this. I actually have a spreadsheet on my computer where I store this particular list, and on a boring between-projects day at work a few weeks back, I figured out exactly who meets this description on each currently title contending team. I... really don't feel like making a Google Doc out of it that I'd have to update, but I guess I'll use this outward description of the "Token YMCA Bowler" concept by doing a team-by-team breakdown of this year's top five title contenders according to their token bowlers. Ordered from the worst token bowler per the concept to the best...
OKLAHOMA CITY THUNDER: Tough to crack this one. Last year, you could kind of make the case it was Derek Fisher, but this year you don't really have that many old players. Legitimately the only option you can really go for is Nick Collison, but he's... like... way too good at basketball to fit this archetype. Although he WOULD make a good YMCA Bowler, in my view. Sense of humor, competitive, seems like he'd master the intricacies of the local bowling alley. Still. Dunno. Probably the weakest contender by this "metric." (RUNNER-UPS: Cole Aldrich, Scotty Brooks)

BOSTON CELTICS: Darko would be great in a YMCA bowling league! Bruising, intimidating, and probably throws a lot of high-speed strikes. That is, until he bashes a 20 pound bowling ball straight into the head of anybody on another team who wears black and white stripes. They don't have bowling leagues in prison, Darko. Exercise caution. (RUNNER-UPS: Brian Scalabrine, The Entire City of Boston)

LOS ANGELES LAKERS: Some people would assume that their first thought -- Nash -- would be perfect for this. Nope. Wrong. Nash is simply far too good at basketball to be a token anything. The true winner, on this squad? "The Other Steve." Try and tell me that Steve Blake WOULDN'T be that sorta-annoying but highly dedicated middle-rotation bowler in an office bowling league. You can't tell me anything, reader, because I wrote this entire bulletpoint as though I'm Bill Simmons. Gotcha. (RUNNER-UPS: Steve Nash, Phil Jackson)

MIAMI HEAT: This one's easy -- Miller hasn't retired, so it's still on him. He's got back problems, so he probably would have a tough time consistently dominating a bowling league, but you get the sense he'd be that kind of guy who just smiles at the table and keeps putting endless pitchers of beers on his tab while the rest of the team carries the way. You also get the sense that every once in a while, he'd have a bowling night where his back isn't killing him, and he'd COMPLETELY DESTROY the other team. And he just does it with this huge grin and his wife is ecstatic and he can't stop smiling even though his back is gonna kill him the next day. CLASSIC Mike Miller. This is him. Strong showing in this metric for the defending champs. (RUNNER-UPS: Juwan Howard, Shane Battier)

SAN ANTONIO SPURS: Okay, look. Matt Bonner has a sandwich blog, quite literally hangs out with Skeets and Tas, and in Scalabrine's departure he's definitively the goofiest looking white guy in the league. Sorry, other teams. Spurs win this round. (RUNNER-UPS: Sean Elliot, Alex Arnon)
Whew. Good talk. Definitely had a lot to do with Brian Cardinal.
Finally, I bring you one last completely-true-couldn't-possibly-be-false fact about Brian Cardinal: he is a former correspondent on the Daily Show with Jon Stewart. Really, he defin--... okay, okay, no. He's not. But he bears a striking resemblance to former Daily Show correspondent Rob Corddry. In fact, the resemblance is so ridiculously apt it actually drifts astray into the deepest recesses of the uncanny valley. There are exactly two celebrity/NBA similarities that are so ridiculous I can't actively separate them when I watch the celebrity. This one is one of them. The only other one is John Legend with Mo Williams. (Which -- if you have a chance -- try to look at them side by side. They're twins.) Anyway -- the point is, just try and tell me that these two sterling individuals aren't the exact same person. Try it.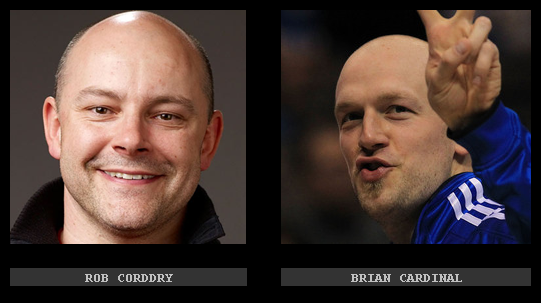 It's impossible. Quit, end, done.

_Follow Jeff Green on Twitter at __@jeff_green22.___
I get the general concept behind the effusive praise Jeff Green has gotten lately. "Jeff Green is the most athletic Celtic we've had in years! He can space the floor! He can spell Pierce on defense! This is gonna be GREAT." In theory, a player that could actually do all of these things would be a phenomenal improvement for the Celtics. Potential game changer. They were one stopper from beating the Heat, after all! Therefore, if they add a stopper or two and improve their offense even to "barely league average" level, they'll be set up as a strong contender for the eastern crown. (Well, okay, I'm not totally sure about that. But we'll get to that in a later capsule, I suppose.) Me? I honestly have an issue with the way most of my Celtic-fan friends discuss Jeff Green, and it has to do with internal conflicts in every single one of those three key exclamatories. Namely, they're all incredibly misleading. All true. But all misleading, poorly representative, and rely on best case scenarios that are so obtuse and increasingly absurd that they completely deviate from reality.
First off, while he's the most athletic Celtic seen in years, that tells you nothing about fit, skillset, or talent. Especially when discussing a team that's been among the least "athletic" teams in the entire league over the last 5-6 years. Let's put it this way -- Anthony Randolph would be the most athletic Celtic seen in years. Wilson Chandler would be the most athletic Celtic seen in years. JaVale McGee would be the most athletic Celtic seen in years. None would help the Celtics JUST because they're athletic. They'd help the Celtics if they could learn the system, and gain a better ability than they've ever shown before to work within a rigid, successful defensive system. Simply saying "well, he's athletic, Rondo's cool, how can this go wrong?" is overly-simplistic and relies on Green adapting perfectly, right off the bat.
Second... sure, he can space the floor. But why would you want him to? Green is among the worst long shooters in the game, having shot over 33% from three ONLY ONCE in his entire career. He's not a great free throw shooter, he's never been good at spotting up, and he tends to take far more shots than his team wants him to take. He CAN help the Boston offense -- but not doing that. At all. In fact, if the Celtics are smart, they'd take him the heck away from outside shots in an effort to restructure his game. They did a little bit of it back in 2011 when he last played for them, but not nearly enough -- just as he did in OKC, he markedly depressed the Celtics' offensive performance during that stretch. Their defensive rating got two points worse and their offensive rating collapsed by almost 10 points. This wasn't some sans-Rondo effect, either -- the Celtics actually performed worse with the two of them on the court than it did with either on the court individually. Again -- he CAN space the floor. You CAN employ him that way. You just... shouldn't. At all.
Thirdly? I have to represent on behalf of Paul Pierce to the idea that Green is going to do a markedly better job than Pierce on defense against LeBron. Pierce has long been underrated on the defensive end -- for the majority of LeBron's career, Pierce has been one of only two or three players in the league who actively made life difficult for LeBron on the offensive end. He's been slow, he's been sluggish. His athleticism isn't obvious, his defensive talent not in-your-face to the same level as a Bowen or an Iguodala. But Pierce is a marvelous defender against players like LeBron. He gets in LeBron's face, talks down to him while they scrap, and keeps his weight on him fluidly. Jeff Green is a different defender from Pierce, but that's not necessarily a good thing. Just because Pierce hasn't been able to guard LeBron the last two years doesn't suddenly mean an athletic defender is going to do any better. Look at the Thunder's efforts to guard him. Look at Danny Granger's attempts. Look at every player in the league. There's nobody in the NBA right now that can effectively guard LeBron James. Paul Pierce was -- and, frankly, still is -- a fantastic defender. He did better than anyone else in the league on LeBron for a long period of time. Jeff Green isn't going to do better without LeBron beginning a decline by age, something I sincerely doubt is in the cards. At best, Green will keep pace with Pierce. At worst, he'll be a serious downgrade. The idea that Green will spell Pierce and improve on Pierce's performance in playoff minutes is simply ridiculous.
Now, this isn't to be all doom-and-gloom. I don't think Green will be a completely awful player for the Celtics. For one, after you put everything in context, there ARE things he can do to help the team -- his athleticism isn't destroy-the-world great, and by itself is virtually useless, but it COULD translate to scintillating above-the-rim plays if Rondo can get a good rapport going with him. His defense is nowhere near as good as most fans seem to think, but he should help the team significantly in the case Pierce goes down with a big injury. Their depth is slightly improved because of his presence, as well. He's put up reasonably good statistical results when used as a large wing instead of a small big man, and while he's generally a so-so defender, it's entirely possible that Doc Rivers will work his magic and make him far better. But to take a step back -- his contract is laughably huge for a player of his caliber and if he doesn't make some kind of leap in the next year or two, Green is going to quickly find himself both out of the Celtics' rotation and an utterly broken albatross. I hope that doesn't happen. Green seems like a nice guy. But he certainly isn't the no-miss breakout-primed prospect many Celtics fans truly seem to think he is -- he'll depend on context as much or more than any of the Celtics' new pieces, and it'll be up to Rondo to bring more out of Jeff Green than he's ever demonstrated previously.

_Follow Joe Johnson on Twitter at __@TheJoeJohnson2.___
Ooh! It's Joe Johnson! Let me list off a few rapid-fire facts about Johnson's 2012 season.
Joe Johnson shot above the SG position average from every single shooting range. Not a single below-average range.
Joe Johnson was in the top 25% of SGs from 3-9 feet, 16-23 feet, free throws, usage%, and overall points per possession.
Joe Johnson's defensive ratings per Synergy are solid, and he was an integral part in an excellent Hawks perimeter defense.
Joe Johnson played almost 36 minutes per game, after age 30. He still only missed 6 games in the entire shortened season.
Joe Johnson was paid way, way too much money last year. He will continue to be paid far too much money going forward.
These are the facts. What you do with them is up to you, but you can't really deny them -- after all, they're facts. The way you look at Joe Johnson essentially depends on the weight you give point #5 -- if you simply think the contract was too absurd, and that Johnson won't be worth that amount of money to be a low-tier star, you generally have a negative view of Johnson's game. On the other hand, if you look at basketball players in a world exogenous to cost and solely on their merits as a basketball player, there are scarce few places to nitpick Johnson's general game. A few minor ones, obviously -- he doesn't draw as many fouls as a ball-dominant player should, he takes too many isolations, and he doesn't drive to the rim as much as he should. He also, regrettably, has Kobe-vision on the defensive end. That is to say he takes possessions off and often will be hidden on the worst perimeter player on the opposing team -- that may not work very well in New Jersey, where Humphries and Lopez will make elite perimeter defense a must.
But then there's the shooting. I used to think Johnson was insanely overrated, back about a year ago. This season really turned my head a bit. Sure, Johnson started the year off poorly -- he didn't totally look like an all-star player in the first few months, and he looked worse than Josh Smith overall. But as the Hawks made their playoff push, Johnson stepped up his game quite a lot, bolstering his efficiency and for the first time in his career actually taking an active role in putting the Hawks on his back in a productive sense. Johnson shot 45% from three over the last two months of the season, and frankly, it felt even better than that. He put up career-highs (or close to them) at almost every range, and while a worse shot distribution under the Drew offense made his overall field goal percentage look a tad worse, he clearly began to show cogent improvement with a slight shift away from his iso-heavy years under the Woodson regime. In this new role, Johnson didn't just look good, he looked great -- he paired extremely high usage scoring with supremely high efficiency and solid defense. He was clearly an all-star caliber player, and if that ability to keep filling the net in such an efficient way persists next to Deron Williams, he'll be a great addition in Brooklyn.
This isn't to say that everything is feathers and diamonds, here. A lot of Johnson's issues have sparked from genuinely poor offensive schemes from his past two coaches, completely abusing Johnson's better-than-most-think shooting and wasting it on 10-15 second isolation plays that no player in the league could possibly make consistently, no matter their quality as a shooter. He's situation dependent. Put him in the right situation, he'll do wonders. Put him in the wrong one, and he'll put up padded stats on an empty team. The problem? I don't know if Avery Johnson is really the right coach to get the most value out of Johnson. In fact, given how he's utilized Williams over the past two years, I've got my doubts he'll be any better than the Woodson/Drew. And if he isn't, the onus will fall to Johnson to stand up to Avery's play calling. Last year's results were very hopeful, for Nets fans, but there's still a ways to go -- the Nets need to put Johnson in a position to succeed. Is that a sign that Johnson really isn't that good? Perhaps. But I'd prefer to think, the more tape I watch and the more I get comfortable with his shot, that he simply needs some better guidance. At the age of 31, it's doubtful he'll even maintain his current levels for more than a year or two -- he's distinctly on his decline by now.
But one can dream, I suppose. As you were, Nets fans.
• • •
At the end of each post, I'll be scribing riddles for the next group. Whoever gets the most right will get a shout out at the end of the next post. Tweet me your answers at @docrostov, or post them in the comments. Bunch of 2/3 guesses, once again. Atori, Sir Thursday, J, Andrew Kieser, and Chilai.
Great defender, shaky offensive player, interesting talent. Pretty much is what he is at this point, but Player #208 is solid. Looked good in the game I watched at Mandalay Bay this past weekend, as well.

We all get that Player #209's a headcase. We get that he has issues with his long range jumper, like Josh Smith. But he's so, SO young. And his rebounding is so good. Come on. He'll be OK.

Smooth. Athletic. Smells real sweet. Sad story, tho. Will be a Player Capsule (Plus).
As you read this, I am flying over the United States, returning triumphantly to Richmond with my wallet lighter and a conference conquered. I'll see you folks on the other side.
• • •