Our offseason edition of The Outlet is back, in full-on preseason mode! Don't call it a comeback, we've been here for, well... bit under one year. Still. Sit back, play David Bowie's "Changes," go to your shrine of David Bowie in the other room with all the candles, ask David Bowie's effigy to make haste with the start of the season, go back into your computer room, play "Changes" a few more times, and then read some fresh takes on the preseason. We're almost back in the swing of things. In fact, go ahead. Call it a comeback. The Outlet is back, and soon, in its tow, so will the season. Get ready, fansketball.
DET v TOR -- The Dunking Drummer (Adam Koscielak)
WAS v NYK -- Beal's Frustration and Burden (Jacob Harmon)
SAC v PHX -- The Play-by-Play of a Lost Friend (Adam Koscielak)
• • •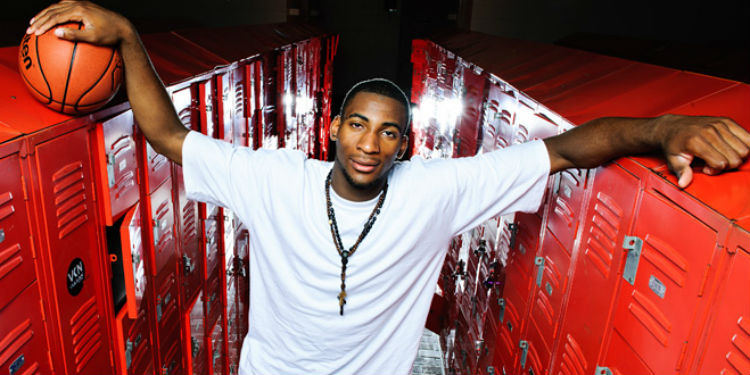 The Dunking Drummer (by Adam Koscielak)
What a surprise. What an enigma.
Coming into last night's Raptors-Pistons game, I wanted nothing more than to see some Jonas Valanciunas action and to swoon over the ever-improving Andrea Bargnani. Instead, about all I'd find from the Toronto end were some vintage Jose Calderon offensive talent, a new and improved DeMar DeRozan, and last but not least, a shockingly non-trigger happy John "The Human Cannon" Lucas III.
No, the real shocker came from Detroit in the form of one Andre Drummond, gliding o'er all, singing many deaths, reigning down with a barrage of alley-oops, and generally looking the part of gleeful athletic madman, rather like Kenneth Faried in his preseason debut. Just how good can Andre Drummond become? Or to ask perhaps the harder querstion: How good is he right now? I have no idea. Last night, Drummond played to his strengths, doing what he knew how to do: Dunking, rebounding and swatting. Yes, qualifier barrage: it's preseason, yes, and the Raptors' defense is once again only getting into gear with Dwane Casey over their heads with a whip. I don't know what, but whatever it that Andre Drummond has was something to behold last night.
As twitter proudly noted, Andre Drummond has a boatload of potential. And it's a boat filled with the apparitions of seasons in which Drummond has become the best player in this league. That's a mouthful, but before we have to spit some of it out, let's gather the evidence: He's bigger than Dwight Howard and at least as athletic. Fast, furious, big, athletic, and raw. And that's the kicker. He's so raw that he can be molded in a lot of ways, and so raw that we can build nightmarish potentials around his actuals. His actuals, right now? DeAndre Jordan 2.0. But he can grow to be Dwight Howard 2.0. That is the madness that made him a player that could've been picked absolutely anywhere in the 2-15 range of the NBA lottery. Every team had to ask themselves: "Can we develop this kid? Do we look for that fertile end of rainbow?" The Pistons have given him a chance, no doubt hoping to have instantly an envious frontcourt of two top-30s (at minimum) in Drummond and Greg Monroe. But will that happen? And what comes next for the Pistons? I have no idea. Drummond is raw in basically every aspect of the game save for dunks, rebounds and blocks. A good coach and system can teach him how to harness the space he creates to post up, to know when to pass and how to pass, etc. A bad coach can leave him scrambling for minutes as another big man comes in, a big man more suited to bad coaches: With little potential to grow, but skills that make him more immediately valuable and workable than an undeniable beast of nebulous future.
And let's not make this about coaches: The NBA is a grind: What happens if Drummond is ever forced to play out of that personality, is ever forced to post-up and lead (or passably maintain from his position) an offence? Who knows how he would react? And how long will he last in the now-information-besotted NBA before hack-a-Drummond becomes a prominent feature of the anti-Pistons gameplan? These questions aren't going to go away unless he proves he can deal with it. His current value is in large part based on how he handles himself on the floor. After all, not even Lawrence Frank can force him into posting up and shooting midrange jumpers. That's his choice. And his choice might greatly weigh on what he becomes.
And that's the thing with players like Drummond — you just don't know.
• • •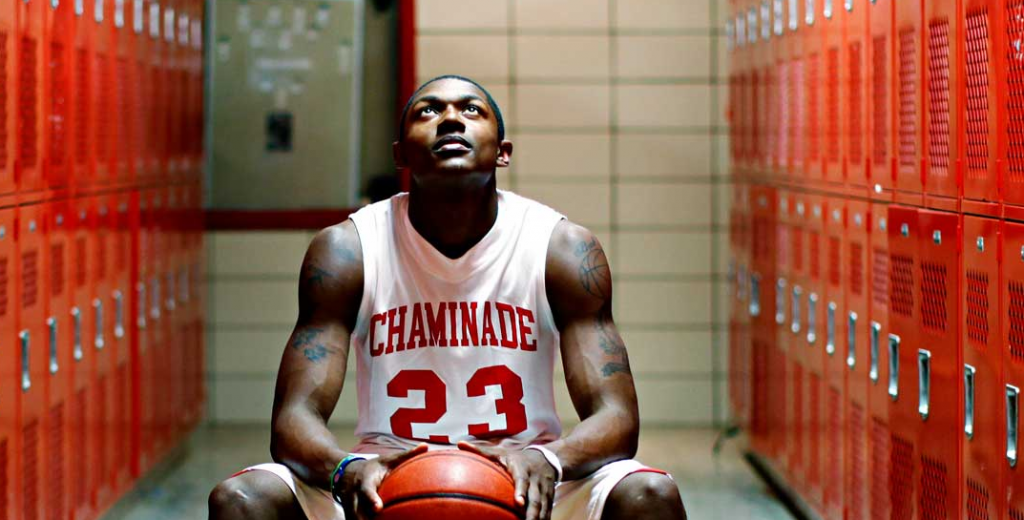 Beal's Frustration and Burden (by Jacob Harmon)
Responsibility is a difficult thing. Growing up, we're often given the impression that at some point we'll simply be qualified for it; that having graduated from childhood to adolescence, and then adolescence into adulthood, we'll be at least marginally prepared for the expectations and pressures of our adult lives. But of course we know this isn't the case. There is no threshold to be crossed, final examination to pass; no orientation to complete that ushers us into the personal spotlight of true adulthood and all that it entails. At some point we all willingly accept our relative trial by fire: some set of responsibilities for which we feel not entirely prepared and from whose achievement, in spite of that feeling, springs confidence. Well, that and realizing you don't know anyone at your old high school anymore. Most of us often find our individual trials aren't insurmountable. Most of us aren't Bradley Beal.
Most of us aren't being given joint responsibility of a franchise, expectations of thousands of jaded fans, the mocking eye of the media and country at large, and - in the final tally - baggage from decades of utter failure and dysfunction. Our trials are somewhat overlooked; our expectations adjust without notice. Not so for a high-lottery-pick rookie: These guys come in young and take on the immediate burden of typically-floundering teams in dire need of their services. But most of those teams aren't the Washington Wizards. The expectations upon Kyrie Irving are enormous, and he's responded in spades, but at least there's a template: The Cavaliers have had plenty of glory in recent memory. Sure, LeBron never delivered a championship, but you can't sniff at years of deep playoff runs and a Finals appearance. The Bobcats are mocked for their incompetence, but they're young, and fans have stuck by the team can console themselves with the notion that things basically can only get better.
But what do you say about the Wizards, whose brightest moments have been the brief comet that was Gilbert Arenas and the high expectations for a 38 year old Michael Jordan? Whose John Wall has been, if not a disappointment, thus far in danger of being severely overhyped? Whose national attention last season came mostly at the Youtube-worthy antics of JaVale McGee? On the floor against the Knicks, near the end of what was a optimistically strong game for Beal, I saw a flash of rookie frustration that gave me pause. After nearly a whole shot-clock of wasted ball movement, a blown screen, leading to a wild chucked 3, a wide-open Beal stood at the top of the arc, lifted his arms and shrugged his shoulders in dismay, before running back on defense shaking his head to no one in particular. It was familiar primarily because it was the body language John Wall wore almost permanently throughout last season. The Wizards are ostensibly a much improved team this season, having shipped out much of the bad blood and brought in some legitimate talent to accompany the Wall/Beal backcourt. But with Wall and Nene both out early, the newest high draft pick looks to confront a situation not unfamiliar to Wizards fans. Beal may have many frustrating nights ahead of him. I only hope it's not the case, as his talent and degree of controlled confidence on the court indicated a player deserving of much better.
• • •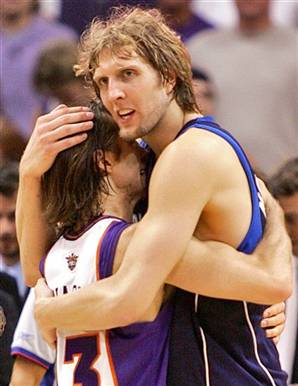 A Play-by-Play of a Lost Friend (by Adam Koscielak)
As you probably all know, not all preseason games are televised. Some local stations just decide that the broadcast costs of a preseason game as opposed to the quality and intensity of a game are not really all that worth it. When that happens, fans of some teams get quite irate. Kinda like I did, when I found out that the Suns game was not televised on NBA TV as advertised, and was instead put into radio only mode. And rather than watch (and cry) at Steve Nash no-look passes against the Blazers, I decided to go all-imagination using NBA.com's play-by-play feature to "watch" the Suns in their first game without Steve Nash. In some ways it was easier: I did not cry. I did not weep. I just watched the stats and made comments, pretending I knew what the hell was going on.
But even so, even with Steve Nash being in a completely different city, with a completely different team, as Goran Dragic and Kendall Marshall passed through the game and their pictures flashed before my eyes, I refused to accept that Steve Nash wasn't on that team. Marcin Gortat making good offensive plays felt like it. Michael Beasley's suddenly efficient jumpshooting felt like it. Wesley Johnson on a scoring tear felt like it. I just can't wait to see if Goran Dragic is something of a second coming for us (though I might just be crazy). Steve Nash's spirit was still in that Suns jersey, and the fact that I couldn't watch them in his absence helped me go further into denial.