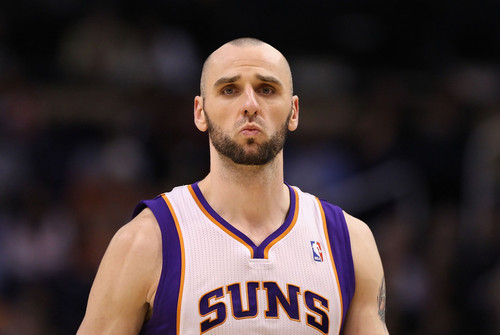 Marcin Gortat recently had a fascinating talk with Przeglad Sportowy's Marcin Harasimowicz after his game against the Los Angeles Lakers. The interview is in Polish, but worry not, there's no Google Translate needed. Because you have me, a bilingual Pole on a mission to share the latest updates in the life of everyone's favorite Polish Gazelle-Hammering Machine. Additionally, the portal reports Gortat rejected an extension for the 2014-15 season, and might be traded, as the Magic, Mavs, Bulls and Celtics are interested in his services. Yikes. Gortat's comments are worth noting for anyone following the Suns franchise and its solid Polish center.
Here's the interview (full interview and my reaction after the jump). All credit to Przeglad Sportowy and Marcin Harasimowicz, of course.
• • •
A lot has changed in the Suns since last season.
Marcin Gortat: Unfortunately, in my case – for worse. I'm certainly not the player I was last season, I need to find my place in the new order. I'm still capable of helping this team, and regularly recording a double double, but when the ball sticks to one person on offence, it's hard to find a good rhythm.

Last season you've scored a lot of points off of Steve Nash pick and rolls. The team doesn't play that way anymore.
MG: That's true, but I can score in various situations. Finishing pick and rolls, in transition, from midrange, around the rim. There are a lot of options. Unfortunately, my two strongest plays – the pick and roll and post-ups have been taken away from me. It's not easy, we have a lot of plays that don't include me. And my chemistry with Goran Dragic hasn't been quite equal to what I had with Steve. These are things that we need to work on.

Coach Alvin Gentry told me that the main post option was Luis Scola. You, on the other hand, are number one on defense.
MG: Unfortunately... I've been doing the dirty work all my life, and now I have to come back to that. I will fight for what's mine. I'll try to prove to the coach that I can play an important role in the offence. Unfortunately, I don't think I'm even an option for Gentry. He doesn't even take me into consideration. The situation is critical. We're playing the same thing we've been playing last year, but the truth is we have a completely different set of players. I don't think it really works. I can't get frustrated now though, I have to stay positive.

The Suns have a lot of players that create for themselves.
MG: We have plenty of players who like to create for themselves, but it doesn't always work. We don't share the ball as much as we have in previous seasons. The ball doesn't move around the perimeter – it usually stops after one or two passes. You can't play like this, let alone win. Basketball is a team sport. Nobody ever won a game alone.

Before the season you were promising a fight for the playoffs, but from the picture painted by the past few games, the Suns don't seem like a top 8 team in the West.
MG: Before the season started, I was a huge optimist. I thought we'd play a completely different game. Right now, it doesn't look good. We still have a lot to learn, and a lot to fight for. We need to fix our team defence. We can't give up a hundred points per game. We'll see how it works out. Right now, I'm not losing hope, there's still a shot at the playoffs.

Did the coach honestly tell you what he expects from you?
MG: We've talked before the season started. He said he expects me to play defence, rebound, block shots and quarterback the defence. He also said he wanted me to set up in the paint and wait for my shots. And I'm still waiting... (laughter)

What are you expecting in the coming week?
MG: After the game against the Miami Heat, we have a longer break and some time to correct some errors in practice. It won't be easy though.

Maybe you should have an honest conversation with Coach Gentry?
MG: I don't know if it will change anything. But I'll surely have a chat with him.

While in Los Angeles, have you talked to Steve Nash?
MG: Yes, he came in for a visit in the locker room. I can only sigh – too bad he isn't with us any longer...

• • •
Just to mention it: This isn't the first time that Marcin has said something stupid in Polish thinking nobody would know. A few years back on a kid's camp in Poland, Gortat took a minor dig at Robin Lopez. Innocent, but nevertheless not the nicest thing to do to your teammate. Now, he's taken it to another level. And look, almost every Pole knows English well enough to tell an English speaker he's whining about the coach. And there are many people beyond me who can translate the interview in its entirety. Make no mistake, Gortat's comments will reach Coach Alvin Gentry, and make no mistake, the coach will not be happy. This is not what a leader does to a team. This is not going to help a team struggling for chemistry and cohesion. Gentry's rather obvious lack of trust in Gortat's offensive prowess aren't good excuses to go up in flames with this kind of an interview. And with the changes in the starting lineup Gentry has announced are coming, a part of me fears Alvin will punish Marcin by replacing him with Jermaine O'Neal, further hurting the team. That wouldn't be a good decision by Gentry, but Gortat is putting Gentry in a difficult position with these comments, and so some of the blame has to go to Gortat if this happens.
In the context of the Suns' current struggles, it's worth noting that Gortat makes a lot of good points. At the time of the conversation, which took place after the loss with the Lakers on Friday, the Suns were 4-6. Today, they're 4-7, as Gortat continued to struggle to get touches, despite being in prime position to finish off a nice play at times. Note that the Suns haven't won a game yet without Gortat scoring in double digits, and it's not easy to get to double digits when you get six shots per game. Now, this might seem to be a quibble, but note that when he's on the floor, Gortat tends to lose out on shot opportunities to Luis Scola and Michael Beasley, both to poor effect. Beasley has an atrocious command of pick-and-rolls as the ball-handler (.55 on 31 possessions per Synergy) and every possession Beasley uses in the two-man game is basically wasted. Compare Beasley to teammate Goran Dragic's stellar .95 mark on 63, good for fifth in the league. You could also point to Luis Scola's poor chemistry with Gortat (they occupy more or less the same range and Gentry hasn't found plays to capitalize on the Gortat-Scola tandem). And, in Gortat's favor, Gortat has proved that he can lead a decent team (last year's Suns) in scoring. Gortat is extremely potent moving off the ball. He can get easy opportunities and open up opportunities for his teammates in the process. And while Steve Nash is no longer there to spoon feed him, I'm more than certain Marcin can work with the entire team at getting baskets. Even viewed as a Nash product, Gortat is perfectly capable of scoring without Nash, and that alone makes him worth a shot. A shot that Gentry fails to give him.
The substance of his comments is solid; the inflammatory nature of his comments is not, and perforce puts the Suns into a dilemma. By giving Gortat what he wants, they might make the offence more efficient, but they will show him he can bully them. Or they could keep him unhappy, potentially ruining his upcoming contract. Or, of course, there's the nuclear option alluded to above: They trade him for youth and finally give up on whatever was left of the season [Ed. Note: Since there are three options this is technically a trilemma, not a dilemma. Anyway, there's the door, I'll show myself out. -Dewey]. Whatever the case, the Suns are suddenly at a crossroads here, and so is Marcin Gortat. This coming week might be pivotal in deciding the fate of both the center and the team in its entirety. The Polish Hammer has rebelled, whatever comes next might affect more than Planet Orange, but the entire NBA.