As one of our mainstay features, Aaron is writing posts highlighting every single player in the NBA. Role players, superstars, key cogs, or players who are barely as useful as ballboys -- none are exempt from the prying eyes of our readers. Check the index for a lowdown on order, intent, and all that jazz. For the starting five, we'll begin with Joakim Noah, Shawn Marion, and John Salmons.
• • •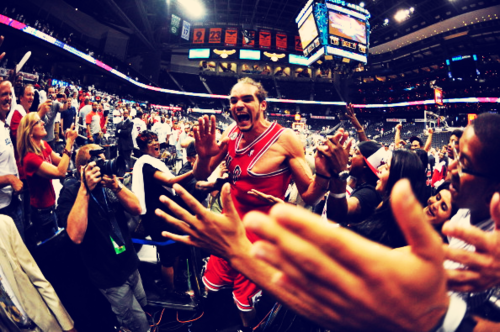 [001] Noah, Joakim
Joakim Noah – starting center for the Chicago Bulls, and starting stoner in the hearts of NBA fans everywhere. Widely known because of the fact that he's incredibly and hilariously unattractive, NCAA hoops fans would remember the fact that he won back to back titles under Billy Donovan at Florida. People who actually watch real grown-up basketball (just kidding, NCAA fans -- sort of) would remember the fact that, when healthy, Noah is among the best help defenders in the league. He's also surprisingly competent offensively – Noah doesn't have that many moves, but he's quick, huge, and rather good at establishing position. For all the dap he gets over his solid defense, Noah is also a relatively underrated cog in the Bulls offense, too -- his pivot passing really smooths out the holes in their offense when things are going well. Which wasn't very often under Vinny Del Negro, but as last season showed, things go well quite a bit more often when you aren't, well, coached by Vinny Del Negro. For much of last season, Noah was actually more important to the Bulls' offensive flow than he was to their defensive flow.
He's also way more fast than a dude as ugly and large as him has any right whatsoever to be -- if you watch him stride down the court, he is actually fast enough to outrun the majority of the bigs in the NBA. This was made explicit in the classic Bulls vs Celtics series from 2009, wherein Noah had 3 or 4 hilarious fast break dunks where he shocked the world by taking the ball up the floor. If Thibodeau ran more fast break plays, and Rose was better at outlet passes on the break, he could establish position and score a great deal of points on the break. As is, though – he's a very good player. Great defender, though perhaps a tad overrated – while he's a great help defender and among the league's best, he's a not-particularly-special man defender and his overall impact on the Bulls' team defense was a bit lessened last season both by Noah's constant injuries and the Bulls' bench bigs breaking out with some unexpectedly great defense. When you're backed up by Omer Asik and Taj Gibson, your defensive contributions are less noticeable.
If he can stay healthy sometime in the next 3-4 years I believe the Bulls will have a serious shot at another 65 to 70 win season. Which is pretty odd – the Bulls are suddenly really well-established for the future, and given the shitshow that Chicago underwent over the past decade, that's strange to me. I've gotten sort of used to the Bulls being a bit of a punchline and having them go from "may challenge for a marquee free agent" to "oh my god they got Boozer sorry Chicago" to "...wait, they're still elite? What?" in the course of a season surprised me a bit. I would say, though, that his injury history has to be considered in any appraisal of Noah's present and future value. And given it? He may very well be the most expendable core starter going forward for the Bulls. Ignoring Boozer because Boozer's contract is absolutely untradeable, look at the Bulls' core pieces. Luol Deng's durability has been questionable over his career but if last season is any indication he has a better chance of being an iron man going forward than Noah. He's also far less tradeable, as his contract (fairly or not) has Luol seen around the league as a giant financial anchor. Rose is the franchise cornerstone. Taj Gibson and Omer Asik are both extremely young and talented bigs that were dependable and grew as the season went on – I'd be very hesitant to trade either if I were Chicago, especially given the price they've got their services at for the forseeable future.
For a team that absolutely positively NEEDS an upgrade at shooting guard and a second scorer to take the pressure off Rose, Noah may be their best bargaining chip. They'll be drafting in the bottom ten for the foreseeable future, so lottery talent is going to be unavailable. The Bulls are, frankly, a pretty poor drafting team historically anyway. (Though you have to give them dap for Taj and Omer. Still. What they need is a miracle trade that retains Noah and trades their pu pu platter of awful off-guards with every draft pick they can possibly give up away for someone like George Hill, Courtney Lee, Delonte West, or any strong young guard talent. That sort of a trade isn't going to happen particularly often, though, and it's doubtful any team in the league is going to bite on that. The best chance they have at upgrading their two guard is probably to part with Noah. Which may seem like a steep price, but building a championship team is hard, and when you're a player away and you have a deal to get rid of one of your repeating pieces for that piece, you usually have to consider it. Outside of his game, though, Noah is generally known for -- yes -- being kind of a stoner and having a really hot girlfriend (you can google the pictures yourself if you really want to). He's also incredibly outspoken. In 2010 he said Cleveland sucks. As someone who roots for the Cavs and whose mother's family is from Cleveland this basically eliminates ability to root for Noah, ever.
So, screw you too, Noah.
• • •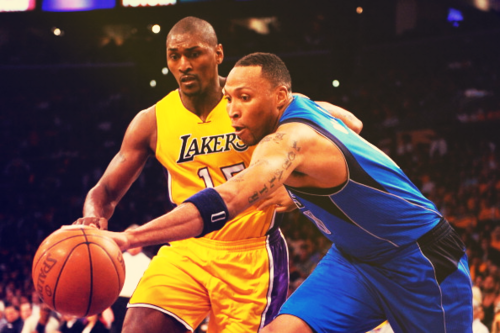 [002] Marion, Shawn
Shawn Marion, starting small forward for the Dallas Mavericks. Shawn Marion is most famous for the fact that his shooting motion has and always will be a strong contender for the most awkward and hilarious shooting motion in the league. He basically crosses his legs, pops up like Michigan J. Frog, and has this ridiculous hitch in his release that's pretty much impossible to describe. In fact, just go watch it. Seriously, look at this. It's fun to watch.
In his heyday, Marion probably should have been known for more than his hilarious shot. He was by far the best defender on Mike D'Antoni's 55+ win Phoenix teams in the mid 2000s, and basically was tasked with defending players of any position on a nightly basis to cover for how D'Antoni never had a clue how to operate his teams on the defensive end. Opposing team's best player was a point guard? Whatever, D'Antoni would stick Marion on him. A center? Stick Marion on him. Shaq in his prime? Stick Marion on him and cry yourself to sleep as you lose by 200 points. Granted, those Suns teams royally sucked on defense, but they were never absolute last in the league, and some weren't even in the bottom 10. Given D'Antoni's limitations? That's a huge accomplishment. And that was basically entirely thanks to Marion's work, as seen by Phoenix's imploding pretend-defense after he left.
One thing that's worth noting and rarely gets mentioned by the commentariat who use Gentry's performance with the post-D'Antoni Suns as evidence that D'Antoni isn't as clueless as Gentry on defense is that D'Antoni's departure and Marion's departure came at roughly the same time. Gentry isn't good at coaching defense, don't get me wrong, but the fact that Gentry has done a worse job with the Suns roster on defense than D'Antoni ever did isn't a credit to D'Antoni, it's mostly a credit to Marion's ability to cover up for D'Antoni's defensive incompetence and his rather awesome ability at his peak to defend every position on the planet. Not necessarily amazingly well, but that versatility was an integral part of the run-and-gun Suns and deserved a lot more recognition than he got for it.
Regardless. Now he's more of a past-his-prime journeyman, but he's got some skills. In the Mavs' magic run to the 2011 title, Marion was a key low post presence who was one of the main beneficiaries of Kidd's remaining passing ability -- he has great chemistry with Kidd, who has Marion's Dallas offense better than it was in Miami by leaps and bounds. Still. His defense has fallen off quite a bit, which detracts from his value a lot. He's not a insanely big factor anymore on D, as he was in his prime, although he did do a reasonably good job on LeBron in the finals. I'd say he did better, but I don't think he was a factor on LeBron as much as LeBron was a factor on LeBron. If that makes sense. So that's Shawn Marion. You can also call him "The Matrix." You know. If you're an asshole.
• • •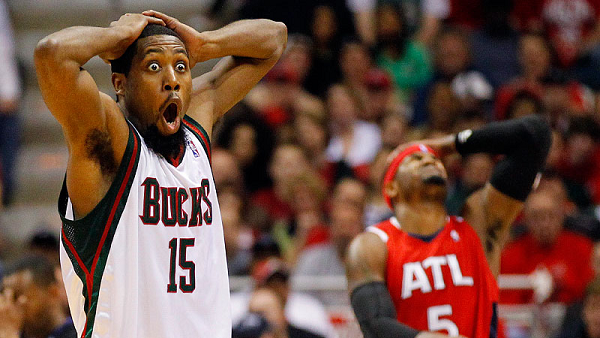 [003] Salmons, John
John Salmons was the starting shooting guard for the Milwaukee Bucks last year. He was to be again, until the Sacramento Maloofs decided that they really really wanted to move down in the draft to acquire the glorious talents of John Salmons. Which... might rank as the most idiotic draft day trade I can remember in a while. Seriously. The Kings moved DOWN in the draft in order to acquire a chucker with poor shooting numbers who likes to think he's really swag but who actually kind of blows. They also gave up Beno Udrih, a decent stopgap point guard who has a lot of value as a bench guard. For John friggin' Salmons.
Salmons, though? He's basically the epitome of a contract year player. He plays really well right up to when he has to sign a contract, at which point his shooting percentages magically fall off a cliff, his decisionmaking falls to about 1st grade levels, and his demeanor on the court goes from desperate and high energy to a sort of "fuck you got mine" kind of aimless shot-hogging style that torpedoes his teams more often than not. His defense is abhorrent regardless of whether he's in a contract year or not. He'll occasionally make "big" shots, but frankly, he takes so many of them it's less of a skill and more of a "he has to make a few, right?" proposition. More often than not, Salmons will simply chuck his way to oblivion. He is named after a fish because he is not a crab. I don't actually know what I just said, but I'm not going to delete it, as pressing the backspace key to erase that sentence would take more effort than Salmons puts in for the first two years after he signs a new deal.
I'm just gonna leave it at that.
• • •
That's all for now. More tomorrow.