The Outlet 3.05: Grant Hill's Tenth Centennial, Shot Clock Follies, and Dribbles
Posted on Wed 16 January 2013 in The Outlet by Aaron McGuire
Remember how we had that one series, a long time ago, where we'd entreat our writers to scribe short vignettes on the previous night's games? We've consistently discovered there's no way for us to do that every night, but with the capsules done and Aaron back in the saddle as a more active managing editor, we're hoping that we can bring the feature back as a weekly Wednesday post. As always, the vignettes may not always be tactful, tacit, or terse -- they'll always be under a thousand words, though, and generally attempt to work through a question, an observation, or a feeling. What more could we provide? Today's three short pieces are as follows.
HOU vs LAC: Grant Hill's Tenth Centennial (by Aaron McGuire)
LAL vs MIL: Lurking Demons & Shot Clock Follies (by Alex Dewey)
PHX vs OKC: Dribbling the Night Away (by Adam Koscielak)
• • •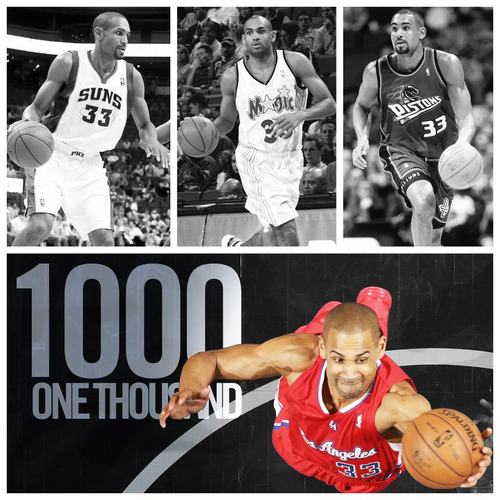 __HOU vs LAC: Grant Hill's Tenth Centennial
___Aaron McGuire_
A lot of numbers seem strangely meaningful, even if they're meaningless outside of the way we address them. Come, foreign nations: give us your even, your prime, your divisible-by-five! It's an odd and fascinating cultural tic we all seem to share. Inordinate appreciation for the attractive digits, that is. There's no real difference between Grant Hill's 999th game and his 1001st -- arbitrary difference, at best, and if you measure by minutes it becomes even more absurd. Consider: Hill had played 34,363 minutes before last night, and finished the night at 34,379. What an accomplishment, that! We'll be writing about Hill's 34,379th minute for years. I will someday tell my grandchildren, indeed, minute 34,379 was a sight to see. ... No, these are the ramblings of a crusty statistician. The child in my soul doesn't need milestones to mean things to be interesting, and by god, quadruple digits? A thousand contests? Meaningless significance or not, sometimes an arbitrary milestone sticks in your craw. This one stuck in mine. Good work, Grant.
Oh, a story. On this, Grant Hill's tenth centennial, he entered the game to a fun introduction. On a night where James Harden had decided from possession #2 that he'd be running face-first into every player on the court, Grant Hill planted his feet and took a solid charge at the age of 40. It was a good call -- he was set, outside the restricted area, and the offensive player got into him with their shoulder. But the Houston announcers responded to the charge by chuckling, calling it a blown blocking call, and -- 1,000 games into his NBA career -- mention that Duke players like Hill and Battier get a lot of "fake" charge calls. I just sat there a bit bemused. Really, Bullard? You're calling a team that stars James Harden, Jeremy Lin, Carlos Delfino, and Chandler Parsons... and you're going to complain about fake charge calls? I realize Houston doesn't have the best broadcasting crew, but it amused me a bit.
To put it one way: we're 1,000 games into Grant Hill's NBA career and bad announcers still can't get past where he went to college. He's posted the most triple doubles in Pistons franchise history, become a cautionary tale for the young and injured stars, and reinvented himself in a late career renaissance as a perimeter defending 3-and-D roleplayer. He's lost a step or 50 and still remained an active ambassador to the game and the sport. He's got a shot at being a hall of fame player, if on potential primarily, and he's one of the nicest guys in the league. He has a body of work the size of the Grizzlies' franchise history, for Christ's sake! And the first thing you say about him when he takes a good charge is that Duke guys get fake charge calls? Sometimes in analyzing sports we have memories shorter than a goldfish. Other times, though, we can't seem to lose the nagging image of the college title contender, 20 years prior, dishing passes to Laettner and taking Krzyzewski's pet charges. It's comforting, I suppose -- we'll never forget everything, right?
As for the game itself, it was a good game. For a half. The passing dazzled, the offense hummed, and both sides played a rousing match that made the victor's identity borderline irrelevant. Then the Clippers remembered that they're a clockwork contender and the Rockets are running high on Cinderella fairy-dust and bone-grinding hustle, and the contender roundly blew the young guns out of the building in the second half. Jamal Crawford did his running-on-Portland-tears thing. DeAndre Jordan continued his renaissance. Blake Griffin controlled, insofar as he's able, and Grant Hill hit 1000. It was a good night for a team that's becoming accustomed to them. And Coach Paul the Third gesticulated on the sidelines, urging his troops onward. The Clippers are a factor. Don't call it a comeback -- lord knows they've never been here, ever.
• • •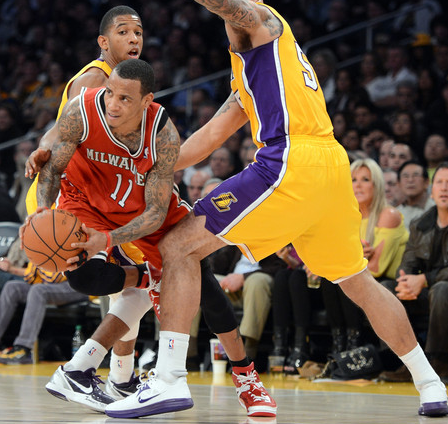 LAL vs MIL: Lurking Demons & Shot Clock Follies
Alex Dewey
Surreally poor clock management, especially by great offensive players, is really mystifying to me.
We always talk about defense as a big deal - generally speaking in the context of effort for older players and execution for younger players. But you only have to play defense if you let the other team have the ball, and two-for-ones/running out the clock are great examples where you simply don't have to let the other team have the ball an extra time, or where you can get the ball for yourself an extra time. It's not a totally value-free choice. The smart teams guard against two-for-ones -- they commit defensive resources and acuity to the early offense sets. And as for running out the clock? Well, it's often possible to get a GREAT shot with 9 seconds instead of a tightly-contested buzzer-beater, and in those situations, you obviously shouldn't. Danny Green's game-winner against the Lakers early this season comes to mind. That's all part of the competitive calculus, the give and take that characterizes a well-structured game. But something tells me Monta Ellis was quite far from thinking about denying the Lakers a final possession.
In a sequence at the end of the half, the Bucks totally ignored clock management as an element of strategy. There's just no other way to put it. Look: Metta World Peace hit a shot with 38 seconds left in the half. The Bucks waited for the prime seconds (32... 31... 30...) to drip off harmlessly before attempting a bad shot at 17 seconds. Then Luc Richard Mbah a Moute got an offensive rebound at 15 seconds and immediately went up for another bad shot instead of resetting. LRMAM's shot was sent out of bounds by Metta World Peace, and the Bucks rushed to get a shot on the inbounds. Monta, to his credit, got to the line. But he was struggling at the line and missed both. Off the Bucks' second free throw, Milwaukee actually got another offensive rebound. They didn't get anything close to a good shot, though. Now, I get that certain elements of strategy may be inaccessible to me when I'm watching at home, and I also get that the best player to lead a game might not be the best player to receive basketball "wisdom" from an Internet writer (and I'm the first in line to dismiss lines of reasoning like "JUST HIT YOUR FREE THROWS"). But I wasn't seeing the strategy from either team: The Lakers weren't feverishly attacking the two-for-one or addressing LRMAM's potential kick-out or trapping Ellis' dribble with :32. No, instead, I was seeing the Bucks trap themselves with bad management, and do it much more effectively.
I think players like Monta and Jennings might be "competitive" in the sense that they want to win games, but something about giving possessions away to the Lakers (with absolutely no apparent benefit) makes me pause in my assessment of them: We tend to think of these players as having feel for the shot and the game that can excuse their occasionally poor decision-making. Let Westbrook be Westbrook. And I buy that. But it was only by chance (and his offensive rebounders) that the Lakers didn't get a great possession or let the Bucks outright waste theirs. I'm giving Mbah a Moute the benefit of the doubt on the putback because he's not primarily an offensive player, but for such a smart defender of elite players, he must know: the best way to win on defense is not to play. It's just that simple. In the end, over 38 seconds of basketball, neither team scored. That sounds about fair, considering that, neither team competed for those 38 seconds.
The game itself was sort of microcosmic of that. Neither team showed up with especial gamesmanship to steal the game or get past the win condition pole. The Bucks dominated the offensive glass and used this to get back into the game several times when they were down. Milwaukee also hit a lot of random shots, but you can only take so many horrible shots before Sample Size starts to weigh heavy. The Lakers made a likable effort on defense (at least in the halfcourt, stifling a few possessions) and Dwight (with vim-and-vigor) looked like a monster offensively (and at times defensively, though 2 foolish goaltends sort of wipe out the impact of his 4 blocks). I thought the Lakers got better looks from deep than their 10-29 mark might indicate, and so all told it's hard for me to say they didn't dominate, even if it took a run in the fourth to seal the deal. Still, as dominating as the victory really was, it just strikes me as a game that they likely don't win against the Spurs, Nuggets, Rockets, or Thunder. The Lakers let the Bucks hang around. Against a coherent, good, playoff team, they would get punished severely.
Which is another way of saying the obvious: the problems are still there.
• • •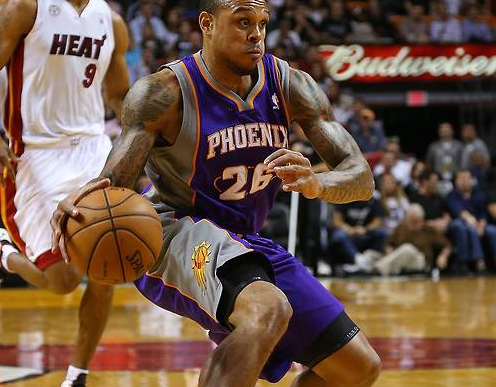 PHX vs OKC: Dribbling the Night Away
Adam Koscielak
Monday night, during a Suns game, a random tweet caught my eye. "Shannon Brown leads the NBA in dribbles per touch."
I wish I'd used the "favourite" button, but I didn't. I'm not sure whether this is a legitimate stat, or something conjured up by a frustrated mind as it watched his abomination of a basketball handle. Whatever it was, I'm pretty sure it's not that far away from the truth. Make no mistake, Shannon Brown made some strides since being Kobe's annoying backup. He learned some of the team game, he learned how to shoot better, and sometimes, just sometimes, he has that moment of brilliance where he slices the defence baseline and uses his trampoline-like legs to get a reverse layup.
But those are fleeting moments. The moments might come more often from Brown than the great moments from Jared Dudley or Wesley Matthews. The problem is, much like teammate Michael Beasley, Shannon Brown has a frustrating tendency to trade five disgustingly horrible moments for a single brilliant one. And nothing is more annoying than the ball going up and down in a fated isolation as time slowly trickles down, a staple of Shannon Brown's game, followed by a horrible pull-up jump shot.
My question: why does it happen? Even the folks at the weekly pickup game I wrote about last week have more awareness than that, and there's no shot-clock to respect, nothing to stop them from doing them but the purity of the game. They seem to embrace it. In a way, it's impressive that Brown -- despite all the pro experience, despite his two championship rings -- still manages to dribble the shot-clock out like that. It's impressive that his teammates and coaches still trust him enough to give him the ball. But the most magical fact of all is watching what exactly Shannon Brown does with that ball. Puts it between his legs, plays around with it, throws it behind his back, dazzles with it -- ... and ends up going absolutely nowhere. He rarely gets layups. If anything, he'll hit a lucky pull-up jumper that he'll follow with a brick or five.
But if he gets an opportunity somewhere other than isolation -- if he goes into the pick and roll, the pick and pop, charges the rim -- he can be a very dangerous, efficient player. He can finish at the rim, and sometimes he can make a brilliant pass. By that, I don't mean simple flashy passes. Steve Nash-style passes, straight out of nowhere. That's where he belongs, this is how he should be used, but he's not. Perhaps the coaches don't notice it. Perhaps they just want an ISO threat.
Or maybe Brown is simply content with dribbling the night away, bounce after bounce after bounce.