The Outlet 3.09: Abandoning the Suns, A Collective RJ, and Redemption
Posted on Thu 14 February 2013 in The Outlet by Aaron McGuire

Remember how we had that one series, a long time ago, where we'd entreat our writers to scribe short vignettes on the previous night's games? We've consistently discovered there's no way for us to do that every night, but with the capsules done and Aaron back in the saddle as a more active managing editor, we're hoping that we can bring the feature back as a weekly Wednesday post. As always, the vignettes may not always be tactful, tacit, or terse -- they'll always be under a thousand words, though, and generally attempt to work through a question, an observation, or a feeling. What more could we provide? Today's short pieces are as follows.
PHX vs OKC: There Goes the Sun[s] (by Adam Koscielak)
LAL vs PHX: The Collective Richard Jefferson of Suns/Lakers (by Alex Dewey)
CLE vs SAS: Redemption in a Familiar Place (by Aaron McGuire)
Read on after the jump.
• • •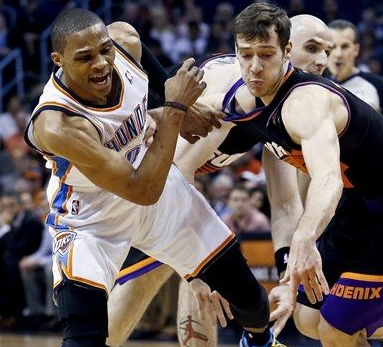 __PHX vs OKC: There Goes the Sun[s]
___Adam Koscielak_
Swish. Kevin Durant nails another one. There isn't anything any Suns player can do about it. After all, it's Kevin Durant, destroyer of worlds, killer of dreams, basket-bot 3000. Nobody's going to ever stop most of these shots. Lindsay Hunter, meanwhile, furiously calls a timeout, proceeding to eviscerate PJ Tucker, a journeyman who's basically an NBA rookie-via-Europe at this point. Hunter still expected perfection, Hunter, as an imperfect a head coach you could ever imagine, with his inconsistent rotations and his propensity to bench good players for streaky ones. And on the other end, there's Marcin Gortat. Last year's leading scorer, missing yet another bunny. Or maybe it wasn't a bunny, just something he'd make last year. Maybe it's the paralyzing fear of Serge Ibaka looming, or anger at the referees for missing another subtle nudge. These are not excuses, these are circumstances. They're circumstances he used to fight through, and circumstances that do not exonerate him from the crime of lazy basketball. Ditto for every other Suns player, every other disillusioned athlete that goes through the motion. And herein lies the problem.
I've been a Suns fan ever since I first heard of Steve Nash playing there. As I wrote before, this wasn't an easy quest in Poland, but I have embraced them. The arrival of Marcin Gortat cemented my fandom. Two years later, with a quick poof, Steve Nash left for the Lakers, and Gortat found himself as the 5th wheel on a team dominated by terrible ballhogs. Sunday night, even team captain Jared Dudley found himself benched for most of the game for no apparent reason. This is probably what drove me over the cliff. Yes, I'll admit it: I'm a crazy optimist. I expected the Suns to be fighting for a playoff spot right now, nowhere near a high lottery pick. Yes, it was irrational, but I believed that the same spirit that lead them to barely miss out on the playoffs the last two seasons was more than just Steve Nash. I thought it was fight. As it turned out, that it was all Nash's and Grant Hill's leadership. And so, disappointed by the rough fall that came as my expectations turned into high hopes, and high hopes turned into insane dreams, I write this little statement.
I will not watch another Suns game this season.
I will not make another comment about them outside of trade rumours, I will not write about Marcin Gortat's stat lines. I'm done. I have a choice between frustrating myself with awful basketball and embracing another team. I'll go elsewhere. And I chose the easy way out. Honestly? I feel liberated. Being a fan is hard, and believe me, I know all about bad teams. The Polish National Team in soccer hasn't had a major success in my lifetime, instead failing miserably whenever they seemed poised to make the next step. But that didn't happen. The Edmonton Oilers, outside of a single Stanley Cup Finals appearance, have been pretty bad in my lifetime. And yet I stuck with them. Why? Because I was bound to them. Rooting for someone else than Poland would be like you guys rooting for someone else than America. I'm not a big patriot, but when it comes to sport, I might just be a nationalist. The Oilers? The Oilers have always been the one thing I could talk about with my dad. They were his team, and so, they automatically became mine. The Suns? The Suns were a choice. An expression of appreciation for the beauty of the game they brought on. Now, they're jerseys filled by people who don't play beautiful basketball, far from it. Alvin Gentry, an offensive mastermind, and an architect of sorts, is now gone, dismissed for the sins of a terrible front office and replaced by Lindsay Hunter, who hadn't even been a coach before this happened.
The worst thing about Hunter is that while he did get the team under control, he made them play an even uglier brand of basketball, one totally opposite to the free flowing offence of Steve Nash. And so, when the Suns barely managed to score 69 points (with only Markieff Morris -- of all people -- in double figures), I gave up. I'd decided that enough was enough, and threw the Suns away to the laundry basket, waiting for the rebuilding machine to clean them up. Perhaps I can give them another chance, one day, when they'll be playing watchable basketball. In the meanwhile, however, I say goodbye to the Valley. It's been a fun ride while it lasted, but I refuse to torture myself any longer. And so, what's next? I'm going to watch a lot more Raptors, that's for sure. Canadian patriotism and all that, I feel like this is one team I can potentially root for. Aside from that, I will just look through the league, again and again, looking for teams and players that I can support.
I am now the liberated fan, one might say. And it's good for me.
• • •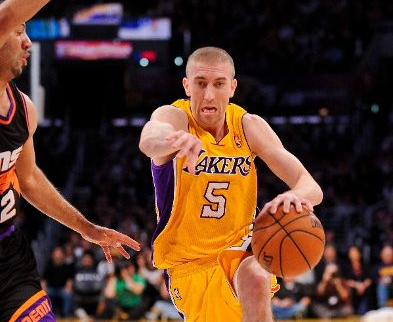 __LAL vs PHX: The Collective Richard Jefferson of Suns/Lakers
___Alex Dewey
_
I'm a big-time advocate of the game of my muse -- that of stately, ambassadorial Warriors small forward Richard Jefferson, formerly of the Nets, Bucks, and Spurs. Some of my amusement at RJ is borne simply of Jefferson's absurdly well-developed self-awareness, his iconic appearance, and so on. But above all else, my amusement derives from his decision-making on the court. Despite major-league athletic ability and generally solid positioning (rarely will Jefferson make unwarranted gambles for steals and blocks), Jefferson is simply not an good decision-maker with the ball in his hands. RJ never looks comfortable passing from the corner to the wing or vice versa, or hitting players on backdoor cuts, at least in game-time offensive situations. On the rare event he does look comfortable, Jefferson seems almost too comfortable, making automatic passes even when he has an open shot, as though he's not really making the decision in the moment and he's not reading the situation effectively. Jefferson has the almost uncanny ability to disappear completely for long stretches of the game, and not because he's taking himself out of the game. Simply because he genuinely thinks the weakside corner is the best utilization of his talents. His cuts are random. Outside of the fast break (in which there are, to some extent, only automatic decisions), Jefferson with or near the ball is comedy. And I feel that Jefferson honestly has enough self-awareness to recognize the humor and enough self-deprecation to laugh about it.

And visually speaking, all of this absolutely cracks me up to watch. Bullet passes without reason, Jefferson posting up on the left block (and getting doubled) like he's Tim Duncan, insensibly solid defense at times, automatic responses with flat jumpers that have Mark Jackson and Gregg Popovich shaking their heads. For some reason I've always pictured Tim Duncan, suddenly becoming surly as though speaking to a pet, after a particularly poor decision: "Just look what you did, Richard. Just look what you did." I have so many all-time favorite Jefferson moments from his relatively short Spurs tenure, like the time he passed up a huge open wing 3 in crunch-time only to get the exact same shot three passes later and buried it. The time he absolutely flubbed an alley-oop from Tony Parker and let the ball go out of bounds. The time he missed a free throw everyone knew he would miss, and of the Spurs on the bench and line, only Popovich applauded him on the sideline encouragingly (he hit the second one). The time (and he'll do this sort of thing from time to time) that RJ blocked a Ty Lawson 3 and dribbled to the other end faster than Lawson could run to get a bucket. Impossible? Yeah, except it's not. It friggin' happened! That's the point: Richard Jefferson is like a low-key, articulate, self-aware, defensively solid, self-deprecating, 6'6'', not-all-that-athletic-anymore version of JaVale McGee, but in this blessedly singular way.
What is this building towards? Okay, so anyway, I actually did not watch Jefferson Tuesday night. So I guess (best Arlo Guthrie impression) "that's not what I came here to talk about." See, Jefferson was playing with the Warriors against Houston at the same time as the Lakers-Suns game. And that Lakers-Suns game, especially in the second half? It was exactly like the experience of watching a collective Richard Jefferson, except with Jefferson as every player's puppetmaster for most of the second half. The Suns looked like a 5-win team overperforming and the Lakers looked like a 20-win team performing to its level. And not like, "Wow, it's so sad that this is a team," but more like "I would go see these teams even if they were 5-win teams if I were nearby." It was a glorious comedy of errors: Players that did not know why they were throwing bullet passes, brilliant sequences of 50-50 balls, Metta World Peace making a brilliant steal and then not even trying to avoid getting called for the offensive foul against little Goran Dragic, Michael Beasley telegraphing his decision to shoot like he was Samuel Morse beating a horse-drawn carriage to the Patent Office, scrums that ended in unpredictable ways and led into scrums on scrums on scrums, Kobe refusing to shoot even when completely open, Earl Clark making cuts that I'm confident have never been made before, and a general sense that both teams were trying to outscore their opponents instead of trying to outplay their opponents.
The net result was that Aaron and I were just shaking our heads and completely cracking up watching the game. The Suns were winning the rebounding battle for reasons completely passing understanding. If the Suns had offered a guarantee of fun for this game (as they did earlier this season), they could have sold this a major network during prime time and gotten not one complaint. Yes, the Suns are often sad to watch and not altogether sadder than the Lakers. And all considering, seeing Luis Scola and Jermaine O'Neal trying to play out the string on their careers is kind of heart-breaking. Regardless! That game was entertainment, novelty, aesthetics, and humor all in one. I watched the Kings-Grizz game right before it, and while technically more competent and filled with brilliant scoring by Tyreke Evans and one of Tony Allen's God-mode games and a good performance by Tayshaun Prince...? Even with generally speaking, more eminent competence all throughout the game... I am going to forget a hundred Kings-Grizz games before I forget that comically awful Lakers-Suns game. It was by far the better game as far as I'm concerned. I'm sure those at Staples would agree.
Also, by this logic, Boris Diaw is far superior to Kevin Love. Just sayin'.
• • •
__CLE vs SAS: Redemption in a Familiar Place_
Aaron McGuire_
I actually watched this game on virtual tape delay, since I spent most of the night at a friend's place watching the Duke/UNC rivalry game. Before I say anything about the Spurs, allow me to spend a moment in muted awe. I generally hate college basketball, but this was something special -- the first half of last night's Duke/UNC game was quite possibly the worst game I've ever seen. No comebacks, no weasel words, no rejoinders. Just disgusting basketball. Both teams were throwing passes with no possible intended target. Both teams were taking hilariously poor shots, exemplified by one particular Amile Jefferson shot in the first half. Jefferson -- I kid you not -- dribbled, turned 270 degrees on his pivot foot, and made to shoot... before dribbling and turning 270 degrees back to exactly where he started, where his defender was still standing. The defender didn't move to cover his turnaround, he just stayed in the same place! So the net result was that Jefferson made a move that got himself free for a jumper before completely erasing the object of the move for absolutely no reason and throwing up a horribly contested shot. He missed badly. It was awful. It was a phenomenal trainwreck and offensive to the concept of execution.
So, given all that, I may have been a tad hypersensitive to good execution. So that said, let's not beat around the bush -- the Spurs played comparably lazy basketball last night over the vast majority of the game. The Cavaliers are playing reasonably well as of late, but in a game where Kyrie Irving scores just six points on 2-15 shooting, the Cavaliers should be down 20-30. That they weren't was a general indictment of San Antonio's effort and energy, and a reflection of how difficult it generally is to bring stars back from injury. It's not that Duncan, Parker, or Ginobili were bad -- they were all fine, in a vacuum. Duncan's defense was excellent all game (as is to be expected) and Manu's crisp two-man game with Blair remains one of the most fun little quirks of the current era of San Antonio basketball. But that didn't do much to combat the two big problems both players faced -- in Duncan's case, he tired almost exponentially quickly after the long layoff, playing quite well in his first 5-10 minutes but increasingly poorly as he lost his legs. The backups and riff-raff that had acquitted themselves so well in Duncan's absence were flagging in concert, as though Duncan's return had sequestered them back into the mindset of being a backup who didn't need to do anything. Danny Green did the same with Manu's return, and everyone over-deferred to Parker instead of seeking out their own generated offense. It was a sloppy, sloppy contest.
But you know what? All that ended up being essentially immaterial. In the final estimation, all that anyone's really going to remember about last night's game was the final eight seconds -- so sublime, so functional, so beautiful. I watched the video at least a dozen times, and I could watch it a dozen more. Duncan sets a high screen, Parker dives into the teeth of the defense with his disorienting, hypnotic dribble. He weaves his way to the rim, where he had an essentially wide-open layup to tie the game. Tim Duncan is right behind him with zero block-out coverage on the part of the Cavaliers, in perfect position to tip the ball in or receive a quick scoop pass for a flush. And there, in the corner? Wouldn't you know it, it's Kawhi Leonard, he of 48% three point shooting from that particular corner! There were three completely open shots that could've been generated in a split second. Being as they are a team that cares more about the win than the margin, the Spurs went for the pop-a-shot three. Leonard canned it. Parker then played brilliant stifling defense on Kyrie Irving to force an errant last shot, and the game was done. After a night of dismal basketball – for the Spurs, for Duke, for UNC – sometimes all you really need is a single stretch of beauty to redeem a terrible night of hoops. Big ups to the Spurs for rising from their slumber to provide us such a gem.