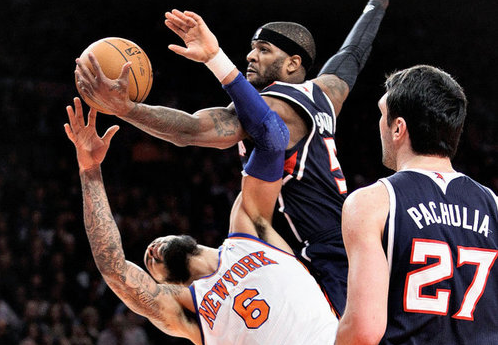 Have you ever watched Community? It's a good show. Today, I find myself inspired by an early episode, specifically "Remedial Chaos Theory" -- the 3rd episode of the show's 3rd season. As a refresher, for those who aren't familiar: due to a damaged apartment door, it's determined that somebody has to walk down to get the pizza delivery. To decide which of the seven characters present gets the pizza, a die is rolled, and six different timelines are created. SPOILER ALERT: There are only six faces on a die. There are seven people. In a seventh "bonus" reality, they realize that one of their number is conning the group. Alas. In honor of the episode, I decided to create seven different timelines for the NBA trade deadline. Rather than trading seven different players, I decided to use one alone. The events had to be mutually exclusive, after all. Who? That was the easiest part, after a well timed tweet from Adrian Wojnarowski concerning Josh Smith. It had involved six teams. Milwaukee, Brooklyn, Boston, Philadelphia, Washington, and (of course) the possibility of staying with Atlanta. One more team was needed, and in a ironic twist of fate, that last team was none other than the one I'd abandoned a week ago; my former Phoenix Suns. And thus, the table's set.
Here are the NBA's seven mutually exclusive Smith-based timelines.
• • •
Timeline 1: Josh Smith to the Milwaukee Bucks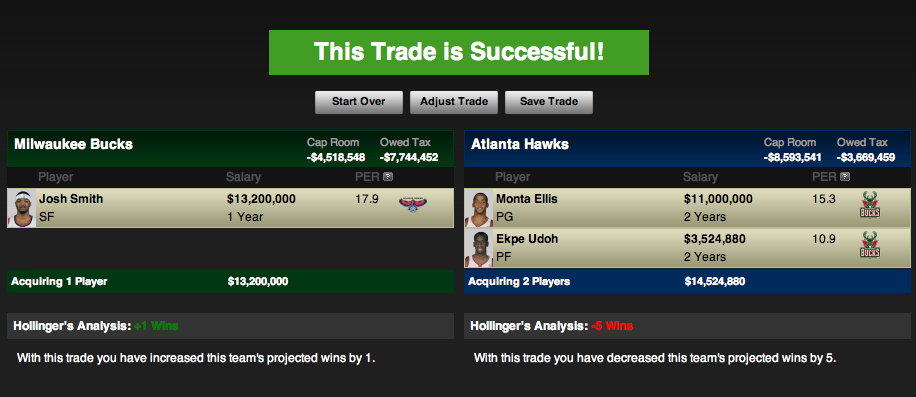 In this scenario, Atlanta feels they need another incredibly annoying volume scorer. They get Ekpe Udoh's plus-minus too. Meanwhile, Milwaukee gets Josh Smith, to pair with LARRY SANDERS! to make for a really athletic team. This year, they even get to the 6th seed, and upset the 3rd-seed Bulls. Which is all well and good, until ~ the Josh Smith curse ~ hits them and the team collapses in a heap. This happens over and over again, through all five years of Smith's surprising extension. And so, in his thirties and depressed by a lifetime of early exits, Smith joins the 3-time champion Cleveland Cavaliers on a mid-level contract. The Cavs, of course, have LeBron back alongside Kyrie Irving. They're hyped up in the preseason as the best team in league history, which turns out to be pretty premature. The Cavs fall short in the second round the next 3 years in a row, losing game sevens in the second round each and every time, usually on a bricked Josh Smith jump shot.
Eventually Smith retires, disheartened, while LeBron ends his final season sans-Smith with a last championship to top off his career. It later turns out that Josh Smith had been cursed back when he decided to declare for the draft rather than to go to college. The curse stipulated that Smith can never go beyond the second round with a small-or-mid market team. After finding this out, Smith joins the Los Angeles Lakers -- now with Shabazz Muhammad and Damian Lillard -- and wins a championship as a veteran sixth man. Satisfied, he retires, never to be heard from in the NBA circles again.
• • •
Timeline 2: Josh Smith to the Washington Wizards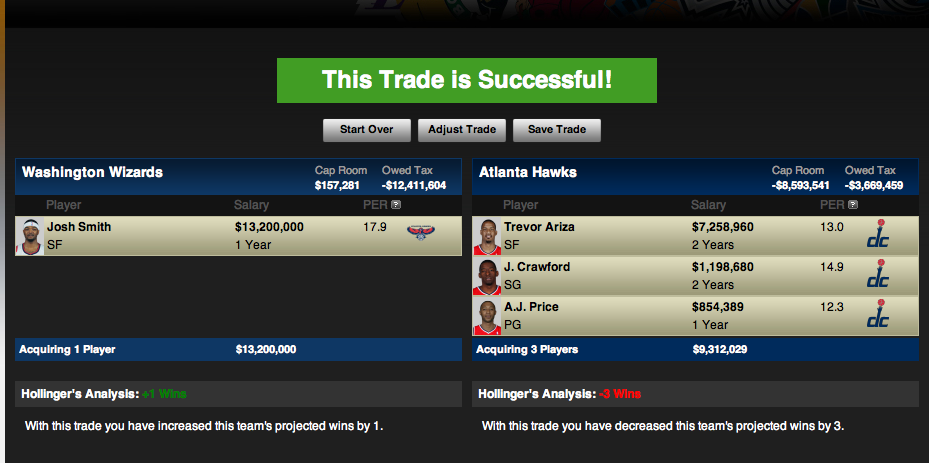 The Wizards add a bevy of draft picks to support the rather weak core, Jordan Crawford returns to Atlanta, and Josh Smith gets to play in the nation's capital. Fun times. After the first season is lost due to the impossible playoff hole, the Wizards end up facing off with the Chicago Bulls in the second round in the 2014 playoffs. An intense series goes seven games, with an reinvigorated Derrick Rose fighting off a breakout season from John Wall and an insanely well developed Bradley Beal, while Josh Smith anchors the defence.
With 10 seconds left in a decisive Game 7, the Bulls have a 89-88 lead with the Wizards getting the final shot. President Obama is in the stands. Smith gets the final shot, a buzzer beating decoy three off the inbounds play. The ball bricks off the rim and hits President Obama's head on the way down. The impact is so strong that Obama falls over his seat, breaking his neck in the process. He dies in the hospital. America's 45th President, former Senator Joe Biden, chooses to place the blame squarely on Smith and ensures he'll be charged with negligent homicide. Somehow the courts actually accept the premise of the prosecution and convict Smith, who is sentenced to spend the remainder of his life in prison.
Coach Randy Wittman commits suicide after realizing that it was his ridiculous play call that not only lost him a playoff series, but also killed the President. President Obama is said to have died happy. Years later, an investigation shows that minutes prior to the shot, a Secret Service agent was toying around with the rims as the crowd was distracted watching cheerleaders. A thorough report reveals that President Obama ordered the rims to be tampered with to make them extra bouncy, in an effort to make sure his Chicago Bulls wouldn't lose by a lucky roll or a shooter's bounce. Josh Smith is set free and makes several completely pointless runs for the Presidency on a variety of hopeless third party tickets.
(He maxes out at 5% in the 2064 elections.)
• • •
Timeline 3: Josh Smith to the Phoenix Suns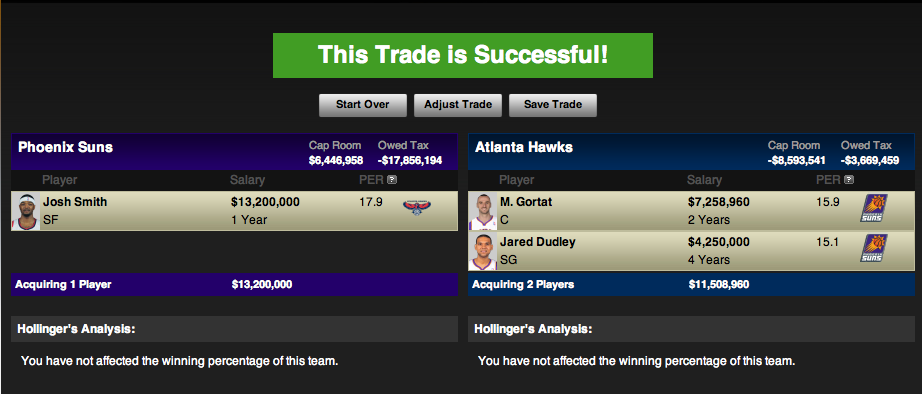 Josh Smith is heading to the Valley of the Sun! ... And as soon as he arrives there, he's greeted by Michael Beasley, who's just coming back home from buying some "soothing herbs." They become fast friends. For the rest of the 2013 season, Beasley and Smith play every game completely high. This unleashes their true potential, as the two Suns bricklayers suddenly forget how to miss shots. The Suns sneak into the playoffs, and the power of the wonder-weed apparently breaks Josh Smith's small-to-mid market curse. The Suns reach the NBA Finals, upsetting every big team in the book. But their luck runs out in Game 1 of the Finals -- they run out of weed, and even though Jermaine O'Neal tries his best to convince them that "Jermaine's Special Stuff" is just as good (it's oregano), they aren't fooled. The Suns revert back to their early season futility and brick right out against the Miami Heat in an easy sweep by LeBron and company, going down by about 40 points in each of the last three games. A DEA investigation later pins them as customers of many high profile Arizona dealers and locks them up in prison for 15 years. Suns fans remain completely unsurprised by what they've seen.
• • •
Timeline 4: Josh Smith to the Boston Celtics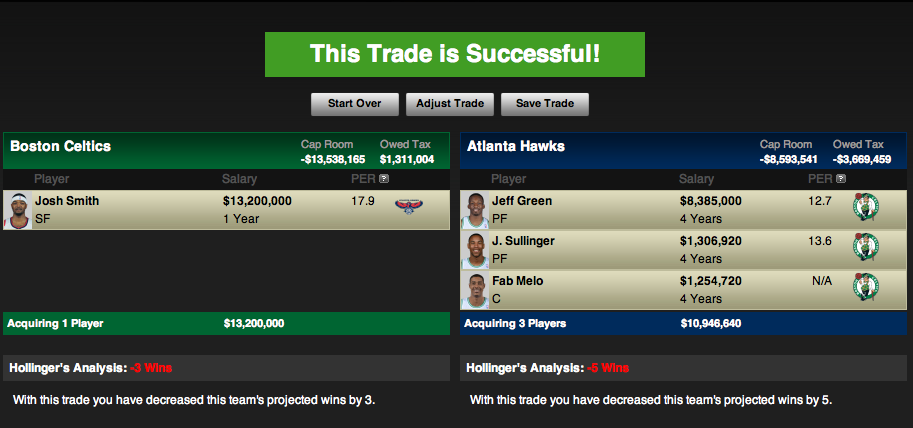 Josh Smith is heading to Bean Town! The Celtics throw in draft picks with that trade, obviously. A LOT of draft picks. "EVERY DRAFT PICK'S POSSIBULLLLL!" The Celtics, reinforced with a new star PF alongside Kevin Garnett, inexplicably keep winning. They advance to the Eastern Conference Finals and fall to the Heat in 7. They enter next year as contenders, with Rajon Rondo is supposedly on the verge of a return to health. They repeat the same fun script... until Kevin Garnett and Paul Pierce suddenly retire in the offseason. Right at the point where their draft picks begin to be sold. Over a painful five year period, the Celtics draft exactly TWO players -- yet another long and painful rebuild. Smith and Rondo leave as soon as their contracts are up, and the Celtics are bound for another era of sadness. Whoops.
• • •
Timeline 5: Josh Smith to the Brooklyn Nets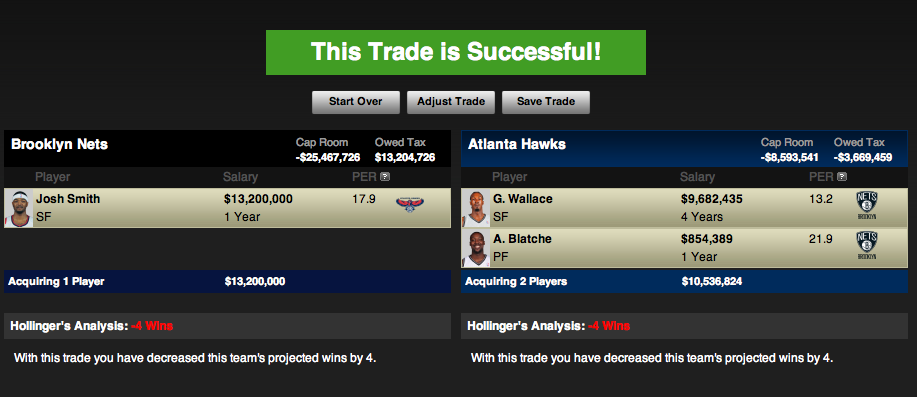 Mikhail Prokhorov kidnaps Danny Ferry's family, telling him to make a deal. He offers Wallace and Blatche as a throw in to keep up appearances. Prokhorov ALSO kidnaps the families of every single person involved in Hawks operations, noting that if they tell anyone anything after the trade, he'll do it again without the whole "returning them safe from harm" part. The Hawks are devastated by the trade and fall from playoff contention in record pace, unable to find chemistry with Gerald Wallace or Andray Blatche, who reverts to his former self after suffering withdrawal effects from Brooklyn club life. Meanwhile, the Nets somehow manage to click, with Josh Smith putting back all the bricks Joe Johnson and Deron Williams heave up nightly. The Nets continue a path of destruction all the way to a surprise NBA title, after it turns out that Brooklyn night-club life was the only thing Josh Smith needed to be able to defend LeBron James and Kevin Durant.
Next off-season, Dwight Howard forces a trade to Brooklyn. Nobody is surprised. The Nets go on to win six more titles, with ESPN proclaiming Josh Smith the new greatest of all time. Meanwhile, Mikhail Prokhorov finally beats a crusty old Vladimir Putin in the first competitive election in modern Russian history, partially riding his NBA takeover as a victory over the American imperialists. But a now-18 year old survivor of the kidnapping ordeal finally reports the story to Deadspin, who (after a full-on investigation) discover the truth behind the trade. The FBI jumps right on it, and the confirmation of Prokhorov's crimes comes just as the newly appointed Russian president is visiting the States. The Americans arrest him, diplomatic immunity be damned, on charges of kidnapping and destroying the sanctity of America's sports. This leads to Russia launching nuclear warheads. America and Russia are obliterated as wastelands, and China takes over the world.
NBA Commissioner Adam Silver announces that the Nets are stripped of all their titles.
• • •
Timeline 6: Josh Smith to the Philadelphia 76ers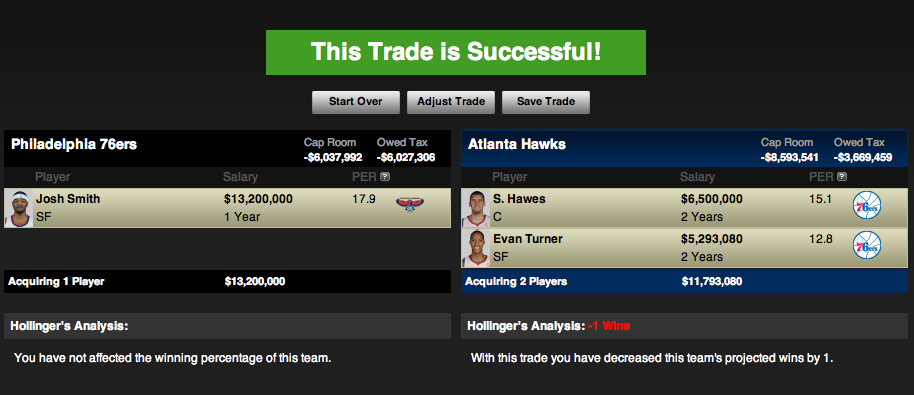 Josh Smith is traded to the Sixers, while Evan Turner gets to grow with the Hawks. For team integration, the team decides to take Smith out bowling, where he injures his knee celebrating a strike that got him a perfect score. As time passes, Smith is day-to-day until the end of the season. He later has to retire due to the injury, stating he feels that he can't play on the level he'd want to anymore. Later it turns out that he spent his entire rehabilitation period playing games programmed by Andrew Bynum on a Kinect that Bynum also tweaked to have more "fun". Smith and Bynum keep re-injuring their knees, this way, and both eventually retired to become motion based video game designers.
• • •
Timeline 7: Josh Smith stays in Atlanta
Smith stays and resigns with Atlanta. He's joined by Dwight Howard, who chooses Atlanta in a 7 episode game show called "The Free Agency Dwight Howard Roulette Bonanza WITH CELEBRITY IMPERSONATIONS." Being old friends, Smith and Howard get along really well and pilot some of the more interesting NBA teams of recent memory. They develop a rabid national fanbase to offset the traditionally flagging attendance in Atlanta, but Smith's curse prevents them from achieving their ultimate goal. Eventually, due to their falling attendance and how little Atlanta cares about them, the Hawks make their way to London to become the NBA's first European team. This move powers Smith and Howard with the salve of night-life and prostitution, bringing the NBA's championship trophy to the United Kingdom. Mean mugging the camera as he's awarded his finals MVP, a beaming Josh Smith picks up the trophy and screams in excitement.
... only to wake up in a cold sweat a few days before the trade deadline, still waiting to see what happens.
THE END
• • •
EDITOR'S NOTE: Hey, all! We're finally back from our All-Star hangover. (No, none of us made it to the all-star game. This hangover is metaphorical, the answer is horrible, our morals are out of place and l--... I'll stop.) Tomorrow marks the return of the Outlet with a piece on last week's depressing-for-Jacob OKC/MIA rubber match and some other good stuff. Friday marks the start of a weeklong feature, an end-of-season viewing guide that handicaps the award races and sheds light on some trends and fun things to watch. Then I'll be making my way up to Boston to bring you guys some coverage of the Sloan conference. Get excited. -- Aaron