Remember how we had that one series, a long time ago, where we'd entreat our writers to scribe short vignettes on the previous night's games? We've consistently discovered there's no way for us to do that every night, but with the capsules done and Aaron back in the saddle as a more active managing editor, we're hoping that we can bring the feature back as a weekly Wednesday post. Sometimes Thursday, like today. As always, the vignettes may not always be tactful, tacit, or terse -- they'll always be under a thousand words, though, and generally attempt to work through a question, an observation, or a feeling. Today's short piece is as follows.
OKC vs LAL: Apple Turnovers for a Balky Spring (by Aaron McGuire)
Read on after the jump.
• • •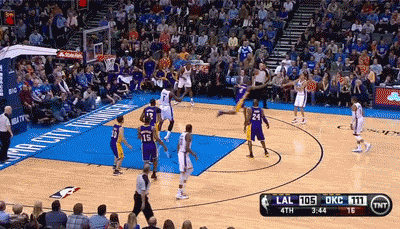 __OKC vs LAL: Apple Turnovers for a Balky Spring
___Aaron McGuire_
Last night, the Lakers touched down in Oklahoma City in search of their second win this season against a team that's won over 65% of their games. The super-elite, as it were. Against those teams -- OKC, SAS, MIA, LAC, and MEM -- the Lakers were an abysmal 1-11. That's not a particularly good omen for them, considering that they're almost certain to face one of the OKC/SAS/LAC triad in the first round. Another win against the Thunder could help mold the narrative, and show the league that the Lakers are rounding into shape as a threat to be feared, even by the elites.
Or... not. Make that 1-12.
As the Lakers left the court, disappointed and dismayed, I'm left pondering how exceedingly unlikely it is that any of the West's lower-rung teams knock out Oklahoma City. San Antonio and Los Angeles are great, but I can see an outside shot of either falling early, if a few bounces go the wrong way and Houston gets hot. But Oklahoma City? I don't think they're falling early. Second round exit is their minimum, with a finals or a title their most likely scenario. The reason I think this is simple, and last night's game provided a perfect teaching example. For all the good effort that Los Angeles put forth in this game, and as close as they got? There's a sense that the closeness of the margin itself was fool's gold.
Why? The Thunder had two turnovers.
Look at that number again. There's no denying that the Thunder really got up for this game, but two turnovers? That's ridiculous. And it points to one of the aspects about the Thunder that scares me, as a fan of a team vying for the right to knock them off. Believe it or not, the Thunder have one of the worst turnover percentages in the league -- on average, they turn the ball over on about 15% of their possessions. That's 28th worst in the league. And they're a markedly different team when they turn the ball over that much, too; in games where they register 18 or more turnovers, the Thunder are a quite pedestrian 8-8, including 2 of their 4 home losses. But games like last night's contest against the Lakers make me wonder if the Thunder's turnover problem is far less of a problem than anyone realizes.
Last night, it simply seemed like the Thunder had decided they'd stop taking stupid risks and they'd put the onus on the defense to actually force turnovers. LA's terrible defense was hardly up for the challenge. Which is my point. Any team that beats the Thunder is going to need Oklahoma City's weaknesses to become amplified for a short period of time -- it's how any upstart low seed beats a stronger contender. What we saw last night essentially amounted to a bored Thunder team toying with its prey, picking apart the Los Angeles defense for open shots while keeping the Lakers on life support with a steady diet of free throws. They didn't turn the ball over, they didn't get to the line that much themselves, and they STILL obliterated the Lakers!
Sure, the Lakers "only" lost the night by 17 points. Sure, they were close in the fourth. But no lesser team -- not the Lakers, not the Rockets, not the Jazz, not the Warriors, not the Nuggets -- is going to defeat Oklahoma City if they take care of the ball like that. No lesser team is going to defeat Oklahoma City if they need to shoot 16 more free throws (on the road!) just to keep the margin within 20 points. Yes, it was a road game against one of the best teams in the West. The Lakers didn't roll over, they didn't fall apart, and they weren't embarrassing. They can take some solace in that. But on a broader scale? The game seemed more meaningful to me. It was a message from a Thunder team that isn't playing around anymore.
"Go find your upsets elsewhere. We're not going down that easily."