The Outlet 3.12: Nuggets of Redemption (also: a Tribe Called BLECH)
Posted on Wed 20 March 2013 in The Outlet by Aaron McGuire

Remember how we had that one series, a long time ago, where we'd entreat our writers to scribe short vignettes on the previous night's games? We've consistently discovered there's no way for us to do that every night, but with the capsules done and Aaron back in the saddle as a more active managing editor, we're hoping that we can bring the feature back as a weekly Wednesday post. Sometimes Thursday, like today. As always, the vignettes may not always be tactful, tacit, or terse -- they'll always be under a thousand words, though, and generally attempt to work through a question, an observation, or a feeling. Today's short pieces are as follows.
OKC vs DEN: Nuggets of Redemption (for ESPN by Aaron McGuire)
SAC vs LAC: A Tribe Called BLECH! (by Aaron McGuire)
Read on after the jump.
• • •
__OKC vs DEN: Nuggets of Redemption
___Aaron McGuire_
ED. NOTE: The following piece first appeared as the main byline in ESPN's Daily Dime from March 20th, 2013. It is reprinted here for reader convenience.
After a late-breaking overtime win the night before, the streaking Denver Nuggets found themselves with less than 21 hours of lead time for a game against the well-rested reigning Western Conference champions. On the road, no less, against a team sporting a home record of 30-4. Most fans and analysts would call that a "schedule loss," a night when a loss of any margin is both expected and acceptable.
Don't tell Denver that.
Tuesday night's comfortable 114-104 comeback win against the Oklahoma City Thunder was an exclamation point to Denver's current 13-game streak, and continues to highlight an incredible turnaround. The Nuggets started the season with a tepid 18-16 record behind a brutal schedule, but as their docket softens, they've quietly transformed into a borderline juggernaut. The Nuggets are a startling 29-6 in their past 35 games.
That hot stretch has carried Denver all the way from a weak hold on the Western Conference's seventh seed to a virtual tie for third, and it has given them an excellent shot at wresting home-court advantage for their first-round matchup. For a team that's currently 30-3 at home and 17-19 on the road, that's not just window dressing -- it's absolutely essential to their hopes of winning a series. That said, Tuesday night was a lot more than just a continuation of an excellent streak or a boon to their playoff hopes. It's easy to overlook, but it's something to bear in mind -- games against Oklahoma City hold a special cachet in Denver.
Consider: It has been less than two years since the Nuggets were bounced from the postseason by the Thunder in 2011. In that series, the Nuggets were looking ahead to the Spurs, a juggernaut they felt they could beat, but they looked too far ahead -- the naught-but-theoretical contenders in Denver were dispatched in a quick five games. Since that series, they've shown occasional flashes of greatness without ever putting it all together.
Tuesday's win was the latest in a season-long series of minor moral victories for Karl and his merry men. With Andre Iguodala's welcome addition helming a swarming perimeter defense and a small jolt to their ambitious transition-based offense, the Nuggets have entered a level of elite play heretofore unseen in the Denver heights. And Oklahoma City provides a brilliant reflection to that end. Prior to this season, the post-Carmelo Anthony Nuggets were a dismal 2-8 against the Thunder. That record includes losses by 13, 15 and 17, with only two exceedingly close wins to counterbalance them.
That was then. This is now.
After a 20-point thrashing in their first meeting, the Nuggets have pulled out three consecutive impressive wins against their former tormentors. They've beaten them twice in Denver and once in Oklahoma City, each time with increasing levels of comfort. This time, they played the most impressive game of their season to date -- Oklahoma City lost the lead in the third quarter and barely challenged down the stretch. Winning a regular-season series against a bitter rival that's dominated you in recent seasons is hardly the same as winning a playoff series, but it's a welcome jolt of confidence all the same.
Their captors vanquished, the question remains: How far can these Nuggets go? It's exceedingly hard to handicap a team such as Denver when you're looking for their playoff performance. It's brutally difficult to assess playoff strategy of a team with a borderline-obsessive focus on at-rim scoring and fast-paced basketball.
When the game slows down and their transition offense sputters, are the Nuggets going to have the half-court game to pull out road wins in the playoffs? Their style of play foments increased volatility; their assists essential, their movement non-negotiable.
Until the playoffs come, nobody knows for certain. But one factoid has to brighten their backers. The Nuggets aren't simply feasting on awful teams this season -- this win puts Karl's boys at 9-4 against the West's top four teams, with 3-1 records against both OKC and the Memphis Grizzlies, 2-1 against the Los Angeles Clippers, and 1-1 against the San Antonio Spurs. The Nuggets of yore were never quite that good against elite teams. And with their defense peaking at the right time, the Nuggets are starting to look like an awfully dangerous spoiler, a more robust edition of their trendy 2011 vintage.
As for their immediate future? With Tuesday's unexpected win in hostile territory, the Nuggets next have three straight games against soft competition to stake out a claim to their own 16-game streak. Then they'll face San Antonio, a statement game against another team trying to exorcise the playoff demons of years past.
They will play, they will compete, and they will wait.
Because the next "schedule loss" is coming.
• • •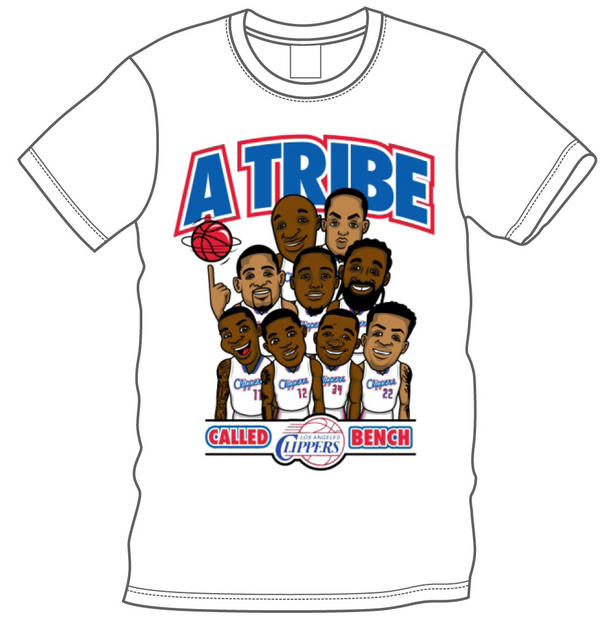 SAC vs LAC: A Tribe Called BLECH!
Aaron McGuire
There isn't a whole lot to say about last night's Clippers game. Sometimes, you just don't have it. Sometimes, that leads to embarrassing things, sort of like an elite team falling apart completely in the fourth quarter against a Sacramento team that has trouble walking and chewing gum in concert. Sometimes, the NBA simply doesn't make sense, sort of like when a Chris Paul team falls apart in crunch time against Toney Douglas. Sometimes, all these things are true, and there just isn't a lot to say.
Anyone remember the "tribe called bench" moniker early in the year? I'm sure you do. It was a highly publicized nickname given to L.A.'s bench squad, a formidable unit featuring players like Eric Bledsoe, Jamal Crawford, Matt Barnes, and other intriguing characters. The unit was one of L.A.'s mainstays in their 17-game win streak, and one of their biggest strengths. Kevin Arnovitz wrote a great piece early in January reflecting on how their bench unit got work done for Los Angeles. Long story short? Very well. In 230 minutes played, they outscored opponents by a tidy 15.7 points per 100 possessions. They played a risk-seeking defensive gameplan with vicious traps and constant pressure. They were an essential part to the Clippers' identity, and their success helped the Clippers succeed despite an admirable focus on maintaining long resting periods for Chris Paul, Blake Griffin, and DeAndre Jordan.
Since Arnovitz posted the paean to L.A.'s Tribe Called Bench, the Tribe's gone missing. Blame injuries, blame Vinny, blame regression to the mean. But they haven't simply been a tiny bit worse. They've been straight-up bad. The unit as outlined (Bledsoe/Crawford/Barnes/Turiaf/Odom) has played just 41 minutes since January 9th, and that's not for no reason. The unit has been outscored by -- not a typo -- 21.9 points per 100 possessions in those 41 minutes, completely reversing the script on the unit's early season dominance. Their risk-seeking defensive strategy of constant pressure and steal attempts was nice as an occasional wrinkle to start the season, but it hasn't stood up very well as the year rolls on.
And neither has their bench as a whole -- the Clippers have dealt with a distressing glut of injuries since their 17 game win streak came to a close, and it's led to their disabled list becoming something of a revolving door. A player gets injured, they go out to rest up. Their replacement plays horribly in the additional minutes, gets injured, has to sit out. The original player -- a tad contrary to their doctor's orders -- comes back early to try and stop the bleeding. They play poorly, because they're injured, and they go back out. Repeat the cycle. Net and net, you end up with a lot of games like last night's horror show -- L.A. can't rely on their bench for more than token contributions, and it's become up to the starters to create and hold big leads, even in the face of monstrous minute obligations and fresh faces on the opposing end of the court. Sacramento's bench scored 62 points on 21-38 shooting. L.A.'s bench scored 38 points, and even that overstates their contributions -- 25 of those were scored by Jamal Crawford, whose role has become continually more essential with starter-in-name-only Chauncey Billups barely able to play 10 minutes a night. The non-Crawford elements of L.A.'s bench scored -- no typo -- 13 points on 5-23 shooting. Hard to play much worse than that, offensively.

If the Clippers can get their full bench unit back together by the playoffs, they could certainly recoup. And even if they don't, lacking bench depth is hardly a death knell in the NBA playoffs -- part of the allure of playoff basketball for a star-studded group like L.A. is the ability for top-heavy teams to cut their rotations and play their stars quite a bit more. Barring further injury, a playoff core with Paul, Griffin, Jordan and Barnes in the mix isn't going to be an easy out for anyone. That doesn't change the sad fact, though -- whether you blame injuries, regression, or opposing teams figuring it out, L.A.'s early-season jolt from A Tribe Called Bench has become one of the NBA's least effective lineups. Given how fun they were to start the year, that's a dreadfully sad outcome for just about everyone watching.