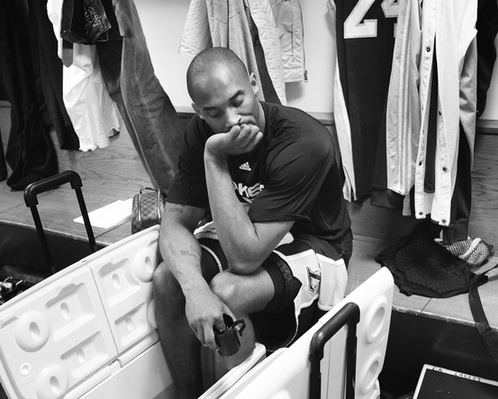 As Kobe Bryant took his fateful final step and hobbled off the court with a grimace and a quieted crowd, visions of Butch Cassidy and the Sundance Kid loomed over the proceedings. Because, let's face it -- they never had a chance. You know the apocryphal story of the two old western outlaws. Everyone does. And most people know the film, too, where the two friends gamble with fate all throughout the duration. They endure close call after close call, openly debating whether to hang up their guns or keep searching for a final heist to end it all. They go straight, then they don't. You CAN'T just go straight after what they did. You think you can evade that world, but you simply can't. The film fools some into thinking they'll find their eternal idylls, but that was never in the cards. Never is, really.
In the end, it was never some incredible feat that had them knocking on death's door. It was the tiniest mistake. The most imperceptible setback could ruin them -- and it did. What finally brought them down was the most innocuous heist of all time, and a detail they simply couldn't have seen coming. A small child recognizes the brand on their mule, and the Bolivian police force isn't about to let the two men go. They go out in a blaze of glory, shining brightest before their shortened last breath. The outlaws spent the whole movie fleeing from the stark inevitability of consequence. But that mistakes the moral of the movie -- the two were cornered from the moment they started the grind.
For a variety of self-evident and not-so-self-evident reasons, Bryant's injury brought me back to that film's conclusion. That same feeling of disturbing inevitability fell over the proceedings, despite the nature of the pain. Not a single doctor blames Bryant's insane minutes total, or the irresponsibility of keeping Bryant in the game after his numerous contusions and scary falls. But SOMETHING was going to happen. A 34-year-old player simply can't play 48 minutes a game to close a season. There was going to be a break, a strain, a pop. And it wasn't going to be pretty. Degradation by aging is inevitability -- by cheating it, you evoke Death's wrath and risk a more sudden and overwhelming pain than you'd have experienced if you simply tamped it down over time.
But Bryant doesn't seem the type who simply sees fit to fade away. Not to me. He's the Butch Cassidy player. If everyone goes out, they'll go out -- Bryant will go out in a blaze of flaming glory, challenging Death to a tête-à-tête on his field of battle. "Just TRY and strike me down. Just TRY and injure me. I'll come back. I'll keep fighting." And so it has been -- Kobe Bryant has cheated Death. He's put off his career's closing act as long as he possibly can, putting up the best offensive season of his career at an age where the superstars cease to be super. And when he returns from this injury, he'll continue to do so, for a time.
Bryant's career is mortal. It's quite the depressing reminder -- everything ends.
• • •
Kobe Bryant's injury causes us to think back on what he accomplished this season. Spoiler alert -- he accomplished a lot. The superlatives that can be applied to the severity of the L.A.'s' disappointment can be applied in the inverse to Bryant's incredible season. He was phenomenal. As the team concept of the "72-win Lakers" crumbled around him, Bryant leaned more than he ever did before on his court vision and applied a new devotion to his potential as off-ball threat. He lowered his usage to accommodate L.A.'s ever-shifting roster of refuse and injured stars. His defense was awful, and that must be noted, but one can't look away from what Bryant accomplished on the offensive end of the floor. One could make an argument that Kobe's 2013 season was the best offensive season of his career. It certainly isn't that far off.
The 2013 regular season, despite Kobe's triumphs, was not about Kobe. It was about LeBron James and Kevin Durant, the two effortlessly dominant players that look set to run things around here for the next several years. It was about a two-city cage match for a rudderless franchise, with two cities prostrate before the grace of Stern and Silver in a gasping lunge for a team to call their own. It was about win streaks and dominance. It was about tanking and cowardice. It was about the people that weave the tapestry of this wonderful league, and the personalities that make the game a joy. As it always is, and always will be.
Yet, Kobe Bryant's injury -- grisly though it may be -- casts another light. A further purpose to the season, and something I can't ignore. It speaks to the old souls of the NBA, the dominant renaissance players who are simply destroying the league in their waning years. You have Bryant, who dominated in a new way and answered his critics like never before. You have Tim Duncan, obliterating players with dunks that fans thought were gone a decade ago and leading a top-3 defense. Dirk Nowitzki battled back from injury upon injury, returning to his title-team form and very nearly leading his prized franchise back from the brink. Kevin Garnett remains, like clockwork, a strong contender for the best defender in the league. Ray Allen, Manu Ginobili, Andre Miller -- they aren't dead yet, and each still had ample flashes of their former glory.
Which is to say that alongside all those other factors that defined the season, we had one further -- the old guys got it done. They defied age, by and large, and burnished their resumes with the kinds of seasons we never thought they had in them. And Kobe's injury casts a pall on the proceedings, as we realize the sad undercurrent to this unexpected brilliance of the relative archaic. These players -- these invincible old souls with their ageless wonder and their timeless legend -- are mortal. And whether they get struck down by a freak injury or a sudden snap, Father Time goes undefeated. Even superhumans like Kobe can get struck down without warning.
• • •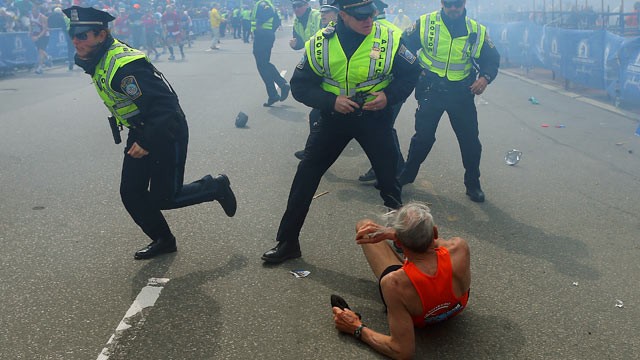 The horrific scene in Boston last Tuesday reminded us of several contradictory things. It reminded all of us of the damage wrought when fundamentally awful people enact their darkest desires. It reminded us of the horrors that some see fit to indiscriminately unleash. The worst dregs of society pay no quarter to reason or empathy. They destroy and they ravage and cause us to question humanity. There is nothing positive about the villains who decided to turn the pride of Boston into their own warped fantasies of destruction and misery.
There is no moral to their actions. But there was a moral to the reactions.
All tragedy reminds us of the kindness in the heart of strangers. The same race that produces the horrors who blow up the innocent is the same race that produces the heroes who, upon hearing and seeing the explosions, run directly towards the flames to help the victims. The same race that produces the humorless cretins who joke about the tragedy and "push the line" to try and turn the deaths into a sick joke was the same race that produced the marathon runners who, upon reaching the finish line, ran to the hospital and gave blood to fill the blood banks. The same race that produces a single killer produces a dozen healers, amped to fix the wrongs wrought by the thugs who cause these sorts of tragedies.
In a hopeless tragedy, there remains proof of a fundamental good in the hearts of many. And that counts for something. So, too, does the tertiary lessons of a tragedy. What's really important? What matters, in the grand scheme of things? For the first time in NBA history, the league cancelled a game that will never be made up. Boston and Indiana were set to play a meaningless late-season scuffle. The league axed it, and openly announced that it wouldn't be made up. The Pacers and the Celtics will play 81 games this season, for the first time ever. And all of us -- from the devoted fan to the front-row-ticket-holder -- nod in assent.
Because at the end of the day, basketball is an escape. It is an expensive facsimile of life, a technicolor television show with heroes and villains and good people all around us. It comes second to life, and it comes second to repairing a broken city. In our fandom and our devotion, we oftentimes find ourselves lost in the gravity of a basketball tragedy. Basketball loss is not real loss, no matter how strongly we feel it in the core of our fandom. We lose sight of the human core of the game we love. And we chance to forget the most necessary saving grace of all.
In this case, it's a simple three words: Kobe Bryant lives.
• • •
Kobe Bryant, Tim Duncan, Kevin Garnett, Dirk Nowitzki, Manu Ginobili. All of them will be gone one day, and one relatively soon. Yet here they are, the stage producers in a final one-act drama. They're dazzling and mystifying us all once again. And like the greatest films and screenwriters, they've given us no indication of when -- or where -- they'll end the streak and fall for good. Kobe has suffered a setback, and he'll likely return to the stage a lesser performer. But he will still return, and more importantly?
He'll still be there to watch the next act.
Butch Cassidy and the Sundance Kid were never to know of the ubiquity of their story. They were as any old outlaws in their day, with knowledge of their passing fame but no awareness of their future reputation. The inverse of this lies at the heart of what may be the greatest saving grace of becoming a sporting legend. After your career draws to a close, and the curtain falls? You can sit back and watch as your legend takes shape and form. Michael Jordan dominated the league for over a decade, and retired having answered every critic he possibly could. And now, Jordan lives. He lives on to enjoy his reign as the greatest player to ever play the game. He watches as player upon player takes him as an idol, basing their games on the shadows he left behind.
And so it will be with today's NBA legends, as they exit the stage and move to their dens and their futures. They too will watch as the players of tomorrow take their games as gospel. Basketball death bears little resemblance to a person's true death -- it is the death of a hobby, and the death of a talent. But it is just as pressingly the birth of a retired benefactor, the start of a new journey for the player and the fans who adore him. A player hangs up their Jordans, their fortunes and legacies replete in their wake, and gets to watch their devotees defend their honor. The depression and the horror of watching our favorite players break down and suffer is deep, because a sport close to the vest can touch the soul. It is our gift and our curse, and it's part of what makes following professional sports so engaging -- it is all too human to feel pain. To care is to hurt.
But there are worse things in life than a retired player getting to watch their legacy evolve in real time. There are worse things in life than one's favorite sports stars entering the next stage in a life of purpose and luxury. And it holds true to perhaps the greatest gift in sports -- even as a player ceases to matter in present-tense of the game that they love, their last blaze of glory in the sport they love is never quite the end of a fulfilling and satisfying life. Children. New jobs. New challenges. Our sporting heroes do not die, not yet -- they merely drive upon a new road. Replete with personal purpose, and the promise of an unknown tomorrow.
And thank God for that.