As one of our mainstay features, Aaron is writing posts highlighting every single player in the NBA. Role players, superstars, key cogs, or players who are barely as useful as ballboys -- none are exempt from the prying eyes of our readers. Check the index for a lowdown on order, intent, and all that jazz. Today's trio includes Armon Johnson, Marc Gasol, and Peja Stojakovic.

• • •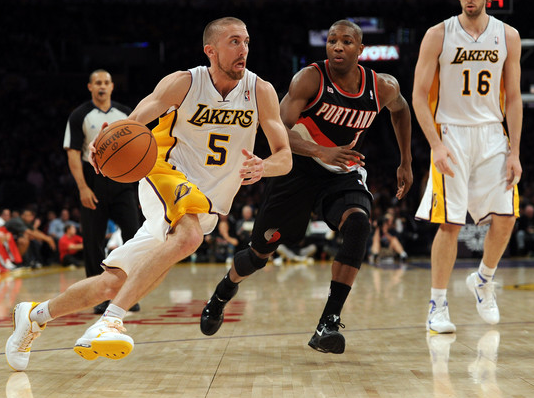 [030] Johnson, Armon
My most pertinent Armon Johnson memory was when I was talking about the Blazers on draft day with Alex and I kept calling him "Armond", truly expressing the deep well of knowledge I carry with me about the University of Nevada's basketball program. I think I like the name "Armon" better, though, so there's that. As an NBA player, Armon wasn't all that much more than a benchwarmer his rookie year, which is sad, but not altogether unexpected for a pick made in the middle of the second round. Johnson played well in summer league, showing off some decent floor-leadership skills and some tenacious defense for his size. He even went into the season as the #1 backup for Andre Miller. Unfortunately, Armon quickly lost that role to Patty Mills as the season went along. Pretty sad for Armon: I love Patty as an off-the-court personality, but if you're getting beaten by a rookie Patty Mills for rotation minutes, there are some issues with your game at an NBA level. Not to say there aren't things to like about Armon: Defensively, he's a top tier PG defender -- terrific on-the-ball pressure defense, good on help, great sense of the court. He's got a decent grasp of how to use his left hand for lefty layups and left-facing drives, too. Just a net positive all around.
Sadly, though, as soon as teams scouted his left hook (around Game 10), he became increasingly hard to justify playing time for. They found that if you cut off his left side options at any given moment, his offensive game is limited enough that he really can't do much to hurt you. And in a slow-down system like Nate McMillan's, a player who makes it four on five on offense is a major detriment -- especially at the point. If Armon can work on his outside shot, cut his turnovers, and develop some degree of ambidextrosity in his passing and driving, he'll probably project out as a decent backup-tier guard in the NBA. Players with the defensive acumen Armon shows combined with his rebounding and generally solid passing ability aren't exactly rare in the NBA, but they're valuable, and he could carve out a decently long career if he just makes some spot changes to clean up his game and make him less easy to guard. He certainly seems like a good dude -- check his twitter, where the good man has (as the Portland Roundball Society put it) definitely mastered the craft. He's learned that it is never a mistake to type in all-caps, he clearly aspires to be like Jeanie, and lightly admonishes LeBron James for even considering football over basketball. My kind of guy, that Armon Johnson. Hope he cleans up his right-facing game and carves out a bigger role with the Blazers next season.
• • •

[031] Gasol, Marc
Marc Gasol entered this year's playoffs as a relatively underrated two-way threat of a big man. He's a solid widebody defender and a solid offensive contributor. His help defense isn't quite up to snuff due to his weight and his general lack of mobility, a weakness that becomes ever-more apparent the faster your opposing big man is. As a teaching example: compare him versus an old Tim Duncan in the first round and him versus Collison or Ibaka in the second round. Still, Gasol represents one of the better two-way bigs in the league. A solid defender in isolation, a good paint bodyguard, and a solid (if not multifaceted) offensive contributor. I get the feeling, though, that his matchups in the 2011 playoffs drastically overrate him both as a defender and as an offensive player. Tim Duncan's bank shot has decreased in accuracy with age, and a lot of Gasol's dap for shutting him down was based solely on the fact that Tim's offense was pretty substandard this year to begin with. Gasol did shut down the paint very well in that series, better than he usually does, but his offense was composed (as usual) with primarily drop downs and pocket passes that worked especially well on the Spurs due to the decreased mobility of our two primary centers. Spurs backup Tiago Splitter did a better job of keeping Gasol in check, when he was playing, and if the Spurs in general had played better overall team defense against the Grizzlies it would've been a lot harder to get Gasol those kinds of shots.
Now, don't get me wrong: Gasol was the 2nd best player on the Grizzlies and incredible in a lot of ways. He shut down the paint rather expertly. But in terms of one-on-one D and offense, last year's playoffs definitely overrate him (as seen in the constant drumbeat of commentators who are now proclaiming that he's better than his brother). While he surely had a better 2011 playoffs than his brother (almost infinitely so), Pau is still the better NBA player and probably will be for at least one or two more years, before Pau begins to fall off from age. No, Pau isn't the shutdown paint guy that Marc is, but he's more mobile, and he does a better job defending big men that can step out and bury long shots like Dirk, Durant, or Brook Lopez. And Pau's offense isn't even in the same realm of comparison -- Pau is arguably the second-best offensive big man in the game, behind only Dirk. Marc is a "set him up, maybe it'll be okay" kind of player. No comparison. You can do a small debate as to whether Marc is more useful than Pau in a general sense, given that the number of paint-patrolling big men of any quality in the league today is one half or one third the number of solid four-men, but that would be a bit ridiculous given the gap between the two players on offense and the relative lack of a gap between their one on one defense if you account for their different skillsets. You can't really make a good argument that Marc is the better Gasol yet. Not yet, anyway.
• • •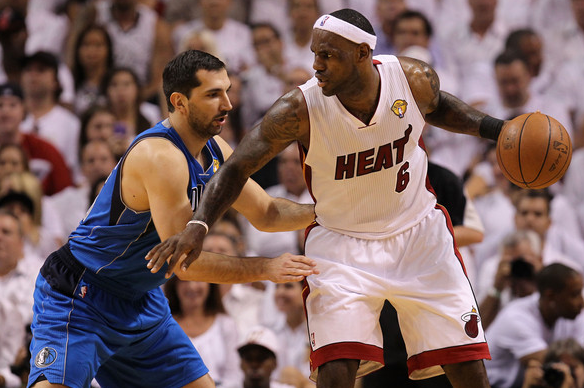 [032] Stojakovic, Peja
Peja Stojakovic is notable to young fans for winning a ring with the Mavs last year, but to me, he's most notable as one of the lovable miscreants on the early 2000s contending Sacramento Kings teams. His skills have deteriorated in recent years, and though he's prone to a decent percentage on his threes (he shot 42% on them in 2011), Peja's a rhythm shooter who's prone to games of 3-3 or 6-7 from three on good days and 0-8 or 0-9 on bad days. And his defense? Slow footed and prone to injury, he's never been a good defender, but his defense has atrophied even further in old age, leaving him with net-negative defense. Still, he doesn't turn the ball over and he shoots the three very well even at his advanced age, possibly giving him one more viable year. Just one, though, because while he was marginally useful for the Mavs, the second his shooting stroke leaves him is the second he becomes a 100% useless NBA player. Most likely, the burn he gets from here on forward is going to be based on totally unreasonable expectations of his play. Unfortunate for Peja fans.
    Player           Age  Tm   MVP Pts   MP     PTS    TRB    AST   WS/48
1   Kevin Garnett    27   MIN  1219.0    39.4   24.2   13.9   5.0   0.272
2   Tim Duncan       27   SAS   716.0    36.6   22.3   12.4   3.1   0.249
3   Jermaine O'Neal  25   IND   523.0    35.7   20.1   10.0   2.1   0.155
4   Peja Stojakovic  26   SAC   281.0    40.3   24.2    6.3   2.1   0.198
5   Kobe Bryant      25   LAL   212.0    37.6   24.0    5.5   5.1   0.210
6   Shaquille O'Neal 31   LAL   178.0    36.8   21.5   11.5   2.9   0.192
7   Ben Wallace      29   DET    24.0    37.7    9.5   12.4   1.7   0.160
8   Jason Kidd       30   NJN    17.0    36.6   15.5    6.4   9.2   0.141
9   LeBron James     19   CLE    11.0    39.5   20.9    5.5   5.9   0.078
The most notable thing about Peja to me has always been his lofty place in the 2004 MVP vote, where he placed a strong fourth. Ahead of both Kobe and Shaq. In a year where the Lakers would make the finals. Really, the whole MVP vote that year was amazing. Look at this table. Jermaine O'Neal placing above Shaq, despite shooting at Brandon Jennings levels for a big man and contributing little defensively? LeBron James actually getting MVP dap his rookie year? Peja Stojakovic suddenly being considered an MVP-level player despite his complete lack of defensive ability and his stats being inflated by his minutes total? Ben Wallace getting votes for the actual MVP but somehow being left off finals MVP ballots when his team WON THE FINALS? No, it's clear to me. The 2004 MVP vote, despite Garnett correctly winning it and Duncan correctly placing second, may be the most hilarious MVP vote beyond the top two of all time. And before I get angry letters from Kings fans: yes, I know Webber was out most of the year, and Peja was their only star. But they were a weak western four-seed, guys. He got more votes than Kobe or Shaq. I mean, come on. Really, guys?
• • •
As is obvious, I'm still going to be doing the player capsules despite the fact that there will be a season. Most likely, I'll stretch it into the season. I still should be done by All-Star weekend. Given that we're starting to get into the 30s, I'll create a better index for these capsules soon -- probably a sortable team-by-team index, so you can keep track of who I've done off your favorite team. We'll see. Have a good Sunday, everyone. See you tomorrow.