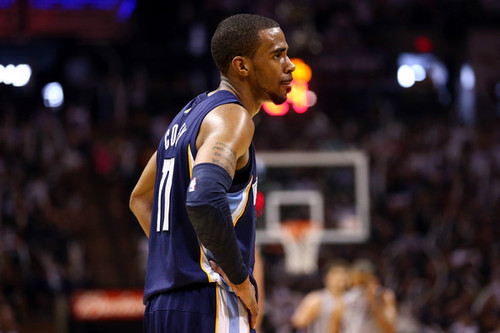 Blowouts happen. It's a mathematical fact that if you have a normal distribution with a long ta--... Look, I'm too lazy to finish this sentence. Everyone blows teams out and everyone gets blown out. Maybe it's 15 points because of garbage time, or maybe it's just a really convincing 15 point defeat that genuinely has you asking questions. Sometimes it's because of an amusing match-up advantage that never gets addressed; sometimes it's bad coaching; sometimes they're the Spurs and you're the Bobcats. Whatever the case, it's hard to put too much stock into blowouts if they don't repeat several times. It's the left side of the convolution of two normal distributions with similar variances. Improbable, but possible. Don't panic, guys.
In this context I'd like to talk about Game 1 of Spurs-Grizzlies, and what it bodes for the series.
There's an old, tested coaching technique with blowouts: Throw everything out. Forget whatever you wanted to learn; just throw every record of that game out. Why? Well, because the amount you'll gain by having your team see the systematic flaws that may have caused it and the amount your team will gain in motivation is dwarfed what your team will lose by by dwelling on the game. Suddenly Tony Parker isn't just a good match-up for Mike Conley; he's the guy that went past Conley and 4 other Grizzlies consistently, that whirling dervish who sliced up your defense and found open players virtually everywhere on the floor. Suddenly Boris Diaw isn't just a nebulous blob of passing and angles with lacking focus; now he's a force to be reckoned with and the big that arguably outplayed Z-Bo as a defender in the battle of the round and rooted.
There's another reason to throw the film out: It's mostly noise. Systematic errors suddenly look defining, and they're not in actuality. An error on over-helping and letting guys open on 3s might cost you 20 points in a game (more attempts and higher efficiency on those attempts quickly adds up). Now, 20 points is the difference between the Heat and Bobcats if it's every game. But it's not. I mean, obviously not. There's a reason the Grizzlies are in the Western Conference Finals, more than anything on the strength of their defense. It's because they don't do this every game. They might be fatigued, or banged up (they obviously play a very physical style, and are prone to heavy starters' minutes), or unmotivated. But everything about this game suggests to me that this is just the Spurs having a clearer game-plan and more energy, and using every drop of their advantage (as is their wont).
Coaches throw film out, or, better yet, throw it out and reduce the learning process to a simple maxim, a single thing to focus on as a limiting factor. It's pretty clear that Memphis Coach Lionel Hollins is going to stress not over-helping, and letting Marc Gasol and the bigs handle Tony Parker at the rim with a much more reasonable (that is, a not-collapsing) defense that does its work early and has faith in the work it does. Marc Gasol is a heck of a defender, and so are Mike Conley and Tony Allen. Add Tayshaun Prince in for good measure, and you have a heck of a defensive squad. But they basically spent their last 5 games watching Derek Fisher and Reggie Jackson and Kevin Martin have middling-at-best series. The Grizzlies came out of a series in which they needed to be mediocre to win, and needed to be effortful and thrive. I'm guessing that played a role.
What's more, I tend to think defensive adjustments tend to take a couple games to take root, and it's defensive adjustments (especially by Memphis) that will have the most leverage in this series. The Thunder famously put Thabo Sefolosha on Tony Parker last year, to great effect (though ultimately it was the Thunder's blitzing offense exposing the Spurs' middling defense that won the series). The Grizzlies shut Tony down a couple years ago, though it was a bit obscured by Tim Duncan's apparent (and shocking) physical decline in Games 3 and 4. I'm sure the Grizzlies, when they're putting in a real (and clearly-followed) gameplan for Tony Parker, will have a much more coherent and effective series. This is a Grizzlies team that has found an answer for Chris Paul and Kevin Durant. The Spurs are better than the Clippers or Thunder right now, but there are better and worse ways for the Spurs offense to beat you. And the Grizzlies, of all team, know this.
So throw it out. It's one bad game.
If it keeps up, we'll see the Spurs reach the first Finals in six years. And, if it doesn't... we're going to get a heck of a series. Given what we've seen from Memphis the last few years, I'm hoping for the former, and betting on the latter. Grind never stops.