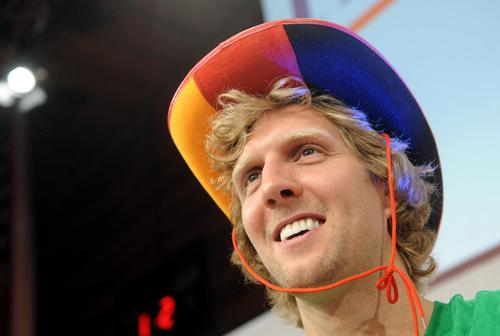 In today's ESPN 5-on-5, I was asked an interesting question. Was Roy Hibbert having the best playoff series against the Miami Heat of any player in the big three era? My immediate answer: "no, what the heck, Dirk Nowitzki, whaaaaaaat." My not-so-immediate response: "... still, that's a neat construction." The whole idea of a single 'best' series against the Heat by any individual player, from point guards to centers, seems a bit weird to me. As does any cross-positional comparison that isn't couched in a lot of uncertainty -- including the Kobe/Duncan debate, or any effort to put together a list of the ten to fifteen "best" players to ever play the game. It's hard to put a whole mixed mess of players together and sift out any particular "best." It's easier (and more accurate!) to simply appreciate for where they are among their general peers. That said, I like the idea of examining the all-time playoff ledger to figure out who's really stood out after a few years of a dynasty's reign.
We don't know if the Finals are going to be a Spurs/Heat showdown yet, but we COULD certainly take the time to put together an all-star team of playoff performances that shocked, awed, or pushed both the LeBron/Wade/Bosh dynasty-in-making and the Duncan/Parker/Manu dynasty-in-closing. It could be fun, even. So, I'll do it. The statistics referenced in this post will be series averages, obviously. I'll be going with the all-star setup -- the three best "big" performances and the two best "guard" performances. For Miami, the playoffs spanned include 2011, 2012, and 2013's in-progress run. For San Antonio, the window's larger -- 2003 to 2013. Some extra points to each player if they beat the team in question, although there have been some depressingly impressive performances in lopsided losses that bear mention as well. If you think I'm missing any, take a few minutes to add a comment and point it out. I'm not too proud to change, folks!
• • •
THE MIAMI BIG THREE ALL-OPPONENT DEATHSQUAD

Guard: RAJON RONDO, 2012 ECF. (45 MPG, 49-30-70 shooting, 21-7-11)
A lot of people overlook how ridiculously good Rajon Rondo was in the 2012 Eastern Conference Finals. I beg you -- don't be those guys. I'm on record as being a bit more of a hater than most when it comes to Rajon Rondo's game, but I can't slam the guy without pointing out that last year's ECF represented his absolute finest hour. Ironman play (45 MPG?!?), insane shooting (... for Rondo, at least), and a near triple double average as he filleted the Miami defense. The biggest difference between Boston's ignomious five-game loss to the Heat in 2011 and their near upset in 2012 was Rondo -- he improved his game from 2011's pedestrian (and injured, as well) 10-4-8 averages to an absolute force. By a decently large margin, Rondo was the best guard that Miami has ever had the honor of facing.
Guard: JASON TERRY, 2011 NBA Finals (33 MPG, 49-39-75 shooting, 18-2-3-1)
Alright, I can imagine Oklahoma City fans getting incredulous with me right now. "Jason Terry? Over Westbrook? NAH, BRAH." On a large scale, that's obviously true, just as Isiah is better than Dumars. But Dumars played marginally better in his finals MVP series, and Terry played marginally better in his Heat Finals series. Terry's efficiency over the six-game series win was what pushed me over the top. Westbrook played well, but he shot 24 shots a game and went completely cold from three at the absolute most inconvenient time. Westbrook has a decent case, especially since he played nine more minutes per game than Terry, but Terry's part in the Mavericks' shocking game #6 win was too enticing for me. Sorry, Russ.
Big: KEVIN DURANT, 2012 NBA Finals (43 MPG, 55-39-84 shooting, 31-6-2)
Alright, you can be honest -- you didn't remember how efficient Durant was in that series either, did you? I admit that I didn't watch the entirety of this series as-it-happened -- the despair over the 2012 WCF was too pressing for me. But I eventually picked up the replays and remember being impressed-but-not-blown-away by Durant's numbers. That said, those shooting numbers are far beyond what I would've guessed after watching the series, especially the 55% from two. His rebounding and passing were lacking, but that scoring represents the highest-scoring series any single individual has had against Miami in the big three era. The second highest? Well...
Big: DIRK NOWITZKI, 2011 NBA Finals (40 MPG, 41-37-98 shooting, 26-10-2-1-1)
Lord, Dirk was great. Even regardless of context, those averages are killer -- my favorite part (by far) is that Dirk made 45 free throws on 46 attempts. Absolutely absurd. Historically, it's matched only by Reggie Miller's underrated turn in the 2000 NBA finals, where he (somewhat comically) made the exact same number (45/46) in a 6 game loss. Nobody with greater than 13 free throw attempts in a Finals series has ever shot better than those two. That said, his averages also need to come with the context that Dirk was quite ill for two games of the Finals, dragging himself (and his lethargic team) to several wins while sick with the flu and lagging. It also needs to come with the fact that the Heat were a fluky game three win away from dropping the series in five games. Also needs to come with the fact that he registered just 17 turnovers in six games and was never in foul trouble over the entire series. Missing you, Dirk.
Big: ROY HIBBERT, 2013 ECF (39 MPG, 54-xx-81 shooting, 23-12-2)
And finally, Roy Hibbert. The funny thing about Hibbert's performance is that -- like Rondo's -- it comes on the heels of a generally terrible performance just one year prior. Hibbert averaged 12-12-1-3 in Indiana's six-game loss, generally taking a backseat to David West and Paul George. He shot just 47% in that series and looked a bit lost. That's obviously applied in no way to his virtuoso performance against the Heat in this series -- he's dominated the paint defensively even as the rest of his team has wilted, a touch, and he's somehow managed to evade significant foul trouble ever since his near-foulout in game one of the series. Excellent series by an excellent player.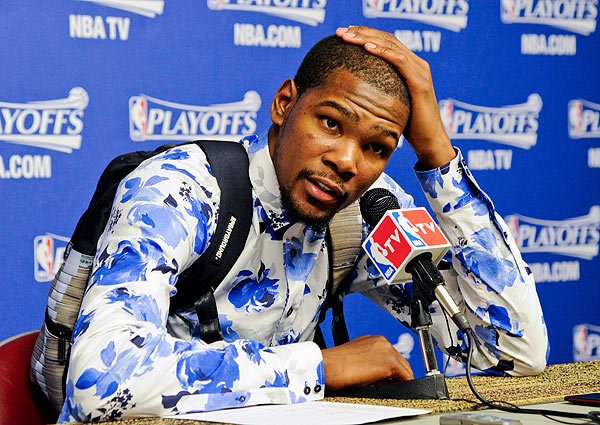 • • •
THE SAN ANTONIO BIG THREE ALL-OPPONENT DEATHSQUAD
Guard: CHRIS PAUL, 2008 WCSF (41 MPG, 50-20-76 shooting, 24-4-11-3)
I'll start with something that may shock many. I don't like Chris Paul very much. Dude's got game, but the amount of dirty play he gets away with on defense and the amount of respect he gets for doing it bugs me. Bruce Bowen is widely vilified for his dirty play (with many people actively expecting Spurs fans to apologize for having ever rooted for him), and Manu's flopping might as well come with its own sitcom laugh-track. Paul? His dirty play is "gamesmanship, gritty defense, overcoming his obstacles." And his flopping is simply ignored. Why does Paul evade all criticism for his faults? Why doesn't anyone call him out on forcing his franchise into a terrible trade to L.A., just like Dwight did? Boggles my mind. Anyway. That all said, my dislike for him might also be rooted for his lights-out performance against the Spurs in 2008, when he put the fear of God in Spurs fans everywhere and dragged the defending champs to seven brutal games. If he could've made a damn three pointer, maybe they'd have even won!
Guard: KOBE BRYANT, 2008 WCF (40 MPG, 53-33-91 shooting, 29-6-4-2)
Fun fact -- you could put Kobe here for any number of his performances against San Antonio. He was really good in 2003, although his shooting was nowhere near as good as it was in 2008. He averaged 26-6-6 in L.A.'s series loss to the Spurs in 2004. He was really good before the big three era, too -- but that's to be expected. He's Kobe Bryant, _man._Still, his performance in 2008's too-easy five game series win against the Spurs was tops. Bruce Bowen was 36 at the time, and his defense had definitely lost a step (or two), but Kobe was still scoring on him with ease. Manu was unable to cancel out Kobe's crazy production (Ginobili averaged 13-3-3 on the series) and nobody but Brent Barry could make a freakin' three. Kobe was defensively active in this series win, and even though Duncan was able to keep Pau and Odom well in check, nobody could hang with L.A.'s superstar to prevent the first LA/BOS finals since the Bird/Magic glory days.
Big: KEVIN DURANT, 2012 WCF (43 MPG, 53-36-91 shooting, 30-8-5-1)
NOT KEVIN DURANT, MAN! NOT KD! NO! Anyway. Yeah, no, Durant totally obliterated the Spurs in this series, and it was one of the most depressing things I've ever watched. That said, it's kind of hilarious to compare Durant's series averages for the 2012 WCF here and the 2012 NBA finals above -- he actually was more efficient against Miami's defense than he was against San Antonio's defense, which goes against everything everyone has ever said, ever. The big difference wasn't really Durant's scoring or his efficiency, it was the overall team ball-movement and the fact that Harden went from hero to zero on a dime as the opponents changed. You can see echos of that here, as he averaged five assists per contest in the Western Conference Finals and two per contest in the NBA finals. Still. Durant destroyed all comers against the Spurs in 2012, and Spurs fans still have cold sweat nightmares about it to this very day. (Or... wait. Is that just me?)
Big: DIRK NOWITZKI, 2006 WCSF (44 MPG, 53-12-91 shooting, 27-13-3-1)
Hot DAMN, Dirk, why you gotta be on both lists? It's true, though -- as much as a few of my favorite Spurs fans liked to call Dirk soft and marshmallow-textured, the man roundly dominated the Spurs in the 2006 Western Conference Semifinals, in what is perhaps the greatest second round series in the history of the league. In fact, for all the hand-wringing over San Antonio's status as ratings poison, the 2006 WCSF broke (and set) a lot of records. The series' game seven was the highest rated second round game in TNT's history and the series' game six was the highest rated second round game in ESPN's history -- both stood for several years, with the ESPN record falling during LAL/HOU in 2009 and the TNT record falling during ORL/BOS game seven in 2009. So, there's that, I suppose. Dirk was amazing against the Spurs in this series. (And I admit, I find it pretty hilarious that Durant/Dirk make both lists, with virtually identical numbers.)
Big: AMARE STOUDEMIRE, 2005 WCF (41 MPG, 55-xx-84, 37-10-1-1-2)
Look. I know the Suns lost in five games. I know it was very nearly a sweep, despite the fact that Phoenix had home court. I know that Spurs fans aren't really scared of Virginia Woolfe. I mean, er, Amare Stoudemire. But look. Hold up for a second. A center averaged 37 points per game on 55% shooting against the 2005 San Antonio Spurs. Take that in. Repeat it. Yes, Amare was pillow-soft and allowed Duncan, Manu, Parker, and Mohammed to get to the rim with impunity. Yes, the series was lopsided. No, that doesn't totally erase the fact that HE AVERAGED 37 POINTS PER GAME IN A SERIES AGAINST ONE OF THE GREATEST DEFENSIVE TEAMS IN LEAGUE HISTORY. Man, shoot. Is it obvious I had forgotten just how many points he scored in that series? Jesus. He didn't even embarrass himself on the boards!__ I'm gonna go lie down.