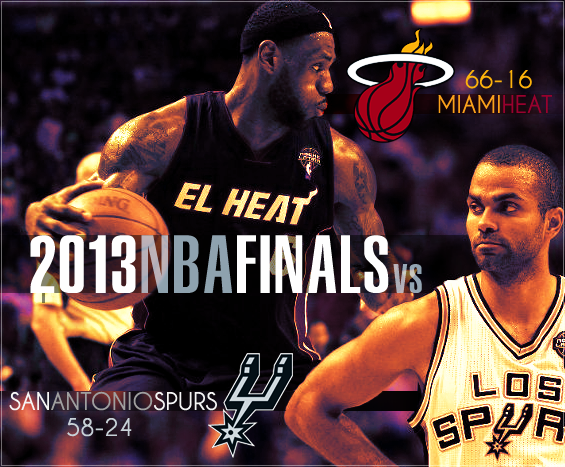 Hey, Dewey! It's Aaron, talking from omnipresent bold text. How's life? Here's where we'll start -- how nervous are you about this series? I feel like I'm going to get fired by game 2. I'm ridiculously amped up, but at the same time, ridiculously nervous and skittish. Damnit, sports.
Dewey: Honestly, I'm so amped up it's hard to feel nervous. It's one of those series where the Spurs would be ridiculously disappointed if they lost, but I can't help but feel like they've already slightly overachieved from this season and in doing so answered all the doubts caused by the Thunder loss. I feel like they're playing with found money, so to speak. And so all I can feel is hyped up. This is slightly ironic, because if I ever actually found myself in this situation, I would resent the "just happy to be here" mentality at its core. I mean, I do. But God, as a fan, I'm happy to be here. I was expecting disappointment after disappointment after the ludicrously poor finish the Spurs made to the regular season. So it's just a dream to me, honestly, the impact of a possible loss hasn't crystallized for me, it's just the thrill of knowing your team is facing the best in the East and hoping you have a shot.
McGuire: See... ever since the Kobe/Pau Lakers, I've had trouble putting a whole lot of faith in late-season schnids. At every step of San Antonio's playoff run, I felt like they had the potential to lose. I felt like the threat was very real, simply because it was possible that late-season team persisted. But there was also a crystallized grain of hope. Early this season, I distinctly recall noting that this Spurs team had the potential to be a uniquely special team. They could synthesize the best offensive runs of the 2012 edition with the throwback defense of the 2008 edition. (No, not quite Bowen's prime, but back when the defense was the calling card.) And as they got deeper, that grain of hope embedded in the clamshell of my heart became a lovely expanding pearl. And now the damn thing is big enough to be a tumor. If the Spurs lose -- whether it's a close series or not -- I'll feel like I've once again let the hope grow too close to the vest, as a fan. And that depresses me on a deeply personal level, even if I agree that to some extent the Spurs are playing with found money. (Also, alright, I'll be clear -- I despise the Miami Heat.)
Dewey: Well, yeah, and I think both of us thought they had at least a punter's chance from the outset. I was extremely and immediately skeptical of Kevin Martin replacing James Harden (and still am, even ignoring Harden's breakout season and Martin's, uh, relative fizzle against Memphis), and only an utterly dominant Thunder team really served to quell this skepticisim. Honestly, the Spurs have completely dominated the regular season the last three years, to the extent where I honestly felt like they could win 66 games if they really wanted to the last few years and had a few breaks... but, obviously, they didn't actively want that Like, the Spurs against the Kings or Bucks is not lopsided in terms of the matchups, but in practice the Spurs at full attention are a total force on both ends, a totally coherent, well-spaced, horizontal-coverage machine. The regular season was genuinely practice for the Spurs whenever Tony and Tim have been healthy. Yes, even with Richard Jefferson. yes, even with Manu injured. Yes, even with no one else stepping up. It didn't mean they'd always win, but they'd always put in a possible win.
• • •
All true, although... well... that late season swoon was a HECK of a swoon. Did you expect this kind of a playoff switch, or did the late season swoon make you think it was out of the question?
Dewey: What concerned me about the late-season swoon is that they stopped winning those games, and they even lost games that were unconscionable for a fully-armed, fully-engaged roster to lose. It struck me that Tony had lost a step, and 2011 was coming back in full force, despite Parker's legitimate case as a top-3 player for the first several months of the season. And when Tony loses a step, and you put a rangy defender on him? Game over. We had every right to think this, and every indication, despite how well he might play someone like Westbrook or Paul, despite how every shot seemed to be going in, despite the video game totals. We had every right to think that the run was over before it had begun. Even in San Antonio, "the switch" can only mean so much, right? Apparently not.
McGuire: One of the underrated things about this run is that -- much like the late dynasty Lakers -- these Spurs are putting up one of the most compelling arguments in recent memory against regular season performance in predicting playoff success. It's been droned into our heads ad infinitum over the past several years: The Spurs are a Regular Season Team. Sure, they'll rack up sixty wins and blow out fluff teams -- but when the elite teams come around, the Spurs can't hash it anymore. Well, about that... The Spurs team we saw in the last few months of the season -- for all intents and purposes -- doesn't exist anymore. It's gone. They did great things the first few months of the season, then just completely stopped playing coherent basketball for about two awful months of toilet-cellar play.
Dewey: Dude... what the hell's a toilet-cellar?
McGuire__:__Now, out of nowhere, they flipped a switch the second the L.A. series flipped to Los Angeles and they've been virtually unstoppable since, bested only by a few completely incredible performances by a humming-beyond-logic Warriors team. Ethan Sherwood Strauss (among others) said before the playoffs that it would be hilarious if the Lakers made a title run from the eight seed, proving once and for all that the regular season means next to nothing. It's in a bit of a lower key, but the Spurs are proving that barroom hypothesis out nearly as emphatically.
Dewey: No, really, I know you have a fancy new house or something, but what the hell's a toilet-cellar?
McGuire: ... I don't know. In my defense, you've written WAY more confusing constructions than that and asked me to edit them.
Dewey: MOVING ON.
• • •
A lot has been written about what's similar between the Heat and the Spurs, this year's cream-of-the-crop. All that stands on its own. But what, to you, is the most inherently different aspect about these two teams that you can't seem to wrench from your craw?
Dewey: Okay, so the obvious difference to me (besides the related point that the Spurs have far more balanced production) is that the Spurs' role players play multiple roles for the most part and the Heat's role players tend to play only a couple . Norris Cole, Udonis Haslem, Joel Anthony, Birdman? Shane Battier (who can't buy a shot) is quite a versatile player, but he can't create offense. He's a fundamentally limited player whose limitations he wears on his sleeve, and on the Heat he looks like Prime Gerald Wallace by comparison. Even Bosh has never been exactly transcendent in the Big Three Era. Even Wade's seemed to have a pretty simplistic game when he's not 100% or getting a lot of fouls drawn. I like the Heat's players, but they tend to do one thing exceptionally well and little else, and it helps if they can space the floor or play smart, solid defense.
McGuire: That's a hilarious answer to me.
Dewey: Now, don't get me wrong, as a whole they tend to be quite versatile because of LeBron's ethereal fluidity and Wade's crafty style. But as individual players they aren't, and this limits and structures their game. When LeBron was playing in the Olympics you couldn't help but notice how perfectly he fit into a team of All-Stars, especially all-star wings. And again, don't get me wrong, it's not like Danny Green is uh... Prime Gerald Wallace (again). I mean, these are players that know their roles and stick to them. It's just that... I mean, reducing what Danny Green does to defense and corner threes is actually really misleading. He is so crafty on both ends, does so much, and understands the game and how to use lateral motion incredibly well. He's quite a versatile player. Boris Diaw, Tiago Splitter, Tim Duncan.... all these guys can pass it well, can set screens, can be in the right place on defense and make the extra rotations. It's not like Pop is doing anything magic - these are incredibly savvy, aware, intuitive players that can grasp what they need to do immediately, and they're versatile enough to capitalize on it. Granted, they're nothing without Tony's offense and Tim's defense, and the role players tend towards inconsistency (no, Kawhi doesn't count). But, aside from little used.Gary Neal, Aron Baynes, and Matt Bonner, the Spurs have a lot of players that grasp how to run a situation on offense, not just knowing where to be. This absolutely could be bias speaking, and the fact that I've seen far more of the Spurs than the Heat, but I just see the Heat 's role playersas being a full tier or two below the Spurs here in individual versatility. Danny Green is doing much of what Shane Battier is doing, but it's relatively common on the Spurs and relatively rare on the Heat.
McGuire: That's one of the funniest answers I've ever really seen in one of our roundtables, because I really didn't expect that at all. My answer is the same, but in the exact opposite direction. While their roles may be semi-predefined, my main point is that when you get down to the general rotation structure and the core pillars of their schemes, the Spurs are much more traditional in the way their players operate than the Miami Heat. LeBron is a phantasm that can occupy any of the five size-varied Russian dolls that make up positions. Wade is a scoring guard that can distribute as a point guard and defend players larger than he is with relative success. Bosh acts as a stretch wing in some capacities, but other times he acts as the central big man in Miami's offense and defense. And around them? Battier guards three to four positions depending on his knees, Chalmers constantly gets matched on random players and guards them with relative aplomb, and offensively Miami's transition game requires each of their players to have some versatile command of transition offense and movement principles. Spolestra uses such a ridiculous variety of utilization frameworks around his players that the Heat's offense and defense strike me more as a Rubiks cube whose shape is constantly changing than a set framework of defined roleplayers.
Dewey: Okay, yeah, that'd be hard to solve.
McGuire: Conversely, San Antonio is a lot more traditional. Sure, their players have a touch more skill-depth than you see in Miami's roleplayers, but Pop doesn't engage in massive feats of lineup versatility -- he tries a few interesting tweaks, but Pop's sophistication is in the general offense design, not the configurations in which he uses it. On a broad scale, the Spurs are: an unfairly talented center, a semi-traditional scoring point guard, shooters, and a versatile defensive stalwart at the large wing. That's a tried-and-true configuration, and with the exception of Pop's occasional sojourns with small-ball, he sticks to it. Pop's nontraditional elements are added in the form of plays, not the form of broader position-bending. That's my basic take -- both teams are unerringly creative, but the Heat bend the natural positions on the court and roles while the Spurs bend plays and broader system design in order to achieve their respective levels of elite play.
Dewey: Interesting. Huh.
McGuire: That said, your argument strikes me as a bit strange, because you're looking at the barren ends of miami's rotation while totally brushing aside "little used" players in San Antonio's scheme. For instance... Joel Anthony played six minutes in last year's finals. The entire finals. Miami has MORE depth this year. Who cares if he doesn't have a massive depth of skills? He's far less important to Miami than, say, Neal or Bonner... both of whom have barely any skill depth.
Dewey: Other than Joel Anthony, I listed four of the top nine in Miami's playoff minutes played this season. They are as follows:
LeBron James; 659 (Jeeeeeeeeeeeez)
Dwyane Wade; 527
Chris Bosh; 511
Mario Chalmers; 428
Ray Allen; 381
Norris Cole; 336
Shane Battier; 305
Udonis Haslem; 294
Chris Andersen; 232
McGuire: While fair, I don't think you're totally familiar with San Antonio's playoff rotation if you're convinced Neal and Bonner are tertiary players compared to those folks. San Antonio's top nine minutes distribution to date is:
Kawhi Leonard; 520
Tony Parker; 518
Tim Duncan; 481
Danny Green; 421
Manu Ginobili; 361
Tiago Splitter; 280
Matt Bonner; 231
Gary Neal; 220
Boris Diaw; 178
Dewey: HOLD THE PHONE HOW IS MATT BONNER 7TH IN ANY UNIVERSE LIKE OUR OWN? I WATCHED EVERY GAME HOW DID THAT HAPPEN. WAIT DID HE START ON MOTHER'S DAY, I BELIEVE THAT IS THE ONE GAME I MISSED. DID HE PLAY 58 MINUTES ON MOTHER'S DAY. HELP ME.
McGuire: No, but that would've been a good Mother's Day present for Momma Bonner. Anyway. How about LeBron, huh? He's averaging 41 MPG and doing virtually everything for Miami. Cripes. I hope Pop has been coaching Kawhi on the Marion/Kidd style exhaustion defense Carlisle used to great result in the 2011 finals, because there's an outside chance LeBron starts experiencing at least some degree of fatigue in this series.
Dewey: Probably not, but... I mean, it isn't out of the question. That Indiana series was PHYSICAL. Heh... Pop should just get the entire Western Conference together for a symposium. Just to teach Kawhi. Get the gang all together. Marion, Carlisle, Sefolosha... everybody. Get... oh my gosh, get George Hill and Roy Hibbert to consult. Oh my gosh. Aaron. This has to be real.
McGuire: Awesome. You know what'd be great? If Hibbert didn't leave Miami, and just bought courtside seats for the finals. Just was dapping Tim all game long and yelling out confusing heckling while Miami's on the court.
Dewey: Oh man, Bosh would be jealous. I see it playing out kind of like...
"Sorry, Bosh, too slow."
"Damn it, Roy."
"Too slow, once again. You get no daps."
"Haha, you're such a joker Roy."
"Too slow, again."
Then, by game 4: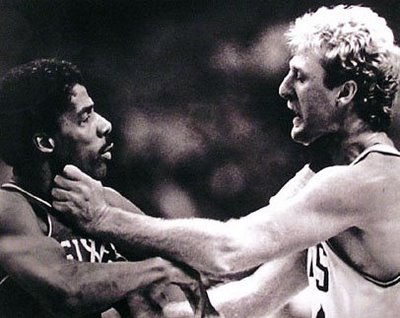 McGuire: Awesome. Holy crap.
Dewey: I'm picturing George Hill running a consultancy right now and it's really hard to shake this image. "Hey George. Heard you're running a consultancy George. Nice suit George. Gonna teach us the way to defend him george. For a reasonable fee, of course, George. Hey George. Missing u george."
McGuire: Imagine George Hill in a suit. A Pacers colored suit... with a small bolo tie.
Dewey: WELP. I was going to say "welcome to the last twenty minutes of my mind", but then you said "Pacers colored suit" and I was like "I guess you could say the same to me."
• • •
So, Aaron. Miami... you obviously have an odd relationship with them and their principal LeBron. Recently people have made reference to Cleveland LeBron making a return with the swoons of his supporting cast. But he's also gone through innumerable challenges and accomplishments since them. So, I'll ask you, finally: Does LeBron still evoke the scars and highs of Cleveland, almost 3 years removed from the Decision?
McGuire: I wrote in the player capsule series that I'd generally gotten over my LeBron dislike, and I wasn't being untruthful. The raw fury of my post-decision hate has faded. I can watch regular season LeBron without getting pissed off at him, at least. But every bit of ill will you eradicate leaves a mark or two, and in the case of LeBron, every feeling has its echos. In this case, the way this season has ended is especially evocative for me. The MIA/IND series reminded me so clearly of CLE/ORL, to the point of ever-disturbing deja vu. LeBron's "Cleveland mode" comments only helped to reinforce that. The fact that Miami actually won the series, primarily due to a few missteps by Indiana that Orlando didn't make in 2009? That's brutal. If the Heat win the title, the pain of 2009 will persist even longer -- the idea that the 2009 Cavaliers could have been this Miami team, overcoming a brutal ECF matchup to make the final step into history, will haunt me. Perhaps that's part of why I'm so nervous and itchy about this series. If the Heat win, the screams of those demons evolve from a murmuring titter to a belching roar. And I thought I'd figured it out, too!
Dewey: Haha, yeah. Honestly if the Spurs lose convincingly in this series, conversely, it will eradicate plenty of ghosts itself... namely, that the Spurs had a ghost of a chance in 2012. Hahaha. Hahahahaha. Ha. [bites a light bulb, continues to laugh maniacally] Which is kind of just as bad, but at least is more palatable in its certainty, to know that they genuinely would not have won in all likelihood.
McGuire: Sounds like you're wavering a bit. And stop biting light bulbs.
Dewey: ... You know, yeah. I started out thinking I didn't have much emotional baggage here, but that's a good point you're making. I have all the emotional baggage of the last four years stored in this game. I doubt it's accumulating except as photos in a picture book, but it is important -- I've watched (as a raw estimate) probably 250 games over the last 4 years that featured these San Antonio Spurs. These San Antonio Spurs with all of Duncan's brilliance (a term that he's starting to fade simply by being inadequate in description) and Manu's craft and Tony's elevation to a Hall of Fame guard. These San Antonio Spurs that have basically taught me the game of basketball, not as it was meant to be played (that's too normative; who doesn't like a great scorer taking over?) but a couple of ways, and ways they saw through to their furthest ability as individuals and an organization.
McGuire: What?
Dewey: So... I suppose LeBron has our vulnerable hearts in those giant pincer claws of his, once again. But, we don't know what to expect, once again, and sometimes we see that photo of Kawhi's hands and wonder if he can... uh... do the same thing to Miami that I was just semi-incoherently describing?
McGuire: Word.
• • •
Final predictions?
Dewey: Heat in seven. Sorry, heart. (I'm not sorry. Except that I am.)
McGuire: Head agrees. Heart says Spurs in six. I'll go heart, for once. Spurs in six. Let's get it, folks.
• WATCH GAME #1 TONIGHT AT 8:30 PM EST ON ABC. •