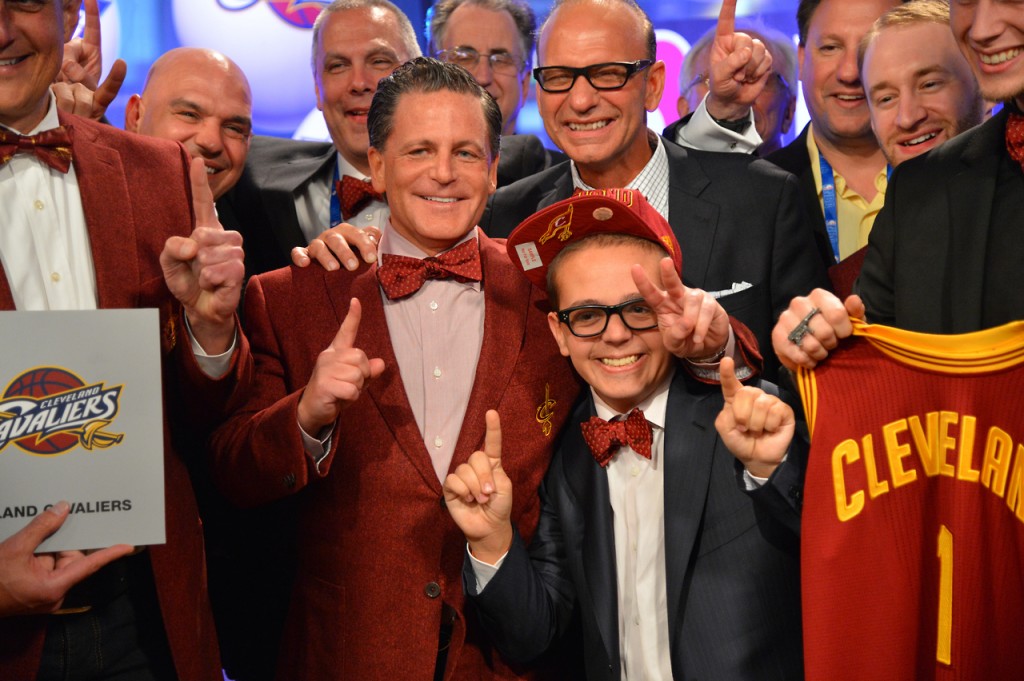 A few months ago, prior to the trade deadline, I wrote a piece entitled Josh Smithial Chaos Theory based on an episode of NBC's Community. The episode "Remedial Chaos Theory" sees a group of seven friends forced to decide who is going to pick up the pizza they ordered, thanks to a broken buzzer. The groups de facto leader, Jeff, determines that the fairest way is to roll a die to decide who goes. Of course, the die has six sides, and there are seven people. Jeff rigged the game so that he'd never lose. Right as Jeff is about to roll the die, the group's pop-culture maniac notes that by rolling the die, the group is creating six different timelines, all of which are later shown in the episode, with various degrees of shenanigans ensuing each time.
Last night was draft night, and the Cleveland Cavaliers stood to make a choice. Chris Grant and Dan Gilbert seemed to have no idea who they should draft with their first pick. Every player has their pros and cons. Unable to find a draft day trade they'd like, they enter the Barclays Center. Soon afterwards, they hear David Stern speak the now-dreaded words. "Cleveland is on the clock." As minutes tick away, they scramble to find a solution, and eventually, not being able to find the right answer, they turn to their ultimate good luck charm, Dan's son, the awesome Nick Gilbert. Nick pulls a die out of his pocket, along with a list of six names the Cavs could draft. Dan nods and rolls the die. The universe is giddy at the thought of six different timelines being created.
Disclaimer: Adam is not a draft analyst. He's just a blogger. Do not treat this as draft analysis. DO NOT.
Timeline 1: Cleveland selects Alex Len
Dan Gilbert sighs with relief. At least he got a big guy. He wouldn't go against luck, not after winning two draft lotteries, anyway. And so, Alex Len becomes the first Ukrainian born player to be drafted first overall. Hooray! Nobody in Kiev or Lviv really cares, though, since they're busy fighting off an semi-autocratic regime.
Len immediately contributes as a pick and roll player, working very well with Kyrie Irving and finally leading the Cleveland Cavaliers to the playoffs. The problem? They're the 8th seed. LeBron doesn't care about the boos, as the Cavs are swept away. After the series, a disappointed Len bashes James, saying that him leaving Cleveland was dishonourable and that it would never fly in the Ukraine. In response, an agitated James tells Dan Gilbert that he's not coming back to Cleveland unless Len is gone. This immediately leaks and Cleveland is unable to find a good trade for Len, as the other teams recognize the desperation of the move. Eventually, Len is sold for two second rounders to Houston, as Daryl Morey laughs manically. LeBron doesn't come to Cleveland anyway, announcing that he's keeping his talents in South Beach. Irving eventually leaves as well, disappointed with the way the front office handled his time there. Dan Gilbert, meanwhile, suffers a panic attack anytime he sees a die.
Timeline 2: Cleveland selects Nerlens Noel
Dan Gilbert sighs. Another year of tanking, as Noel's ACL isn't ready for play, at all. The Cavs have an extremely mediocre season, ending up with the 10th spot in the lottery... Lo and behold, they win it, and follow it up by drafting Andrew Wiggins. LeBron James signs with them in the offseason, and the 2014-15 Cavs obliterate the league on the way to their first franchise championship. The happy riot after the win is so huge, however, that the city is utterly destroyed, forcing the Cavs to relocate to Seattle.
Cleveland never gets another NBA team.
Timeline 3: Cleveland selects Victor Oladipo
Dan Gilbert sighs. They didn't need a wing, but once again, Dan Gilbert is hardly one to go against fate. Oladipo is apparently either the next Tony Allen or the next Dwyane Wade. Whatever the case, on twitter, a war between Conrad Kaczmarek and Matt Moore erupts over whether Oladipo should play over Dion Waiters, continuing throughout the season, dividing all of basketball twitter. As they play alongside each other. Cleveland barely makes the playoffs and gets ousted by Miami. LeBron James signs with Cleveland, intensifying the twitter war over who the wings should be. Nobody even notices that Mike Brown played all three along each other, with LeBron at the 4. The war eventually destroys "basketball twitter" as Cleveland wins the title. Since all Cavs fans were too consumed with fighting each other, there is no riot, only an empty arena. Adam Silver is still booed by the empty seats, though.
Timeline 4: Cleveland selects Ben McLemore
Very similar to the Victor Oladipo timeline, but McLemore is immediately recognized as an excellent complement to Irving and Waiters. He puts up one of the best rookie three point shooting seasons ever, cementing his reputation as the next Ray Allen. This time, though, due to a butterfly effect LeBron James decides not to sign with Cleveland after ousting them from the playoffs, staying in Miami. This leads the Kyrie Irving Cavaliers to a rehash of the early 90s, as the hyper-talented Mark Price Cavaliers were constantly ousted by Jordan at various stages of his power. These Cavaliers are ousted by Miami at various stages of LeBron's power for several years, eventually leading to a disappointed Kyrie Irving's sad departure.
Timeline 5: Cleveland selects Rudy Gobert
Rudy Gobert? What? For reasons passing understanding, Nick Gilbert wrote the super-tall Frenchman's name down on his sheet. Dan Gilbert panics, trying desperately to act against fate, but even as he tries to write down "Alex Len" on the card submitted to the league office the ink smudges and Gobert's name still appears. After a rant for the ages, Conrad Kaczmarek quits twitter and becomes a Boston College blogger full-time. Cleveland has a nightmarish season, with Gobert quickly becoming the all-time laughing stock of the league's rogues gallery of failed #1 picks. Shades of Kwame Brown, perhaps. Even though they're in line for another first overall pick, fate doesn't respond kindly to Dan Gilbert's attempts to cheat it. Cleveland ends up at #4, the lowest possible draft position, and Chris Grant gets a bit too cute and drafts Przemek Karnowski. The reason? Unfathomable, even to him. Karnowski busts similarly to Gobert. Kyrie Irving demands a trade in a furious angry rage, and the team's beleaguered owner inexplicably decides to grant his request. Gilbert trades Irving to Houston for Daryl Morey's loose change, and moments later, sells the Cavaliers to Chris Hansen. And we all know how that ends. Hansen moves them to Seattle immediately. Cleveland gets an expansion team to soothe their pain, but it never wins a championship, the city's dreams shattered by close calls year by year. Dan Gilbert, meanwhile, ends up in a mental institution for the rest of his life, haunted by even the passing mention of dice.
Timeline 6: Cleveland selects Otto Porter
Otto Porter turns out to be a perfect pick for Cleveland, getting them to the 4th seed in their first year. After a second round upset of Miami, the Cavs cruise to the Finals, where they're beaten in seven games by a strong Thunder side. LeBron doesn't want to join the side that beat him, leading to a back-and-forth Eastern Conference Finals rivalry between the Heat and the Cavs that lasts for the better part of the decade. The East is finally interesting! Impossible? Not in this timeline! The fun ends only after LeBron retires at age 42, leaving lifetime Cavalier Kyrie Irving to rule in his prime as the sole proprietor of the East. (Along with his sidekick Otto, of course.)
Timeline... 7?
The die is stuck on it's side, as the two Gilberts and Chris Grant stare at it blankly. What does it mean? They should probably make their own choice, right? The clock runs out, and just as Stern is about to announce the Cavaliers have ceded the #1 pick to Orlando, they send their pick to the presses. It's a lock. After all the drama, the hand-wringing, and the confusion? The Cavaliers have chosen Anthony Bennett, the board-hungry Canadian straight out of Las Vegas. How does this timeline end for Cleveland, then? Of all possible worlds, is it the best? The worst? The bratwurst?
As luck would have it, that one's ours.
So I suppose we'll just have to wait and see, won't we?