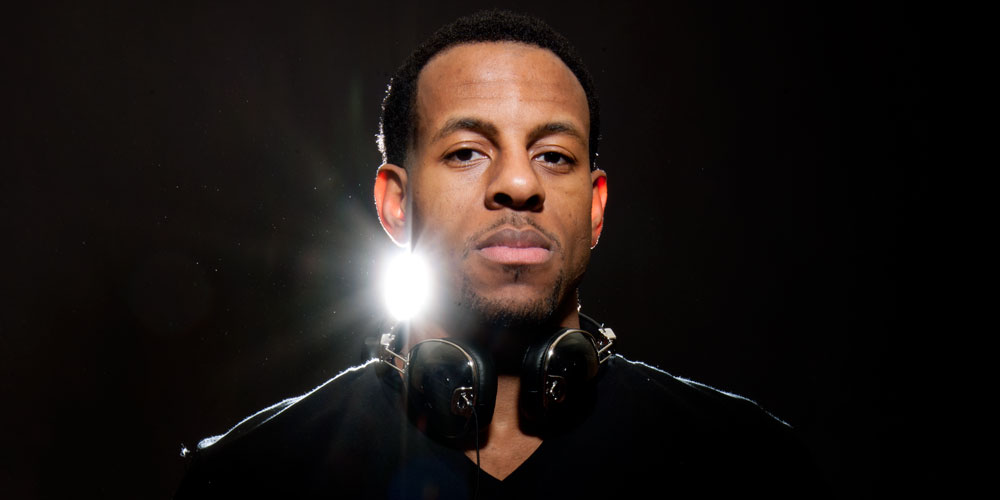 That's Free Agency for you. I wrote a short piece this past weekend for a 48 Minutes of Hell offseason compilation on the various options open to the Spurs. Unfortunately, in the process of finishing the compilation of the feature, Tiago Splitter was resigned and the whole thing became little more than an academic exercise. The main point of the piece was to examine the various options available to the Spurs in this offseason -- how some of the big targets would fit with the team, how the team could sign them, and the implications for future seasons. My assignment was to examine a curiosity of mine: Andre Iguodala as a Spur. The following is my Iguodala portion of this weekend's efforts, stored here for your enjoyment and for readers to laugh uproariously at me for thinking this had any chance of happening. (To be fair, I didn't think it was likely. It was just an exercise in spitballing options. Still, though. It's on me, to be a G.)
• • •
What should the Spurs do with Manu Ginobili? ... While I'm as big a Manu fan as anyone (see: the capsules!), there comes a time when every sporting legend fades to black. That time is now, for Manu. That said, I'm still a proponent of bringing Manu back if he'd accept a much smaller deal. He can still have occasional flings with dominance, but only on short minutes with a score of backup options. If Manu would accept $3 million a year I'd be happy to see him back. Any more and life begins to get messy, although I could be sold on anything up to $5 million without too much hand-wringing. [Ed. Note: I'm still on board with the $3-5 million mark. Hoping that he'll take the low end to allow the Spurs the room to go after one of the high-tier agents like AK47, but if the Spurs decide to resign Manu and Neal and use their full MLE, I'm also OK with Manu getting a one-year highly inflated salary to repay him for all the seasons of salary sacrifice to help San Antonio contend.]
What should the Spurs do with Tiago Splitter? ... I don't think the Finals necessarily mean the Spurs need to dump Splitter to the curb. After all, this is the man who roundly destroyed the world in San Antonio's lopsided romp through the Western Conference, despite the mid-playoff injury. Does he work against Miami? Perhaps not, but if he's effective against every other team in the league, he's still a worthy player. That all said, I do think the Spurs are going to be inevitably priced out of the Splitter chase. If Splitter could go for $8 million or less, I'd be happy with the Spurs resigning him. Anything more than $8 million, I'm wary. Anything more than $10 million, I'm adamantly opposed. [Ed. Note: Yes, I know. He got $9 million -- less than my "adamant opposition" point but more than my "happy with it" point. As such, I'm not too happy about it. That said, given the normal contracts that get handed out to above-average two-way bigs? I'm fine with it and accept it. Keep in mind, this is a league where Marcin Gortat got $7 million a year after less than a season's worth of 12 MPG play.]
The Spurs should target... Andre Iguodala. In Iguodala, the Spurs would be playing into the way Pop likes to play. Both Iguodala and Kawhi Leonard can act as excellent small-ball fours with their rebounding and defensive acumen, and Iguodala's passing could fill the post-Manu role of Parker's secondary creator nicely. While Iguodala's three point shot has been on-and-off his entire career, I have a sneaking suspicion that Chip Engelland's tutelage could rehabilitate it nicely. And for all his faults as a singular star, Iguodala would represent the best perimeter defender to suit up in a Spurs jersey since Bowen. He's a constant defensive player of the year candidate for a reason. Few defensive trios in the league are as fearsome as a theoretical Duncan/Kawhi/Iggy. Iguodala represents a nice bridge to the immediate Parker-led future, and a guaranteed trio of talent in the immediate post-Duncan years.
How does it work? ... I don't believe Andre Iguodala will attract a max contract this summer, but I imagine he'll come relatively close. As Iguodala made $15 million last season, a max deal for Iguodala will run a team $16.4 million per year. I suspect Iguodala's final deal will end up around $14 million per year, with some unlikely incentives to push up his possible numbers. Assuming the Spurs can quickly convince Manu to return at $3 million per year and allow Splitter to leave for fiscally greener pastures, they would have just $12.7 million dollars in available cap room. The Spurs could chip away at that number by renouncing Gary Neal's $1.1 million cap hold or pulling off a sign-and-trade for conditional second round draft picks to send him to an over-cap contender that needs him. (Indiana, perhaps?) They could look into possible trades for Matt Bonner, as well -- if nothing else, they could certainly amnesty him. Assuming a Bonner amnesty and Neal's departure, the Spurs would have $17.7 million dollars of cap room available to sign Iguodala. [Ed. Note: Hey, at least I was right about the $14 million, right?]
What are the immediate after-effects of an Iguodala acquisition? ... If Iguodala were to agree to a $14 million dollar starting salary, Iguodala's final deal would likely be a 4-year $60 million dollar deal. [Ed. Note: I forgot. Defenders rarely get paid.] The Spurs would end the previously proposed wheeling and dealing with $3.7 million dollars of cap room, perhaps allowing them to register a semi-competitive offer for Gerald Henderson, Chris Copeland, or Matt Barnes. Or any of the other small-tier free agents -- those are my three favorites, but I trust the Spurs front office more than I trust myself there. If the Spurs chose to use that cap room, they'd have only the "Room" Mid-Level exception available for further roster building, a two-year $2.6 million exception allotted to teams who have used cap room to sign players during their offseason. My best guess is that the Spurs would look into a few different options for the cap room and the exceptions, in the end settling with one reasonably young big or wing on a $3.7 million dollar contract and an unused MLE, counting on D-League call-ups to fill out the remaining three roster spots. Overall, the Spurs should end the spending spree nominally under the cap, in reasonably good shape to keep their books clean going forward.
How would this impact San Antonio's future cap situation? ... I said their books would be clean. I didn't say they'd be flexible. While it looks unlikely the Spurs are going to dip into the luxury tax any time soon no matter what San Antonio does this summer, it's rather unlikely the Spurs are going to have significant roster flexibility in the next 3-4 years. Whether the Spurs resign Tiago and Manu or sign a top-tier free agent, any contract they sign is likely to be a long-term deal. They won't have significant cap space in 2014 unless they sign this summer's haul to one-year deals -- the Cuban gambit. In 2015, the Spurs are nominally flush with room. In practice, though? They'll have expensive contract extensions to bring Parker, Leonard, and Green back into the fold. That keeps flexibility low. All told, those three are likely to demand something in the neighborhood of a combined $35 million dollars. Whether you sign Tiago, Manu, and a Redick-type shooter for $17 million or Iguodala and Manu for $17 million, any of this summer's signings will already put the Spurs in spitting distance of $50 million in 2015 salary commitments if you assume that they intend to bring Leonard/Green/Parker back at that juncture. And that's just a handful of players! The Spurs won't have significant cap room in 2015 unless they choose to blow up their core, and they'll be hamstrung for a few years after that -- this year's potential room represents San Antonio's best chance at a marquee free agent in the next half decade. They've handled their roster expertly, and this is their big chance to fill in a piece that will keep the Spurs humming in the post-Duncan era. I'm of the view that Iguodala is the best option of all the players out there. Does he want to be a Spur? Does the front office see things the same way? We'll see.
... And thus we saw. The Spurs did NOT see things the same way, and Iguodala isn't even getting quite as much as I thought he would. C'est la vie. I still think it'd be fun to see a Duncan/Kawhi/Iguodala/Green/Parker lineup -- defensively, that just seems amazing to me. And the smallball offensive opportunities are fun to envision. But there's value in retaining corporate knowledge if you're the Spurs. And there's value in Splitter's ability to help Duncan rest. And all this said? If they amnesty Bonner and get Manu to agree to a $3 million dollar contract, they can still have up to $8 million in cap room to pursue someone like Andrei Kirilenko or Gerald Henderson. The Spurs could still, in theory, add a major piece to the team that made the finals last year.
The eternal death-defying pretzel cart of the San Antonio Spurs hobbles onwards.
• • •
One final note -- you may have noticed a dearth of posts by me in the aftermath of the finals. This is on purpose. I'm taking a several week sabbatical to recover from an emotionally exhausting Finals gamut and -- quite frankly -- working far too hard on my hobby. I'll be back in a little over a week with some Summer League coverage, and I'll be starting a new capsule-related series later this summer. No, I'm not doing rewrites of last year's 370 capsules, but I'm doing some work on a 45-or-so part series that's almost as useful! Fun times for everyone. Until then, though, I'm going to take some time off and play Fallout 3 as Pau Gasol. No, really. I'm playing Fallout 3 as Pau Gasol. (In a related story, Fallout: Phil Vegas will return sometime next season. We have features galore, guys! FEATURES GALORE!)