Hey, everyone! We've been taking a bit of a break for the start of summer, but we're back. Our three main writers -- Aaron McGuire, Alex Dewey, and Alex Arnon -- are all slumming it in Vegas to cover the haps and antics of this year's Las Vegas Summer League action. Arnon and McGuire have been in town all weekend, putting together a cornucopia of miniature stories and notes for later digestion. This post represents our Monday thoughts... including a short piece on one of the more notable pieces of Summer League news in Ron Artest's return to the boroughs.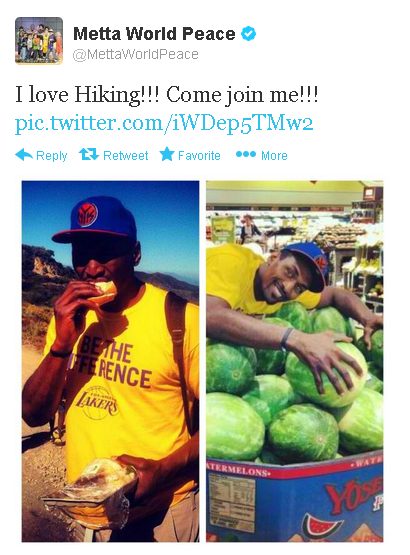 WHAT'S SO FUNNY 'BOUT M-W-PEACE, LOVE, AND UNDERSTANDING?
Very few notable roster moves happen during the Las Vegas Summer League. If you're lucky, you'll see a few players get signed. You know the type. Your Will Bynums, your Luke Waltons, your Elton Brands. A handful of players, but few serious value adds. And fewer still happen to sign with legitimate contending teams. And given this context, imagine the shock and awe at the announcement of this morning's big-time breaking news: Metta World Peace, the recently amnestied, has signed with the Knicks! Listen to those fans, readers!
"Metta World Peace!"
"MEATY WHIRLED PEAS!"
"MELTING WARBLED CHEESE!"
Suffice to say, it was a fun moment. Especially when the collected Twitterati discovered that World Peace had made his way to Vegas. Seconds after the start of the day's first game -- an incomprehensibly fast paced matchup between the Charlotte Champcats and the Toure "Cash in a Hurry" Murry Knicks -- Metta World Peace made his way out of the tunnel to jam with Clyde Frazier and give a wave and a nod to his adoring fans.
I suppose it shouldn't be much of a surprise that World Peace made his way to Vegas -- if I was an NBA player as keen to the rhythms of the ridiculous as Artest, I'd be sure to make my way to an event like Summer League too. I mean, look at it this way: in Summer League, Toure Murry is a star. MarQuez Haynes is our player of the moment. Cory Joseph is legitimately too good. It's crazy-go-Wheaties stuff, and that's the exact place that a man like Metta World Peace thrives. I mean, Christ. He changed his name to Metta World Peace. He was made for this Knicks team.
Honestly, I haven't written much lately, and because of that I've neglected to share my thoughts on this year's souped up new Knicks roster. That's a mistake. I'm really looking forward to this Knicks team, and in an effort to help guide Knicks fans off the ledge, I'll use the Peace signing as a chance to share my grandest hopes for this year's New York Knicks squad.
SIGNING ANDREA BARGNANI
Okay, look. I don't love this trade from a future perspective for the same reason I don't love Brooklyn's trade for KG and Pierce. Given New York's general age, it's hard to imagine them suddenly getting all that much better in future seasons. Those draft picks may end up being actual assets someday. And Bargnani was an amnesty candidate with shockingly low trade value. I sincerely doubt the Knicks needed to give up that much value to get Bargnani. It wasn't a great trade, and all the Twitter hemming and hawing over the wealth of assets Toronto snagged was deserved.
All that said? I feel like this makes New York a bit better next season. Bargnani isn't nearly the long range shooter his reputation suggests, and his effort last season was abjectly awful. If he puts up that same brand of disinterested fluff-ball, the Knicks are in some trouble. But I have a feeling that's not going to happen. Bargnani may not be healthy the entire season, and he's likely to be the same sort of defensive turnstile he's been his entire career on help defense. But Bargnani has always been a semi-effective isolation defender when he's locked in, and Tyson Chandler will represent the first chance Bargnani's career to play big minutes alongside one of the NBA's top helpers. Bargnani may not fit particularly well next to Carmelo, but I can't help but think he'll play decent ball alongside Chandler and prove a useful 20-25 minute a night tool.
In the short term, the Knicks gave away Steve Novak (a lesser Matt Bonner), the dessicated corpse of Marcus Camby, and a player they signed in April of last season. In return, the Knicks receive a flawed but potentially useful piece. Bargnani -- shockingly -- makes the Knicks younger and gives them a semi-coherent big man rotation. The future is the future. In the now, the Knicks have a bit more upside and a bit more clarity. Not a bad thing, no matter how much we like to make fun of the Pastalord.
BRINGING BACK J.R. SMITH & PABLO PRIGIONI
Look. I get all the mockery. We aren't talking about skinny jeans, here -- I get it. "HAHA, WOW, J.R. IS TERRIBLE." He's not great. I'm on record as not being much of a fan, especially when he has those 3 or 4 plays a game where it becomes exceedingly obvious the kind of talent he's leaving on the table. That said... what the hell choice did they have? People act as though the Knicks passed up a ton of fantastic free agency options. Hardly. The only way the Knicks were adding players to a roster as deathly capped out as they are was resigning their own guys. Smith qualifies for that.
Beyond J.R. Smith, the Knicks had about $3 million dollars to spend. Three. To put that in context, Monta Ellis is making $10 million a year. Al Jefferson is making $14 million. Even Danny Green -- widely considered a complete steal and an incredibly cheap player -- makes $4 million a year. Long story short? The Knicks couldn't afford anything. By keeping Smith, the Knicks gave themselves the opportunity to spend their $3 million pittance on a few minor roleplayers while keeping themselves from having gaping holes in their backup guard spots. I don't love either Prigs or Smith -- I think Prigs is barely an NBA caliber player and I think Smith is one of the biggest disappointments still playing -- but for the price the Knicks got, they honestly couldn't have done better.
SIGNING METTA WORLD PEACE
And finally, we have today's signing -- "MARBLED WELDED CLEESE!" ... (I'll stop with the horrible MWP jokes, someday.) Given the amount of cash the Knicks had left after signing their guys, I must unveil a terrible secret. I don't hate this signing either. As bad as Artest looked in the playoffs last season, he spent large portions of last season playing legitimate second banana to Kobe Bryant for a 45 win Lakers squad. His defense has fallen off a cliff, but he still has a handle on that fundamental aggression that made him such a brutalizing force in his prime. He can share that, I think, with New York's younger, better defenders. (Shumpert, specifically.)
I don't think World Peace has a ton left in the tank, but I don't think he's chopped liver either. He'll give them 10-15 minutes a game of semi-coherent defense and he'll drain a few shots a night. He'll work in the weight room with Shumpert and help his defensive development stumble forward. He'll be an entertaining postgame presence. He'll get to be the first Queensbridge player to retire in Madison Square Garden. Could the Knicks have gotten any better asset with $1.5 million dollars to spend? I have my doubts. Decent signing for a team with virtually no flexibility.
Thus, my final verdict -- the Knicks really didn't do that poorly this summer. Sure, they made a poor forward-looking trade that may come back to bite them. Sure, their moves are only positive in the sense that they were completely cap strapped and utterly devoid of better options. That said? In a world with no real choices, the Knicks managed to marginally improve their team and keep their hopes alive. Didn't exactly ace the Kobayashi Maru, but at least they'll go out fighting. They have a decent shot at holding the Atlantic division and they should field a competitive team. They won't win a title, but barring decimation-through-injury, they aren't going to be much worse than they were last year (if at all).
At the end of the day, they've built a hard-fought collection of the NBA's most beloved headcases that should challenge for 45-50 wins in a pastry-soft East. Sports is what you make of it. For a besieged big market franchise with few present options, the New York front office somehow managed to mold their team into a marginally more ridiculous unit. Good for the fans. Good for the franchise. Good for the writers. God bless the New York Knicks, every one.
... "METTA! WORLD! PEACE!"
-- Aaron McGuire
GOTHIC GINOBILI DOES FASHION
In this positively glamorous new feature, Gothic Ginobili editor Aaron McGuire is going to try and comment on the NBA's jersey fashions in the 2013 NBA Summer League. Let's get it, fashionistas!
~ SUMMER LEAGUE UNIFORM GLAM RANKINGS ~

1. New Orleans Pelicans.

2 through 22. Every single other team attending.

23 through 30. Every single other team not attending.

NOTE: I will also accept any ranking system that flips 23 through 30 with 2 through 22.
At this point, Dewey and Arnon dragged Aaron away from his computer and forced him to stop writing about fashion. This concludes GOTHIC GINOBILI DOES FASHION, Volume 1.