Imaginary Basketball Season (Or: The Quest For A Theoretical Title)
Posted on Mon 05 August 2013 in Uncategorized by John Hugar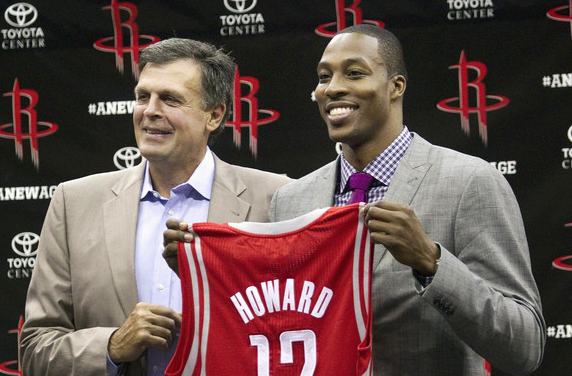 As time ran out in the NBA Finals, an intense feeling of despair washed over me. Partly because a Heat victory looked more and more inevitable, but primarily because this would be it: the last NBA game until late October. That sport I've cared way too much about would be floating away for four months. As a recent college graduate still looking for work, I had -- and still have -- absolutely no idea where my life will be the next time I watched a meaningful basketball game. A few days later, I perked up. The season was replaced by something almost as good: the offseason.
Or, as I like to call it, "Imaginary Basketball Season."
Every day for a solid month (the first two weeks being the most intense), we hear about an endless string of signings and deals in the basketball world. Then, until October, we get to fantasize endlessly about how it will actually work! Until we're burdened by the reality of whatever actually happens, we can speculate endlessly about each move. And that's fun. Is the mere presence of Andrea Bargnani going to submarine the Knicks, or does he revive his career as a valuable sixth man? What if the Jose Calderon-Monta Ellis back court in Dallas works really well? (Aren't they a perfectly complimentary pairing?)
All notions seem entirely possible. Plausible, even. And that's the thing -- Imaginary Basketball is not about realities or truths. It's about plausibility and ideas. And the quest for plausibility leads us to the greatest goal of Imaginary Basketball Season: winning an imaginary title. Basketball is easily the most hierarchical of the four major U.S. sports. Teams can win Super Bowls and Stanley Cups simply by getting hot at the right time, and any team who reaches the playoffs could potentially win the title. But there are only a select few of teams who have a real shot winning a championship in basketball. And usually, we have a pretty good idea of who those teams are, even when the season begins. Naturally, the ultimate goal of any general manager is to win a title -- but another, perhaps equally important goal? Get that team to the point where they could theoretically win a title.
• • •
What's the difference between a title and a theoretical title? Well, for one, numbers: There aren't really enough titles to go around for every quality team to win one. That's why teams like the Nash-Stoudemire-Marion Suns and the Stockton-Malone Jazz ended up empty handed. They just never had that year where everything aligned perfectly for them. At the same time, though, when those teams were at their peak, everyone knew year-in and year-out that they had a fairly good chance of winning a championship. During the Stockton-Malone era, the Jazz probably won about eight theoretical titles, even if they never won a real one. And, as such, even though losing to Michael Jordan twice in two years must be painful, the Jazz made their stamp on basketball history.
It's a worthy goal. Theoretically.
How does a team win a theoretical title? There are two ways to go about it. One is the blue collar route, what I'll call the "Pacers/Grizzlies Route." Here, a well-constructed team has sustained playoff success. Eventually, we all realize that they deserve to be taken seriously. It's a common strategy, but it seems to be drying up a bit -- as far as management goes, constructing a great roster and maintaining success for years on end is really hard, so most teams prefer the second option: signing one or two really big name guys ether through free agency or trades, and hoping they figure out how to play together. In the post-Decision world, that arms race gets more intense every year. Now we've got the definitions down and we can safely move from theory to practice.
So let's look at some examples of hypothetical teams for this offseason.
• • •
Brooklyn Nets
It's an arms race that begins in Russia... or Brooklyn, I guess. The first theoretical title of the 2013 offseason came on draft night, when the Nets acquired Pierce and KG from the Celtics for what was basically a smorgasbord of refuse (even if I do expect MarShon Brooks to have a rebound year). It was a stunning move by a team with an owner who has shown that he would do absolutely anything to win a title. Or to simply contend for one.
Is it a perfect move? Of course not; more than a few risks are in play. First and most obviously, both players are more than a half-decade removed from their primes. While neither has seen his play decline a great deal since 2009, they're both going to fall off at some point. Second, the move really only gives the Nets -- or at least this incarnation of them -- a one-or-two year window to win a title. After that, Garnett will probably retire, Pierce will likely follow, and Deron Williams and Joe Johnson would be respectively in their 11th and 15th seasons. In the long run, the trade could be problematic for them, but for now, the Nets look suddenly like one of the scariest teams in the league.
And as for our purposes: The biggest difference between this year's Nets and last year's Nets is the real potential for a title. Last year, many of us looked at the Deron Williams-Joe Johnson-Brook Lopez trio and thought "Sure, yeah, that team isn't bad. But there's no way they get past Miami." In the end, Brooklyn couldn't even get past a depleted Bulls team whose best player was Nate Robinson. We can't write the Nets off so easily this year. In spite of some clear flaws, this version of the Nets has the fringe potential to be a deadly team. All five of their starters are above league average at their position, and Jason Terry could have a rebound year, especially if playing a contender gives him a greater sense of purpose. Andrei Kirilenko signed on for cheap to win a title for Mother Russia, and he could give the Nets the best defense in the NBA. Also, Andray Blatche is still there. I don't like him either, but he's going to help.
• • •
Houston Rockets
__ __The second theoretical title of this offseason came when Dwight Howard changed his Twitter avatar to a picture of himself in a Rockets uniform. Daryl Morey's dream had finally come true; after years of finishing finishing somewhere between 7th and 10th in the West, he has a team with two superstars and a decent supporting cast that could terrorize the NBA this season. Again, this lineup isn't perfect. Dwight saw his play decline considerably last year, and while we're all assuming he's going to play better this year, and his back will be okay, that's actually far from a guarantee. Also, if Jeremy Lin hangs around, we're going to have to wonder if he's capable of running the offense for a serious contender. (Mario Chalmers' two rings suggest that this might not be a huge concern.)
In any event, the Rockets have to be taken seriously. Even if Westbrook-Durant could prove to be a better pairing than Harden-Howard, even if the Spurs' well-oiled machine could give them fits, even if the Grizzlies are an absolute matchup nightmare for them, you can't look at this team and not think they have the potential to emerge from the West this season. That's why Daryl Morey is a winner right now, even if the Rockets never actually win a title. Morey has gotten them to the point where they could. Considering that this team had spent four seasons in late lottery purgatory, that's no small feat.
• • •
Here are a few teams that haven't won theoretical titles yet, but have had (in one analysts opinion) excellent imaginary basketball seasons.
Cleveland Cavaliers: Houston illustrates a general principle in theoretical basketball: going after big-name players is a surprisingly sound strategy. Even if it doesn't always work out, the endgame of a big player commands fear and respect for the team. That's why signing Andrew Bynum was a good move for the Cavaliers, despite his injury history and the fact that he's kind of a jerk. He was the second-best center in the league as recently as May 2012, and if 'Drew stays healthy, the Kyrie-Bynum duo could wreak havoc this season. This hypothetical team was a little too shaky for me to award them a theoretical title, but they've definitely earned a spot in the Imaginary Second Round.

New Orleans Pelicans: As with the Cavs, the Pellies off-season has been criticized for reasons that are perfectly reasonable, and I find myself saying "yeah, but what if it works?" Sure, there's plenty of holes you can poke in this team. Jrue Holiday isn't anywhere as much of an upgrade over Greivis Vasquez as you might think. Eric Gordon can't stay healthy to save his life. Tyreke Evans gets less productive every year. Finally, we have no idea if these guys will be able to play together. All of these are perfectly valid points. And yet, I love the team New Orleans put together, if only because of the ceiling for these guys is extremely high. Despite every flaw I just mentioned, they are all are above-average players, and could thrive if given the right situation. More importantly, they gave Anthony Davis some real talent to work with. To understand what the Pelicans are doing, think of the LeBron-era Cavs, who never found LeBron a quality sidekick. There's no guarantee Anthony Davis will blossom into a superstar, but if he does, the Pelicans have provided with a supporting cast that won't fore him to carry the load. There's a lot of questions here, but if it goes well, you can pencil the Pellies in for a theoretical title around 2015-16 or so.

Detroit Pistons: After years of being as boring as Mom and Greg Monroe, the Pistons might actually be the most interesting team in the league right now. Much like the Cavs and Pellies, they've took some risks on quality players who other teams were afraid of, and now find themselves with a high ceiling, as well as a fairly low floor. If Brandon Jennings is the point guard while Monroe, Josh Smith, and Andre Drummond are all on the court, I have no idea how they'll space the floor. Would they send Drummond to the bench for another year so Smith can play the 4, even if Drummond has the most raw talent of anyone the team? Would that stunt Drummond's growth? These are some things the Pistons need to figure out, but their potential is through the roof. Maybe Drummond makes good on last year's promise and becomes a top 5 center. Maybe Milwaukee was just the wrong place for Jennings, and he thrives in Detroit's system. Maybe the Pistons can make up for their lack of spacing with sheer brute force - like the Grizzlies. This team could also be an epic train wreck, but the ceiling is to high to ignore. For now, I have the Pistons getting knocked out in the Imaginary First Round, with much bigger things on the horizon.
• • •
Of course, when the actual season starts, we're going to have to face stupid reality again, and look at the actual ramifications of these moves. Maybe the Nets prove to be this year's Lakers -- too old and injured to live up to the hype -- and maybe the Rockets prove to be underwhelming and get bounced by a well-coached-for-the-first-time Clippers team. Or maybe the two preseason darlings will face off in the Finals. But those are things we won't have to deal with until Actual Basketball Season starts. For now, we're free to have our heads in the clouds and talk ourselves into risky signing paying huge dividends, regardless of how flawed our logic might actually be. While part of is simply being starved for basketball (I can't accept Summer League as a sufficient replacement), part of me likes Imaginary Basketball Season better.
I can dream of Uncle Drew and Bynum working magic in the pick and roll, while ignoring likelihood that both of them miss 25 games or more. I can dream of Jrue, Tyreke, and Gordon all putting up more than 15 a game for the Pellies without burdening myself with question of how that would actually work. If I'm looking for something to watch on TV that isn't an endless string of baseball games, I'd rather have the real NBA. But if I'm looking for something to think about on a heavily caffeinated late-night run to the supermarket?
It doesn't get any better than Imaginary Basketball Season.