2013 Tiers of Intrigue: Let Loose the Bucks of War (Part I)
Posted on Tue 10 September 2013 in Uncategorized by John Hugar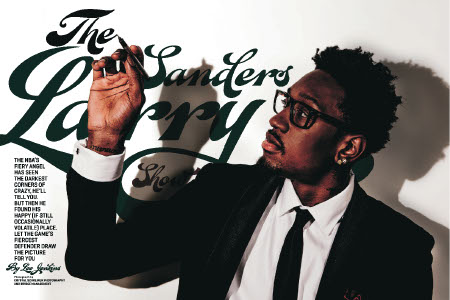 Bonjour, readers. Welcome to the first -- and perhaps only! -- edition of the Gothic Ginobili Intrigue Rankings! Why? Because regular power rankings are boring, that's why. It's a lot more fun to rank to teams by how interesting they are rather than how good they are. At least for me. What makes a team intriguing, other than my personal whims? A big part of it the distance between a team's ceiling and its floor. If I can pick a team's win total within five games without thinking too hard about it, that's not a particularly interesting team. If I can look at a team and see 30 and 50 wins as being equally possible, that's a lot more fun to think about. Relevance also matters, although less so. I try not to go strictly by ability, but if I know a team is going to be awful and it's just a matter of how awful they'll be, they will likely linger towards the bottom of the list. Above all else, this is a list about how fun a team is to think about, and whether or not I think they'll be interesting to follow in 2013-14. Now that that's set up, let's dive into the list. Rather than an ordinal 1-30 ranking, I've compiled a list of roughly ordered tiers corresponding to various levels of interest.
• • •
TIER #15: PERPETUAL MEDIOCRITY IS OUR ULTIMATE GOAL!
Milwaukee Bucks
I originally had this team a few spots higher, but when they traded for Caron Butler last week, it served as a well-timed reminder of just how mind-numbingly dull this franchise is. They replaced their starters at three positions, but I'm not sure it'll have even the slightest impact on their win total. Brandon Jennings for Brandon Knight and Monta Ellis for O.J. Mayo are both largely lateral moves, and Caron Butler's most attractive quality is his ability to be utterly average. The Bucks front office is too afraid of sinking into the abyss to give itself a chance to become serious contenders. They tread water every single year, hell-bent on boarding a train that leads nowhere. They'll win 35-40 games in the Eastern Conference for next 30 seasons. We all know this.
Atlanta Hawks
Meet the new Hawks -- same as the old Hawks. They're perpetually competent in the least interesting way possible. [ED. NOTE: Hey, Horford's pretty good! ... Okay, starting to see your point.] There was brief talk that the Hawks might get CP3, Dwight, or both. Those were the days. When that fell through, we thought the Hawks might blow it up, and try their luck in the lottery. Nothing doing. Instead, they brought back Jeff Teague and replaced Josh Smith with Paul Millsap, leaving them in effectively the exact same place they were last year. The difference? With the Cavs, Pistons and Wizards all looking to take huge leaps, it might not be enough to squeak into the playoffs anymore. This could be a good thing for the league -- I'm of the view that we could be better off if the Hawks fall into the more useless end of the lottery. Who REALLY wants to watch them lose to Indiana in six completely unwatchable games yet again?
Toronto Raptors
Had the Raptors made their big gamble -- the Rudy Gay trade -- in this fast-receding offseason, they might be a bit higher for me. But we already watched this for 10 weeks, and it's unlikely this team is going anywhere other than a first-round exit. Gay has always had more potential than actual ability, and for six and a half seasons, Grizzlies fans talked themselves into believing he was a potential superstar. When the team thrived after getting rid of him, it probably shouldn't have been all that surprising to anyone. Kyle Lowry is a similarly pedestrian star. He exhibits consistent yet brief flashes of brilliance and every team he's on starts to think he might be an All-Star. Never seems to happen. Neither of these quasi-stars can really carry a team, and the Raptors will hang around 0.500 this year. It should be their best season since Bosh left, but it still leaves them with a wispy future.
TIER #14: HOW LOW CAN THEY GO?
Philadelphia 76ers
If the only criteria for my intrigue was the carnival sideshow factor, the Sixers would be much higher. I honestly can't see a scenario where this team wins 20 games. Their point guards are Michael Carter-Williams and Tony Wroten. They're combo guards. J-Rich might not play all year. No one knows when Nerlens Noel will be back. This team has a real shot at being historically awful, which can be interesting if you're into bad horror movies where the ending is telegraphed in the first scene. [ED. NOTE: Hi, Angelo!] If they don't finish with the worst record in the NBA, Thaddeus Young deserves a Nobel Prize. In what, you ask? I have absolutely no idea. Just give him one. The only interesting thing I spy here is the possibility that they break their own franchise record for losses in an 82-game season. Woo-hoo!
Phoenix Suns
Do you think anyone bought a Caron Butler Suns jersey? In the entire world? ... someone had to, right? That guy has my deepest sympathies. This is another team that won't start contending for relevance until they get a new piece in next year's lottery, and they're the odds-on favorite to finish last in the West. For a second straight year, I remind you. The most intriguing thing about this team is how they handle the Bledsoe-Dragic situation. Does Dragic's seniority earn him the starting gig even though Bledsoe has more potential? Do they possibly both start, with Bledsoe at 2-guard? That could be fun to watch. Kinda. Either way, this is gonna be a pretty awful eason. On the plus side, those new uniforms are pretty spiffy. [ED. NOTE: That is the most generous use of the word "spiffy" I have ever read in my life. Good job, John.] I feel like the Suns had to change uniforms; their previous digs reminded everyone of the Seven Seconds Or Less era and watching Michael Beasley and P.J. Tucker wear them was just depressing.
Utah Jazz
Much like the Sixers, the Jazz have embraced the idea of sinking to the bottom. They still feel like a better team, and almost certainly a more interesting one. Trey Burke seems like a considerably more exciting rookie point guard than Michael Carter-Williams. You get the sense than Trey could light up the highlight reels while the Jazz drop 60-65 games, but there's always the possibility that he has the type of year Lillard had last year, shining incandescently as he carries the Jazz to semi-competence on his lonesome. When Jefferson and Millsap were around, we praised the backup bigs and talked how they could start for a fair amount of teams. Now, we get to see if that's actually true. Derrick Favors feels like a potential breakout player, though I'm far more apprehensive about Kanter, who's game feels a bit unpolished. Also, Gordon Hayward might be their top scoring option. What? The overall picture feels like an enjoyable, fun team that will get annihilated on a regular basis. Which isn't super intriguing to me, although you're welcome to disagree.
TIER #13: ENCOURAGINGLY BAD
Sacramento Kings
When it was decided that the Kings would stay in Sacramento, I was happy. While I have no connection to California's capital city, I appreciated their love for their perpetually disappointing team. As a lifelong Buffalo Sabres fan, I can certainly relate. That said, I despair of the missed opportunities had this team gone to Seattle. Seriously: THEY DRAFTED A GUY NAMED MCLEMORE! How perfect would that have been to christen the new Seattle Supersonics? Is there any way a McLemore and Macklemore joint ad campaign wouldn't have have been plastered all over Seattle's billboards in an alternate universe? Anyway, all jokes aside, these guys should be reasonably enjoyable even if the depth of the West prevents them from having any NBA class mobility. Greivis Vasquez gives them their first real point guard since Bibby laced his work-boots, and McLemore was a steal at No. 7 with the potential to become an All-Star. Still, I feel like DeMarcus Cousins has gone from potential franchise player to albatross. No matter how good his numbers are, no one really believes in the guy -- except Jacob Harmon, kind of. But only sorta. Some other team will offer him a deal next summer, and the Kings will probably rejoice being rid of him.
Orlando Magic
How bad do you think Jameer Nelson feels right now? Oladipo is capable of playing the 2 or the 3. But the team doesn't want to bring Afflalo or Harris off the bench. Their solution is to start Oladipo at the point, even those he's never played it before, and send poor Jameer to bench because he's just that expendable. I hope he gets traded to a contender before the deadline, though I can't imagine who'd actually want him. They should still try. It's the least they could do. This team should carries some intrigue because they have a lot of talented young folks, and there's the slight possibility that they could exceed expectations and hover around the 8-seed. Still, between Oladipo playing out of position and the team's dreadful finish last year, I see the Magic as a team that loses a lot of entertaining games. They'll starts contending again in 2014-15. Join us then.
TIER #12: FOOL ME ONCE, SHAME ON KHAN
Minnesota Timberwolves
Could the T-Wolves be good this year? Absolutely. Could they make the playoffs in a middling-low seed, and give a favorite like the Rockets or the Clippers a serious run for their money? I'd have to say it's possible. But after what happened the last two years it's getting increasingly hard to trust this team. Rubio and Love are their two most essential players, and it appears they're both made of glass. Maybe they stay healthy this year and Minnesota becomes a scary team. But I wouldn't bet on it. I've been burned too many times before to commit to that. Still, picking up Kevin Martin was the best signing that nobody's talking about. Assuming he returns to the starting lineup, he and Rubio could be a deadly pairing. Imagine the spot-ups! Their ranking boils down to trust for me. This team has a boatload of theoretical talent, but I just don't trust them.
TIER #11: THE PROBLEM IS, THEY MIGHT BE GOOD
Boston Celtics
What's fascinating about this team to me is that Rondo may very well be able to carry them an 8-seed... even though that's the last thing the front office wants. For a team that ostensibly appears to be tanking for a lottery spot, the Celtics may have to deal with the problem of not actually being that bad. For one thing, if Rondo is healthy, it's hard to see them not winning at least 30 games. And the supporting cast is nowhere near as awful as you might think. Marshon Brooks is quite undervalued at this point -- while most believe he had an off-year, his dip in numbers was primarily attributed to playing fewer minutes. His per-36 averages were actually better! I'd be surprised if Kris Humphries is that bad for a second straight year, considering he averaged a double-double in 2011-12. Even Gerald Wallace looked a little better as the season progressed. You get the feeling this team really WANTS to be terrible, but may be stuck being mediocre. [ED. NOTE: Just wanted to register my paramount disagreement with this one. The Celtics will have a gimpy Rondo for half a season, and their big man rotation is INCREDIBLY thin. Brandon Bass and Kris Humphries may very well be playing big minutes at center for the hapless bunch. Even if they get bounce-back seasons from both of them, neither of those players have ever been a regular center. There's a reason for that -- THEY AREN'T GOOD AT IT. Without even a pretense of having a man in the middle, their defense will be awful and Rondo's hardly known for inspiring offensive over-achievement. Absolutely disagree that this team comes within sniffing distance of an 8-seed. And now that I've proclaimed this in a public forum, they'll win 40 games and finish with a 9th seed. It's just how these editor's notes work. --Aaron]
Charlotte Bobcats
There are too many good teams in the East for the Bobcats to be viewed as a playoff team with any legitimate chance, but they're worthy of a second look if little else. If I had to pick one team to be this year's version of the Golden State Warriors, I'd go with the Cats. We all know Al Jefferson can't play defense, but let's keep an eye to the context: HE'S REPLACING BYRON MULLENS! Imagine if Nick Young was a center. Okay, stop imagining, I see the blood too. Why did I tell anyone to imagine that? Jesus. But that's all you needed -- now you have an idea of what playing Byron Mullens is like. This might be the biggest upgrade at any position that a team has made this offseason. Should be good for 10 more wins right there. The intrigue here comes from the possibility of their young talent coming together sooner than most would expect, and looking like a poor man's version the 2009-10 Thunder. Like the Celtics, if this team wants a prime lottery pick, they might suffer from being too good. Unlike the Celtics, they're trending upward already, so the situation would be a lot easier to deal with.
TIER #10: WORKING CLASS HEROES
Indiana Pacers & Memphis Grizzlies
Here's where the difference between "intriguing" and "good" comes into play. Both of these teams will win a ton of games this year. A Memphis/Indiana finals isn't the most likely scenario, but you'd be hard pressed to find a serious hoops-head that would pish posh the potentiality. Despite that contention wrinkle, it's hard to get particularly excited about either one unless you're a diehard fan. They both play slow, ugly, defensive-grit basketball that wins games instead of hearts. Neither team made any particularly drastic roster changes in the off-season, either -- that keeps the intrigue lower than it perhaps could've been. That said, each of them got a tiny bit better with the moves they did make. Luis Scola is a considerable upgrade over Tyler Hansbrough. Yes, he struggled in Phoenix last year, but he was playing for one of the least inspiring teams of all-time. Being part of a contender should provide him with some motivation. Meanwhile, Memphis flipping Darrell Arthur for Kosta Koufos was a fantastic move. Not only did it solve their problem of having three power forwards and one center, there's a decent case to be made that Grizzlies now have the best center in the league and the best backup center as well. This should free up some playing time for Ed Davis, whose talents were largely wasted in his first half-season with Memphis. They also signed Mike Miller, who will do virtually nothing in the regular season but provide a requisite payoff in the playoffs. Neither of the teams made huge, attention-grabbing moves. Still got better. Just... not more interesting, really.
TIER #9: I JUST DON'T TRUST THESE GUYS WHATSOEVER OKAY
Denver Nuggets
Everything that happened to the Nuggets this off-season leads me to believe they're going to take an enormous step backward. They fired George Karl, and they were unable to keep Iguodala. Both seemed like admissions of defeat, as though this team decided that after losing to the Warriors in the first round there was no way their current core was going to achieve anything significant. Better to just blow it up before wasting any more time, right? And yet... when I look at this team, I can't completely write them off. They could 55 games again for all I know. Or, they could win 35, and the sink to the lower depths of the Western Conference. So, really... why not have them higher than this? Because teams who are trending upward strike me as more intriguing than teams who are trending downward. One last thing: can someone can explain the Nate Robinson signing to me? Please? They already have two point guards! When that happened, I froze up for hours in frozen wonderment -- had I missed Andre Miller's retirement? Was I that out of touch? I quickly realized that was completely impossible. Every NBA writer in the world adores Andre Miller, and his retirement would have sparked about 500 tribute pieces. I have legitimately no idea how this team is going to use Nate, and that alone makes them reasonably interesting.
Los Angeles Lakers
In every sport there are certain teams who win so often that even when they're going through a rough patch they still inspire fear. Even though everyone expects the Steelers to be mediocre this year, I still get nervous when I see them on the schedule. That's how the Lakers are. I know they're supposed to be awful, but I just don't trust them. It seems like too much went wrong last year, and we're basing our expectations on what may have been an anomaly. If Kobe's gone for a huge chunk of the year, they'll be terrible, mostly because Nick Young will be their starting 2-guard. But if the Mamba shows up on opening night, this team is at least a little bit frightening. Really, 95% of the intrigue here comes from figuring out what Kobe is going to do, while other 5% is for the question of whether Cryptkeeper Nash starts getting assists again, or if he's decided that he's better off just letting Kobe handle everything.
Dallas Mavericks
When mulling over the Mavs, it's easy to think about the disappointments. They didn't get Dwight, Deron Williams, or CP3. It's easy to think of them as losers. But this team had a surprisingly decent off-season anyway! The Calderon signing represents a huge upgrade at point guard. Calderon will never be a superstar, so it's easy to forget that he's an excellent shooter and a fantastic passer. Also, THIS TEAM STARTED MIKE JAMES LAST YEAR! ON NATIONAL TELEVISION! WITH EVERYONE WATCHING! Replacing Mayo with Monta feels like a lateral move, but Monta is a little bit more exciting, and Dirk's excited to see him. Here, he gets to work with a pass-first point guard, and the presence of Dirk as the main scoring option will take a lot of the pressure off him. This team is intriguing because virtually no one thinks they can do anything more than challenge for the 8-seed. But... if their off-season moves pan out, their ceiling might be __considerably __higher. Also, Dirk was really amazing at the end of last season. Really freaking phenomenal. Like, the return of 2006-07 Dirk. It may have been an anomaly, but if Dirk returns to his prime form for a twilight candle-flash year, this team becomes a huge sleeper. If I had to pick one under-the-radar team in the West to surprise everybody and make the second round, I'd probably take the Mavs.
Portland Trail Blazers
Last year, the Blazers achieved one of the most unique accomplishments a team can pull in the NBA: they won 33 games despite literally not having a bench. How this team was so competitive despite having only five players that could actually play NBA basketball boggles the mind. Their core five were good, mind you, but seriously! They only had five players! How did they win so many?! Anyway, a ton of people are high on the Blazers this year, but I have my doubts. The possibility that Damian Lillard has already reached the peak of his powers looms large, LaMarcus Aldridge is constantly brought up in trade rumors, and it just seems like this team has a lot more cracks than anyone wants admit. Their intrigue comes from the possibility that Lillard hasn't hit his ceiling yet, that C.J. McCollum will be a great contributor right away, and that LaMarcus Aldridge will have a bit of a bounce-back after a slightly disappointing last year. And I'm not really positive about any of those things. But hey. At least J.J. Hickson won't be their center anymore, right?
• • •
The next part of this series comes tomorrow. Join us as we finish the list off and run down the most interesting 13 teams in the league. If you'd like to register profound disagreement with the opinions expressed herein, there's a comment section below. On the other hand, if you'd like to register BROFOUND disagreement with the opinions expressed herein... there's a comment section below, brah.