Their Last Rodeo: A Farewell to the Journeymen (Part I)
Posted on Thu 17 October 2013 in Features by Aaron McGuire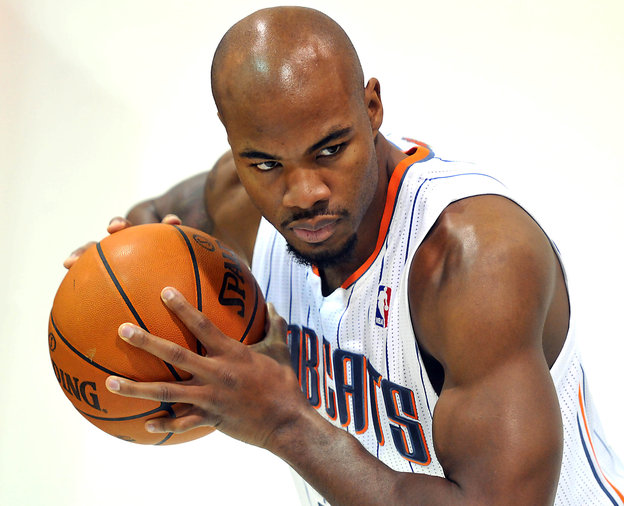 Corey Maggette retired earlier this week. Supposedly, anyway -- he'd said that if the Spurs didn't sign him he'd be on the outs, and sure enough, the Spurs didn't sign him. This should probably be a departure that tugs a heartstring or two: old man Maggette has been a mainstay of the league for 14 years now. Don't count me among those with heartstrings atwtitter, because Maggette's ridiculous tenure scarcely feels real. Seriously -- he was around for 14 years? It feels simultaneously longer and shorter. Shorter because it doesn't feel like he's got the cachet of a 14 year veteran, longer because... well, have you ever watched him play? Part of it's his playing style, which eschews the aesthetically pleasing for a questionably entertaining mix of "wild drives with no intention of making a basket" and "poorly-timed long twos." Another part is the lack of mystery that surrounds him. After all -- he's Corey Maggette. He went to Duke, he stat-padded on a scad of excruciating lottery teams, and his greatest career accomplishment was being a 1998 McDonald's All American. He's Bad Porn.
I don't want to belabor the point about Maggette's retirement. In last year's capsules, I clearly stated my distaste for his game and nobody really wants to hear someone rail on about a retired player he didn't particularly like. But Maggette's departure has me thinking about the mortality of the NBA's journeymen in a general sense. Check out this list of NBA players whose careers most likely met their end last season: Kurt Thomas, Chris Duhon, James White, Troy Murphy, Eddy Curry, Josh Howard, Hakim Warrick, Darko Milicic, and Samardo Samuels. These players have been mainstays of the league for years -- in some cases, they were legitimately useful players a few seasons prior. But none of the listed players are currently on an NBA roster, and in the case of some, have been rebuffed at all turns in their attempts to get back up to the big leagues (see: Samardo Samuels in summer league, which was strangely compelling and hilarious all at once).
Fans don't tend to notice when such players vanish because they play their last game around the end of the season -- that is, when everyone is focused on the playoffs and the quest for an NBA title rather than the slow attrition of the league's middle class. But they DO leave, and given that we're currently in the waning moments of a slow offseason, it seems like as good a time as any to look back on the players that the NBA has left behind and start to ruminate on who will join that list this year. This will be a several part post, because a ton of players retired and/or left the league by force last season. This list is not necessarily all-inclusive -- I've left off a few players who are not currently on rosters but may yet make it back, and I've included a few players who are certainly trying to make it back but whose comebacks I deem unlikely. But it should cover a good swath of the league's newest retirees, whether they left on their own accord or through attrition of their reasonable options.
• • •
JASON KIDD (2043 MP, PER of 13.5, 48 starts) -- 40 YEARS OLD
WHERE IS HE NOW? Head coach of the Brooklyn Nets.
CAREER HIGH POINT: Led the Nets to two consecutive NBA finals and making Richard Jefferson into a legitimate basketball player that was considered a near-max player for several inexplicable seasons. Has a reasonably solid case for his generation's best point guard. Easy hall-of-fame player.
WHY HANG IT UP? ... dude, Jason Kidd is 40 years old. The fact that he played this well this long is somewhat impressive in and of itself, but it's perfectly reasonable that the man didn't want to be the league's reigning 41 year old fogie. Also, the head coaching job keeps him in the NBA's general milieu, so he isn't even missing up on cribbage with his old teammates. (Does Jason Kidd play cribbage? It seems unlikely, but it's such a hilarious image I can't help but think about it.)
LIKELIHOOD HE STAYS OUT: I rarely dabble in certainties, but I'll say 100%. I just can't see him coming back. At all.
IF HE'S GONE, WHAT WAS HIS FINAL GAME? New York's final game, a 7-point loss at Indiana to end their season. Kidd had a rather ignomious line by his standards -- just one assist and one steal in six pedestrian minutes. At least he didn't miss a shot, right?
• • •
_KURT THOMAS (392 MP, PER of 13.3, 17 starts) -- _40 YEARS OLD
WHERE IS HE NOW? Finishing up rehab on a tricky broken foot he suffered last season.
CAREER HIGH POINT: Strangely enough, it was probably last season. Thomas has never exactly been a player that lights the league on fire, although he's always been a decent and serviceable big man. His greatest accomplishment over the course of his career is probably his laughably absurd longevity for a big man. Ergo, his high point is his age at retirement, which is only something obvious at his final season. Sort of a strange high point, but that's Kurt Thomas for you.
WHY HANG IT UP? Love is love, and old is old. Thomas was never exactly a high-flying trapeze aficionado, but his age has sapped him of a lot of what made him valuable. His rebounding has fallen off a cliff these last few years, and his relative efficiency from the floor (second highest true shooting percentage of his career) is undermined by his complete inability to draw fouls at this stage of his career. He isn't particularly useful at this point, and exists mostly as a stopgap once-in-a-while big man to rest your main guys. Given how much the NBA's big-man game ravages your knees, it doesn't really make sense to overstay your welcome if you aren't really doing much on the court regardless.
LIKELIHOOD HE STAYS OUT: 75%. High, but with a non-negligible chance of a comeback if his knee is feeling good and a contender gets a key injury among their backups. Mr. Thomas -- like most NBA players -- would like the league to express its love for him by putting a ring on it.
IF HE'S GONE, WHAT WAS HIS FINAL GAME? A late season 7-point Knicks win at Utah. This win set off New York's last big winning streak, turning around their season and allowing them to put some distance between them and the Pacers. Thomas had 6 points, 3 rebounds, 2 assists, and 2 blocks. He played much of the game with a broken foot. Whattaguy.
• • •
_CHRIS DUHON (820 MP, PER of 8.0, 9 starts) -- _30 YEARS OLD
WHERE IS HE NOW? The hospital, because an Orlando Magic fan ran him over with their car after having an argument with him and realizing he was Chris Duhon. No, that sentence was NOT a drill.
CAREER HIGH POINT: He was an AP All-American his last season at Duke, which means (for the uninitiated) that he was one of the best college players in the country. This did not translate particularly well to his NBA career, but he'll always have the college accolade. As well as the 2001 NCAA title. Also, he was Louisiana's Mr. Basketball early in his college career. Lots of high points. His NBA high point was being a part of one of the best dancing GIFs ever.
WHY HANG IT UP? Because he's degenerated to the point where people are running him over with a car when they realize he's Chris Duhon. End of story. ... No, okay, real answer. Duhon has never been a particularly stunning NBA guard, but these last few years have been something of a horror show for every team that's had the displeasure of playing him. He hasn't cracked 40% from the field, he doesn't draw free throws, and his assist rate has fallen off a cliff. Early in his career his passing ability was how he made his bread. That's gone, and all that's left is a player of questionable defensive utility with no present offensive utility and a turnover rate that defies reason for a player as out-of-the-offense as he tends to be. In short: sometimes players hang it up because they can't really crack it any more. That's Duhon's case, at the moment.
LIKELIHOOD HE STAYS OUT: 85%. Another high-likelihood retiree who may yet return if the stars align. Granted, those stars are a bit less likely than Kurt Thomas -- despite Duhon's lesser age, he's a markedly worse player in comparison to his contemporaries and he lacks the clout to command a paycheck on his name alone. Still, if he impresses in a workout with a bad GM, it's not out of the question.
IF HE'S GONE, WHAT WAS HIS FINAL GAME? The Lakers' last game of the season, where San Antonio swept them in a 21 point laugher. Duhon played almost 43 minutes. He had 11 points and 7 assists on 10 shots. Four turnovers, too. Arguably his best game of the season, which is... kind of disturbing, actually.
• • •
_RASHEED WALLACE (296 MP, PER of 16.7, 0 starts) -- _38 YEARS OLD
WHERE IS HE NOW? Coaching assistant for the Detroit Pistons, which is perfect given the mercurial big-man talent that Dumars has amassed for him to mold.
CAREER HIGH POINT: Many people would gravitate towards Rasheed's ridiculous quality of play on the Jailblazers or his incredible versatility on the dynastic Pistons. Me? I'd go with his technical fouls record. At the end of the day, it's a rare few players that have set a record that has an air of never-to-be-broken permanence to it. And Rasheed managed to do it.
WHY HANG IT UP? Well, just look at last season. He was patently decent when he saw the floor, but he could only manage 21 games out of his wizened body and wasn't really much of a factor. A Rasheed Wallace that isn't a factor is just sorta weird. So, yeah -- perhaps it really is time to hang it up.
LIKELIHOOD HE STAYS OUT: 65%. Less likely than any of the guys above, but still reasonably likely. Extra variance on this prediction because, well -- it's Rasheed Wallace, guys. YOU try predicting what Rasheed Wallace is gonna do as a general rule, about anything. See where that gets you.
IF HE'S GONE, WHAT WAS HIS FINAL GAME? An 11 point Knicks loss to Charlotte. He made one shot and missed two threes in his three minutes on the court. Classic 'Sheed.
• • •
_JAMES WHITE (435 MP, PER of 9.1, 16 starts) -- _30 YEARS OLD
WHERE IS HE NOW? Absolutely no idea. Google search and asking around didn't get me anything on this one. I assume he's trying to get back into the NBA, but I honestly couldn't tell you.
CAREER HIGH POINT: Getting a legitimate NBA chance at all. From his college graduation in 2006 to the beginning of the 2013 NBA season, White played 10 NBA games. Not 100 -- TEN. Last season, White was granted 57 games and 435 minutes of playing time, dwarfing everything he'd got before in terms of an NBA opportunity. Granted, he didn't do a whole lot with it, and even the dunk contest didn't turn out quite as planned. But getting that shot is pretty thrilling.
WHY HANG IT UP? James White is an NBA player whose dunks are his first, second, and third skill. He's entering his thirties, when dunking ability begins to degrade and athleticism starts to wane. Might be time to pick up a second career.
LIKELIHOOD HE STAYS OUT: 70%, if only because the only real reason the Knicks picked him up seemed to be the dunk contest angle and he washed out so poorly as to make sure nobody ever does that again. Teams have seen enough of White -- pretty sure he's not in anyone's long term plan.
IF HE'S GONE, WHAT WAS HIS FINAL GAME? White played 5 minutes in New York's 26-point victory in game 2 against the Indiana Pacers. He made a two-foot two point basket and did little else. Doesn't look like it was a dunk, which is kind of disappointing. Alas. So was he.
• • •
_STEPHEN JACKSON (1075 MP, PER of 8.0, 6 starts) -- _34 YEARS OLD
WHERE IS HE NOW? Hustlin' and grindin' before the other'n be findin' him. (Sorry.)
CAREER HIGH POINT: Winning an NBA title with the San Antonio Spurs in 2003, later returning to play a reasonably large role on the 2012 "Euroball Revisited" Spurs and post an unexpectedly meaningful contribution. Alternatively: he actually merited a few vote in the MVP race in 2010. Yes, as a Bobcat. I love you, Stephen Jackson.
WHY HANG IT UP? When you've effectively burned bridges with every organization in the NBA that was willing to work with you to try and put you in a position to succeed, it's kind of hard to get back in the game. He obviously wants to, but it feels like San Antonio might've been the last team willing to handle his idiosyncrasies, and that bridge is thoroughly crisped.
LIKELIHOOD HE STAYS OUT: 75%. Hard to see it, but I suppose it's possible he wows a contender in workouts and has a 10-20 game end of season stint with a contender that needs a defender. Makes me a bit sad, since he's one of my favorites, but c'est la vie.
IF HE'S GONE, WHAT WAS HIS FINAL GAME? A 2-point Spurs win in Atlanta. He scored 9 points in 18 minutes and had a handful of assists, rebounds, and steals besides. Didn't get too many of the headlines, given that Tim Duncan had a line of 31-14-3 in 32 minutes. Tim Duncan is 37 years old. Tim Duncan is a baffling, beautiful, babbling brook. And I wouldn't have it any other way.
• • •
TROY MURPHY (256 MP, PER of 9.1, 1 start) -- 32 YEARS OLD
WHERE IS HE NOW? Much like James White, I have legitimately no idea. Google didn't help and nobody seems to know. I'd assume he's trying to get a job, but he isn't showing up anywhere that I can find.
CAREER HIGH POINT: While Murphy never made an all-star team, he was legitimately close in 2009 and 2005. He averaged 15-11 in 2005 and 14-12 in 2009, combining a ridiculous (and hilarious to watch) nose for the boards with a more-than-respectable three point shot (he shot 45% on five threes a night in 2009, which is insane), excellent free throw shooting (especially for a big), and a moderately passable midrange game. Granted, his defense was always an absolute horror show, which kept him from an all-star game and will relegate his career to a dusty footlocker going forward. But he was certainly a talented offensive player at his peak.
WHY HANG IT UP? Notice I said "at his peak." Murphy has been essentially unplayable for three years now -- he went from a nearly all-star caliber 2010 season to playing like hot garbage in New Jersey's awful 2011 campaign. Despite shooting 40% of his shots from three point range in those three seasons, he's shot a relatively abysmal 32% on those shots -- compound that with his free throw rate falling off a cliff and his significantly worsened rebounding and you have a player whose offense no longer compensates in any way, shape, or form for his laughable defense.
LIKELIHOOD HE STAYS OUT: 80%. Murphy was hard enough to play when his offense was near all-star caliber. How can teams keep giving him a shot when his three has left him and his rebounding faded?
IF HE'S GONE, WHAT WAS HIS LAST GAME? A 23-point loss to Chicago early in the 2013 season. The Mavericks were missing Dirk, so the result made sense. Murphy made two of three shots, including a perfect one-for-one from three. He had two rebounds and two blocks. The blocks should be frozen in amber and saved for future generations -- we finally have real proof that miracles do happen.
• • •
More tomorrow. Or next week, if work continues to bury me. Good to be back. The season begins in 13 days.