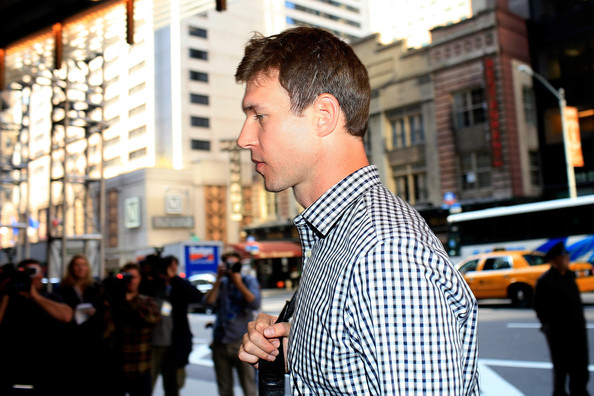 Hey, all! Last week, I wrote a piece lamenting the loss of one of the league's limited lights in Corey Maggette. He retired, causing me to go back into the tape and figure out which of the NBA's journeymen had departed -- or likely departed -- the league at some point during the 2013 season. It was a lot of fun. And thanks to the beneficence of my beautiful, go-getting, blisteringly attractive editor [ED. NOTE: Thanks, me!], I've got a good opportunity here to finish it off. Or try to, anyway. There were a LOT of probable retirements last year! Which, frankly, makes sense -- the league has a churn of 40-50 rookies a year that stick around for their rookie contracts. Unless the league also loses 40-50 veterans alongside those rooks, the league would constantly be expanding. Unlike the federal debt, that's not a sustainable sports-league practice.
As I noted last time -- fans don't tend to notice when the league's journeymen vanish because they play their last game around the end of the season, when everyone is focused on the playoffs and the quest for an NBA title rather than the slow attrition of the league's middle class. But they DO leave, and given that we're currently in the waning moments of a slow offseason, it seems like as good a time as any to look back on the players that the NBA has left behind and start to ruminate on who will join that list this year. This is a several part post, because a ton of players retired and/or left the league by force last season. This list is not necessarily all-inclusive -- I've left off a few players who are not currently on rosters but may yet make it back, and I've included a few players who are certainly trying to make it back but whose comebacks I deem unlikely. But it should cover a good swath of the league's newest retirees, whether they left on their own accord or through attrition of their reasonable options.
• • •
JOSH CHILDRESS (100 MP, PER of 7.0, 0 starts) -- 29 YEARS OLD
WHERE IS HE NOW? Currently, Josh Childress is on Washington's training camp squad. He's played 19 minutes (total!) in Washington's 6 preseason games. Chances are pretty low he makes the squad.
CAREER HIGH POINT: In 2008, Josh Childress had the 6th best field goal percentage in the NBA. He shot 57% from the floor, 36% from three, and 81% from the line. Although his defense was a flaming tire fire even back then, it was hard to imagine that he'd go on a downward spiral. Alas -- after getting zero contract offers he liked, Childress went overseas for more money. A lot more. Atlanta was offering him a 5-year $33 million deal -- Olympiakos offered him a 3-year contract that was scribed to give him $20 in net-income-after-taxes. That's equivalent to a $32.5 million NBA contract, and he was getting that in three years along with a signature shoe contract with Nike. Pretty easy decision, although his game proceeded to fall off a cliff and effectively end his days as a useful player.
WHY HANG IT UP? Childress has played in 38 games over the last two seasons combined. He's been unfathomably awful, buried in Phoenix behind rookies and refuse before being buried in Brooklyn behind Jerry Stackhouse, Keith Bogans, and Marshon Brooks. His shot is effectively gone and he's been besieged by injuries that have aggravated his already shaky defense. He clearly thinks he can still play, and perhaps he can. But there's scant evidence to support that conclusion.
LIKELIHOOD HE STAYS OUT: 65%. I mean, he's in training camp -- half the battle of getting back is simply staying active and searching. But he's played so poorly since coming back from overseas that it's hard to really get excited about him, and given the NBA's general migration towards three-point heavy offenses, a pure slasher with no defensive ability and no three point shot of note doesn't tickle too many fancies.
IF HE'S GONE, WHAT WAS HIS FINAL GAME? A late December contest where the Nets beat the Bobcats by 16. He missed a shot and had no other statistical contributions in his two minutes on the court. Hilariously, the Nets were -7 with him on the floor, which means that they outscored the Bobcats by 23 points with Childress out of the game. Whoops.
• • •
HAMED HADDADI (322 MP, PER of 10.2, 0 starts) -- 28 YEARS OLD
WHERE IS HE NOW? Haddadi recently signed with the Sichuan Whales, taking a $1.3 million dollar contract in favor of trying to stick in training camps on minimum contracts.
CAREER HIGH POINT: Every single time he logged onto Twitter. Seriously. As I mentioned in his player capsule, Hamed Haddadi seems like a hilariously nice guy, and his twitter was always a worthy follow. He really engaged with fans and brightened people's days. Too much fun, man. Too much fun.
WHY HANG IT UP? I doubt Haddadi is going to hang it up on basketball as a whole, but I get the feeling he may never return to the NBA. Haddadi's constant problem in the NBA isn't one of skill but of conditioning -- with the exception of some injury-related malaise last season, Haddadi has always been a reasonably decent backup-or-third-string big. The problem is that the demands of the NBA's insanely long schedule requires far more minutes than his body is willing to give him. Haddadi tends to be significantly improved in foreign competition, where the athleticism gap isn't quite as jarring and the minutes demands are quite a bit less. Especially in a place like China, where foreign players are minutes-limited by league dictate.
LIKELIHOOD HE STAYS OUT: 50%. Keep in mind this isn't a likelihood that he stays out of basketball as a whole -- I'd venture Haddadi has at least 3 or 4 years of overseas play (either Euroleague or CBA) left in him. But coming back to the NBA? Could be a tough sell, unless he absolutely obliterates all comers overseas and has a substantially impressive workout in the future.
IF HE'S GONE, WHAT WAS HIS FINAL GAME? In a 20-point loss to the Denver Nuggets, Haddadi managed to put up an impressive 20 minutes of play. Haddadi posted 14 points and 7 rebounds on 11 shots, with two blocks and an assist besides. Pretty great last game, all things considered, if that's how his career shakes out.
• • •
MATT CARROLL (6 MP, PER of 2.9, 0 starts) -- 32 YEARS OLD
WHERE IS HE NOW? Carroll officially retired this offseason. He's currently in the mix to become a shooting coach with the Philadelphia 76ers.
CAREER HIGH POINT: Being a part of the most hilarious trade in league history -- the 2009 classic where the Bobcats traded Ryan Hollins and Matt Carroll for DeSagana Diop. ... Okay, no, his ACTUAL high point was the 2008 season. He shot 43-44-90, played 26 minutes per game, and earned a decent contract extension from the Bobcats. He'd never average that many minutes per game again -- or match any of those shooting percentages over full seasons -- but that was the moment when his career looked rosiest.
WHY HANG IT UP? He played six minutes last season. Total. He made $3.5 million dollars last season. Total. Ergo, he made $583,000 per minute played last year before taxes. Gonna be honest -- on a per-minute rate, there's really nowhere to go but down from that one.
LIKELIHOOD HE STAYS OUT: 95%. Again, I hate certainty, but this one seems pretty cut and dry. He's on the wrong side of 30, he's OFFICIALLY announced retirement, and he's in the mix for a coaching job.
IF HE'S GONE, WHAT WAS HIS FINAL GAME? The game I keep referring to -- he played six minutes in a 27-point loss to the Dallas Mavericks. He accumulated no stats except for a single assist. Although his +/- in the game was -2, due to his lack of missed shots and his assist, his ORTG and DRTG for the game are a hilarious 217 and 121, respectively. Why is this superstar retiring?!
• • •
JOSH HOWARD (207 MP, PER of 9.5, 4 starts) -- 32 YEARS OLD
WHERE IS HE NOW? Currently, Howard is trying desperately to convince teams he's good for another season. He had workouts with San Antonio and Houston in mid-September, but neither team picked him up for training camp.
CAREER HIGH POINT: In the 2007 season, Josh Howard had the performance of a lifetime in an early-season game against the Jazz. Seriously, it was a crazy game. Look at his box score. The swingman put up 47 points on just 19 shots, and snagged 10 rebounds to sweeten the pot. Added 2 assists and a block besides. Ridiculous game, and the Mavs needed it to dispatch the would-be Western Conference Finalist Utah Jazz. Howard ended up with an all-star appearance that season, but that singular game is stellar enough to stand as a high point on its lonesome.
WHY HANG IT UP? Howard hasn't had a remotely healthy season since 2008 -- five seasons ago, if you're counting. Call it injuries, call it bad luck, call it whatever the hell you want. He hasn't been good. His defense -- once one of his calling cards -- has been waning with his balky knees. With his offense in the toilet besides, it's really hard to find a spot for him on any NBA team.
LIKELIHOOD HE STAYS OUT: 55%. He hasn't officially retired, and he's trying to convince teams that his reconstructive ACL surgery he went through this offseason wasn't a career-ending death knell. He might succeed -- after all, he's a former all-star! Who wouldn't want that?! (Answer: GMs who look at current performance over former glory. But that isn't every GM, so he certainly has a chance to make it back.)
IF HE'S GONE, WHAT WAS HIS FINAL GAME? Howard played a few minutes in an early-season Minnesota win over the New Orleans Hornets. He made one of his two shots, one of two free throws, and had two rebounds. Impact!
• • •
_BRANDON ROY (122 MP, PER of 8.3, 5 starts) -- _29 YEARS OLD
WHERE IS HE NOW? /sobs
CAREER HIGH POINT: /sobbing harder
WHY HANG IT UP? WHY DOES GOD HATE BEAUTIFUL THINGS?
LIKELIHOOD HE STAYS OUT: /takes long drag on a cigarette, sobs
IF HE'S GONE, WHAT WAS HIS FINAL GAME? /throws back shots of tequila in between sobs
• • •
_HAKIM WARRICK (489 MP, PER of 11.5, 14 starts) -- _31 YEARS OLD
WHERE IS HE NOW? Dead, like all good th -- oh, sorry, the Brandon Roy look-back is over. I can stop being like that. Hakim Warrick is not dead. I don't know where he is, as he hasn't shown up at any team's training camps and hasn't been rumored to be jockeying for a position with any either. He also hasn't shown up overseas. He made $21 million over his NBA career, which generally indicates a player that's going to fight tooth and nail to stay in the league, but there's no buzz to speak of.
CAREER HIGH POINT: His sophomore season, where Warrick averaged 13-5 (which was 17-7 per 36). His defense sucked -- a lot -- but like most freshmen and sophomores, it was considered something that Warrick could work on as time went on. Not so, as it turned out -- he'd never get better on that end and it would end up eradicating his usefulness as a player.
WHY HANG IT UP? Well, as I said before -- Warrick is a godawful defensive player, one of the league's true innovators in new ways to completely ignore defensive assignments. His athleticism on offense was neat, and he's a passable at-rim finisher if a good point guard sets him up. But his complete inability to do anything useful on the defensive end is a huge detriment for a big man, and his offensive talent is waning with age. Combine that with a rebounding deficiency and you've got a formula for a player that really isn't very valuable anymore.
LIKELIHOOD HE STAYS OUT: 65%. He's only 31, which isn't THAT old for an NBA player. That said, he's fallen far since his "Amare Replacement" signing in Phoenix a few years back. And the complete lack of buzz around him leads me to believe he might not be trying all that hard to get back in the game. If you aren't trying, you aren't getting back.
IF HE'S GONE, WHAT WAS HIS FINAL GAME? A 27-point loss to the Cleveland Cavaliers. Warrick had three made shots -- all long two pointers -- and two rebounds for a 6-2 line in 5 minutes of play. Not bad.
• • •
EDDY CURRY (25 MP, PER of -0.2, 0 starts) -- 31 YEARS OLD
WHERE IS HE NOW? No idea. No word that he's trying to stick in training camp this year -- he hasn't shown up with any of the usual suspects. This was probably precipitated by the fact that he played two games last year and performed about as poorly as humanly possible in both of them, but still.
CAREER HIGH POINT: May not be particularly fair, but Curry's real high point is probably his status as an eternal punchline. Some players are immortal because of their play, others are immortal because of their lack thereof. Curry's in that second group, and NBA fans have to admit, it'll be a very long time before anyone forgets Eddy Curry. (Especially Knicks fans.)
WHY HANG IT UP? Eddy Curry has had ample opportunities to stay in the league. He got a more-than-fair training camp chance last season with the San Antonio Spurs, and stuck around the Dallas Mavericks during a period of intense Dirkness (YUK YUK YU--/gets shot) where they desperately needed healthy big men. He spent an entire season with Miami jockeying for playing time and actually won a ring. Sometimes you run out of chances. Feels like we've hit that point with the big guy.
LIKELIHOOD HE STAYS OUT: 80%. Normally I'd assess it far less likely for a 31 year old former lottery pick, but Curry's a very special case. He's burned through way too many chances the last few years that most minutes-hungry big men would die for, and it's hard to picture any other contender in the league giving him a shot when last year's two NBA finalists have both rejected him in the last year. And why would a developing team risk it? Just doesn't make sense.
IF HE'S GONE, WHAT WAS HIS LAST GAME? A 19 point loss to the Utah Jazz. In retrospect, this loss was actually marginally important -- if it had flipped the other way, the Mavs would've leaped Utah in the standings and ended the year 3 games out of the 8th seed instead of 4 games. Still. Curry had 2 points, 2 turnovers, and 3 fouls in eight awful minutes. He also missed two free throws, which is sort of impressive.
• • •
GRANT HILL (437 MP, PER of 4.8, 0 starts) -- 41 YEARS OLD
WHERE IS HE NOW? Hill was recently announced as the new host of a revived 1990s NBA-style show, titled "NBA Inside Stuff." Kind of awesome, really.
CAREER HIGH POINT: His Detroit years, without a doubt. Grant Hill was a legitimate superstar in Detroit -- the man is eighth all-time on the NBA triple double leaderboard, and he hasn't had a single one since leaving Detroit. His career averages with the Pistons? 22-8-6, on 47% shooting and 75% behind the line. Hill was a star in Detroit. A stand-out everywhere, but a star there.
WHY HANG IT UP? He's 40-years-old, and he's finally lost the ability to contribute to an NBA team. He had a great run with Phoenix as his body got right and he finally escaped the injury bug that had haunted his career up 'til that point, but all great runs come to an end -- last season was Hill's least healthy season in ages, and his poor health depleted his already aging game. His defense was too slow to matter, his offense was crummy, and his injuries were painful. Why come back?
LIKELIHOOD HE STAYS OUT: 100%. Like Jason Kidd, I just don't see it -- he has his dream post-NBA job, he's on-the-record stated that he's retired, and he's unfathomably old for an NBA player. He's just not coming back, barring something insane.
IF HE'S GONE, WHAT WAS HIS LAST GAME? At least he got to hang it up in the playoffs. Grant Hill played 20 minutes in the last game of last year's Clippers/Grizzlies series, putting up 4 points, 4 boards, 2 assists, and 5 fouls in the Memphis clincher. That was an above-average game for him last year, which is sad, but at least it's a semi-high note.
• • •
There are a handful more I could discuss, so I might continue this next week right before the season starts with a final set. Even if I don't, at some point early in the year I intend to go over the odds on some players who will probably retire this year. Watch out for that. If there's one thing you love, it's ruminations on creaky old journeymen you haven't thought about in years!
Gothic Ginobili: We Know You.