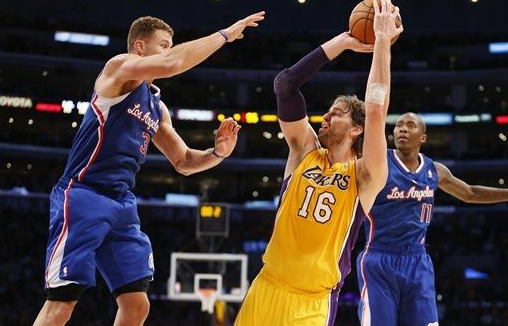 It's easy to make all-too-quick conclusions from the first game of the NBA season. After all, it's opening night! It lends itself a built-in aura of oversignificance and inflated import. It's the first meaningful basketball we've watched in months. Even if we try to watch preseason and summer league and extract tinctures of meanings, opening night is different. It's the night when everything starts to matter again. Bad nights are henceforth reflected in your record, good nights reflected in your hype. It's easy to take that heightened importance to overconfident conclusions about a team's true nature, overriding all you thought was true with the unexpected wrinkles you see in the on-court products. We'd all like to avoid it, but it's quite difficult to resist the urge.
That said, it's also far too easy to get pig-headedly locked into a "wait-and-see" type attitude. The first games of the season don't make up an entire year's production, but they certainly represent new information that should be used to update, support, or revise potentially outdated theories about the teams involved. Last year, notably, the obscenely hyped Lakers lost badly on opening night to a Dirk-lacking Mavericks squad. Most people assumed that it was a temporary blip in what would otherwise be an incredible season. It wasn't -- the loss was far more meaningful than most people realized, highlighting a defense more porous than anyone ever expected and various issues in roster fit that most people had ignored completely. The year before, the defending champion Mavericks were roundly annihilated on their home floor by the team they'd vanquished months earlier -- this turned out to be a relatively true reflection of how much the Mavericks had fallen and how much the Heat's new acquisitions and playbook had bolstered their team.
You can find examples on either side relatively easily. Frankly, it's easy to get locked into either mistake -- overreactions to the highest degree or understatement to the point of lunacy. I'd like to avoid either, but I'd also like to point out a roster construction flaw common to both of last night's biggest surprises that hasn't gotten a whole lot of print. Last night's games tended to support the theory, with a special emphasis on the Clippers. That flaw? Brutally lacking big men rotations, especially compared to the majority of their contending brethren.
• • •
"But, Aaron! Joakim Noah is one of the best centers in the NBA!"
Oh, indubitably. Note that I said "rotations", not "the top cog in their rotations." I like Noah, and for all the criticism Blake Griffin gets, he's a solid young player who's improved his skillset every year (even if his numbers haven't necessarily reflected his improvements.) Both the Clippers and the Bulls have a solid big as one of their core pieces, with the Bulls having two half-decent big-men beside Noah and the Clippers having a talented center next to Griffin. Unfortunately, that's pretty much all they've got.
Chicago's big man rotation behind Noah is better than L.A.'s, but that really isn't saying much. While Taj Gibson's defense is absolutely phenomenal, his offense hasn't developed in a meaningful way since 2011. He's a league-average finisher with no other offensive talents -- the Bulls pull him out of the paint and try to use him as a floor spacer, but he's never been particularly good at it without being gift-wrapped incredibly open shots. The other issue with Gibson is that of his off-games -- when Gibson is having a particularly offensively brutal night, he gets caught in dread frustration fouls far too often. That tends to artificially compress his minutes and keep him off the floor. And Boozer? Occasionally you get a decent offensive showing from him, and he's dependable as Chicago's best finisher. He spreads the floor a bit with his long two, but that's about it. And his defense is poor enough that on any poor offensive night he's generally indistinguishable from a below-replacement-level player.
Behind them, though? Nothing. Absolutely nothing. Nazr Mohammed is a 36-year-old center who's coming off an injury-plagued season where he shot 36% from the floor, including a startlingly bad 31-of-67 on layups. (LAYUPS!) His defense is still passable, but only just. And offense like that makes him virtually unplayable against any strong defensive team. You know who's behind Nazr in their big man rotation? Erik Murphy, their last-year second round pick. If the Bulls suffer any injury to Noah, Boozer, or Gibson, Murphy/Mohammed are their best bets to fill those minutes. That's a bit scary, all things considered -- for all the talk about how this year's Bulls roster is the deepest team Chicago has seen since 2011, it certainly isn't reflected in their big men. You can count on a good game from Noah, and generally get a good game from one of Gibson/Boozer. But when either of them go to the bench -- or get injured -- the Bulls have a lot of trouble. It certainly showed last night, where Mohammad and Gibson had generally crummy nights and Noah was too injured to stay on the court. It's a flaw, and it's one they'll need to address -- either through internal development (Murphy, who I don't mind) or a free agent acquisition to shore up their situation a bit. Otherwise, they may find themselves forced to overplay their three good men and cause a litany of problems.
... And despite all I just said about the Bulls, the Clippers have it far, far worse.
Just look at L.A.'s minutes distribution in last night's blowout loss to a probable lottery team missing its best player. Blake Griffin had a decent game, but he was on-court for 40 minutes in the loss. DeAndre Jordan played 35 minutes despite foul trouble -- he ended the game with 5 fouls, and a few instances where he could've been whistled and taken out of the game. Their third-best big man got 4 minutes. Their third best big man is Ryan Hollins, who should arguably be out of the league. He's their third best big _man_. It's either him, Antawn Jamison, or Byron Mullens -- which may very well be the worst set of three big men an NBA team has on their roster.
Given that, the Clippers had to play a decent amount of Matt Barnes-at-the-four smallball, which is fine as a change-of-pace thing but not exactly a sparkling move long-term. Barnes is an excellent wing defender who balks a bit when you ask him to guard large big men -- he's quicker than the bigs he's guarding, but that quickness advantage is roundly obfuscated by his issues with their size. When Barnes is the small-ball four, he can get taken out of the game in a way he can't when covering wings and guards. And, again -- this was in an absolute best-case-scenario game, minutes-wise. They aren't going to get 40 minutes from Blake Griffin nightly, at least if they intend to bring a healthy Blake to the playoffs. DeAndre Jordan has never averaged more than 27 minutes a night -- he played 35, and nearly fouled out. And they played 10-12 minutes with Barnes as a nominal big man.
And even then, they still had to give Ryan Hollins four minutes! He used his four minutes by missing two shots and two free throws. The Lakers outrebounded the Clippers 12-2 with Ryan Hollins on the floor. In, again, four minutes of action, mostly against Laker scrubs. I can't emphasize this enough: Ryan Hollins is a remarkably bad basketball player. The fact that he's third in their big man rotation shouldn't just be an ill omen, it should be a giant flashing neon sign emblazoned with "TROUBLE CITY." I wasn't a huge fan of L.A.'s backup bigs in 2012, but at least they had SOME potential to have defensive competency. There's no real threat of that happening with these backups, which is troubling. Last night's game was likely an outlier -- I doubt the Clippers are going to be that defensively worthless over the entire season, and DeAndre/Blake had a bad enough defensive showing late in the game that you have to assume they'll improve as time goes on. But the problems with their big man rotation aren't just a small caveat to a great team -- it's a massive_ concern___ that should stifle at least a bit of the excitement about this Clippers team. They need better backups to their core-two bigs. Either that, or they need to count on 40+ MPG from Blake Griffin and 35+ MPG from DeAndre Jordan every night. Good luck with that, Doc.
• • •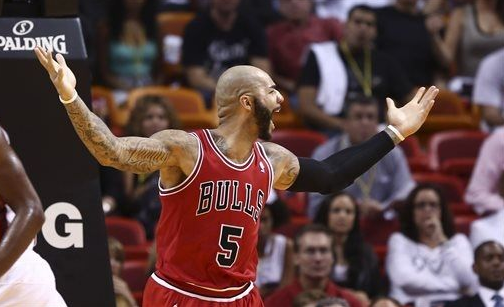 One last thing. I noted that these big men rotations were lacking in comparison to their contending brethren. I'd like to actually outline why that is rather than just tasking you to accept it on faith, just so that it's a bit more obvious why this is an actual problem for these teams. It's easy to default to the assumption that two or three passable bigs is a decent rotation, and most people do. But the NBA season is long, and most contenders are well-stocked in case of injury. Or, even more aptly, in case of being able to assert a competitive advantage by using a big that matches particularly well with another team. Being able to mix and match from a variety of solid big men is a huge benefit to a creative coach in a playoff series. The Bulls and Clippers lack the ability to do that, even if they go through the season completely healthy. Anyway. These are not necessarily ranked by quality, although I tried to order them in rough tiers of their entire rotation -- that's ENTIRE rotation quality, not just the top few or the bottom few.
MEMPHIS -- Although Zach Randolph is on the downswing, people are far too quick to overlook Memphis. Their big man rotation is still the best in the league, bar none. Their moves this offseason only served to bolster it. They start with their star, Marc Gasol, who's good for 30-35 minutes a night of DPOY-quality defense and excellent passing. Their second best big is essentially a three-way tie -- Kosta Koufos was the best-by-a-mile big on a 57 win team last season (and perhaps the most underrated acquisition by a contending team), Ed Davis is a phenomenally talented prospect who's improved every year (and should finally get minutes with Hollins out of the picture), and Zach Randolph is -- even with age -- an excellent scoring talent with bruising one-on-one defense to boot. Their fifth big is Jon Leuer, a passable floor-spacing shooter with so-so defense who'd be the 3rd best big in L.A. and a rotation player in many other teams. When it comes to big men, the Grizzlies are STACKED.

OKLAHOMA CITY -- "Really? Aren't they just Durant and Westbrook?" Not really. I'm rather high on Steven Adams as a prospect, and if he gets decent developmental minutes this season, he could be phenomenal come season's end. Alongside the high promise of Adams, they have: Ibaka (a all-star caliber big with excellent shooting and solid defense), Collison (a rare great pick-and-roll defender who still helps on offense), Perkins (a bruiser who, admittedly, is bollocks on the offensive end and questionably useful on defense -- that said, he'd be valuable on the Clippers or Bulls), Thabeet (who... okay, yeah, he does kind of suck), and Perry Jones (who has some promise but, again, sort of sucks.) They're raised a bit because they also have the ability to play Durant at the four, which gives them ample ways to productively fill their big man rotation so long as three of their six big men are productive. (Conversely: they're docked a bit because Scott Brooks is absolutely terrible at assigning minutes and may once again squander the interesting cast they've put together.)

INDIANA -- Although I'm sure Vogel would like to have a fifth big (or a better fourth, as well), the Pacers are relatively well-off with the ones they've got. Hibbert is a DPoY-quality player whose playoff performance last year should bolster Indiana's confidence that they'll essentially always be a better playoff team than regular season team. David West is David West -- you know what you're getting, and you're getting something good. Ian Mahinmi has finally developed into a competent rotation big, and his defense is quite good. I'm extremely low on Luis Scola, but even I concede that Scola is vastly preferable to a Hollins/Jamison/Mullens combo platter.

SAN ANTONIO -- The Spurs have the pieces to get through the regular season relatively unscathed. They've got Tim Duncan, obviously, who's coming off a 1st team all-NBA season from the center position. They've got Tiago Splitter, whose defense is underrated and who generally serves as an immensely valuable offensive player against 29 of the 30 teams in the league. (Hi, Miami!) Behind them they have Diaw and Bonner, who are both exceedingly limited players who nevertheless are useful in a regular season context. Especially Bonner, whose stand-still three is one of the most valuable regular-season-only weapons in the league. Baynes is more of a do-it-all center who's been generally above replacement level in his minutes and Ayres exists to fill in the gaps. Compound all that with Popovich's thirst for small-ball (for which the Spurs have Leonard, one of the league's best smallball fours) and the Spurs sport an excellent, versatile big man rotation that's designed to ride out injuries and keep their star big healthy.

GOLDEN STATE -- Due to the ever-present threat of injury, the Warriors are a bit lower than they'd be if we were assuming everyone was healthy. But their core big rotation is quite nice. Andrew Bogut is their best, and at his best, he's a transformative defensive force. He can't always be counted on to be there, but he's a phenomenal defensive player. David Lee is a transformative defensive force in the other direction -- he's astoundingly bad on that end, but his offense is all-star caliber, so he's a decent option on the whole. Beyond them, they've got a decent set of options. I'd assert that Draymond Green is their best "true" big, slotting in behind Lee as a semi-smallball four. Festus Ezeli and Jermaine O'Neal are solid options behind Bogut (although neither are really starting-quality), and the Warriors are helped by the fact that they're the most fearsome smallball team in the league when they place Barnes or Iguodala at the four. Hence, their bigs need to occupy fewer minutes than they would on rosters with few smallball options. Which is nice.

MIAMI -- Although Miami's strength has never been their big man rotation, they've put together a passable one. LeBron James is the obvious star here, and he's absolutely the best large forward in the league when the Heat play him there. Bosh has transformed into an honestly productive center with a good scoring touch and a solid defensive reputation, and Chris Andersen's breakout season last year rounds out a stellar top-three. Docked because LeBron doesn't play the large forward full-time, and because beyond those three, they aren't exactly rife with talent. That said, I'd take a set of five relatively unproductive but inoffensive bigs (Haslem/Anthony/Beasley/Lewis/Oden) over one questionably productive big like Nazr Mohammed or three completely awful bigs like Hollins/Jamison/Mullens -- at least with the Heat's rotation you have change-of-pace options when those players have a bad game.

HOUSTON -- In terms of raw quality players, Houston is a lot higher on this list, but when you look at the full rotation and try to imagine how they'll gel in a full-season context you do start to get a bit worried. Dwight and Asik are both phenomenal players, both two of the 10-or-so best starters in the league. Unfortunately, playing them alongside each other makes absolutely no sense from a spacing standpoint and their pet offensive zones essentially completely overlap each other. Dwight's mobility isn't quite as compromised as last season, but I still wouldn't feel too great about throwing him onto fours and potentially migrating him out of the paint. He does his best work in there, for sure. Behind those two, the Rockets have Greg Smith (solid, but unremarkable), Donatas Montiejunas (who had a terrible season last year and doesn't look like a dependable option), and Terrence Jones (who did not look like an NBA player last year). Which gives them a relatively bare cupboard, even if I can imagine Smith/Howard and Smith/Asik looking pretty good. Smallball is going to be the key for Houston, as Casspi and Parsons can both act as large forwards for stretches and play a sort of modified version of Orlando's 2009 offense with the ball running through Harden.
You may have noticed that Houston has similar issues to Chicago and L.A. That's why they're at the bottom here. Other contenders have other problems, and everyone has their own nettles to contend with. But the Clippers are alone in having a big man rotation consisting of exactly two NBA-quality players, and the Bulls (with three injury-prone rotation-caliber bigs, scant smallball efficacy, and stark nothing besides) don't exactly inspire a wealth of confidence either. As the season goes on, I expect both teams will start to figure it out, and they'll make acquisitions to shore up their problems. But the idea that last night's performances were an abberation of the highest order seems off to me.